The best budget tree stands can offer true value for your money if it provides decent elevation, comfortable seats, stable platform, stealth efficiency, and solid construction. After reviewing dozens of budget tree stands, we have found the Summit Viper Steel Climbing tree stand the most cost effective tree stand.
Apart from cost effective, it's a top steel performer since it utilizes all features hunters would expect from a quality climber stand.
Budget Climber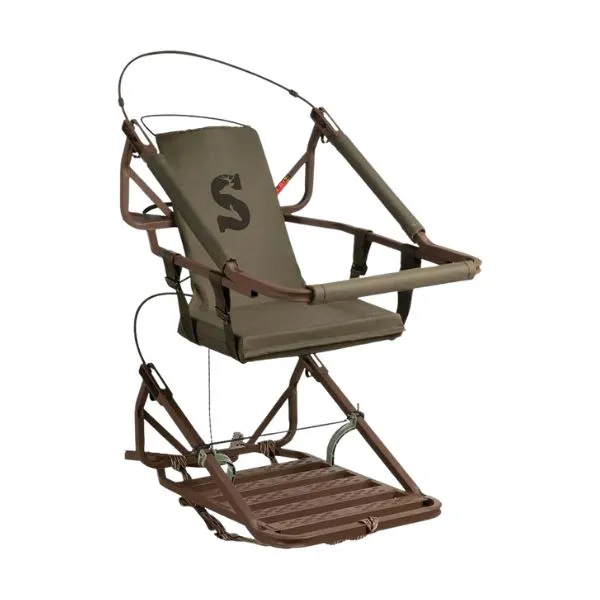 Summit Viper Steel Budget Stand
Only Summit's steel climber with advanced safety and concealing finish.
Great for sit and stand hunting on treestand with attached gun rest bow rest.
Heavier (36.5 pounds) as it is made of steel and can carry 300 lbs. weight.
Easy to assemble and use and comes with 2 years warranty.
One of the best treestand for the money.
Value Hang On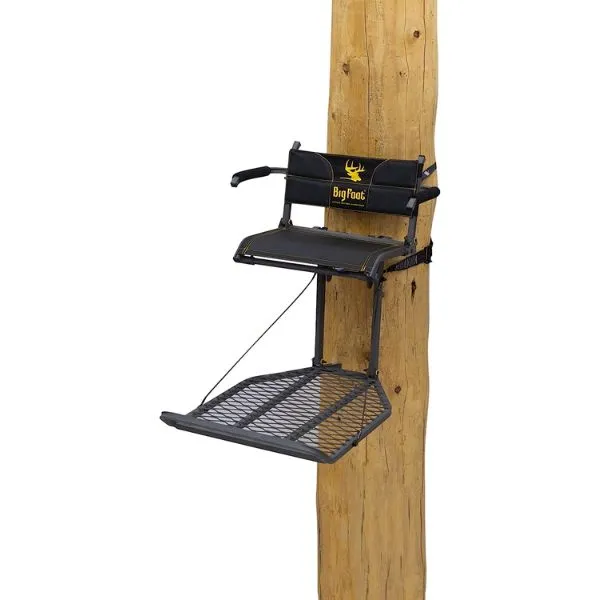 Rivers Edge Budget Hang On Stand
A comfortable top rated budget hang on stand.
It weighs only 28 lbs. and can carry 300 lbs.
Steel built rugged hang on with arm rest, back rest and foot platform.
Quiet and soundless, equally perfect for bow and rifle hunters.
Only disadvantage is absence of shooting rail.
Budget Hang On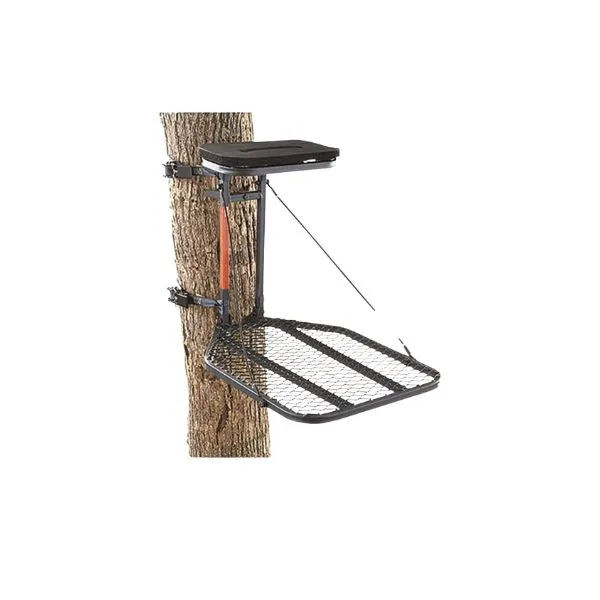 Guide Gear Budget Tree Stand
Budget hang on pick for lock on stand lovers.
Extended foot platform to stand and hunt without worry.
Weigh 18 pounds and can carry upto 300 lbs. easily.
Cheapest lock on stand but need climbing sticks/ladder sticks to be bought separately.
TreeStandRanger.com is reader supported website. We may earn affiliate commission if you shop using links on this page (without additional cost to you). Learn More
Thankfully, you won't have to raise your funds for getting a better than average treestand for hunting on public or private land. There are several value priced treestands in the market that lie somewhere in the $100 to $200 price range.
100+ Tree Stands
Reviewed
7 Best Budget
Options Discussed
1 Year Of
Field Research
But if the climber stand never meets your hunting style or you're afraid of carrying it each time, you should opt for the Muddy Skybox Deluxe ladder tree stand for private property, as being relatively safer and a permanent fix.
Best Treestand for The Money – Cheap Climbing, Hang On & Ladder Stands
Bear in mind that the best tree stands for the money ask you to compromise on one or two features. With that said, let's check out our list of the best budget tree stands.
1. Summit Viper Steel Climbing – Best Cheap Climbing Tree Stand Under $200
The Viper series of Summit treestand is known for its incredible features, making it possible for hunters to select the one according to their needs and budget. Though each treestand from the Viper series is an exclusive product, this one shares all the incredible features with other Viper treestand options while maintaining its budget-friendly footprint.
To keep its price tag under control, the Summit utilizes steel instead of aluminum for constructing it. The steel construction adds more pounds to the stand and reduces its portability yet it increases the stand's durability to an impressive extent.
We expected a cheap tree stand climber for this price range, but the Summit proved us wrong. Both, the seat and the platform are roomy and comfortable, allowing hunters to sit in or stand up conveniently.
A little excruciating feature on the tree stand is its shoulder straps that become quite painful when you strap more gear to it.
From appearance to performance, this stand beats several other lower priced climbing stands in the market. Setting up it is a real breeze and the steel is coated with powder to fight the rust and corrosion. A good value for money.
Pros
Durable construction
Sturdy stand on small trees
Included fall arrest harness & a quieter steel tree stand
Cons
The platform needs improvement.
Slightly heavier for carrying on rough surfaces.
2. Rivers Edge RE556 – Best Hang On Tree Stand Under 200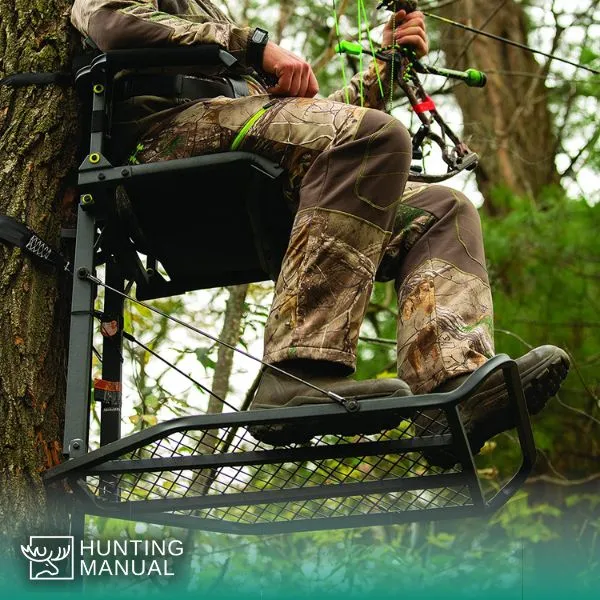 The RE556 notably comes at a barely half price tag as the Millennium M150 hang on a tree stand, yet all of its features aren't any lesser to make it a strong contender to the previous one.
Hanging exorbitant hang on tree stands in multiple locations will ask you to significantly raise your budget. However, investing in more than 2 budget tree stands can prevent the situation. This stand is a call for those hunters who want multiple stands on their property.
As far as its other features are concerned, the stand we tested offered a comfortable seat for long sits and the wider platform was stable and sturdy for hunters, tall or short.
Instead of aluminum, the River Edges has made this stand with steel to enhance its durability. And to back up its reliability, it features a one year limited warranty. So for the price, the buyer is getting a pretty good deal.
Mentioning its setup, we found this stand a bit difficult to hoist around big trees since the supplied strap is short. However, an aftermarket ratchet strap can avoid this to become a deal breaker.
It works best on private property as well and can't beat the price.
Pros
Easy to assemble.
A comfortable hang on treestand.
No squeaking or noise.
3. Guide Gear – Best Hang On Tree Stand Under 100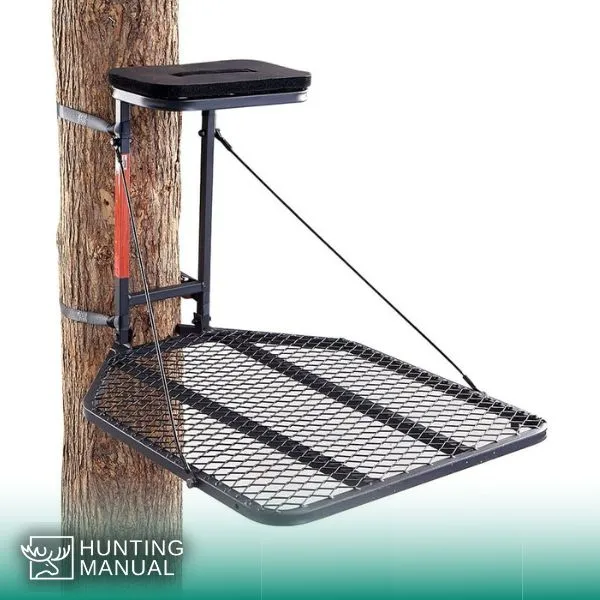 Where some expensive hang on tree stands can tolerate the weight limit of up to 500 lbs, an inexpensive lock on tree stand slightly cuts down on the weight limit. If you're ok with 300lbs. Weight capacity of a hang on a tree stand, we strongly recommend this option by the Guide Gear.
The determined hunters won't miss the opportunity of stealing the tree stands if left hanging on public lands. But this one will make such a loss tolerable as it bears a relatively lesser price than several other budget-minded hang on tree stand options.
In terms of construction, it is durable and withstands a decent quality of weight yet is prone to rusting quickly. Again, if you won't mind powder coating the stand on your own, it can make one of the best cheap hang on trees stands money can buy. Just be sure that the parts on the stand don't catch up with extreme rust making it flimsy and fragile.
Don't befool yourself by expecting a wider platform from an inexpensive tree stand. This hang on tree stand bears relatively a shorter platform and feels somehow uncomfortable while taking a stand up shoot. Yet, for the price, it offers a great value to starters.
Pros
Easiest hang on treestand.
Strong and stable.
Ideal for use on public land.
4. BIG GAME LS4860 18′ Guardian XLT – Best 2 Man Ladder Tree Stand Under $200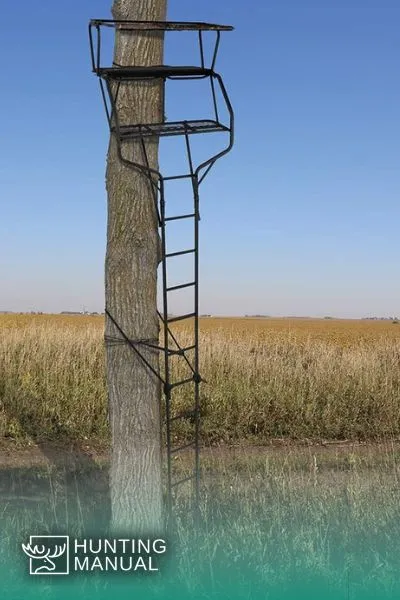 Two men Ladder tree stands are generally considered the combination of safest and biggest tree stands. They are comparatively pricier than the other two tree stand variants. But the good news is, you can find the best cheap ladder tree stand like this one from the Big Game, without breaking your funds.
Bearing a price tag under $200, this stand might not exceed your expectations but comes with all the necessary features the hunters want from a budget ladder tree stand. A comfortable bench style seat for two hunters, a spacious platform, a flip up, and padded shooting rail, and a weight capacity of up to 500 lbs. have it all in this tree stand.
We admire the stand's price for offering fuller features, yet in our field tests, we discovered that the stand is made with very cheap material and causes noise and is uncomfortable. Nevertheless, at this price range, you should expect to make compromises on quality.
The most attention seeking feature of this stand is the bench style seat that can fit two hunters on it. The stand also has a weight capacity of 500 lbs. Yet again, we evaluated the seat a bit narrower for two big hunters. Instead, the unit makes an effective choice for one tall hunter or a duo of father and son.
Pros
Worth the money.
One of the tallest ladder stand.
Comes with 2 safety harnesses.
Cons
Painful assembly.
Flimsy parts.
5. XOP XTREME OUTDOOR – Best Hang On Tree Stand Under 200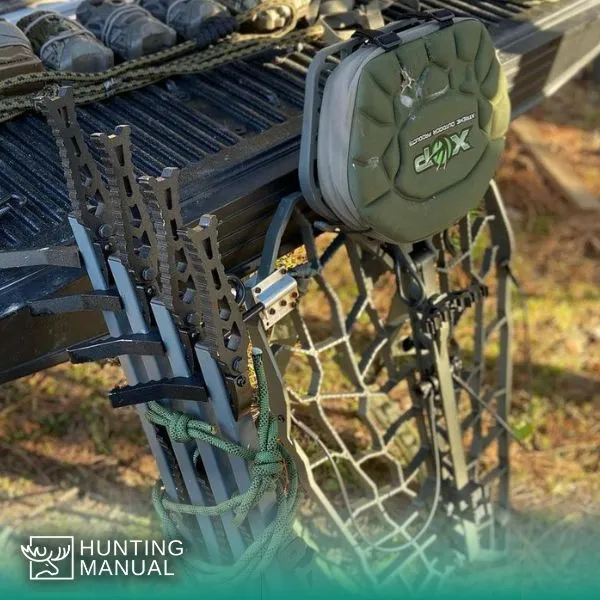 The XOP Xtreme makes an exceptional choice for featuring a comfortable seat, a wide platform, and a lightweight profile – all at an affordable price.
The XOP is often compared with Lone Wolf Assault or Millennium M7, two of its strong competitors. According to our tests, all three have the same high quality and get the job done accurately while maintaining hunters' safety and comfort. However, XOP and M7 are affordable options, the Lone Wolf Assault is the most expensive among the three.
The XOP puts a strong competition by featuring one of its kind of its most comfortable seats on this stand. The flip-up seat makes more room on the platform, providing hunters the freedom to move and stand up on the platform without restrictions.
While the lowest budget treestands are made with steel to keep the price under control, the XOP is constructed with cast aluminum to make it relatively lighter than its steel counterparts.
Also check Bow Hanger & Bow Holder For Tree Stands.
The small and low profile enhances its portability, yet it makes an awesome cheap tree stand for the price.
Pros
Lightweight with robust construction.
Perfect for mobile hunters & Great choice for public lands.
Cons
It requires a bow holder for placing the bow.
6. Muddy Skybox Deluxe 20 Ft. – Best Ladder Tree Stand Under 200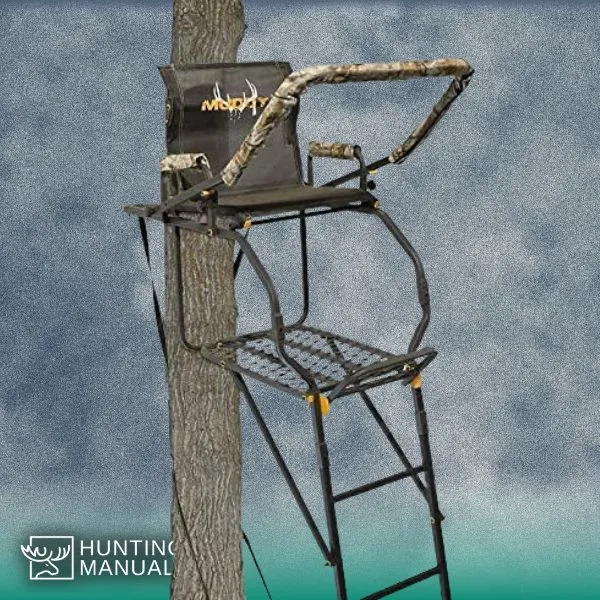 The Skybox Deluxe will unveil a ladder tree stand that is pretty sturdy with a comfortable seat to sit on a day in and day out. The icing on the cake makes its way out here as the best cheap ladder tree stand.
Sitting above the ground at a 20 feet height is overwhelming, especially when a hunter is sitting all day. When we put this stand against a trial, we were convinced by the durability and stability of this stand. Yet, they don't forget to warn the users to use the flip up footrest with some care as it might trap the foot in it.
The Skybox Deluxe is just like all other typical treestands built heavily. However, carrying and installing a 64 pounds6 tree stand is a real chore the mobile hunters usually won't like the most.
The cheapest deer stands aren't generally quiet, but this one fairly remains quiet throughout a hunting operation. However, we discovered that adjusting the shooting rail on this stand is a real headache as you have to stretch out the rail to fit the seat pan.
Apart from this, the parts on this stand aren't cheap at all but it is a cheap coat tree stand with the paint beaten up from some places. Besides that, sitting in this tree stand all day feels safe and comfortable. If you are looking for a cheap ladder stand for your property, this unit is worth buying!
Pros
Heavy duty construction.
Affordable ladder tree stand.
Value for money.
7. Summit The Stump – Best Hang On Tree Stand Under $100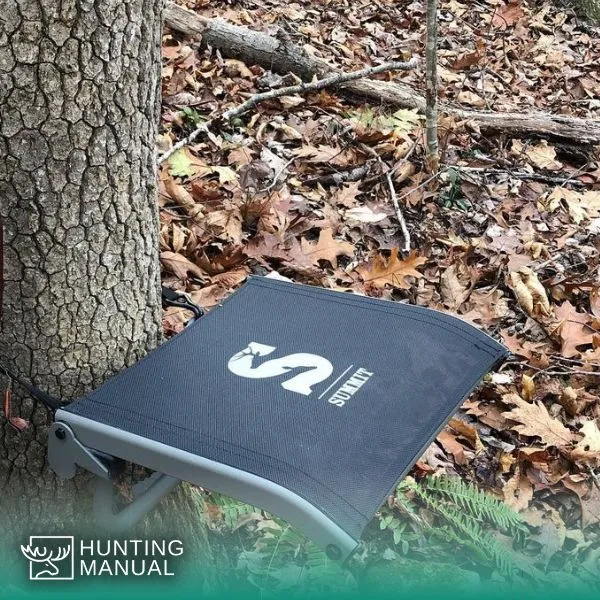 The most budget tree stands limp on performance or quality. But the Stump with no fancy detailing and overpowering features is a decent budget tree stand seat for hunting squirrels and deer.
The Stump, we tested, makes the lightest tree stand with 7.5lbs of weight, but it can handle weight capacity up to 300 lbs. We found the Stump can fit trees with different diameters, yet the supplied mounting strap is somehow indigent and tends to open up with a little pressure. To avoid this, replace the cam buckle strap with an aftermarket one to perfectly hook the seat to a tree.
The seat of a tree stands for under $100 may not let you feel comfortable during a hunt. But the Stump delivers the maximum comfort even to hunters who suffer from back issues. To get a more comfortable seating experience, adding a foam pad won't make it a trade off.
At the top of this, the Stump requires no assembly and is pretty easy to install at any desired height. Summit has various hunting stands but this is the most economical one.
Pros
Comfortable seat.
No assembly is required.
Highly economical.
Good for starter hunters.
The lightest tree seat.
Cons
The supplied strap is short.
Buying Guide For Budget Hunting Tree Stands
Though finding the best budget tree stands between $100 and $200 seems a futile exercise. As assumed by most hobbyist hunters, a rather cheap tree stand would come with a bottleneck performance while asking you to compromise on one or two features.
However, with the popularity of treestands, manufacturers have started producing the best tree stands for the money. At $100, you will probably have the cheapest deer stands that can hang quickly and easily with some minor compromises. At $200, you will certainly get yourself the best cheap tree stand including climbers, hang ons and even ladder stands.
Since we don't want you to end up buying the wrong treestand to fulfill your budget constraints, we think you should first invest your time in knowing the major aspects of a tree stand.
What You Need – Ladder, Lock On, or Climber?
A ladder treestand works best on trees with little or no branches at least for up to 20 feet of height. With a built in ladder, this treestand is relatively safer for climbing tall trees but cuts down on portability. If you're looking for a cheap 2 man tree stand, then you can opt for buying a ladder treestand with 2 seats.
A hang on or lock on treestand is the simplest form of a tree stand that consists of a platform and a chair. The foldable design suits the hunters on the go. Thankfully, you can have the cheapest hang on tree stand without any bottleneck performance under your budget. Also, hang on tree stands are generally the most inexpensive treestand type.
A climber treestand looks similar to a hang on treestand as it consists of a platform and a seat. However, to move up in a tree, a climber stand doesn't need climbing sticks or screw in steps. Portable though yet comes with a learning curve as the hunter would have to lift the legs to raise the platform for moving up in a tree.
There are various other treestands such as best quadpod deer stand that provide more safety, space and cover. These are immobile because of large size and are usually customized using various accessories to fulfill hunter's needs.
What to look for in a Budget Tree Stand
A tree stand provides hunters supremacy over the deer by keeping them out of the deer's sight and smell. Hunting from height also maximizes the chances to win the trophy by shooting a big buck. Yet, it's also worth pointing out that treestands give rise to many life threatening accidents.
So make sure that even the cheap tree stand shouldn't be a trade off on quality. Look for the following aspects in a treestand to worth every single penny you're spending on a product.
1. Comfortable Seating & Stealth Efficiency
Deer hunting is not for the impatient. Sometimes, long sits become desirable. The comfortable seat on the stand is the life saver that won't let bowhunters feel tired at any moment when waiting for the deer to come nearby from dawn to dusk.
Several features work together to keep hunters away from their prey. As a rule of thumb, tree stands should offer optimal stealth efficiency by utilizing sound deadening technology, noise-free bolts, pins, and camouflage fabric for padding the seat.
2. Wider Platform
A stable, sturdy, and well-built platform with a spacious room is the real game-changer in a tree stand. If the bits on the platform are flimsy and create noise when the hunter is standing will also distract the attention of the prey. Likewise, a wider platform allows hunters to lean back against the tree without fear of falling to the ground.
Treestand accessories: If you decide to buy a hang-on tree stand, you need to buy climbing aids separately. Also, look for if the ratchet straps to bolt the stand around the tree fit the diameter of the tree or not.
3. Portability & Weight Limit
A major concern of mobile hunters is the portability of a tree stand. Whether you're selecting a climber or a hang on treestand, it should remain lightweight for increased mobility.
The portability of a tree stand is necessary for setting up the tree stand with very little or no effort. Certain best tripod stands provide portability and safety but comes with higher price tag.
Always, look for the weight limit specifications on a tree stand to prevent any accidents. Don't exceed the weight limit.
Conclusion
Cheap tree stands are great for hunters who need multiple elevated hunting units on private land. They also make a popular choice for beginners who want to sharpen their hunting skills without spending much. Whatever the situation is, the XOP Xtreme is an all rounder in hang on category since it aces the job very well.
However, it's always better to get a premium tree stand option for making it a lifetime investment.
Frequently Asked Questions (FAQ's)
Which is the lightest tree stand?
The X Stand X1 is the lightest climber tree stand, weighing approximately 11 lbs.
Are budget treestands worth it?
Some of the best budget tree stands provide great features such as a padded seat, spacious platform, sturdy and safe construction.
For how long can I leave a treestand attached to a tree?
One can leave a hang on treestand for two weeks or more and ladder stand for whole season (on private land). Just ensure that it is fully hoisted in the tree and can withstand harsh weather conditions.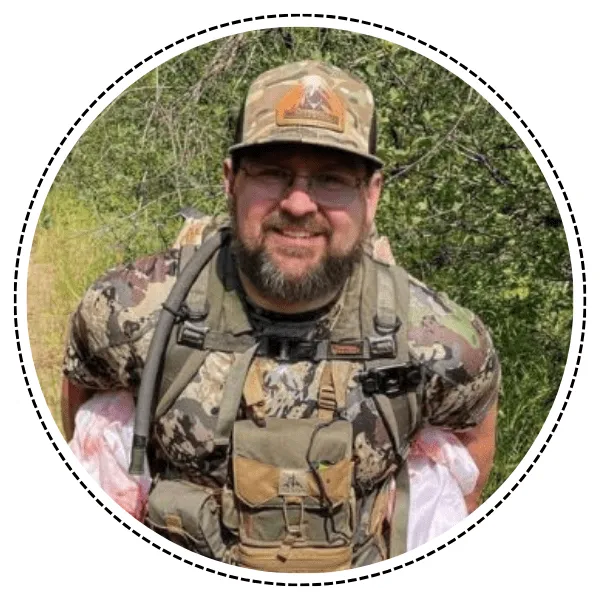 About Alex David
I am an avid bow hunter and author of Tree Stand Ranger. Hunting from tree stands has been a passion of mine for many years. I've had the privilege of owning several tree stands and hunting properties throughout my life, and I take great pride in having the opportunity to do so. Read more about me.