An expert hunter never goes out on a hunt unprepared. Packing the weapons and gears isn't everything that you need to harvest game animals. You must include the best game bags as well. According to my experience and research, one of the best game bags of all time is the Argali High Country Bag Set.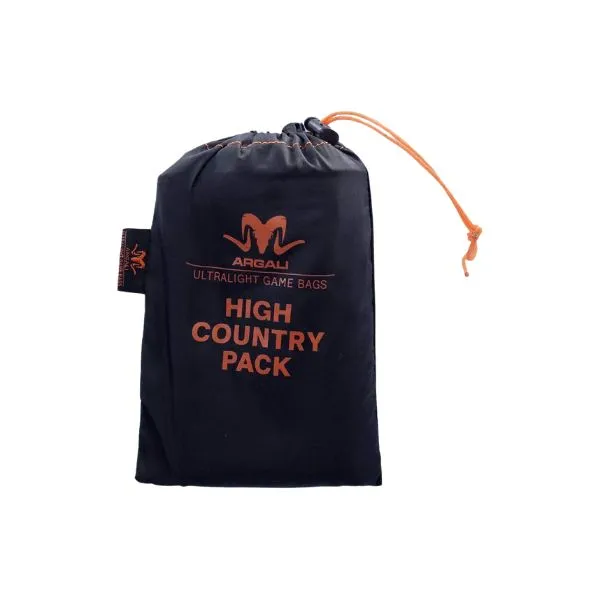 Argali Deer Hunting Game Bag
Width 17 inch height 29 inch.
Game bags are white come in black sack.
Meat with bones can be hanged using these bags to cool off.
Nylon made multiple usage after wash.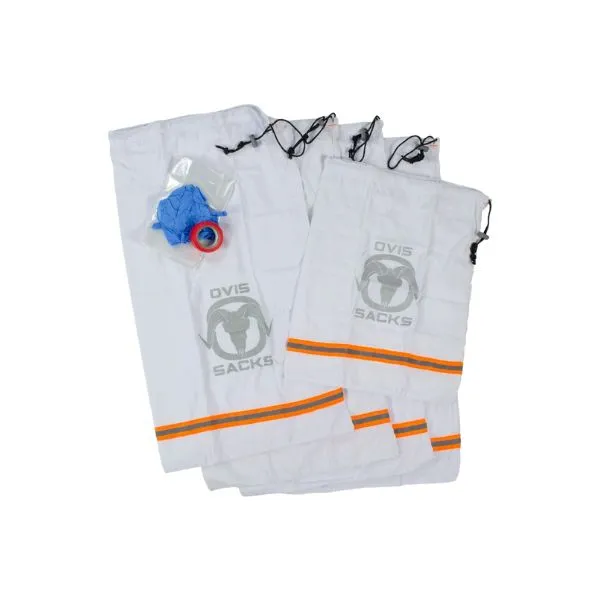 BlackOvis Elk Hunting Game Bag
38 inch to 21 inch sized 4 bags.
Reusable breathable and washable material.
Blood seep through these and prevent meat from spoiling.
Complete kit is best for deer, multiple should be bought for moose & elk.
Included gloves, plastic sheet for deboning, flagging tape.
Alaska Hunting Meat Bag for Deer & Elk
11.8 inch wide and .13.8 inch length
Stretchable, breathable, clean & reusable meat bags.
Can carry deer easily but need to buy multiple in case of moose, elk or caribou.
TreeStandRanger.com is reader supported website. We may earn affiliate commission if you shop using links on this page (without additional cost to you). Learn More
Imagine bagging a trophy animal but having no cover to store its carcass or meat parts. It would be quite of a hassle dragging the entire animal to your vehicle with high chances of damaging the animal's skin. That is when you need the best pack for packing out meat.
There are numerous things to look for before purchasing a hunting bag. You cannot pick any bag or plastic wrap for the purpose. If the bag isn't breathable enough, moisture will be trapped on the meat, making it a favorable ground for bacteria to grow on. Moreover, the cover should be durable to withstand heavy weight as that of an elk, antelope, sheep, or similar animals.
10 Best Hunting Meat Packs – Meat Bags 2023
To figure out the best game bags for elk and other animals, I tried a couple of them. As an experienced hunter, I have used different bags for quite a long time. Based on my personal experience and research studies, the following are found to be the best hunting bags 2023.
1. Argali High Country Pack Set – Best Game Bags For Meat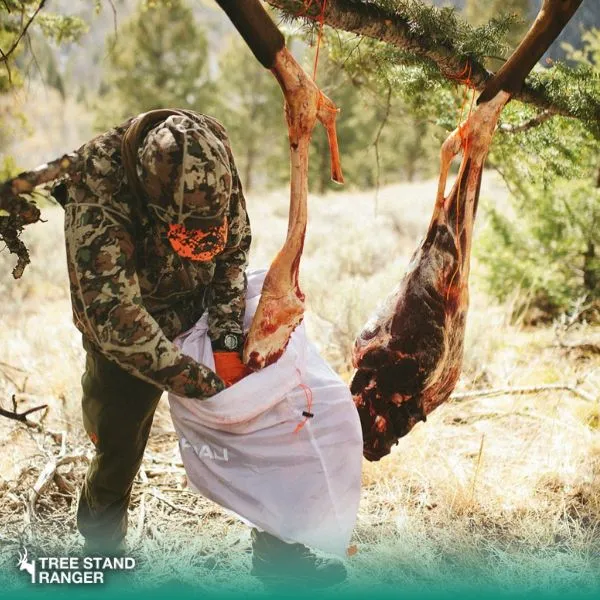 When it comes to ultralight bags, none could be as great as those from Argali. If you are a backcountry hunter and love to push your limits, this product is for you. My team and I have used these bags several times for drop camp style backcountry hunting. Made out of nylon blend, this pack is incredibly durable yet featherweight.
The set includes 5 pieces measuring 17" x 29". I was able to store my entire boned out Montana mule in it. Furthermore, in my experience of storing quarters of bull elk and an antelope, these bags performed great. I also used it to store meat on bone sheep.
Overall, these ultra light weight and reusable game bags allowed convenient storage. It is fairly breathable and lets the meat cool down while preventing it from contaminants and insects. It is my go to bag for portable tripod stand hunting.
Pros
Robust paracord and loops
Can be used as pillow cover while backcountry hunting
Inexpensive & provide value for money
Cons
Need more packs to carry meat of cow or bull hunt.
2. BlackOvis Lightweight Game Packs – Best Hunting Game Bags
Meat sacks from BlackOvis have been one of my favorites for a long time. Striking a balance between durability and breathability, these sacks are crafted out of Taslan nylon. The reflective strip on the sack makes it easier to find in the dark. I have tested out different sizes of blackovis wild game freezer bags and all were pretty good.
For sheep, antelope, deer, and boned out caribou, I used the large sacks. Whereas, for meat on bone elk and an entire deboned moose, the extra large size was an ideal fit. The bags were surprisingly robust. What makes these bags stand out is that they come with flagging tape and latex gloves.
From a durable fabric to impeccable strength and breathability, this product was indeed one of the best game bags. I chose this as an upgrade from the cheesecloth bags and it was the best decision.
Pros
Easy to wash
Extremely durable
Offers efficient breathability
Cons
Comparatively longer drying time
3. Alaska Game Bags for Hunting – Best Game Bags For Elk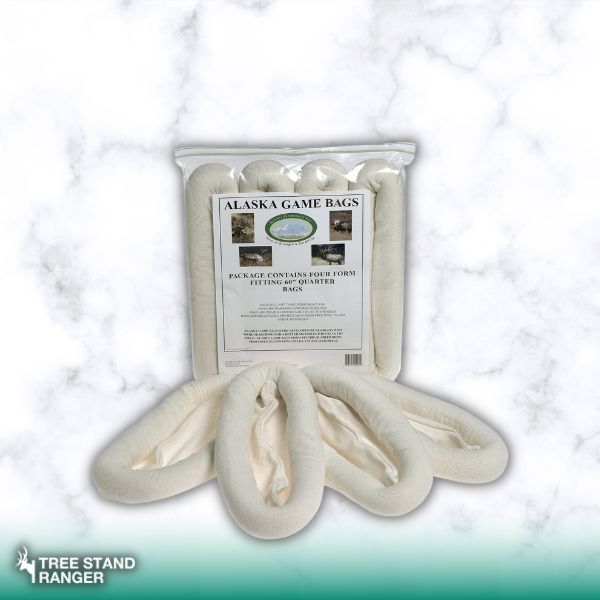 Alaska has some of the best game bags for storing hunting meat. My field testing with this product lasted an entire hunting season and I used it for numerous animals throughout. It is made out of cotton and hence offers brilliant aeration. One individual bag can carry approximately 800 to 1200 pounds of meat.
From a couple of 150 lbs. pigs to a full grown cattle bull, this bag could store them all. I have used small, large, and extra large sizes of these bags, and needless to say, there wasn't a single issue with either of them. The large ones were big enough for two quarters of a mule deer in one bag. Whereas, the extra large provided ample capacity for a deboned elk.
We are often asked where do we debone and prepare meat before packing. A quick tip in this regard is to set up a well maintained and equipped hunting tent nearby your hunting ground where you can debone and pack meat easily. It is essential for big game team of hunters in Northern remote areas.
Tailored to fit most of the game animals while ensuring breathability and durability, these are indeed one of the best game bags. Whether you want to store loose meat of small animals or a massive deboned elk, Alaska game bags would work perfectly.
Pros
Available in various sizes
Highly breathable fabric
Affordable hunting meat bag
Cons
Stretches out a lot that flies get through the mesh
4. Koola Buck Game Bags – Best Deer Hunting Reusable Game Bags
Crafted out of cotton/polyester blend material, the Koola Buck meat bags are incredibly durable with reasonable aeration. These bags are available in various sizes specified for different animals.
The large pack for deer and antelope could easily store two quarters of either animal in a single bag, saving you two extra packs. We used the extra large size i.e., for elk to pack up the bear one of us took down in a ravine. Each quarter of the bear was nearly 80 lbs. and the bags helped carry it amazingly.
All in all, these bags are an absolute game changer for every kind of hunting. We felt these were a bit heavier than its competitors. However, it served as a solid trade off for all the impressive features. Numerous bugs and flies drew to the warmth of meat but the fabric prevented them all. We have these permanently stored in our quadpod deer stand and outpost towers.
Pros
Robust and easy-to-tie drawstrings
Amazing durability and breathable
Available in different sizes
Cons
The pack of 4 XXL bags could be a bit bulky to carry
5. KTY LIFE Hunting Game Bags – Best Reusable Game Bags
What else could be better than having a game bag that is stretchable, robust, and breathable? These bags from KYT LIFE have been my great companions throughout hunting. What I love the most about these bags is that they come rolled which makes covering the meat extremely convenient.
The package also includes latex gloves and four durable strings for easy tying. We used the 60" packs to fit numerous animals, thanks to its 26" stretchability. Whether it is a big caribou, deboned moose, or a deer, these bags performed well for each one of them.
Our team loved how easily reusable these bags are. Wash these carefully and they will turn brand new. Clearly, these are among the best game bags for elk, deer, sheep, antelope, moose, and other game species.
Pros
Durable polyester blend material
Easy to wash with amazing stretchability
Great for big game animals
Cons
Comparatively bit expensive
6. Allen Quarter Hunting Packs – Best Meat Bags For Deer
These quarter bags are incredibly robust and I overhauled these for an entire hunting season. We used these packs for different animals including bucks, mule deer, 150 lbs. whitetail, elk, and a boned out moose.
Surprisingly, these are highly breathable bags that also prevent flies, bugs, and other insects from contaminating the meat. Their easy to tie feature and lightweight made these superb for backcountry and saddle platform hunting. The drawstring allows effortless closure of the bags.
When it comes to buying high-quality meat bags for hunting far from the comforts of your home, camp, or vehicles, these bags come to the rescue. Considering the price, features, and longevity, these bags are a great steal.
Pros
Great value for money and longer lasting
Easy to wash
7. Koola Buck Game Bags, Heavy Duty – Best Wild Game Meat Bags
Koola buck game bags are widely known among hunters so I borrowed a pack from my fellow hunter. The cotton/polyester fabric is brilliantly aerated which keeps the meat from trapping moisture. Furthermore, the double-stitched bags offered marvelous strength when I used these for huge animals such as caribou and bull elk.
After quartering the whitetail, I put two in one bag and the other two in the other bag. Needless to say, the bags were powerful enough to hold two quarters in one easily. For a mule deer, I deboned the animal and it fit the bag perfectly. I also used it for uncut sheep ribs with no issues.
Offering great durability, breathability, and longevity, these wild game meat bags are a great choice for me. Its heavy duty design ensures maximum strength for various species.
Pros
Impeccable durability for big catch
Easy wo clean and rewashable
8. Northern Game Deer, Antelope & Sheep Packs – Best Small Game Bags
Are you in search of budget friendly game bags that serve their purpose right? Say no more. These bags from Northern Game by Alaska Game Bags could be a great pick. The bag is made out of cotton which ensures great breathability for the meat.
It's durable enough to hold decent sized animals e.g., 68 lbs. buck, and 40-50 lbs. Antelope. This is an inexpensive yet durable option and a lot of beginner budget treestand hunters buy it.
I kept the quarters of a whitetail in four different bags and was satisfied with the durability. To further its potential, I used a single bag to store an entire deboned antelope. The results were surprisingly great.
These bags are easy to clean and become brand new when washed properly. The only tradeoff of these bags is that they won't fit a large animal such as elk, moose, or even caribous unless their meat is chopped off. But for what you are paying, the features it already offers are to be praised.
Pros
Durable bags in budget category
Decent air movement in bag
Cons
Large animal need 4 or more bags.
9. Koola Buck Game Bags, Blood Red – Best Elk Meat Packs
If you don't like the blood stains on your game bags, you can opt for these red colored bags. Made out of cotton/poly blend, these bags come in two sizes i.e., small and large. The nylon carry straps made handling these bags super convenient. My field testing with these bags lasted for half a year and I tried both sizes.
For quartered sheep, antelope and deer, I used the small bags and they fit them all easily. Whereas, the larger ones were spacious enough to store butchered elk, moose, and caribou. I also used the large bag for deboned whitetail.
The bag boasts a flap cover which ensures 100% protection from any kind of contamination and insects. The blood stains blend in with the red color of the bag tremendously. All in all, these bags are a great choice for small and large species.
Pros
Ideal for large animals with heavy durability
Flap cover provides extra protection
Cons
Slightly high priced compared to competitors
10. Allen Backcountry Full Body Carcass Bag – Best Hunting Quarter Bags
This one is a full-body carcass bag by Allen. These bags come in two sizes specified for different animals. It is light in weight and ensures decent aerations, thanks to the cotton/polyester blend material.
To test the capability of both sizes, we used a smaller one for the entire carcass of sheep, mule deer, and antelope. Whereas, the larger one, as claimed, easily stored the 950 lbs. bull elk carcass.
I and my friends were stunned to see how the bags engulfed an entire carcass of different animals and the drawstring could still close the bag completely. This saved the body from dirt and flies as well. Considering the performance, it is safe to call these the best game bags for full-body carcasses.
Pros
Easy to wash and clean
Efficient aeration for longer storage
Cons
Have had some issues in durability
High priced compared to provided value and competitors
Buying Guide
Purchasing the best game bags is only possible if you understand the important factors. Look carefully for the following key considerations to get yourself the best hunting body bags.
1. Durability
Durability is perhaps the most crucial factor to consider while looking for the best game bags. Longevity and durability have been a major issue for hunters not because it is challenging to find durable fabric but because it's usually pricey.
Moreover, durable bags impeded other two important factors i.e., breathability and lightweight. That said, finding a bag that fulfils every aspect of quality could be daunting. Whichever bag you choose, make sure it offers good durability depending on your nature of use.
2. Materials
Different manufacturers use different materials to craft game bags for diligent hunters. Based on the material used, the durability, breathability, and lifespan of a bag are determined.
Game bags can be carried even by tree stand elevated bow hunters. I have seen hunters carrying extra goodies in it, like tree stand blinds. Thus making it multi purpose accessory to safely protect small stuff and tech gadgets, while on hunt.
3. Breathability
You wouldn't want the meat of your kill to become a breeding ground for bacteria, would you? Game bags must allow proper breathability to the meat by proper air circulation in order to stay fresh. As you transfer the meat into game bags, there should be no moisture build up on the flesh.
The issue doesn't end here because many game bags that offered great aeration fell short in terms of durability. The best material that comes with all the required properties is a cotton/polyester blend.
4. Dirt Protection
It is no surprise that the hunting areas are full of insects, dirt, and various contaminants. Materials like mesh do offer incredible breathability but, these are worst when it comes to dirt protection. The dirt particles along with other contaminants in the air can stick to the meat. Moreover, flies and other insects have easy access to the meat through big enough holes.
The best choice when it comes to dirt protection and cleanliness would be cotton bags. These offer impeccable breathability to keep the meat fresh while maintaining the lightweight.
5. Capacity
While looking for the best game bag for meat, don't overlook its capacity. These game bags come in various sizes for different purposes. Following are the different sizes of these bags along with their specified purposes:
12" x 21": These are usually camp meat bags used for storing animals like sheep. The best use of these bags is for outfitter camps during hunting.
16" x 21", 16" x 30", 23" x 30": If you store the different meat parts of your kill, these sizes would be ideal. These can also easily handle loose meat or even an entire boned out elk or similar animal.
18" x 34", 20" x 34", 20" x 38", 23" x 40", 21" x 24", 28" x 48", 28" x 60": These are the common sizes for quarter bags. You can choose the size depending on the size of the animal that you would hunt. These game bags are capable of holding ribs, hind legs, and more.
32" x 72", 40" x 86", and 46" x 110": Some people like to cover the entire carcass of their hunted animal. For that purpose, these three sizes would work the best. Such bags can store various animals including small elk, small hogs, whitetail deers, and even the full carcass of a large bull elk and mule deer.
6. Convenience
As a hunter, you would already be loaded with numerous things such as gears, backpacks, weapons, and more. Therefore, while choosing the best game meat bag, look for convenience.
Consider a lightweight bag without compromising on its durability. Convenience also accounts for easy management, meaning the bag should be easy to tie to the trees.
Considering this, best lightweight game bag with high convenience and usability is Argali High Country Pack Ultralight Game Bag Set.
7. Reusability & Longevity
You wouldn't want to purchase the bags every time you go on a hunt. The reusability and longevity of a game bag depend on its fabric. So, make sure you check the fabric and its reusability before buying. These must be easily washable and the quality shouldn't diminish after multiple washes.
It is also important to know how many hunting seasons would a game bag last. While most of these bags are designed to withstand all weather conditions, some could fail to perform well.
Conclusion
Whether you are hunting moose through Colorado Rockies, chasing whitetails in coniferous forests, or chasing elk through Alaska, you will require the best game bags for meat. These bags are available in a vast variety including small game hunting vest with game bag to large game bags for the entire animal carcasses.
However, you must only invest in what is actually worth the price and comes with the right features. Durability, aeration, easy maintenance, and protection are some of the top considerations to look for before the purchase. These critical pieces of gear must be with you every time you venture out on a hunt.
The three hunting game bags leading the list as my best recommendation include the Argali Game Bag Set, BlackOvis Game Bags, and Alaska Game Bags. These bags are made out of durable yet breathable fabric, preventing the meat from rotting.
Frequently Asked Questions (FAQ's)
What size should the caribou game bags be?
For meat parts or boned out animals, 16" x 20" to 23" x 30" . Quarters of the animal require, 18" x 34" to 28" x 60". For entire cadaver, best game bag size would be 32" x 72" to 46" x 110".
How many game bags should I carry for deer and elk?
Regardless of the animal you are planning to hunt, must carry minimum 4 game bags. Keep a few extra bags with you as well. 
How to clean reusable game bags?
Rinse out the bags thoroughly with lukewarm water. Now fill warm water and detergent. Mix well and soak game bags for 10-15 minutes. Now, rinse and dry.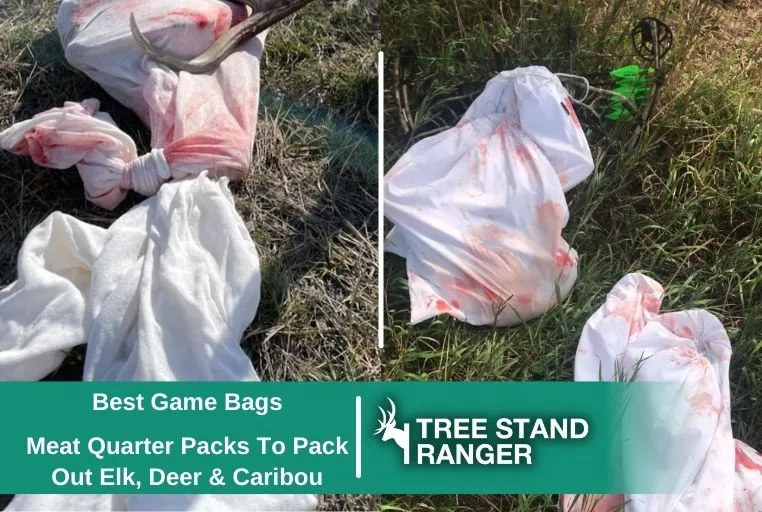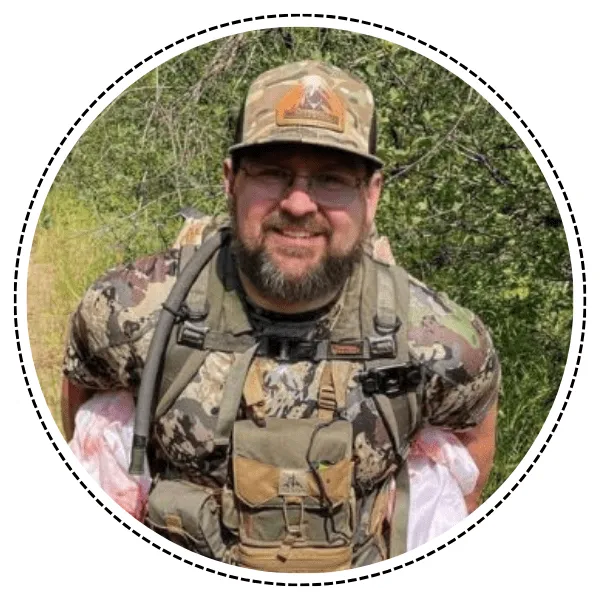 About Alex David
I am an avid bow hunter and author of Tree Stand Ranger. Hunting from tree stands has been a passion of mine for many years. I've had the privilege of owning several tree stands and hunting properties throughout my life, and I take great pride in having the opportunity to do so. Read more about me.