While hunting, nothing brings you closer to mother nature as much as sleeping in a reliable and best hunting tent under stars. While you are out in the woods, it is important to have the right tent with high waterproofing properties.
If you are looking for the best hunting tent that can easily accommodate 2-3 people, our recommendation is Forceatt Tent. For a large group of friends (4-10 people), the best hunting tent is Coleman Cabin Shelter. They have variants as per your group needs. Speaking of the most ideal tent for solo hunting, none could be as fine as the ALPS Mountaineering Lynx Backpacking Tent.
ALPS Mountaineering Backpack Hunting Tent
1 person backpacking & hunting tent
Width 2ft 3 inch, Length 7 ft. 6 inch.
Ventilated, aluminium made and best for backpack hunting.
Recommended to buy along with tarp.
Forceatt Lightweight Hunting Tent
Lightweight hunting tent for 2 to 3 person.
Width 7.38 ft. and length 4.425 ft .
High ventilation, easy setup and lightweight.
Great customer support & warranty but not extreme waterproofing.
GEERTOP Hunting Tent
2 person double layer hunting tent.
6.5 ft width and 4.5 ft. length.
Waterproof, 4 seasons tent and can be used as needed.
TreeStandRanger.com is reader supported website. We may earn affiliate commission if you shop using links on this page (without additional cost to you). Learn More
Similarly, to bear the days with scorching sun, the canopy should be UV resistant. There is a lot more to consider when it comes to choosing the right shelter tent. For instance portability, easy setup, materials used, ventilation, and more.
Forceatt tent is spacious enough that 2-3 adults can easily lay down on their back and store their luggage as well. It is easy setup takes no time and can be done without any equipment. Not to forget, it is lightweight yet durable and withstands heavy winds as well as rain.
Coleman cabin shelter boasts a robust structure with ample space for gears, backpacks and of course, full grown adults. Made out of 100% polyester, the fabric is double thick and promises great longevity.
ALPs Lynx tent is extremely spacious for a single person with all his stuff. Furthermore, you can easily set it up without any tool and within just 5 minutes, even if you are a beginner.
11 Best Hunting Tents For Different Seasons
From durable cotton canvas tents to high end polyester canopies, and single person bivy tents to 10 people large bell shelters you can find all. Whether you need it for 2 seasons or all 4 seasons, the options are vast.
With fellow elk and deer hunters, I tried more than 20 best hunting tents. Based on personal experience we finally picked 11 top choices (not 10 as we usually do as they are all great choices).
1. ALPS Mountaineering Lynx Backpacking Canopy – Best Hunting Tents For Solo Trip
ALPS offers some of the best hunting tents for one person and this one is no exception. From brilliant quality polyester fabric to sturdy aluminium poles, it ensures great longevity. This has been the best tent for backcountry hunting for more than 15 trips that I had in three back-to-back seasons.
The 7.6 ft. floor space is quite accommodating for a single person and their belongings. I threw my 6 ft. sleeping bag in with a 65 lbs. backpack and there was still a significant space left. Since it's only 3 ft. tall, I couldn't stand inside the tent but was able to sit without any inconvenience.
I performed a field test in different places such as Rockies and glaciers where the shelter didn't disappoint me at all. What made me go crazy was when I went hunting on a cold rainy day at Philmont Scout Ranch and it started hailing unexpectedly. To my huge surprise, the canopy survived the rain and hail with no trouble.
As soon as it started to pour down, I covered the tent with the UV-resistant polyester rainfly. I made the mistake of not covering the right side of the canopy which ended up with condensation accumulation on the top near the vents and on the poles. However, the next day I covered the entire tent and there was no condensation buildup but it is not highly water-resistant.
Forget the assembly frustration with the two-pole design. It was a dream to set up and could do it in 2 to 3 minutes. While this is not the lightest product but superb and one of the best hunting tents for its price.
Pros
Sturdy & smooth zipper
Keeps hunter dry & cozy in rain
Freestanding two poles setup
Protection against bugs
Mesh storage pockets
Cons
Rainfly avoids condensation but sometimes not efficient in waterproofing.
2. Forceatt Tent for 2 and 3 Person – Best Hunting Tents For Windy Areas
Nothing could be better than having a tent that is well-built, accommodates more than 1 person and is pocket-friendly. Our team tested this hunting canopy at different locations with varying environmental conditions. Designed to last long and provide maximum comfort, this Forceatt shelter brings you ease of portability and durability.
Our experience of using this tent was pretty satisfactory. On rainy days, we covered it with a rainfly for added protection. Furthermore, the wind-resistant property sure works amazingly from getting the canopy blown down.
The freestanding ability of this tent makes it the perfect choice for beginners. It can be set up by a single person within 10 minutes. One of my novice hunter friends when hunting for the first time, he easily set up the shelter within 7 to 10 minutes without requiring even a single too. Whereas, me being a professional was able to do it as quickly as 3 to 5 minutes.
Setting up this Forceatt tent is a lot easier in windy conditions as compared to the pop up hunting tents. No matter where you go and for what purpose you use this tent, it will serve you with all the right features. All in all, this was among the best cheap hunting tents that I had ever tried.
Pros
Multiple stash pockets
Elevated bottom design to protect from rain
Strongly withstands wind gusts
Strong zipper
Large mesh window for ventilation
Keeps bugs and critters out
Cons
Relatively less headspace
3. GEERTOP Tent For Camping 4 Season – Best 2 Man Hunting Tent
These tents are designed to withstand all four seasons without any damage. The polyester fabric boasts several properties such as wear and abrasion resistance. I have used this tent for numerous purposes with my camping buddy and it stood robust in all environmental conditions. It is fully rainproof and rightly so, we once used it for five days straight with two stormy nights. Needless to say, its water-resistance capacity is tremendous.
For added protection, we covered the tent using a rainfly which interrupted the airflow a little. I opted for the yellow-colored tent initially which unfortunately attracted more bugs so, we got it replaced with the green-colored one to resolve the issue. The polyester fabric is UV resistant which saved the tent from deterioration and fading even after using it for a year.
Our experience with this tent was amazing on chillier days as well. A rain tarp helped us to keep the colder winds from getting into the tent and building moisture. Furthermore, we used warm sleeping bags to keep our bodies from getting cold at night as chilled as 2 degree Celsius. Whereas, on humid days, the ventilation windows and two doors offered maximum flow of the air.
My friend and I had two hunting backpacks and a couple of gear with us which the tent easily stored. A quick tip: hunters often carry hunting game bags. some of them are waterproof and can be used to protect extra stuff like mobile phone and power bank. It also has some storage pockets allowing us to keep the important stuff in a safe place. Moreover, the lantern hook was robust enough to hold the flashlight.
One of the best things to cherish about this shelter is its easy setup which a single person can do without any tools and within 10 minutes. The freestanding aluminum poles offer instantaneous setup with sturdiness.
All in all, this 2-person hunting camp tent from GEERTOP comes with all the right features with great durability. Because of its lightweight, it fits in the back easily without adding hefty pounds.
Pros
Convenient free standing poles
Easy packability
Excellent airflow
Great room for two people with their stuff
Works amazingly in all seasons
Durable and rugged built
Cons
Yellow colored variant can attract bugs
4. OneTigris Rock Fortress Hot Tent – Best Hunting Tent With Stove
A solid ten crafted out of nylon, this one from OneTigiris comes with a chimney pole. It is built to last long and in all seasons. While it comes in one size only, it is quite roomy and can fit up to 6 adults and their luggage as well.
The snow skirt with windproofing allows the shelter to stay as warm as possible on extremely chilly days making it one of the best cold weather hunting tents. Whereas, for superior airflow on warmer days, the two top vents work efficiently.
Our field testing with this tent lasted in multiple terrains with varying weather conditions for elk and deer hunting. We spent quite some time in elevated areas with shivering cold temperatures sometime's even snow. What impressed us the most was the tent's impeccable ability to withstand some serious windstorms.
The issue that our team faced was when the strong winds were blowing and there was nothing at the bottom. The tent comes without a base flooring which kept the dust to blow continuously. Furthermore, the wind noise and flapping due to it were quite bothersome as well. 2 out of 5 people were unaffected by these two factors and hence had a great experience while others didn't.
When it comes to the stove pole, its placement makes adjusting sleeping positions a bit tricky as it could fit only 3 people to sleep. Even though nylon fabric resists ignition, it can get damaged excessively once ignited. Also, the stove jacket is quite near to the tent walls so, make sure to keep the flame low and never leave it unsupervised when turned on. The setup is easy with a center pole for enhanced convenience that can be done by 2 people. All in all, it is one of the best tent for elk hunting.
Pros
Stays strong in harsh environment
Two doors for easy access and ventilation
Efficient vents
Windproof skirts keep the inside warm
Windproof skirts keep the inside warm
Insects and bugs invasion isn't an issue
Cons
Stove jack is close to the tent fabric
5. Coleman Cabin Shelter – Best Elk Hunting Tent
This 3 season cabin tent is available in three different options for the number of people i.e., 4, 6, and 10 people. We were 6 hunting buddies hence, opted for the 6-person option. Coleman was one of my first cabin tents to ever purchase and these are still in perfect condition after 3 years of use. The manufacturers used 100% polyester for this robust yet lightweight cabin shelter.
If you are someone who likes camping or hunting on rainy days, these shelters can be an ideal choice. The floor is elevated from all four sides, mimicking a shallow tub which is exceptional in keeping the rainwater and snow out. The company named the patented corners a WeatherTec System.
Our team chose this as the best tent for elk hunting in Montana. It sports such a roomy interior with vast floor and head space that even the tallest one (5'11") could easily stand in the center with the head straight. That is what a cabin tent is for i.e., incredible center height. The double-thick polyester fabric ensures that the shelter stands strong season after season.
Speaking of portability, this cabin tent comes in a convenient and expandable carrying bag. When the company claims a 60 second setup, believe it. This amazing cabin shelter comes with pre assembled poles. The poles collapse as they are folded and extend in a snap as you unfold.
Our experience of using these tents in broad daylight was incredible, thanks to DarkRoom Technology. It prevents almost 90% of sunlight and reduces nearly 10% of the temperature inside.
Indeed one of the best hunting cabin tents, this one ensures brilliant durability and longevity. Moreover, the mesh windows allow efficient aeration while keeping the bugs and insects out. The only drawback is a single door which opens halfway only. This could be bothersome for taller people however, is a tradeoff for all the other impressive features.
Pros
Good ventilation through vents
Pre assembled poles for easy setup
Good center height
Protection from insects, flies and bugs
Convenient carrying packability bag
6. GEERTOP Bivy Tent – Best Ultralight Hunting Tents
My field testing with this camouflage tent for hunting lasted more than a year and I used it for 3 back to back seasons. Since it offers occupancy for a single person only, I chose it for solo hunting trips. My stuff included a large backpack and small luggage holding necessary camping and hunting gear. There are two vestibules offer easily packibility of the luggage and other essentials.
Made out of waterproof fabric i.e., polyester, this bivy tent was a great shelter on wetter nights. Say goodbye to humidity on warmer days, thanks to the efficient ventilation and airflow with two windows. I loved how the door is easily accessible from inside and outside both, it added to the convenience.
With a camo appearance, this bivy tent becomes an excellent choice for hunters. It helps to stay sneaky. I put on a hunting poncho as a cherry on top. When it comes to the floor and head space, the tent is quite roomy that it easily stored all my bags, gears and I still had ample space to lay down comfortably.
What impressed me the most about this shelter was its super easy and quick setup. It literally took me less than 10 minutes to bring the tent together perfectly that too, without any tools. The poles are constructed out of aluminum which offer guaranteed strength.
The overall durability of this tent is supreme. Be it rainy days or dry yet strong winds, this bivy tent won't lose its stability at all. It comes with a rainfly which I used during rainy days for better protection. All in all, this is indeed one of the best hunting tents for a solo experience.
Pros
Ideal for solo hunting
Highly durable double-stitched polyester fabric
Mesh protects from insects and bugs
Pockets inside for storage
Cons
Stakes can bend when hit by a hard object
7. OneTigris Cosmitto 2 Person Tent – Best Backpack Hunting Tent
Make your everyday camping and hunting easy with the best backpack hunting tents. This product by COMSMITTO has ample room for two people who need robust elk hunting tents in various environmental conditions and terrains. Constructed out of ripstop polyester with a nylon bottom, the tent possesses great waterproofing abilities.
Every single tent by OneTigirs comes with a seam sealing at the bottom to prevent water leakage. My friend and I were stunned to see how this shelter outperformed our expectations, especially on chillier days. The polyester material ensures that the inner temperatures are warm when it's cold on the outside.
With two zippered entrances, it becomes super easy to go in and out of the tent while these offer great airflow in humid weather. While this tent was superb for moderately rainy days, it is advised to not use these on stormy nights. Despite its high durability and capability to keep moisture out, it is not designed to withstand harsh rainy conditions.
Speaking of packability, the folded tent weighs super light and is easy to carry long distances with no issues. Moreover, it is quite convenient to set up or take down by two people within 5 to 10 minutes. As we hit some rocky grounds in California, the pins didn't work as well as they did on softer surfaces. We had to use much stronger pins for better stability of the tent.
This is probably my favorite deer hunting tent to use when I venture out with my buddy. From being extremely spacious to breathable in summer and warm winter while remaining bone dry on rainy days, it offers so much more. Additionally, it comes at a fair price point for the quality and impressive features hence could be a great bang for the buck.
Pros
Hexagon shape offers impeccable wind resistance
Ideal for backpacking
Spacious enough to fit two adults and their stuff
Freestanding tent & convenient setup
Cons
Very shaky in windstorm as per our experience and less height
8. Camppal 1 Person Canopy – Best Hunting Tents With High Waterproofing
With Impressive and useful features at an affordable price, the Camppal tent for solo hunters is surely a steal. Just what you would expect from a high-end tent, this one is also made out of polyester fabric. Never worry about a durable shelter in any season when you have a Camppal 4-season tent. To test its potency, I went out on frequent hunting and camping in different seasons and areas.
It features a high waterproofing ability i.e., 3500mm which doesn't let even a single drop seep through the tent, despite stormy rains up to 6 inches. Furthermore, in my experience of using this tent on Alaska's chilliest days, the shelter performed impeccably. Its deep cold-proofing and anti-freezing properties ensured equally distributed warmth in the tent. In addition to this, the ultraviolet protection will not let the solar radiation impact the canopy.
I took along an inflatable sleeping bag measuring almost 6 ft., it was to my surprise how it fit into the tent so easily. There was still nearly 2 ft. of length left for other stuff. Moreover, the tent is incredibly light in weight and compact that takes minimal space. It adds almost no weight to the bag and ensure easy packbility.
The metal stakes are not as durable as one must expect especially for rocky soil. To overcome this issue, I opted for six stakes much thicker than what comes with the tent. These helped to augment the anchoring power offered by the metal stakes.
Another issue that I encountered was while zipping and unzipping the bag. If the fabric is loose, it would get caught in the zip, resulting in tearing or damage. So, make sure to hold the fabric tight as you access the door. The compact design makes this product a great backpack hunting tent for solo trips in different areas with varying weather conditions.
Pros
Extended length offers plenty of room
Comes with a rainfly
Easy setup under 3 minutes with no tools by single person
Steam taping for enhanced waterproofing
Mesh on both doors prevent insects and flies
9. Unistrengh 4 Season Large Waterproof – Best Tent For Backcountry Elk Hunt
One of the best hunting tents with stoves, this is a bell shelter for a large group of friends. It offers a tremendous overall quality because of the double stitched cotton canvas fabric. It is the most durable and breathable material that one can opt for.
Usually, this fabric is treated with chemicals to become water repellent and UV resistant. Rightly so, my experience of using this shelter on numerous sunny days for a year was great without any discoloration or deterioration.
Since it is a bell tell, its area is measured in diameter, and based on that, the shelter is available in five different sizes. We chose the one with a 13.1 ft. diameter and 8.2 ft. max height. Our hunting team comprised 7 adults with the tallest one measuring 6'2". Needless to say that all of us fit in the roomy tent perfectly.
We used this bell tent for numerous long trips such as backcountry deer and elk hunting. The most amazing feature was the hole for the chimney pipe as it allowed us to cook the food conveniently. It is foremost to consider fire-resistant capabilities while purchasing stove-top teepe hunting tents. Fortunately, this one comes with a fiberglass fire-resistant cloth covering the stove hole.
It is indeed one of the best backcountry hunting tents that offered impeccable waterproofing on rainy days while standing robust in windy conditions. In summer, the cotton canvas fabric ensured exceptional aeration with four windows and 2 vents for great airflow. Despite being a huge bell tent, it is extremely easy to set up by 2 to 3 people and needs no tools for it. While it took nearly 10 to 15 minutes to bring the tent together, it is a fair time for such a large shelter.
Pros
Well insulated and ventilated
Felt durably constructed against all weather
Great for hunting in rocky mountains
Fire resistant fabric for enhanced protetion
Cons
If left wet for long time, it can build mold and fungus
10. 4 Persons Lightweight Tipi Hot Tents – Best Large Hunting Tents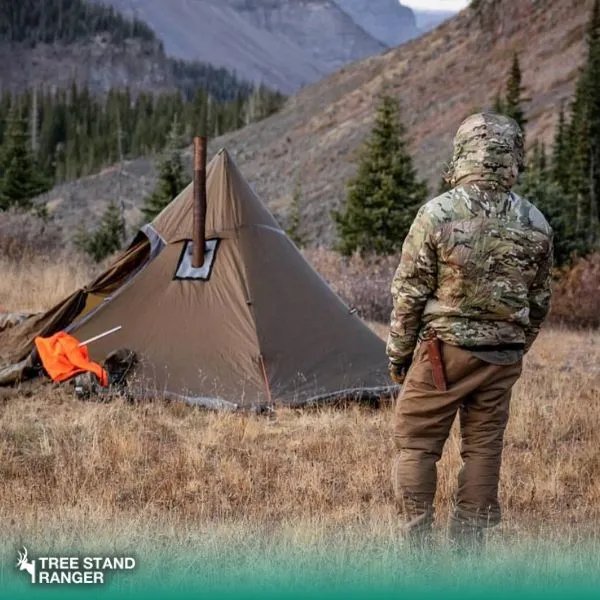 Large, easy to carry, and affordable? Yes, this canopy comes with everything and so much more for a group of hunters. It easily 4 of us without making the space crowded. Because of the incredible height of 7.3 ft., the tent looks quite spacious and allows even the tallest one in the room to stand with their chin up. For the floor space, you will get a mighty 13 ft. diameter to sit back, lay down, cook, and keep your stuff inside.
To test the anti-tear and doule-stitched polyester, we went on an elevated mountain range with heavy wind gusts. Though it made finding our prey trickier, we had to test out the tent's ability. To our surprise, it was one of the most stable tents ever. The pyramid shape of the shelter also contributes to enhanced steadiness in windy conditions.
Some of my friends who used this tent before experienced the dew factor luckily, we didn't. To reduce this, we raised the tent bottom and increased the gap between the bottom and the floor. It not only eliminated the dew but also improved the overall ventilation.
I spent a lot of time in Louisiana therefore, required a good hunting tent with a supreme water-resistant ability. Thanks to this tipi tent, my hunting on wetter days were never this safe and dry. Our team spent almost one entire day in the canopy during a rainstorm and there was not even a slight seepage of water inside.
We experienced some sparks emerging from the stove pole which was due to the fuel we were using. Make sure to choose your fuel carefully i.e., it must not contain any broken particles. Even though the shelter is made out of flame-retardant material, you must be very careful with it. Considering its brilliant features and portability, it is surely the best lightweight tent for backcountry hunting.
Pros
Fire resistant fabric
Good space for 4 adults
One person setup with in 10 minutes
Wind resistant and stays dry/warm due to skirt in cold days
Cons
To me, zippers did not felt strong enough
11. OneTigris Tegimen Hot Tent with Stove Jack – Best Hunting Canopy For Hammock
Who wouldn't like resting in a hammock that too, inside their hot tent? You heard me right. I enjoyed using this shelter a lot while taking some big animals down. This floorless canopy comes with two stove jacks with moisture-free rain covers. However, both are on one side of the tent.
The best thing about this tent is that both the doors open fully which results in excellent ventilation during summer. Unfortunately, there are no vents that don't let the inside stay cool unless you open both doors. On the other hand, we tested its stability in Oklahoma where the wind gusts exceeded 50m/h. This canopy survived in such weather impressively.
I and my hunting partner went to explore the northern upper peninsula of Michigan. The OneTigiris hot tent actually kept us pretty warm throughout. We took along toasty sleeping bags as well and slept comfortably.
When it comes to the stove jack, we were only concerned about the pipe. Our preference was a double-layered and well-insulated pipe so that the tent or stove jack doesn't get damaged. Fortunately, it was a great idea and there were no burning spots or melting anywhere in the tent.
Setting up the tent was a little challenging since it doesn't come with poles. However, we still managed to bring it together using sturdy ropes and tying it with the nearby tree trunks and branches. Though the tent was pretty stable, it took it more than half an hour to bring it together with the help of 2 people.
Pros
Spacious for 2 to 3 people
Have enough space for a hammock
Stands strong even in bad weather with high quality zippers and proofing against water to seep through
Two doors that open entirely, great ventilation and wind flow
Cons
Poles need to be bought separately
Lack of additional vents other than doors
Buying Guide
There are a slew of key features to consider as you step out to purchase the best hunting tents. These tents are the most important things for a safe hunting experience so, choose carefully.
1. Material
The foremost thing to look for when purchasing the best tents for hunting is their material. What a tent is made of can tell a lot about its performance, quality and longevity. Different materials are used to perform in a variety of conditions.
Cotton Canvas
It is one of the best materials used to craft hunting tents. Canvas is made out of 100% cotton, resulting in exceptional breathability as well as durability. Some canvas tents are treated with waterproof elements and hence, can withstand all four seasons.
These tentages can be slightly heavier to carry but worth every pound of the weight. Cotton canvas material offers the best hunting camp setup for a large group of people.
Polyester/Silpoly
The polyester and infused silicone blend is commonly known as Silpoly. Tents constructed out of this blend are pretty much reasonable and offer high resistance to abrasion. However, these tents are likely to absorb more water hence, not the very finest choice for rainy days. Due to this property, silpoly tentages take a longer time to dry out completely.
Silnylon
Slinylon is short for silicon and saturated nylon and it is one of the sturdiest materials one could invest in. These tents are prone to stretching and sagging during crazy rain and winds but it doesn't impact the durability. Silnylon hunting shelters are a bit pricier than silpoly but overall the price is moderate and worth it for the performance.
Dyneema Composite Fabric
Lightest of them all, the DCF tents are designed for hunters who travel vast miles for hunting and camping. Boasting an exceptional and complete moisture-free ability, these shelters are best used for rainy or snowy days.
While these offer brilliant capability to keep moisture out and don't stretch out at all, DCF tents fall short on durability. Moreover, these canopies are the priciest among all the choices. That said, these are mostly used by hunters who want to cut out on carrying weight.
2. Weather Resistance
You never know when mother nature can bring some unexpected surprises and ruin your hunting. That said, it is essential to go for the best tent for hunting in different weather conditions. Based on the type of weather and its intensity, the best hunting tents can be of the following types:
3 Season Tents
These tents are best suggested for people who venture out on a hunt during mild weather conditions. The 3 -season tents are designed to provide warmth and safety in a non-threatening environment. You can easily set up the tent and stay safe in it when the rain and winds are moderate.
4 Season Tents
On the other hand, the 4 season tents are much more durable and built to withstand hard weather conditions. These tents promise guaranteed safety, dryness, and warmth during challenging environments. The robust material used and enhances insulation results in impeccable protection and durability during heavy rains, winds, and snowy conditions.
However, if you hunt in different places and throughout the hunting season, look for an all weather hunting tent. The cotton canvas is the only fabric with the ability to withstand every kind of environmental condition. These offer impeccable breathability during humid temperatures. Whereas, during winters, these tents trap your body heat and keep the tent warm and cozy.
3. Portability
While going on a hunt, you are already loaded with various essential items/gears and have a massive distance to cover. Some more added pounds of a hunting tent can definitely be bothersome. Whichever tent you choose, make sure it doesn't add significant weight to your bag but doesn't compromise on durability either.
Tents for hunting come in numerous sizes, for example, an ultralight canopy would weigh as low as 0.6 to 0.75 lbs. Whereas, some companies such as MSR makes bivy sacks for a single person weighing only 0.5 lbs.
Speaking of large hunting tents for 4 or more people, these could weigh as much as 10 lbs. On the other hand, the average carrying weight for a single-person hunting tent is between 1 to 2 lbs.
4. Capacity
Whether you are a solo hunter or travel with a group, choosing the right tent capacity is a must. Apart from the number of people, determine the volume your gears would take. Once you have figured out the aforementioned questions, you can choose the size accordingly. Don't get overwhelmed by the vast variety of options available and never go overboard.
It is common among hunters to carry hunting stands. There are various treestand accessories that need to be brought as well. This may include climbing sticks, safety harness. To my experience, buying a spacious unit with plenty of room is always beneficial.
5. Floor And Head Space
Considering capacity isn't enough, you must also carefully look for floor and head space available. The floor space must be ample for the number of people along with the gears and other stuff as claimed by the manufacturers. You never know how much time you would spend in your tent, so it must have enough floor space for everyone to lay down on their back easily.
Similarly for the headspace, if you are alone then, measure your height before purchasing the tent. However, if you are going with a group, measure the height of the tallest person and look for the tent accordingly. It would help everyone stand in the shelter comfortably.
6. Ventilation
Always look for a tent that ensures good ventilation. You can determine this by looking for mesh doors and windows as well as gable vents. This will ensure the freshening of air in humid conditions while offering warmth on chillier days.
7. Setup & Installation
You already have so much to take care of as a hunter. Having a tent with a complicated setup would be the last thing you would want. All these efforts, time, and energy should be saved and used for what requires it. That being said, buy a hunting tent that comes with an easy setup.
A quick tip: As hunter you might face the hooks may break while installing tents. We used to carry screw in tree steps for our tree stands which are used not only to hang extra stuff on trees but also to fix the tent when missing hooks.
Typically small-sized hunting canopies are the simplest to set up because of their basic design and less material. Contrarily, bigger tents especially those with rain fly or stoves are a bit trickier. These tents cannot be set up by a single person and require a team effort.
Luckily, many manufacturers have now rolled out large tents with instant setups that can be done under 5 minutes. So, explore the options around carefully and choose what suits you the best.
Conclusion
All in all, having the best hunting tent that can last multiple hunting seasons is a must. However, finding one could be challenging. There are several aspects to finding the right product that fulfills your requirements such as the material used, portability, size, ease of use, and more. Consider each one of them carefully so you don't end up purchasing a new tent every hunting season.
According to my research, the top three best hunting tents are ALPS Mountaineering Lynx Backpacking Canopy, Forceatt Tent for 2 and 3 Person, and GEERTOP Tent for Camping 4 Season. From premium durability to water and UV resistance, easy portability, and setup, these shelters are extremely capable.
Frequently Asked Questions (FAQ's)
How long does a hunting canvas tent last?
Canvas hunting tents can last up to 15 to 30 years with proper care. Poorly maintained tents can be used for 3 to 5 years. 
How much does a hunting tent cost?
You can find best solo hunting tent on a for as low as $100 and a premium large tent for up to $1000 or more. 
Do I need a rain fly for the hunting tent?
Even though rain fly is not necessary it is recommended to get for rainy or snowy conditions. For canvas tent, it is must. It will cover the tent and prevent water from seeping through the fabric.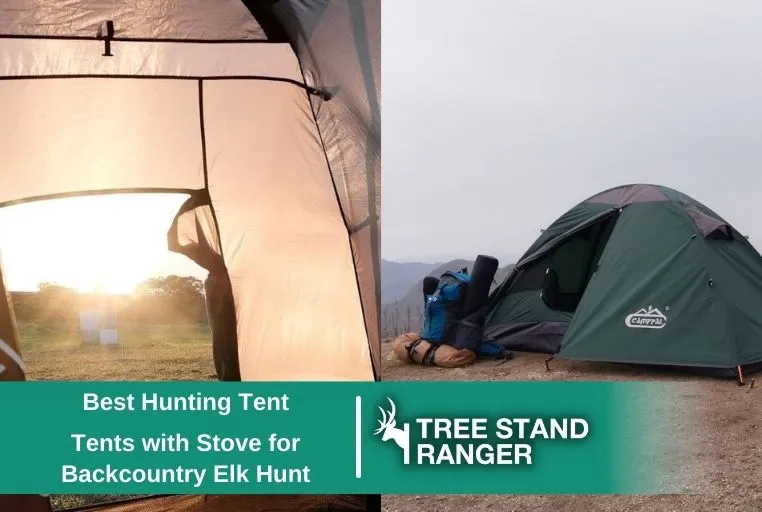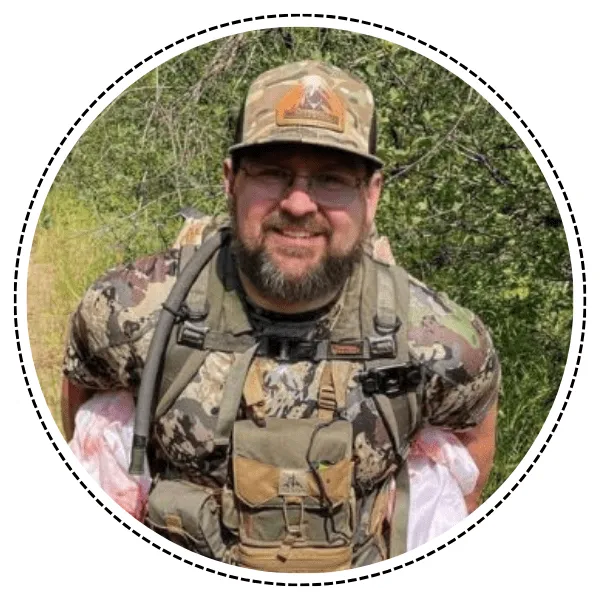 About Alex David
I am an avid bow hunter and author of Tree Stand Ranger. Hunting from tree stands has been a passion of mine for many years. I've had the privilege of owning several tree stands and hunting properties throughout my life, and I take great pride in having the opportunity to do so. Read more about me.