Saddle hunting itself is a challenging activity and requires climbing expertise. While in the elevated position, your knees are likely to come in contact with the rough tree trunk. That said, it is essential to wear the best knee pads for saddle hunting. While in the search for top saddle hunting knee pads, Bodyprox Protective Knee Pads became our top pick.
These will add an extra layer of protection and save your knees from potential damage. Offering unmatched safety while being light on the pocket, these are ideal for all saddle hunters out there.
Hunting Knee Pads
Bodyprox Best Knee Pads
Highly comfortable saddle hunting knee pads.
Unisex design made with foam to protect knee injury.
Non slip, easy to wear,(multiple sizes) flexible & adjustable.
Multi purpose and can be used for extreme sports.
Rugged Knee Pads
No Cry Saddle Hunting Knee Pads
Rugged and densely padded knee pads.
Best for climb and hunt situations i.e. tree stand and saddle hunting.
Adjustable elastic straps and buckle closure (one size fits all).
Other than hunting, it can be used for indoor and outdoor works.
Editor's Pick
Thunderbolt Hunting Knee Pads
Comfortable padded stitched knee pads.
Non slip grip made for trade jobs as well as hunting and sports.
One size fits all, adjustable straps with buckle.
TreeStandRanger.com is reader supported website. We may earn affiliate commission if you shop using links on this page (without additional cost to you). Learn More
Let's have a deeper look at what else this and other knee pads for hunting have for the hunter.
25+ Hunting Knee
Pads Reviewed
8 Best Knee Pads
Recommended
200+ Hours
Of Research
8 Best Saddle Hunting Knee Pads
Bodyprox Protective Knee Pads – Best Tree Saddle Knee Pads
Best Overall
These amazing knee pads are made out of high quality materials such as Eva, polyester, and high-density foam. Because of the lightweight compression, the muscles of your knee will stay warm and protected from injury.
It comes in three different sizes, i.e., small, medium, and large. The large size comes with a 12 inch diameter and fit our team member with 5'9" height. He wore it over the hunter suit and it was a snug fit.
These feature a pull on design and because of high stretchability, we were able to wear these over the hunting bib or suit. With the non slip design, you can enjoy a secure and ergonomic fit all day long.
The high-density and thick foam provides immense comfort and absorbs shock to keep your knee safe. What makes it ideal is the freedom of movement, thanks to the extreme elastic bend. The breathable material and moisture wicking properties keep your knees cool and dry, even during long hunts.
Unlike other choices, we loved the pull on design that prevents noise when wearing knee pads. One downside of this design is that there won't be room for adjustments.
Pros
Impact proof
Includes shock absorbing properties
Easy pull up wear
NoCry Knee Pads – Best Heavy Duty Saddle Hunting Knee Pads
Rugged Pick
Designed while keeping the severity of construction, hunting, and gardening in mind, these knee pads are indeed a great investment. These knee pads allow a maximum of 22 inch circumference, which is enough for people with heavier physiques.
As we tested, these knee savers offer a great degree of adjustability. Rightly so, almost every hunter from our team enjoyed a comfortable fit of this product. Priced higher than Bodyprox, these are the best knee pads for saddle hunting with buckle closure.
The thick gel cushion on the inside provides a soft feel, so you don't feel uncomfortable wearing it for a long time. Additionally, the 600D polyester mesh lining ensures breathability, whereas the heavy duty caps on the outside provide exceptional protection.
Being the best construction knee pads with heavy duty materials, these are fairly long and highly adjustable. The only issue we encountered was a slight bulkiness of this accessory due to the materials used.
Pros
Military grade toughness
Criss cross buckle straps
Breathable on the inside
Thunderbolt Knee Pads – Best Non Slip Knee Pads
Top Pick
Offering top notch protection, these are one of the best knee pads for saddle hunting. From high end protection to anti slip properties, Thunderbolt promises to provide a safe and ergonomic experience. Our team member 5'6" tall with a not too big knee circumference found the velcro straps a bit short.
Thankfully, these knee pads come with an extra pair of 7-inch extending straps so that no one complains about the fit. Moreover, its buckle closure allows easy adjustment and comfort when worn over a hunting suit.
The Elite series is the latest release from Thunderbolt with a unique feature of a double gel and memory foam layer. It not only prevents the knees from hurting but also keeps them cool throughout humid conditions.
Engineered to provide extraordinary comfort without compromising on the grip, the Thunderbolt knee pads are extremely slip-resistant. We tried it even with shorts on, but the velcro scraps result in superb adjustability.
The velcro straps can be a bit of a problem when you want to adjust the knee pads since these are loud enough to spook the nearby animals.
Pros
Hardened outer knee cap
Doesn't slip at all
Neoprene and mesh build allow breathability
Cons
Velcro straps can make unwanted noise
Rexbeti Knee Knee Pads – Best Hunt Pad For Knees With Thigh Support
Editor's Choice
Knee Pads from Rexbeti are the perfect solution for saddle hunters seeking both protection and comfort. The best thing about this product is its suitability for older hunters or those with weaker knees.
Each strap measures 7 inches, and the product comes with four extra hook and loop straps for easy extension. Even the big guy from our crew measuring 6'4″ in height and 280 lbs. weight loved this product.
What makes this product stand out from other choices is the thigh support. The broad velcro straps are easy to adjust for various knee circumferences. These rest perfectly on the thighs, providing an extra layer of security and preventing them from sliding down.
On the inside are high density foam and thick gel responsible for shock absorption. In our experience, the interior provided comfort by significantly reducing the pressure on both knees.
All in all, these from Rexbeti are amazing tree stand pads for the knees. The velcro straps could be a problem else; these are ideal.
Pros
Reinforced stitching for durability
Comfortable soft core gel
Thigh support
Tough Built Knee Pads – Best Premium Saddle Hunting Knee Pads
Editor's Choice
If you are an adventurer and like taking risks on giant trees with rough trunks, look no further than the ToughBuilt knee pads. This is the most expensive set on our list today and indeed a premium one in terms of toughness.
During our testing, these extra-ordnary hunting pads were able to fit the knees of a 300 pounder 6'7" hunter. To our surprise, it also became a comfortable choice for an individual as tall as 7'3".
The core gel and foam design with an ergonomic shape and thigh support are a few features that add to its price. We were truly impressed by the thigh support that works efficiently to keep the knee within the kneepad.
Moreover, when climbing the platform for saddle hunting, we experienced some hits with the tree trunk. As a result, they realized that the rugged double injected shell distributed the pressure so well that it didn't feel harsh on the knee at all.
Overall, the ToughBuilt has one of the best knee pads for saddle hunting, crafted from high grade materials. Being made with very heavy duty materials, these feel notably heavy on the knees.
Pros
Shatter resistant plastic
Abrasion resistant 1680D fabric
Withstands hunting rigors like a charm
Carib Gear Pro Knee Pads – Best Saddle Hunting Knee Pads With Cushion Support
Editor's Choice
Forget the hassle of adjusting your knee pads every now and then with the Carib Gear Pro. These are made with extra gel and cushion support to ensure ergonomics while you enjoy saddle hunting.
According to our experience, the knee cap measures 4.5", which is wide enough to cover knees of various circumferences. A 5'8" female hunters weighing just under 200 pounds from our team of hunters found this as a decent fit for her knees. The velcro straps are perfect for quick and easy adjustability.
The thick gel and cushion absorb shocks and distribute the pressure evenly so that the hunter doesn't feel anything. The hard shell thermoplastic knee cap is a robust shield and provides superior protection against scrapes, bumps, and bruises while hunting.
Carib Gear makes sure that no one feels left out; hence, the package includes two extra extension straps, each measuring 10 inches long. All in all, these are impeccable climbing knee pads for saddle hunting.
Pros
Soft and ergonomic cushion support
Highly adjustable for custom fit
Great impact resistance
Cons
Heavy padding can cause warmth or sweatiness
Alta Knee Protector Pad – Best Camo Knee Pads
Editor's Choice
For hunters wishing to maintain their camo appearance while saddle hunting, this product is an excellent choice. Worn by a 6'2" man with over 200 lbs. weight, and these knee pads held up perfectly, providing optimum comfort.
The outer layer is made of tough neoprene, and the inner layer is soft closed cell foam for comfort. . Besides the camo looks, it offers superb protection during saddle hunting.
The adjustable straps allowed for a secure fit for all and gave us peace of mind during the hunting excursions. A unique feature of this knee pad that we appreciate is the tricot liner designed to keep moisture and dirt out.
Forget the loud sound made with velcro while adjusting the knee pad, thanks to the Alta lock fastening mechanism. The company's exclusive locking system makes it convenient to wear, remove, and adjust the knee pads silently.
Pros
Silent fastening
Easy to wear
Soft padded foam on the inside
Cons
Relatively less durable
Pricey for some users
Bucket Boss Utility Knee Pads – Best Lightweight Saddle Hunting Knee Pads
Editor's Choice
When it comes to buying the best knee pads for saddle hunting that are comfortable, durable, lightweight, and priced right, Bucket Boss Utility is the steal. Despite the soft 600 poly ripstop fabric cap, it ensures safety to the knees.
During our field testing, these knee pads could fit people with varying heights up to 6'. However, the product failed when it came to providing a comfortable fit to hunters having a slightly larger knee circumference.
The absence of a hard shell knee cap significantly reduces the weight of this product. Made with a durable canvas outer layer that can resist water and rough terrain, we can count on these knee pads without worrying about wear and tear.
One of the most important features of knee pads is the ability to stay securely in place during use. The elastic straps with hook and loop closure allow easy adjustability.
If you are an occasional saddle hunter and don't go too far with the risks, this product from Bucket Boss Utility is a great choice.
Pros
Extremely lightweight
High comfort because of soft foam
Water resistant
Cons
Less protection due to soft knee cap
Doesn't fit all
Buying Guide
Here is a list of the most important factors you must remember when buying the best knee pads for saddle hunting.
1. Durability
As a saddle hunter, you will be dealing with the outdoor rigors and exposed to rough terrain, bushes, tree trunk, sticks, etc. All of these can cause harm to your knees if kept unprotected.
When buying saddle hunting knee pads, make sure these are durable enough to withstand bumps. In our experience, we found NoCry Knee Pads as the most durable choice.
2. Comfort
Saddle hunting isn't a matter of a few minutes but can take several hours. That said, you should wear only the most comfortable knee pads for a smooth experience. Whichever product you choose, ensure it fits your kneecap perfectly and doesn't slide down when you move.
3. Fastening Mechanism
While on the tree, you are already trying to stay quiet so that the nearby animals, especially deer, aren't spooked. That is why it is foremost to look for a knee pad that comes with a silent fastening mechanism.
Those having simple and quick straps with easy adjustability are ideal. Some knee pads come with velcro straps which can produce noise.
Conclusion
Whether you are new to saddle hunting or a veteran, nothing comes above personal safety. That said, you must get your hands on the best knee pads for saddle hunting. Small in size but mighty in performance, this little accessory is highly neglected by hunters.
While testing numerous saddle hunter knee pads, we found the Bodyprox Protective Knee Pads, NoCry Knee Pads, and Thunderbolt Knee Pads as the three best recommendations. These are excellent armour for your knees when you are climbing a rough tree trunk and hanging by it.
Frequently Asked Questions (FAQ's)
What are the best alternatives to saddle hunting knee pads?
An easy alternative to saddle hunting knee pads is, tie a cushion on the tree using a strap at knee level. This will save your knees from getting hurt.
Can I buy heavy saddle hunting knee pads?
Yes, but it is not recommended. Heavy knee pads will add an additional weight and can also cause discomfort for full day hunt. Therefore, lightweight and durable knee pads are recommended.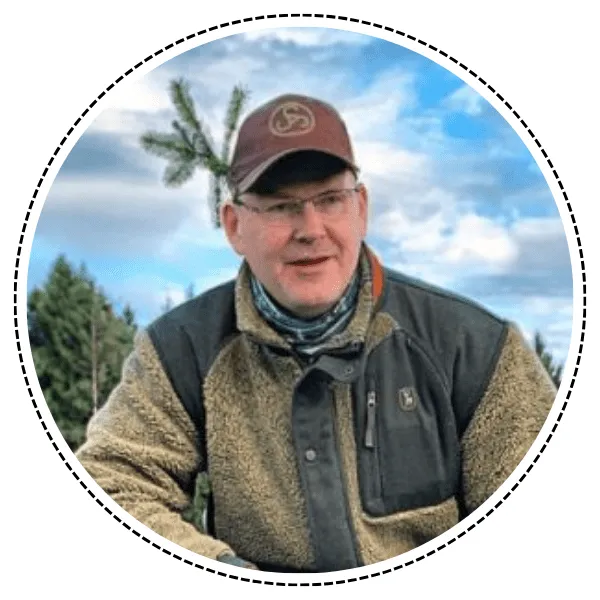 About Henry Liam
I am a father, veteran, database engineer and a hunter from Pacific Northwest. I am also the founder of Children Outdoor Adventure Network. I live with my wife and two children in Seattle. Since teenage I am doing run and gun style hunting on public lands and have visited all 50 states as well as Canada. Read More about me.