Hunting is undoubtedly a great experience. This can only be enjoyed to its fullest when you are equipped rightly with a best ladder stand and in right place. Moreover, being in the right spirit is above everything.
Duke One person Ladder Stand
Tallest ladder stand with 20 ft. height to shooting rail.
Comfortable wide seat for big guys.
Easily carry upto 300 lbs. (136 Kg) weight.
Jaws for sturdy tree attachment.
Installation require 2 person.
Big Game Bow Hunting Ladder Stand
18.6 ft. tall ladder stand for bow hunting.
With 350 lbs. (158.7 kg) carrying capacity and spacious design, it is made for all types of hunters.
Foot rest, padded arm rest and back for comfort and quietness.
The advertised height is up to gun rest.
Rivers Edge RE665 Wide Seat Stand
One of the best comfortable wide seat stand suited for 1 or 2 person.
Weight capacity of 500 lbs. make it most durable in one person ladder stand category.
The height is 16 ft. 1 inch to the seat and even higher till shooting rail.
For one person, X Stand The Duke is best ladder tree stand for bow hunting. Last year our team was at several hunting sites in Iowa and we tried more than 25 ladder stands. So, trusting us wouldn't disappoint you at all. If you need a sturdy stand for 2 persons, check best 2 person ladder stand
Ladder Stands are a great help while bow hunting or deer hunting, one good thing about them is that they are the quietest of all. Your target wouldn't go anywhere and the whole hunt would go smoothly, only if you know your way with the stand.
The biggest issue we faced in buying ladder stand is missing parts. If you are spending 200$ to 400$, make sure to contact support and remind them to package everything correctly and separately. Also ask them to make package secure before shipping.
The second biggest issue you will face after buying a ladder tree stand is mixed nuts, bolts and other parts. Make sure to sort small parts and read user manual to avoid confusion.
10 Best Ladder Stands For Bow Hunting (2023) – Tall, Comfortable, Safe & Lightweight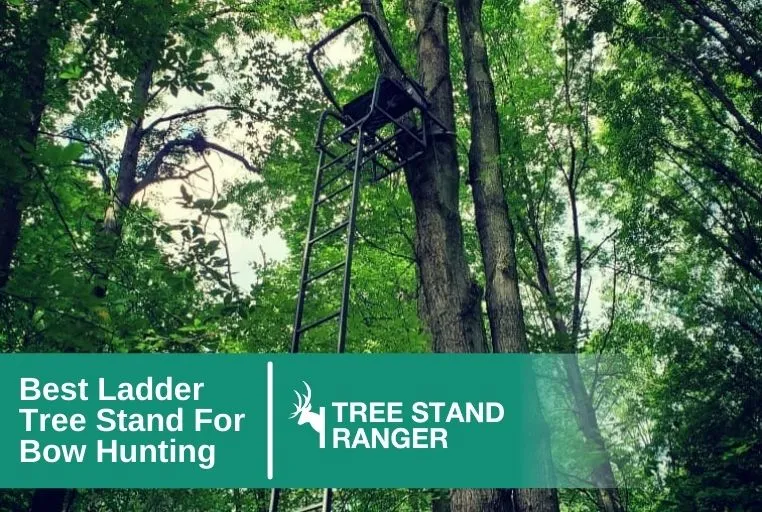 Even though we have a winner which is x stand the duke, but we have the top rated ladder stands ranked in order. We will discuss every minor detail of each ladder stand whether it is good or bad. Our fair and honest ladder stand reviews will function as a key factor in your buying decision.
Being hunters ourselves, we can understand how minor details matters. To get a better idea of ladder tree stands, you can go through the expert tested reviews that we have done to save you from trouble.
We have also provided an extensive buying guide to help you see what features are necessary for a successful tree stand hunt.
1. X Stand The Duke – Best Tallest Ladder Stand (20 ft.)
Duke is pretty similar to the Jayhawk, only it is a single person tall ladder stand. The reason of this unit being the best ladder stand for bow hunting is its height, safety and comfort. There are very few stands that are 20 ft. tall and x stand duke is one of them.
Like other ladder stands, Duke require 2 to 3 people to set up. However, the instructions are clear and once you have all the parts assembled correctly, erecting this unit is quite easy.
X stand Duke is 20 ft. tall steel made, black colored and comfortable ladder stand with weighing capacity of 300 pounds.
During hunt, we found the backrest and footrest quite comforting for extended sitting. Along with gun rail and arm rest, he cup holder is nice feature to add. To add comfort to it, we loved best tree stand seat that compliment its prolonged usage.
The unit itself weighs 79 pounds. The platform size is 18 inches wide and 26 inches deep. The seat is cushioned with a size of 22 inches wide and 16 inches deep. It also comes along with a best safety harness like all the other tree stands. The cup holder is another nice feature.
During hunting in Iowa, this stand worked way better than our expectations. Although, the nuts and bolts are quite confusing. Moreover, we enjoyed our hunt throughout because of the endless comfort. The adjustable gun rail was a cherry on top.
Pros
Has a jaw safety system.
The seat is very comfortable.
Easy to assemble.
Doesn't make excessive noises.
A tall ladder stand with 20 feet in height.
Cons
Mixed up and missing nuts and bolts in package.
2. Big GAME Hunter HD – Best Ladder Stand for Bow Hunting
The reason for calling BIG GAME Hunter HD our number 1 pick was that is the level of comfort that it provides which is necessary for bow hunting from a ladder stand. It has a foldable and extra wide seat which provide ease when bow hunting. This special design provides comfort to the legs and back. Thus, making it a best ladder stand for bow hunting.
Big Game HD 1.5 is 19 feet tall steel made strong black colored structure.
An interesting thing we liked is the removable and adjustable rail. You can flip up the rail at any point in your hunt to get the perfect angle at your deer or any target you are aiming at. It has a 23.5 inches wide and 29 inches length platform and has an amazingly good carrying capacity of 350 pounds.
However, with this much carrying capacity and steel structure, it comes with its own weight of 61 pounds which is not too much considering that multiple people has to go through the mess of erecting and setting up tall ladder stands. We can say that its generous features are much better for big guys.
Back in 2021, we had experience of missing parts when bought multiple units of this bow hunting ladder stand for various properties. However, the missing parts were sent to us once we contacted support and lodged the complain.
Pros
Perfect for big guys because of its size and weighing capacity.
Provides the comfort of another level.
Can be folded easily which makes it portable.
Cons
Takes time to set up and install.
Noisy when its frame and the footrest collide.
3. Rivers Edge RE665 Twoplex 2 Man – Top Rated Ladder Stand
Usually, top rated ladder stands comes with above average price. So does Rivers Edge RE665. It is made for two persons and maximum focus is on comfort for long sits during hunting season.
River edge is 17 ft. tall rugged steel made, black colored top rated ladder stand with a carrying capacity of 500 lbs.
The seat is a mesh bench style that can easily be flipped up. It has a wide platform of 40 inches, so getting a good vantage point would be easy in this stand, which is why it will prove to be the best ladder stand for deer hunting.
During field test, we found issue with the seat as it was a little loose and had to place seat cushion to sit more erect. However, it was nothing when compare it to overall build quality, compact design and rugged structure.
A great feature it has is a two way adjustable shooting rail. You can fix the height and depth according to what suits you. It is 17 inches in height till the shooting rail and 16 inches till its seat. The carrying capacity is 500 pounds like other stands while it is 98 pounds in weight itself.
Pros
Adjustable shooting rail.
Wide platform.
Lightweight for two people.
Cons
The seat needed cushion to provide comfort.
4. X Stand Jayhawk 20 ft. – Best Heavy Duty Ladder Stand (2 Person)
Jayhawk is the best heavy duty ladder stand for two people to sit on. It can carry up to 500 pounds and weighs 122 pounds itself. The weight seems a little too much but considering there are two people to set it up, 122 pounds won't bother. It is durable with steel construction and simply the tallest ladder stand as it has a height of 20 ft.
X stand Jayhawk is the finest, 2 seats, steel made, cushioned seat, black colored rugged 20 feet tall best heavy duty ladder tree stand.
The platform is 42 inches wide and 34 inches deep along with a cushioned seat of 39 inches wide and 17 inches depth. Not to mention, it has a backrest of 39 inches to 19 inches. Also check best two person ladder stand for permanent private land hunting solution
Its wide platform size gives huge space to aim, you can either sit down or stand up, in whatever way you are comfortable. The ratchet straps are not strong and need to be replaced after some time.
During 2021 hunting season in Iowa, we tested this stand against various factors. With successful hunt of a big buck, it showed us how sturdy and quite this stand is. However, its weight can certainly annoy some people because setting it up can never be done by a single man. You might need a third guy to help you erect it.
Pros
Sturdy and durable in its construction.
The seat and platform are perfect in comfort for long hunts.
Safest ladder stand; has every necessary equipment including a safety harness.
Doesn't rattle during the hunt.
Cons
we experienced delayed shipment with this unit.
5. Muddy Skybox Deluxe – Best Ladder Stand for Deer Hunting (17 ft. and 20 ft. Variants)
Muddy Skybox is simply one of the heavy duty ladder stands best for deer hunting. Its sturdiness can match no other stand. This stand is uniquely powder coated with fiber guard which makes it strong in construction. The 17 ft. variant weighs 61 pounds whereas the 20 ft. variant weighs 86.4 pounds.
Muddy skybox is 20 ft. ladder stand with black color structure, sound proof padding and comfortable build for long sits.
The noise of metal clatter is not an issue in this stand. No metal comes in contact that helps and produces no noise at all while adjusting the rail or leaning to aim. Its shooting rail is padded. The rail can be removed, flipped, and adjusted to any height or depth.
In measurements, it has a 22 inches wide, 19 inches tall, and 17 inches deep seat. As for the foot platform, it is 19 inches wide and 25 inches deep. The seat also has lumbar support that lets you sit in comfort for many long hours.
We were satisfied with overall sturdiness and comfort. However, assembling this unit took quite some time as instructions were not clear. Make sure to look at video footage on YouTube which will save you some time. Overall, it is a good option if you want a durable and comfortable ladder tree stand on your property.
Pros
Sound proof built through padding
Comfortable ladder stand for long sits
Sturdy in construction
Cons
Foot platform could have been a little wide.
6. Guide Gear 15.5 ft. – Best Ladder Stand for the Money
This ladder stand can easily be counted in lightweight portable ladder tree stands. It has a sturdy steel body that can hold up to 300 pounds and weighs only 61 pounds itself which is lightweight considering its steel construction.
The best part of this tree stand is its portability. It is not too heavy and takes optimum space. For big and tall guys, the arm rest and gun rail may cause trouble. The gun rail can be removed but the seat has space of 17 inches to 18 inches. Shooting rail is adjustable as well.
It is just 15.5 feet tall till its shooting rail. Its mesh seat can be folded and has a backrest with it. Whereas the foot platform is 26 inches wide and 15 inches deep.
It certainly is a light weight ladder stand but it comes with some drawbacks. One is the fact that its seat is pretty uncomfortable for some people. The platform and seat size do not suit a good statured guy at all. Buying it for the sake of having a lightweight stand is great.
Pros
Extremely lightweight.
Easy to set up and portable.
Stays quiet while the hunt.
Great for long sits.
Cons
The seat isn't comfortable.
Height is only 15.5 ft. compared to tall 20 ft. stands.
7. BIG GAME Guardian XLT – Best Lightweight Portable Ladder Tree Stand (53 lbs.)
The Guardian XLT Steel ladder stand is 18 ft. tall ladder stand that stand out as the light weight ladder stand for two people. It can carry up to 500 pounds and it weighs 53 pounds only. It features a padded rail that can also be flipped back.
Unlike other ladder stands which have chair style seats, this unit has bench style seat. Hence, it is missing the backrest.
If you are looking for portable ladder stand within budget, this unit is the best option. The bench style seat can be used for one or two smart fit persons.
It can easily be set up for a tree of 9 inches in diameter. The foot platform is 6.5 inches wide and 12.5 inches deep. The seat measures 38 inches in width and 12 inches in depth.
During field testing the opinions were divided. The reason is that this unit doesn't have a backrest which makes it very uncomfortable. The Big game guardian XLT is the winner for value for the price.
For whom does this unit serves the purpose? If you are a beginner, this is for you. You need to buy seat cushion and do foam padding on rear bar. The bench style seat can be used for one or two people.
Unlike chair style double seat stands, one person can sit in middle of the seat. Moreover it is lightweight and easy to assemble once you sort the parts and read the manual.
Pros
Easy to assemble and set up
Light in weight
Can easily be taken to faraway places
Cons
No backrest makes it uncomfortable
8. BIG GAME Warrior Dxt – Best Ladder Stand for Hunting
The Warrior dxt ladder stand looks like a two person stand but it is not. This stand is provided with all the essentials including backrest, padded shooting rail and it is overall a decent option for deer hunters.
The warrior dxt ladder stand comes in black or camo color weighing only 48 pounds and has a carrying capacity of 300 pounds. The tree stand height is 17 feet is great option under 200$. The seat and back rest is water proof and made of mesh. Our experience was great with respect to comfort and price point.
During 2021 hunting season, we were able to assemble and test this unit and found it to be quite comfortable and sturdy. If you are looking for a best ladder stand for hunting under budget option, that has comfortable build, reasonable height and can carry huge weight, this is the unit you need.
Pros
Isn't so noisy
One of the lightweight tree ladder stands
It is portable; can easily be transported
Cons
The seat is not comfortable for long day sits.
9. Guide Gear 15′ Mesh Seat – Best Archery Ladder Stand for the Money
Guide Gear 15′ ladder stand stands tall at a height of 15 feet. It has a steel body with a mesh seat and can carry maximum weight of 300 lbs. Its foot platform is 17.5 inches wide and 18.25 inches deep. All of this is coming with just 41 pounds of weight.
It is, in fact, less in weight than the other Guide Gear ladder stand. The build is strong and structure is sturdy. If you are hunting in moist areas where issues of corrosion is prevalent, this unit is the best. The steel body provide resistance against extreme weather conditions.
As visible, the backrest, armrest and gun rail are not available. This may cause trouble for long sits during hunting. The unit itself is lightweight and easy to assemble and provides value for money as it serves the purpose within just 150$ price.
If you can compromise a little on comfort, this unit is for you.
Pros
Easy to assemble
Light in weight
Can be easily carried to long distances.
Cons
Armrest, backrest and shooting rail is not provided
10. OL'MAN Assassin Dual 18′ – Best Portable Ladder Tree Stand
If you are looking for 2 person ladder stand that has maximum comfort, this unit is for you. Olman assassin is 18 ft. tall, steel made, powder coated sturdy tree stand focusing on comfort with carrying capacity of 500 lbs. It is one of the best portable ladder stand made for two people. An interesting thing about its seat is that it can be folded both ways. Also, the seat has lumbar support.
Ol'Man Assassin is 107 pounds in weight and need multiple people to erect. Its steel construction makes it this heavy, and powder finish protect it from corrosion and extreme weather. The unique design of arm rest, backrest and shooting rail makes it sturdy and reduces the noise as well.
Assembling this stand was easier for us as we are used to it. Beginners should sort all the parts and read manual to assemble it accurately and safely. Once put together, erecting it takes 2 or more people.
Pros
The seat is comfortable to sit in.
For me, it stayed quiet through the whole hunt.
Has a broad foot platform.
Cons
Pretty heavy to erect by single person.
Buying Guide For Best Ladder Stands for Deer Hunting 
For single person stand, our top pick is x stand the duke. However, This doesn't necessarily mean that you don't need to know decision making factors to buy a good ladder stand. Generally, choices vary due to personal preferences, budget, comfort required and ladder stand capacity. However, safety and durability are must for treestands.
As we have already discussed our experience with recommended top rated ladder stands that you should consider before buying. There are certain features to look for to get a best ladder stand for bow hunting which we will discuss in this buying guide.
This buying guide is here to help you see what features are necessary and what are those you can easily skip without worrying much about them.
Safety
One thing that shouldn't be compromised is your safety. Almost every ladder stand comes with a best safety harness which is also called a fall arrest system. Whether you like it or not, you have got to use it every time you're sitting on a ladder stand.
Obviously, in a best ladder stand, durability and the sturdiness matters. Yet, without a safety harness, you are risking your physical well being. Few decades back, various treestand related injuries were reported in Georgia. Make sure you have it with you, and taking some extra precautions would be great.
Most hunters that focus on safety, either use best hang on tree stand or ladder ones. But a sturdy and heavy ladder stand offer more safety than any other elevated hunting structure in market.
Comfort
For some hunters, comfort is not a priority. While other get tired during long sits for hunting. Therefore, having a ladder stand that provide comfort to back, arms and foot while sitting is necessary.
Get a unit with well made back rest and arm rest. Padded bars is a plus. Seat cushion is another way for comfort.
Comfort comes with a good seat size, whether it is cushioned or not. A footrest of adequate wideness then a backrest. These are all necessary in order to hunt carelessly. So be choosy in finding the most comfortable ladder stands, because just a minor flaw can make it hard for you to hunt.
Easy to Assemble and Install
One thing that we know for a fact about ladder tree stands, is that are mostly, difficult to assemble. If you are a beginner, you should focus on instruction manual and read all details. Which instruments are required? what are the best practices? and how to assemble and install it safely?
With years of experience, we can easily say that the assembling parts of ladder stand are most confusing, at least for beginners. The reason is that sometime, the package is missing few nuts and bolts and it is not sorted which buyer need to do before assembling a ladder stand.
Yet, if you go for the lightest of the stand, then you might be compromising your comfort or safety even. Because in lightweight, some features like a broad frame, wide footrest or backrest, or safety get compromised in long run. It is better if you look for a ladder stand that is not so heavy that you would need truck to erect it, yet is not so light that it falls from wind and hamper your hunting.
Once set up it will stay on the property for longest time. If you are going to move a lot on public property, the best climbing tree stands will help you.
Carrying Capacity
Usually, the carrying capacity that you'll see in a ladder stand would be 500 pounds for 2 people and 300 pounds for a single person. The number may go up and down but there's this standard weighing capacity that you'll see in all the ladder stands.
Not to mention, the total capacity does not only talk of you but everything that you're carrying like your binoculars, weapon, backpack, and every other stuff. So make sure you are not exceeding the weight limit. Especially, if you are a big 6 ft. tall guy with special equipment.
Comfortable Seat
Seat plays an important role while you hunt. The backrest should be spacious and high enough to cover your back. Also, the seat should be padded to ensure comfort for long hour sits. The seat and backrest design are important too, it should be wide enough to perfectly complement your posture. So, look out for the seat's wideness and length for better comfort.
A Wide & Noiseless Platform
You don't just sit in a ladder tree stand. The best ladder stand would have enough room to help you stand up, change the direction of your aim, and look around easily. So, a roomy platform is always preferable, for comfort and in getting the perfect shot.
Noise is another aspect to pay attention to. There are ladder stands that start making squeaky sounds after a few months. Hunters try to avoid creating unnecessary sound as much as possible.
In order to find the best ladder stand, you should first make sure if it clatters a lot or not. Obviously, no tree stand would be completely quiet. But, looking out for one that is the quietest of all would definitely help for good.
Look for Padding
Some ladder tree stands have padded bars, arm rest, footrest and backrests. You should definitely go for them. Padding not only provide comfort but also reduce creating sound when weapon touch the steel bar. You can compromise this feature when looking for a budget option.
If the seats are made of mesh, you can use some cushions for the seat and backrest. Also, armrests made of hard metal can tire your arms and can cause harm to them, lining some soft fabric to the armrest would make it more comfortable for you.
Accessories
There are some additional accessories to keep with you for a better experience and safety. Look for These accessories including body harness, various types of straps and other safety tools.
Other accessories that are not essential, but may help during hunt include good camouflage like some branches or a cover system, holders for your gun etc.
Do Deer Notice Ladder Stands?
Deer are highly perceptive animals. They have excellent eyesight and sense of smell. This combination of senses makes it extremely difficult for hunters to go undetected. While deer may not be able to see every small movement made by a hunter, there are several things that hunters do that increase the likelihood of being noticed. One of these is setting up a ladder stand.
Ladder stands are elevated platforms that hunters use to get a better view of their surroundings and to improve their chances of getting a shot at a deer. However, the very thing that makes ladder stands so beneficial to hunters also makes them more noticeable to deer. The noise of climbing the ladder to reach the stand and then moving about on the platform can easily be heard by deer. Not only does this potentially scare off nearby deer, but it also alerts them to a potential threat in the area, which increases the chances that they will move elsewhere.
In addition to the noise generated by activity on the ladder stand, the stand itself is also more likely to be noticed by deer. The height of the stand makes it more visible, and the hunter's silhouette is easier to spot against the sky. Even when a stand is camouflaged, the outline of it can still be seen by deer.
How to Avoid Being Noticed By Deer On Ladder Stand?
When used properly, ladder stands can be a valuable asset for deer hunters. The key is to be as stealthy as possible. Hunters should also be careful not to talk, move about too much on the platform, or make other loud noises that could scare away animals.
While there are some drawbacks to using ladder stands for deer hunting, they are still a valuable tool for hunters. Most deer will not be scared off by the stand. And even if some nearby deer do notice the hunter there, their instinct to flee may not be as strong as it is in response to other stimuli such as scent or human sounds.
should hunter setup tree stand During hunting Season Or Before?
Whether its hunting season or not, as soon as you detect activity of game animals on your property, get ready to set up a tree stand on a nearby location. Deer will get used to this new structure and as soon as season comes, you are ready to harvest your first buck.
Detecting tree stands is not hard but requires some investment on hunting and trail cameras. By the time you set up your tree stand, you should know the habits and routines of game animals on your property.
If you want to be more stealthy in your approach, don't put up your stand until just before the season opener. However, you run the risk of not having your stand in the optimal location if the game animals change their patterns.
Conclusion
For hunters with private hunting properties, having a best ladder stand for bow hunting is necessity. Over years, we have experience of field testing several variants of big manufacturer's. our suggestions will definitely help you get the best ladder stand that will fulfill your need and provide safety, comfort and unmatched hunting experience.
To conclude, X Stand The Duke is the Tallest Ladder Stand and is best option overall. If you want a 2 persons ladder stand you can take a look at X Stand Jayhawk 20′ which is also tall and a best heavy duty ladder stand.
You can rummage through the reviews yourself and find the best ladder stand that suits you. Don't just go for an expensive ladder stand. Even a lesser price can get you remarkable results.
Frequently Asked Questions (FAQ's)
Are 15 feet high enough for a tree stand?
15 feet high can be okay considering some situations but usually going high to about 17-25 feet is favorable. However, it greatly depends on the environment you are in and what height suits you best.
What size of tree do I need for the ladder stand?
A tree with diameter size of 8 to 9 inches works well with a ladder tree stand.  
How do you pick a tree for a treestand?
Try looking for a tree that doesn't have so many branches to easily go high up above in the air. Also, some trees have smooth bark which can be dangerous for some tree stands. However, a bumpy and coarse bark helps in keeping the tree stand in place.
Are ladder stands safe?
Ladder tree stands are safest among all tree stands. They are designed in a way that they won't allow any accident. Sturdiness is a prime feature in them as they are primarily built with steel, are heavy and design can be trusted blindly. However, using a safety harness is essential, so take all the necessary precautions for a safe hunt.
Can I use ladder stands for bowhunting?
Hunters can easily bow hunt in a ladder stand. But first, make sure that the ladder stand is high enough for a perfect angle. Also, it shouldn't be noisy to scare away the deer. Plus, the foot platform must be wide enough to easily stand in a position to aim. If all these features are there, bowhunting is easy. 
How can I hide my ladder tree stand?
To hide your ladder stand, you can use some evergreen branches. Put them on your footrest and your seat and you will get a perfect camouflage.
Do the ladder stands scare deer?
As long as the hunter is hiding perfectly and not making any noises, the deer won't be able to see him thus won't be scared either. So if the hunter can hide properly and is high up enough for the deer to detect his scent, then there's no way a deer would be scared. 
For how long can I sit in a ladder stand?
You can sit for as long as you want but usually, a time of 3 to 6 hours is best. Once you are in the stand, try not to move or get down often because that might scare the buck.
What is one advantage of hunting from an elevated stand?
There are not one but many advantages of choosing an elevated stand for hunting. First off, it provides a better vision than being on the ground. You can easily aim when you are above the line of sight of the buck.
Also, being in an elevated position makes your scent not detectable and you can easily move. This gives you time to properly plan your aim quietly and at a position that is off the sight of your targets.