To keep bucks and does on your hunting property whole until season comes, you need a best mineral lick that will keep them close. Currently, our favorite and best mineral lick for deer is the Himalayan Nature Licking Salt. It is available at a fair price which deer owners can also purchase in bulk amount. Moreover, this salt lick is loaded with essential minerals so you don't have to worry about the bucks antler growth and nourishment.
Himalayan Deer Licking Salt
Pure himalyan salt rock without addition/subtraction.
Can be crushed or break to place on multiple locations.
Great all purpose and safe for human consumption as well.
Great deer attractant.
Himalayan Animal Licking Salt
Deer and game animals keep coming back spotted on trail cam.
Slightly decorative, rough chunky feel.
Made to last longer in outdoors.
Mostly comes in 5 lbs. packaging.
Trophy Rock Mineral Lick Block
Great attractant, color is slightly off but deer eventually get used to it.
Work great if placed in covered area on slightly high ground.
Great attracting smell.
TreeStandRanger.com is reader supported website. We may earn affiliate commission if you shop using links on this page (without additional cost to you). Learn More
As the weather transitions from spring into summer, deer consume a high amount of moisture laden food. This results in more frequent urination, making animals lose excessive levels of sodium from their body. A natural urge arises for consumption of best mineral licks for deer.
Additionally, the bucks grow antlers in summer while the doe's give birth to the fawns. Due to these processes, deer require ample nutrients for nourishment, proper growth, and digestion. That is why, hunters and caretakers distribute the best mineral licks for deer.
One common issue with mineral food blocks is that these get crumbled when it rains. In such conditions, it is wise to keep the salt/mineral block at an elevated position and under a shade. It is highly recommended to use a fake tree stump for this purpose. The best locations include near deer bedding areas, food plots, and watering holes.
Sometimes, deer consume brackish water where seawater and freshwater meet. While this may have some salty components, it lacks various key minerals. So, even if the buck and doe drink it, they need mineral blocks for micro-nutrients.
Mineral blocks are readily available in the market. However, one can also learn how to make salt lick for deer at home. All you need is salt and some micro-nutrients. You can also use pool salt, di-calcium phosphate, and trace mineral salt.
For mineral blocks, you can use some basic yet beneficial ingredients such as oats, molasses, corn, trace minerals, brown sugar, and vegetable oil.
Food Blocks & Best Mineral Licks For Deer
Here are the 10 that topped in our list of nutrient as well as attractant bait.
Choose the best mineral block for deer and give them all the nutrients they require to grow and live healthily.
1. Himalayan Nature Licking Salt – Best Deer Salt Lick Of All Time
What makes this mineral lick different from others is the integration of pure Himalayan salt. That said, these are loaded not only with salty components but various other beneficial minerals and electrolytes.
One of the best benefits of this salt lick is that its components make bucks thirsty which stimulates proper hydration. We placed six of these blocks near a freshwater stream and observed this interesting fact.
Every time deer lick the salt block, it would make them extremely thirsty. This forced the buck to move towards the stream and consume a significant amount of water. Moreover, these blocks are water resistant so we checked them on rainy days.
Surprisingly, the salt blocks didn't melt and lasted quite longer than we expected. Since these don't have a notable aroma, you will have to place these somewhere deer frequently arrive and can find them easily. These food blocks are also suitable for goats, sheep, cows, horses, and other cattle animals.
Pros
Water and bite resistant
100% Himalayan salt
Lasts longer than a year
2. Himalayan Nature Animal Licking Salt – Best Deer Mineral Rock
Looking for the best deer mineral rock that helps it with a healthy diet? This mineral-licking rock is an exceptional choice. To make this block, 100% Himalayan salt is used along with other useful minerals. The best thing about this salt rock is that you can use it for all farm animals as well.
It is identical to the Himalayan Nature Licking Salt in terms of components. However, it features an irregular shape whereas the licking salt comes in a molded square block and has a relatively strong aroma.
Our team members dispersed three salt rocks in a range of two miles. We saw a couple of bucks approaching as quickly as within 8 to 10 minutes. The aroma of this organic salt rock is extremely notable that deer can't resist approaching it.
Unlike the salt block from Himalayan Nature, it does not resist rain. That said, when used on a rainy week in the Pacific Northwest, we observed the rock didn't last as long as it did on drier days.
Pros
Rich in minerals
Suitable for all farm animals and pets
Long lasting smell
Cons
Doesn't hold up well in the rain
3. Trophy Rock Redmond Mineral Lick – Best Livestock Like Deer Mineral Licks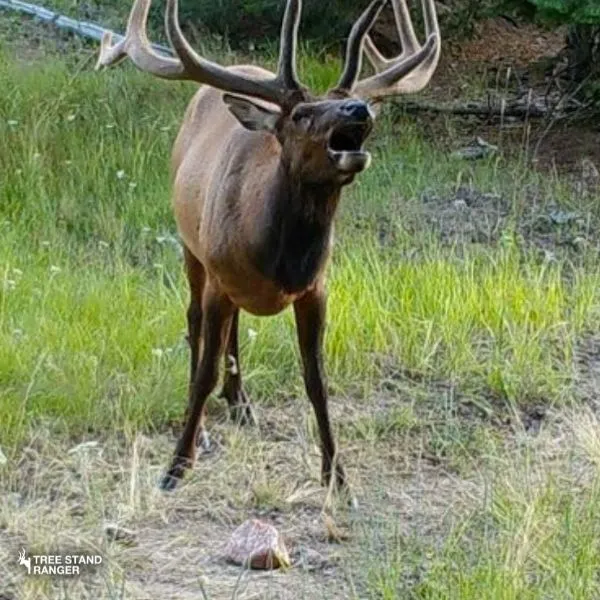 What makes the Trophy Rock mineral lick stand out among others is its similarity with a livestock mineral block. It comes with almost every essential nutrient for year-round supplementation. These include calcium, phosphorus, salt, sulfur, potassium, sodium, iron, and more.
Since trophy rock has the best minerals for deer as compared to other choices, it is regarded as a livestock like mineral rock. It has all the nutrients that help it to grow the antlers and rack with maximum potential. Since these are not processed but are mined directly, hence don't have any artificial flavors.
We set this rock near the water stream and placed our trail camera in front of it. It attracted four bucks in 20 to 25 minutes and enabled us to get some cool aesthetics. The best thing about this rock is that it doesn't wash away with the rain. The fragrance is unfortunately not very strong like the Himalayan Nature Licking Salt.
Pros
Extremely nutritious
Can be used in all four seasons
Doesn't dissolve in the rain
4. Wildgame Innovations – Best Flavored Deer Mineral Lick
Deer love tasteful fruits and apples are one of their favorites. This flavorful product is made using by-products of grains, dehydrated apples, plant proteins, molasses, and natural as well as artificial flavor and color. When processed, all of this gives a rich texture, strong fragrance, and vibrant color.
Hunters use this product as a mineral lick for deer growth phases and food bait during hunting seasons. We used it the same way as a salt lick i.e. dug a hole in the soil and filled it with the mixture. A few meters apart, we used fake stumps and sprinkled the mixture generously around and on top of it.
It can mix with rain water and absorb in the damp soil. Make sure to use it under covered places during rain or snow. This apple food lick has an extremely strong smell that we could sense from several miles away. It works better as an attractant and lacks a good amount of nutrients for bucks and doe.
If you wish to use the best deer mineral block during summer, Himalayan Nature Licking Salt is an excellent choice.
Pros
Strong and long lasting fragrance
Attracts bucks fast
Affordable
Cons
Not as nutritious as mineral blocks
5. Swagger Big & J BB2 – Best Deer Supplement For Antlers
The granular texture and intense aroma make this attractant highly approachable by the bucks even from miles away. While most attractants are not highly nutritional, this one is made to fulfill as many dietary needs of deer as possible. These are ideal for antler growth because it comes with the best mineral for deer antlers i.e., proteins.
Do you know best rattling antlers are often used as deer call to attract big bucks during hunting season?
Because of its granular texture, bucks and doe easily spot it on the ground as compared to those with fine particles. Its extremely strong aroma is another top property, making it ideal to call deer from their hideouts far away.
In our field testing, we sprinkled it around some stumps and saw the bucks coming out to it within 10 minutes. Even when it ended, we observed a few deer revisiting the same place. These are slightly more expensive than other options but worth every penny. For similar results at a lesser price, you can try the Wildgame Innovations 00323 attractant.
Pros
Rich in proteins
Intense fragrance with long range
Guarantees deer revisit
6. Evolved Habitats Deer Cane – Best Sweet Deer Mineral Lick
Deer cane drives all the bucks crazy even with the slightest fragrance. Because of the formulated deer cane used in this mineral lick, it has a super sweet smell. It lasts weeks long and is too appealing to resist.
Our setup for the test included a bunch of corn, spread over two spots close by. We then covered the corn with the mineral lick and mixed it a bit with the soil. To determine how many bucks came out, we also set up a trail camera.
Within two weeks, around 12 deer visited the place. The first batch arrived within 10 to 15 minutes after the setup. Though these have calcium, phosphorus, and sodium, there are numerous other minerals that this product lacks.
Just like any other salt lick with fine particles, it also melts in rainy/snowy weather. If that is the case, you can add a shelter above the lick or pour it on tree stumps to save from getting wet.
If you want a solid deer attractant then this one is as amazing as the Wildgame Innovation 00323. However, if you want to feed the bucks with a mineral-rich supplement then none other could match Trophy Rock Redmond Mineral Lick.
Pros
Smells even stronger when wet
Attracts bucks in no time
Suitable for all four seasons
7. Antler King Apple Burst Mineral – Best Scented Deer Mineral Block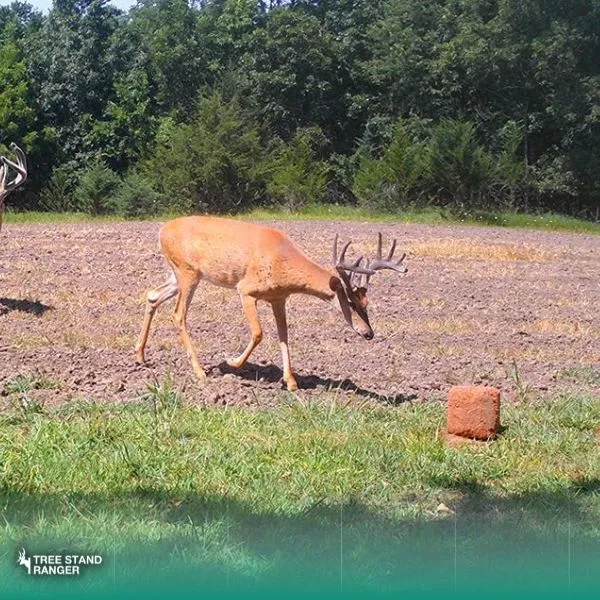 Similar to the Trophy Rock Redmond Mineral Lick, this block is enriched with beneficial minerals. It is made with nutrients that help specifically with antler and body growth. Hence, this product not only works as a solid attractant but helps to grow a healthy herd.
Using the Antler King food block is as easy as placing it at the appropriate location. It features a sweet apple smell and since bucks love apples, they come out instantly. We didn't have any apple gardens nearby so, we chose this attractant/supplement bag as an alternative.
Needless to say, it turned out an excellent decision as we got more than 10 bucks at the mineral block in 10 days. Because of its texture, rain disintegrates it pretty badly.
Pros
Ideal for antlers growth
Mineral rich supplement
Great value for money
Cons
Crumbles down in the rain
8. Magnet Mix Deer Attractant Block – Best Deer Mineral Block For All Seasons
A highly versatile block that is not only ideal for deer growth but also lures it during hunting season. It has the strongest fragrance among all other choices. Hence, most hunters use it as bait rather than a dietary supplement for bucks.
Just like other mineral licks and blocks, we kept this at a place with frequent deer visits. Since it has an extremely intense aroma, bucks can easily detect it. That said, we got the first visitor in 6 minutes.
Unfortunately, all fortified mineral blocks are unable to hold up in rainy conditions. Similar to the Antler King Apple Burst Mineral Block, this one transformed into a muddy blob as it poured down. However, it does hold a bit of moisture present in the air and works well in humid and cold conditions.
Pros
Intense aroma
Attracts whitetails quickly
Stimulates antler growth
9. Purina Animal Nutrition – Best Mineral Block For Big Buck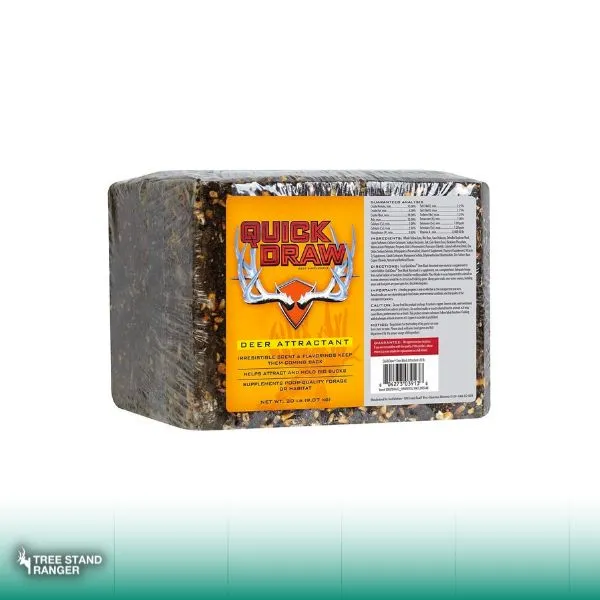 Are you worried about providing your big trophy bucks with all the useful minerals in an adequate amount? The Purina Animals deer block is designed to fulfill this need. The 20 lbs. block comes with all the right nutrients that a big buck needs to stay healthful.
Out of all the mineral blocks, this one attracted bucks way faster than other choices. In a time of 2 weeks, there were 12 bucks that came out to feed upon it. Because of its fragrance and textures, numerous bugs are also attracted to it. So, make sure to place it out of the bees' reach.
One of our members also used it for their farm deer including two big bucks, three mature does, four fawns, and two yearlings. Generally, bucks and doe drew to the block and cleared about half of it in a single day.
It does get extremely wet in rain but we didn't notice any crumbling or muddiness. Even after rain when it was still damp, deer kept munching on it. Though slightly pricey, it is an excellent nourishment block for the bucks.
Pros
Very beneficial for big bucks
Strong scent
Can cater to more than 10 deer
Cons
Attracts bees
Slightly pricey comparatively
10. Mighty Deer Lick Sweet Apple Block – Best Affordable Deer Mineral Lick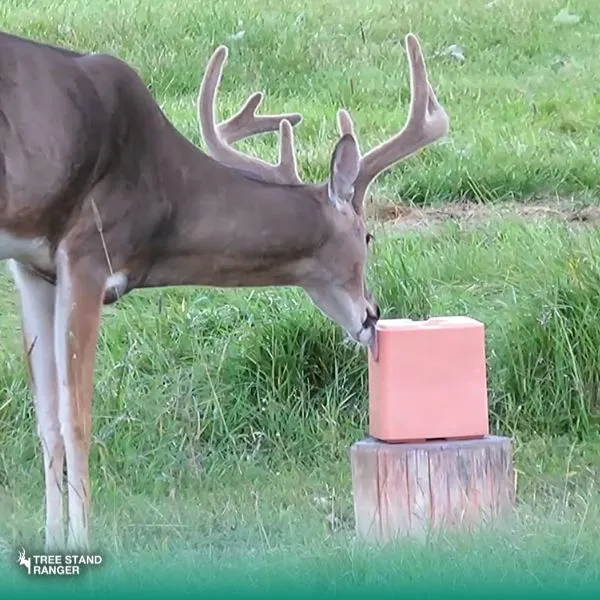 Not only does it smell like apples but tastes exactly like them too. Since this block is made out of 100% natural apple extract and aroma, deer love licking it. Keeping the antler growth in mind, it includes calcium and phosphorus in a 1:1 ratio along with other useful minerals.
For the field testing, we placed this block at multiple points nearby to increase the range of the scent. The sweet apple scent is extremely intense and is indeed irresistible, making it one of the best mineral licks for deer.
That said, numerous of them came out in search of their favorite food. Since it can attract other wild animals such as raccoons, squirrels, and birds, make sure to use it at a place where only deer visit most frequently.
This apple block absorbs water like nothing else and flows down. Deer don't even come close to the distorted mineral block but other bugs or animals do. Don't forget to consider the weather condition before placing these licks out.
Pros
Great for antler growth
Loaded with healthful minerals and vitamins
Unavoidable fragrance
Cons
Can attract other animals
Buying Guide
For choosing the best mineral licks for deer, you should know the factors that make them ideal for the animal.
1. Mineral Blocks vs Salt Licks
Mineral blocks consist of salt components along with other useful nutrients and are highly beneficial for deer. On the other hand, salt licks are mainly composed of salt components and are often used as food bait during hunting seasons.
Hunters generally prefer using mineral blocks starting from spring, throughout summer, and till the beginning of fall. In our hunting community, mineral blocks and salt licks are considered as the best tree stand accessory.
2. Ingredients
The right ingredients make any trace mineral block for deer full of nutrients. Look for a lick that includes calcium, phosphorus, and sodium in greater amounts. Other important minerals can be iron, zinc, manganese, copper, etc.
3. Efficacy
Regardless of the mineral salt for deer you choose, it should be high in efficacy. In simpler words, the mineral lick/block should have an irresistible fragrance that can draw deer from meters away.
The strong fragrance can attract numerous other wild animals such as squirrels, birds, rabbits, and foxes. So, make sure to place the licks and blocks where only deer visit the most. Moreover, it should be visible in an open area or water source.
Most hunters place salt licks near deer trails. It can be a frequent feeding route or bedding of deer nearby. Moreover, placing it on your property where it is visible from your permanent hunting ladder stand is also a good approach.
Placing it at the right location and on numerous points is crucial so that it has a broader range to lure the trophy bucks. Also, the fragrance should be strong and long-lasting enough to stay in the block even after being exposed to the environment.
Conclusion
Help the trophy bucks around you grow with sufficient nutrients in their diet by using the best mineral licks for deer. While people may use salt licks as bait during hunting seasons, mineral licks or blocks are often used during the growth of deer as well.
We tested some of the best mineral licks for deer and found our top pick. It is the Himalayan Nature Licking Salt. It is 100% Himalayan salt and filled with a vast amount of healthy nutrients.
Make sure to place mineral block on tree stumps and under shade to avoid adverse environmental effect. Adverse weather conditions not only disturb food plots, mineral sources and trail signs. It also affect deer movement in rain and in deer travel in wind.
Frequently Asked Questions (FAQ's)
Do deer lick salt blocks?
Yes, deer lick salt happily because they crave it along with others for minerals. That is why they get attracted to salt licks and blocks easily. 
How to set up a salt lick for deer?
For crushed minerals, pour it near deer trail and cover with soil. You can also use a real or fake tree stump and spread the mixture on top and around it. 
What animals like salt licks?
Typically, animals such as deer, rabbits, birds, chipmunks, gray squirrels, groundhogs, and foxes like salt licks.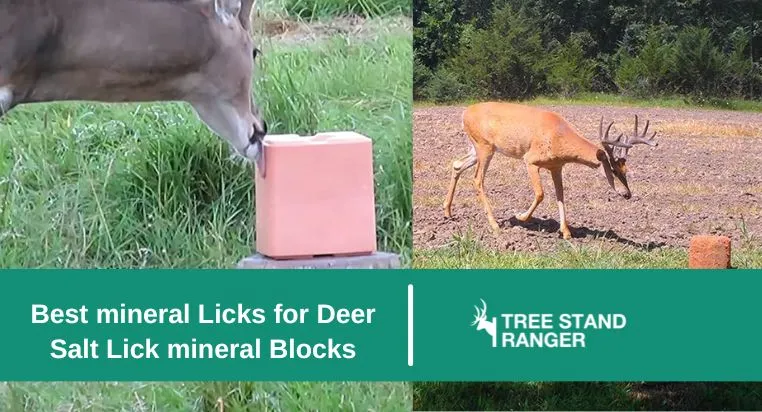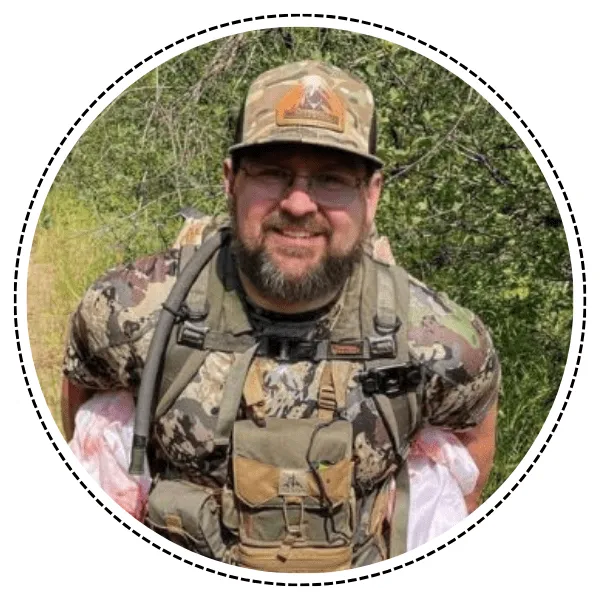 About Alex David
I am an avid bow hunter and author of Tree Stand Ranger. Hunting from tree stands has been a passion of mine for many years. I've had the privilege of owning several tree stands and hunting properties throughout my life, and I take great pride in having the opportunity to do so. Read more about me.