Saddle hunting in 2023 is resurrecting after decades and is a good transition from treestand hunting. If you are ready for mobile hunting style on public lands, an ultimate way is through best saddle hunting gear.
Good or bad, choosing the best saddle hunting platform over a tree stand limits your options. But, in 2023, an XOP saddle stand is unrivalled option for mobile public hunt. It is a lightweight complete package for your run & gun style bow hunt.
Rugged saddle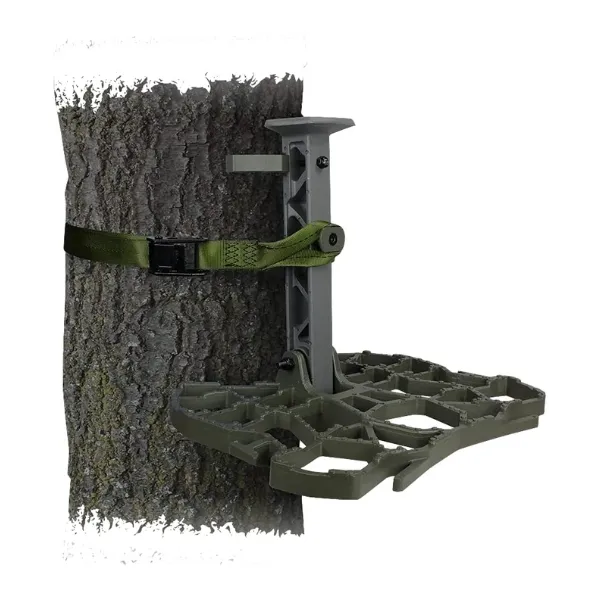 XOP Saddle Platform Edge
Tight locking design
Comfortable yet sturdy
Noiseless and rugged build
Easy to carry and install
Complete package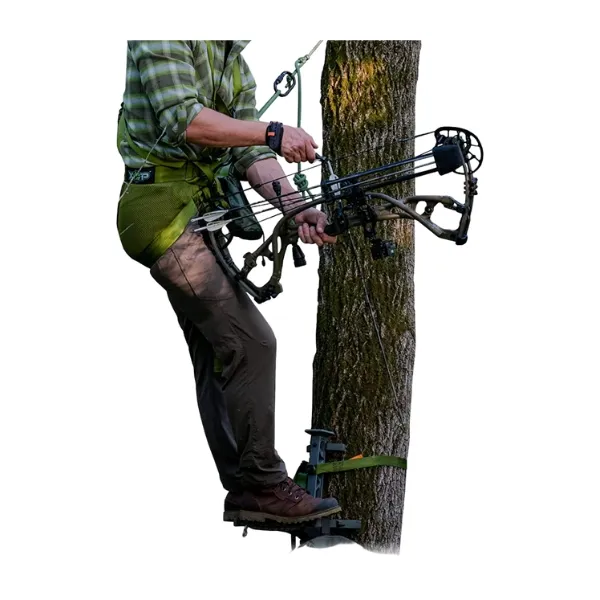 XOP Saddle Combo TSSH Saddle Setup
Complete saddle setup with harness, open top bag and edge platform
Only TMA approved saddle unit
Can carry an individual of upto 350 lbs. weight
platform and accessories are lightweight, easy to carry and use
Lightweight saddle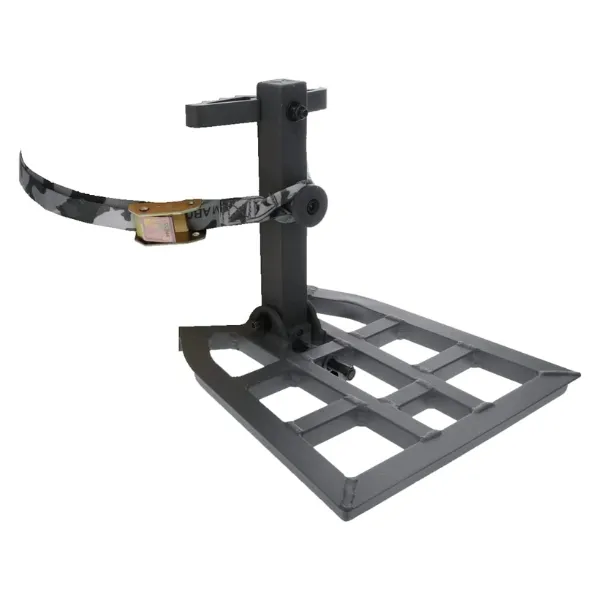 Hawk Saddle Platform (HWK HHFP)
Wide saddle platform
Can carry individual of upto 300 lbs.
Rugged tree biting design for extra support
Lightweight aluminium build
TreeStandRanger.com is reader supported website. We may earn affiliate commission if you shop using links on this page (without additional cost to you). Learn More
Similar to tree stand hunters, saddle hunters compare ring of steps with saddle platforms. Some prefer hunting with saddle platforms and others with ring of steps. As per my experience, saddle platforms for hunting are more convenient and versatile.
10 Saddle Platforms
Tested
5 Best Ones
Recommended
200+ Hours
Of Testing
Bearing in mind the effectiveness of saddle platforms, we have compared how effectively different saddle platforms work in public hunting land. For successful run and gun style deer hunting, we have tested the very best saddle platform options for public land bow hunting.
I personally evaluated few saddle platforms in public lands and rated them for portability, noise/sound and time to setup. I have also tested their traction on wet and dry tree bark.
Best Tree Saddle Platforms For Saddle Hunting Setup (2023)
The suggested units are selected based on durability, ease of use, hunter's preferences and availability.
Read on to know why we think the selected picks make the best saddle platform options in 2023.
1. XOP Saddle Platform Edge – Best Comfortable & Sturdy Saddle Platform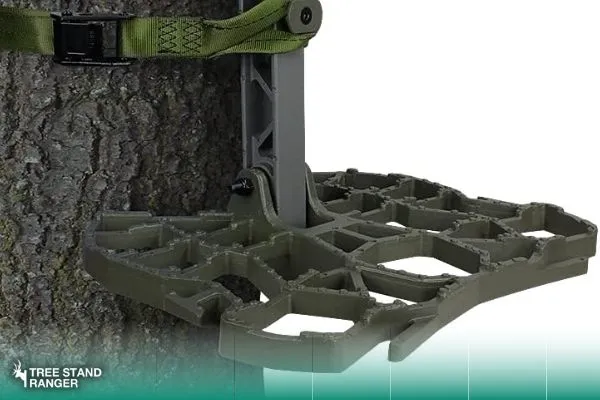 Key Features:
Weight of platform: 6.3 lbs.
Comes with safety harness, lineman's belt and a carabiner
Heavy duty for all type of mobile hunters.
Safe and rugged.
When installed, no movement or squeaking sound.
Easy and quick assembly in 5 minutes.
If you want to commit solemnly to saddle hunting, then the XOP Edge is a sure bet for you. A design similar to some of the top-ranking saddle platform models in the market and all practical features to make your saddle hunting voyage to the next level— is there something more you want to love?
When taking its first glance, our testers have realized that this platform is different from several lousy saddle platforms. Its construction is rock solid and it holds pretty well when the hunter standing or leaning on it.
To impart this model its strength and durability, it seems as if the XOP has deliberately made it slightly heavier than its contenders. Yet, this little increase in the weight happens to be a blessing in disguise when we look at load capacity, i.e. 350 lbs. Even the heaviest hunter with 300 lbs. or more weight with all his hunting gear can fearlessly trust using this stand.
Again, thanks to the excellent engineering behind this stand for making it slightly bigger in size. The bigger platform size implies that a hunter won't have to remain conscious of tripping his feet with hunting boots on. Plus, its ultra grip traction firmly holds the hunter's feet.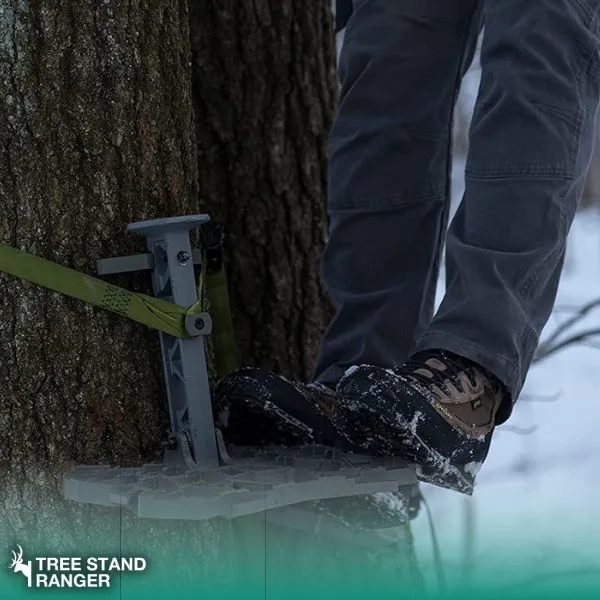 Setting this platform is also quick and you can mount it on any climbing stick by utilizing its slot lock technology. Once set up, it firmly remains in its place. Nevertheless, our testers contended that sometimes it squeaks and can spook the deer. This is perhaps, instead of using a ratchet strap for fastening it on the tree, it uses a pull-to-tighten strap for bolting it around the tree.
Nonetheless, it's worth every single penny.
Pros
Well built and rugged
Bigger platform to stand
Quick to install and set up
Cons
Comparatively heavier, therefore difficult to lug around.
If you are looking for hunting saddle gear with ropes and carabineers, check best hunting saddle.
2. XOP Saddle Platform Combo TSSH – Best Saddle Tree Stand Platform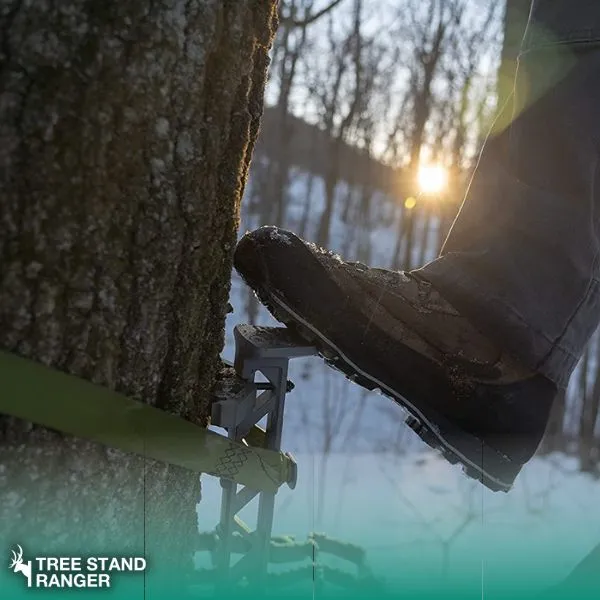 Key Features:
Weight of saddle and platform: 7.2 lbs.
Weight it can carry: 350 lbs.
Comes with saddle carry bag (opened from one side), a harness for leaning support
All in one saddle hunting set up by XOP.
Although heavy but completely safe and rugged.
No sound of metal, open bag may create muffled sound based on your clothes.
Quick to assemble within 7 minutes.
If you're reserving yourself to saddle hunting, you need a complete saddle hunting system. Yet a top level saddle hunting system often asks you to break your funds. But not with this Combo-Edge-TSSH saddle hunting kit, which includes all saddle hunting essentials at an affordable price of under $200.
You can't saddle hunt unless you have an efficient hunting saddle or a sturdy platform. Both make vital parts of saddle hunting. where buying each of them can cost you shed extra pounds, for starters who're on a budget, this XOP Combo makes a rig to go for.
The saddle platform includes in this system is the same that we discussed earlier. Each bell and whistle of this included saddle platform functions in a way to provide saddle hunters the comfort and ease of use.
I noticed that xop saddle platform works with every climbing stick and grips almost every tree. Yet, in rare instances, when I put my weight precisely on the side edge of this platform, it creates a little squeaking. The reason behind it creating the sound is its emsteel whoopie sling that gets fastened around the tree.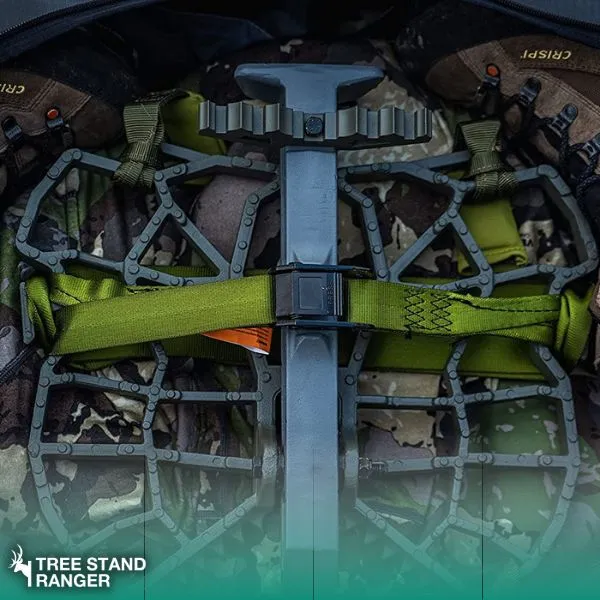 Bringing another fact to the table, let us tell you that this saddle platform is slightly bulkier than its rivals. However, this isn't a tradeoff feature considering in mind that it isn't as heavier as a climber or a ladder tree stand.
Pros
Sturdy saddle platform
Strong contender to all best saddle platforms available
Highest laid capacity
Cons
Some modifications might be needed when setting it up on the tree.
3. Hawk Saddle Platform (HWK HHFP) – Best Lightest Saddle Hunting Platform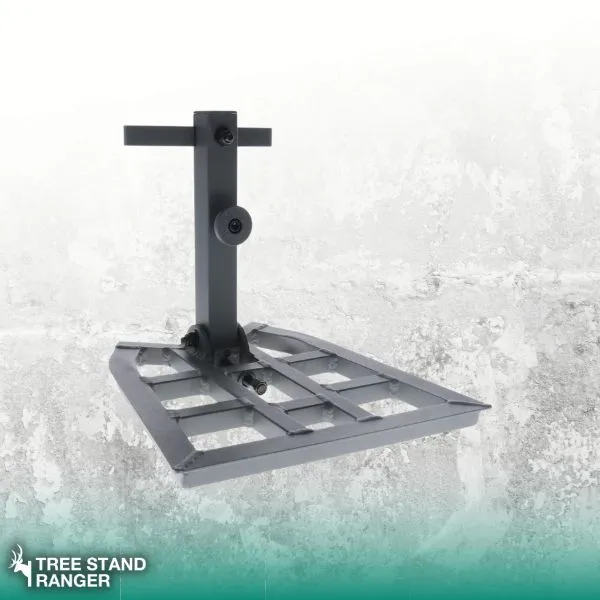 Key Features:
Aluminium made lightweight stand of 4 lbs.
Weight it can carry: 300 lbs.
Teeth design attachment to tree provides stability.
Works great without creating sound or noise.
Not recommended for big guys as its not as much rugged as XOP
Quick assembly within 5 minutes.
If you're not sure about committing to saddle hunting and don't want to invest in an expensive saddle platform, then this pick is for you. Equipped with all the essentials of a standard saddle platform, the HWK-HHFP is a pocket friendly option.
Initially, the HHFP failed to impress me for its relatively small size. But when I put it against tree stand ranger's evaluating tests, we found it rock solid and sturdier.
Concealment and comfort are well thought upon. It remains as noise free and anti-wobble as some of the most expensive saddle platforms on the market. Nonetheless, it drew my attention to the fact that it works best on dry days.
Mobile hunters should consider giving this platform a try. While its small size would allow leaving this platform on any public land, without fearing theft, its affordable price makes it easier to leave multiple platforms on multiple trees.
All hunters despise the frustration caused when they repeatedly have to tighten a platform against the tree. This saddle platform utilizes a cam buckle strap for securing it around the tree. It secures well to every kind of tree, no matter a tree with or without leaves.
Once set up, hawk helium hammock apex platform allows hunter even of 300 lbs. to hunt comfortably. The aluminum make keeps the weight of this platform on the lighter side while increasing its portability.
We realized that the platform comes with some slick features. However it becomes slippery in wet or snowy weather. To cure this catch, better mask the edges around the platform with nonskid tape or rubber to prevent the bare signs of any slipperiness.
Pros
Good value for money
A wallet friendly alternative for a hang-on treestand
Easy to set up and superior concealment
Cons
The plastic part under the platform is flimsy and tends to breakage.
4. Hawk Saddle Platform Helium HSP – Best Cheap Saddle Hunting Platform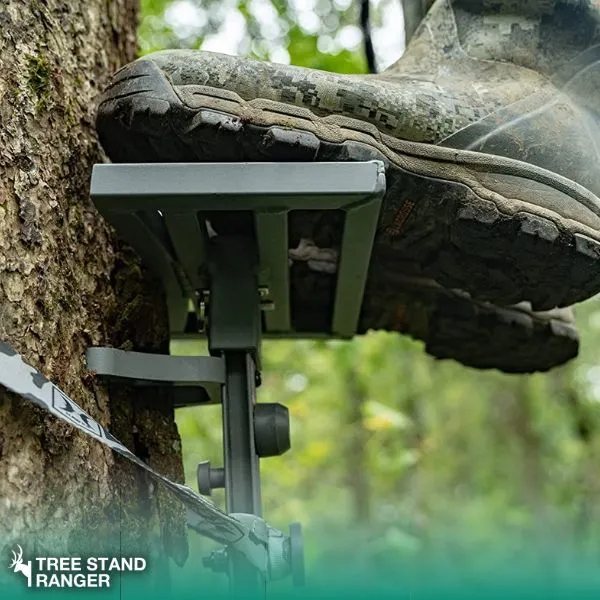 Key Features:
Lightest aluminium hunting saddle weighing less than 2 lbs.
Can carry up to 300 lbs.
Hawk helium symbolic teeth design hold bark with stability and without sound.
Since aluminium constructed and extremely lightweight, don't feel as much rugged.
Assembly or packing takes no more than 3 minutes each.
There's a whole lot of hunters who want to remain predominantly lighter when hunting on the go. Bearing this fact in mind, we have found the Hawk Helium HSP a desirable option to consider.
At 1.4 pounds of weight and 10*6 inches of size, any hunter could feel a bit skeptical regarding its efficiency and we were too. Nevertheless, we got awe struck to test the compactness and the lightweight footprint of this saddle platform against its performance. This saddle platform is small yet mighty. In our field tests, this platform remains super-efficient and comfortable for standing and leaning when the weather is dry and cold.
Like the Apex, the Helium HSP also tends to cause slipperiness when overnight dew collects moisture on its surface. However, to address this issue, our testers suggest opting for minor tweaking. Tape the surface with nonskid tape to avoid any accidental fall.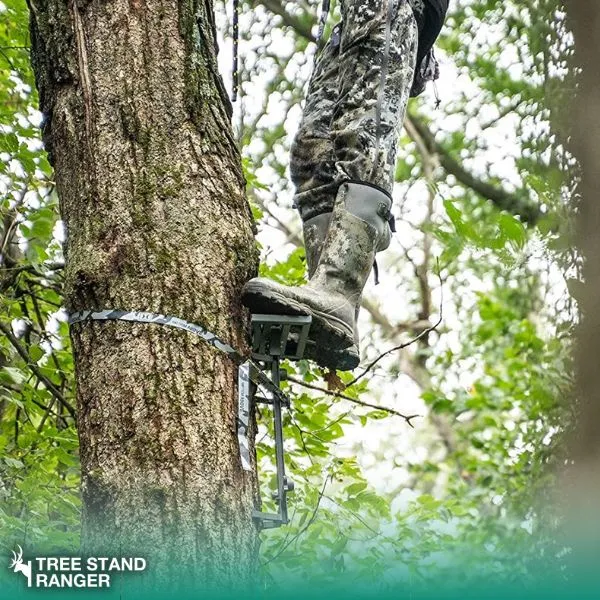 Where Apex is a stand-alone saddle hunting platform that can be set up on any tree, the HSP requires Helium sticks for mounting it atop. To set up, unscrew the highest portion of a climbing stick and slides the platform over the stick. When fitted, tighten the bolt to secure the platform in its place. Yet bear in mind that once you attach the platform to a climbing stick, stacking becomes impossible.
The stand itself is small in size and won't take in taller and huge hunters with bigger feet. Yet since it is designed to use along with climbing sticks, it gains enough sturdiness to tolerate the higher load levels of bigger hunters, as well.
Pros
Incredibly easy to transport
Compact lightest saddle platform
Quickly get the job done
Cons
Tends to wobble if not installed correctly.
5. MEEGOON Saddle Hunting Platform – Best Aluminium Saddle Platform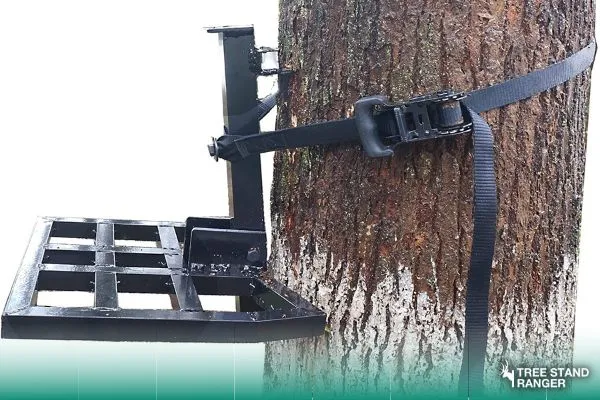 Key Features:
The stand is made of steel weighing 7 lbs.
Made of steel with rugged teeth like design for stability.
No sound or noise detected while using.
Assembly took 9 minutes.
A good saddle hunting platform is essential for comfortable saddle hunting. Acknowledging that, we think the Meegoon saddle hunting platform is another best option in this category.
A well-built and foldable design, tree digger teeth, and a secured fastening strap— isn't a reflection of some of the top-notch saddle hunting platforms? Therefore, the pro saddle hunters who have conquered the skill of saddle hunting should consider this option.
This unit offers a superior level of concealment since it utilizes noise free ratchet strap for securing it on the tree. To icing the cake, the black color keeps the platform hidden in the tree. However, the ratchet strap has a limited length and fits only trees with a diameter of 75 inches.
To keep the platform stable, there are three tree digger teeth that hold the platform tightly in its place. You can't expect fewer chances of swaying the platform when a hunter rapidly changes his hunting moves.
For mobile hunters who saddle hunt on public land, this platform saves a good fortune. Bearing the price tag under $100, the saddle hunters can fasten multiple Meegoon saddle platforms on several trees.
Like its competitors, this saddle platform also uses aluminum for its construction to maintain its lightweight footprint. The stackable design and the lightweight nature, both work together to provide the platform its transportability.
Pros
Good for expert saddle hunters
Lightweight yet stable
Budget friendly saddle platform option
Cons
The ratchet strap can be stronger and won't fit tree trunks of 75" diameter.
Recently launched and not many hunters are using it.
How To Choose Best Saddle Platform
Before buying a best saddle hunting setup, make sure to check following aspects for safe hunting and better return on investment.
1. Comfort & Noise
Many hunters have the misconception about saddle platforms for not being comfortable. This is partly true for saddle platforms don't offer the comfort level usually associated with best hang on tree stand.
Even so, by selecting the right size platform, you can get the greatest comfort in saddle hunting. Therefore, always look if your desired platform is roomy for placing the feet, especially with hunting boots on.
Luckily, saddle platforms remain quieter. Yet, ensure that no metal-to-metal contact occurs when a hunter leans or stands on the platform for shooting.
2. Easy to Install & Stable
Setting up a saddle platform is also a crucial part of saddle hunting. Thankfully, installing a saddle platform isn't very cumbersome. Since practice is the key to perfection when setting up a saddle platform once reaching your desired elevated position in the tree.
The most critical feature that must grab your attention in a saddle platform is its stability. An ill fitted platform wobbles more, thus spooks the deer more. Alternatively you can install best screw in tree steps which will make things slightly easier especially in start.
Why Choose A Saddle Platform For Hunting?
Deer hunting from an elevated position doesn't merely rely on employing saddle stand of various kinds. At least, not for now in recent years, when we are hearing an appalling number of permanent injury incidents associated with malfunctioning of treestands.
Thanks to the hunters who have found a quick fix to this situation. Saddle hunting has its roots back three decades ago and is getting much more hype these days for it is a safer, more convenient, and easier to use method for bowhunting.
We are in testing stage of cuzr saddles and will add more products once finalized.
It breaks down to three main components: a hunting saddle, a fall arrest system (it can be a lineman's belt or a best tree stand safety harness), and a saddle platform for firmly placing feet on a stand.
Saddle Hunting Options:
Apart from utilizing a hunting saddle, utilizes two options for placing the hunter's feet on.
Saddle platform
Ring of steps
Both work principally the same as both allow hunters to shoot from all directions around the tree. However ring of steps are less popular than a saddle platform and is used periodically for shorter hunts.
Benefits of Saddle Platforms
On account of several benefits of saddle hunting, lately, several avid hunters are switching from deer stands to saddle platforms. You might regret too for not giving saddle hunting a shot before, but first discover the several benefits it offers:
Saddle stands are lightweight and portable
Even if you're a starter, you can differentiate that saddles are lighter than even the lightest treestand in the market. Where the standard weight of a lightweight treestand falls at 10lbs to 12 lbs., a saddle platform weighs 3lbs. (the lightest) or 5 lbs. (the heaviest). With this potential cut down on weight., transporting a saddle paltform is an obvious breeze.
Saddle stands are as durable and reliable as tree stands
Any aficionado hunter is right to question about the effectiveness of a tree saddle since it looks very fragile. Let us break it down to you that tree saddles are made with industrial-grade material to withstand load capacity of 300 lbs. And this is the standard weight limit of a good-quality treestand, too.
Hunting above from the ground always involves potential hazards. But tree saddles have won over the hunters by letting them feel more secure and safer, contrasted to treestands. When an event of fall occurs during saddle hunting, the hunter subconsciously knows that he is tethered to the tree and will save a fall.
Rest assured, you abide by all the rules and regulations required for saddle hunting.
Saddle platforms offer more concealment
Saddle platforms allow hunters 360 degree maneuvering around the tree. So when a hunter feels deer coming, he can conceal himself behind the tree.
On top of this, a saddle platform and its relative gear are minimalistic in nature, so creates less or no noise to spook the prey.
With no worries about hiding, a hunter feels more confident when aiming at a whitetailed deer.
Saddle stands are more versatile
The good news about a saddle platform is its dynamic setup. if you're a fan of hunting on public land, the saddle platform is your cup of tea. By allowing hunters to setup saddle on almost every type of tree, saddles make a convenient substitute for treestands.
How to Saddle Hunt
Once in a while, you might have admired hunters who saddle hunt on public land, and maybe, you would have imagined yourself wearing a saddle and shooting the whitetail deer.
So if you're going to get your feet wet by hunting this way, we appreciate your passion. Before you wear your hunting saddle and start climbing the tree, you'll need to remain mindful of certain things. After all, you're going to give away your comfortably best treestand seat and may fidget with your saddle hunting gear if used incorrectly.
Saddle Hunting Essentials
Saddle hunting is an entirely different beast and all its accessories are different, too. Getting started with it may feel demanding since the hunters would shed their funds and invest their energy in practicing a new technique of hunting.
However, to hone this skill, invest in the right saddle hunting accessories/kit.
Here is a list of things you need to begin with this hunting method:
A wearable tree saddle that a hunter wears along his waist and legs is must have for saddle hunting. It should neither have a loose nor a tight fitting and must snug the hunter's body seamlessly. Look carefully for the straps if they offer adjustable functionality to allow hunters to get a perfect fitting to their personal body statures.
Pro tip: Get a tree saddle that is made with meshable fabric and offers breathability.
Though saddle hunters remain attached to the tree throughout a game, a lineman's belt must be included to enjoy more mobility in your saddle. A lineman's rope doesn't intend to keep hunters as safe as a best treestand safety harness fall arrest system. Nevertheless, it does its work by letting hunters move their hands more freely.
The sane hunters hunt safely, no matter whether hunting from a treestand or in a tree saddle. A tree tether is what comes in handy to maintain a secure connection between a hunter's saddle and the tree. Generally, a Prusik knot or an ascender with a tree tether works well for tethering hunters to the bridge of a saddle.
Saddle Hunting Tips
No matter how pro hunter you're, hunting with a saddle can be challenging. Similarly, you can't expect result oriented bow or gun hunting with your saddle platform and tree saddle, unless you follow certain rules and tips. Following are a few points that you must bear in mind when opting for a saddle hunt.
Getting high quality gear
Half the success of taking down a whitetail or an elk depends on the quality of your selected hunting system. Being a starter, it should be your primary concern to invest in quality gear. At the same time, when hunting with saddles, you need to remain lightweight and compact.
Being that, saddle hunting companies are redesigning hunting essentials with the bare smallest weight to maintain the compact footprint associated with this system. Not to forget that premium gadgets always cost higher and are mostly worth the money. And if you're a passionate hunter, you shouldn't mind being a spendthrift.
Trusting your saddle gear
One of the frequently asked questions coming from beginner saddle hunters is " are tree saddles as safe as treestands?" you might have the same doubt. When closely observing the deer hunting game, we have found that all aficionado saddle hunters focus on the game more rather than worrying about the deer saddle and its platform.
Even if you're a starter, this formula won't disappoint you, after all, tree saddle manufacturers have made their equipment foolproof. If you are just starting this hunting season, don't forget to carry a best hunting game meat bag.
Again, some golden words coming from veteran saddle hunters to starters are "be comfortable" in their tree saddles. And to attain comfort, you have to get yourself into the saddle shape. Besides that, when saddle hunting you're facing towards the tree and your knees are resting against the rough surface of the tree.
To maintain comfort, lightweight and high-quality knee pads are the ultimate solution. Maneuvering into the rough patches of the trees becomes a lot easier when your knees are protected. Be at ease and work on improving your skills to figure out which position and saddle platform height work best for you.
Rehearsing your shooting skills
Another great tip is working on your shooting skills. Shooting from saddle is entirely different from shooting from the tree stand or from the ground. Take a little time and practice shooting from different angles and positions. For this, you can go to game spot a little earlier and start practicing by installing your hunting system.
Maintaining your stealthiness
Tree saddles are generally made with odorless fabric that blends well into the surroundings. yet make sure that your saddle platform and climbing method NEVER alert the deer.
Figuring out your hunting system
All rules mentioned above will work the best only when you would discover a perfect saddle hunting system and set up. Either you're going to use a hunting stick above your saddle platform or levelling it to top step of your stick.
Figure out at which height you're going to set up your hunting system. Sit in your saddle and try out different shooting angles and take different positions by leaning against the tree.
Practice and patience are the keys. So, develop certain habits and live by them unless you become an authority.
DIY Alternatives to Saddle Hunting Platform
Alright, you have your hunting saddle and sticks, but don't have saddle platform. Well, it is possible to saddle hunt without a commercially made unit, but let me know then how would you move around the tree.
Having a platform is crucial to overcome the learning curve associated with this hunting method. Besides that, another advantage of using a saddle platform is lifting off the hips' weight and feeling more comfortable in your tree saddle.
However, you can always make a DIY plywood saddle platform. All you need is some bolts, nuts, a square plywood piece, and a screw gun. Make holes in the plywood piece by drilling and use screw driver to tighten all the bolts and nuts.
The other alternatives are cutting down the height of a hunting stick or modifying your hang on stand to make it behave like a saddle hunting platform.
Conclusion
For those who're serious about saddle hunting, the XOP Edge is a worthy option. It combines comfort, ease of setup, stability, and a supreme design to make saddle hunting a safe and fun way to shot big bucks.
Yet you're hunting from an elevated position, keep your saddle and other hunting gear intact.
Frequently Asked Questions (FAQ's)
Can I saddle hunt safely without a saddle platform?
Yes, you can safely saddle hunt without a saddle platform using open saddle bag. However, with a saddle platform hunter's feet are in stable position.
XOP vs Trophyline: which one is better?
XOP Edge compared to Trophyline is in budget category, bit heavy and more rugged. Trophyline is portable yet sturdy and a bit expensive.
Can I build a DIY saddle hunting platform?
Yes. Use aluminium or steel rods and frame with teeth like bark holding design. Use a ratchet strap to secure it around the tree using rust free bolts and nuts. Test weight of 300 lbs.
Are tree saddles safe?
Tree saddles are remarkably safe and is common among public land mobile hunters. Use of certified safety harness is compulsory though.
How many times a hunting saddle can be used?
A sturdy hunting saddle can get you through 2 hunting seasons easily. If you hunt frequently, it may worn out over the time. Look for the expiry date on your all hunting gear to avoid any discomfort.
Which is the best brand for saddle hunting platform?
As per field results of TreeStandRanger.com, XOP xtreme has most rugged, portable and best saddle hunting stand which is quick to install.
Is saddle hunting comfortable?
Saddle platforms don't provide much comfort compared to tree stands. Among several types of tree stands, ladder tree stands provide most comfort but is limited to private land. Hang on stand is good option for mobile hunters seeking comfort.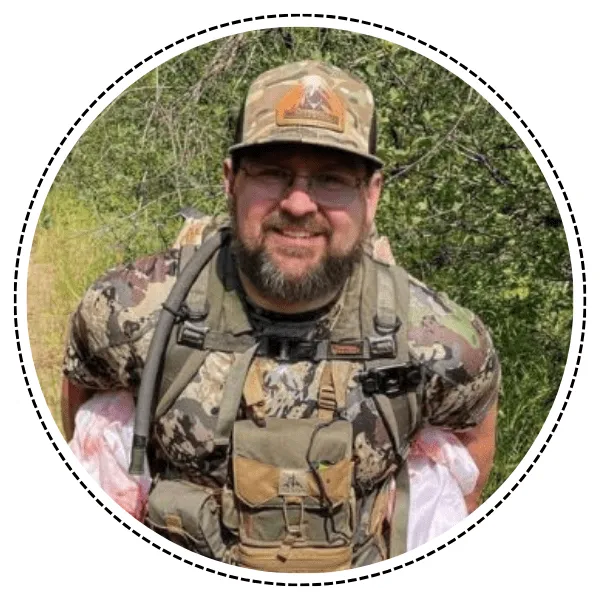 About Alex David
I am an avid bow hunter and author of Tree Stand Ranger. Hunting from tree stands has been a passion of mine for many years. I've had the privilege of owning several tree stands and hunting properties throughout my life, and I take great pride in having the opportunity to do so. Read more about me.