A tree stand umbrella should protect hunters from inclement weather, maintain silence during usage, setting up is easier, and provide ample concealment by blending your profile into the woods. Based on these features, I found the Ameristep Hunter Umbrella incredible and the best tree stand umbrella.
Ameristep's design bespeaks the logic used to enhance the functionality of this unit to the highest level. Its coverage area, durable build, and camouflage pattern are enough to make it one of the best hunting umbrellas in 2023.
Top Pick
Ameristep Tree Stand Umbrella
Cut out design to go around the tree.
Mossy oak design to stay concealed.
Wide enough to cover 1 person.
Easy to install carry and use.
Editor's Pick
Allen Company Tree Stand Umbrella
Realtree camo design sturdy stand for one person.
57 inch wide umbreall comes in nylon carrying case.
Attachment accessories also provided.
Can be reused several times and transportable.
Editor's Pick
Guide Gear Tree Stand Umbrella
Wide 3.5 ft. to 4 ft. sized umbrella.
Sturdy frame and if you ar creative, cover can be changed with other camo types.
Can be left in private property for longer duration or can be dis-assembled to transport.
Relatively heavier than competition.
TreeStandRanger.com is reader supported website. We may earn an affiliate commission if you shop using links on this page (without additional cost to you). Learn More
The whitetail hunters won't let rain create hurdles in their way during the peak hunting season. So, they know the importance of tucking a tree stand umbrella into their hunting backpacks.
10+ Tree Stand
Umbrellas Tested
Top 6 Umbrellas
Listed
2 Weeks Of
Field Testing
Often, hunters use a combination of tree stand umbrellas with tree stand blinds, which provide camouflage cover and protect from gusts of winds.
Best Tree Stand Umbrella Reviews – Camo Hunting Roof/Canopy/Covers
Keeping all factors in mind, I have experienced more than 10 of the best tree stand umbrellas out there in the market. Firstly, all aren't built the same, and none is perfect. Their performance solely depends upon the fact of how and under what weather conditions you use them.
Yet, speaking my heart out, after testing a bunch of options, I have enlisted 7 of them as my favorites. I put all these 6 deer stand umbrellas against a series of tests to check their design, installation process, build quality, and coverage they provide.
1. Ameristep Tree Stand Umbrella – Best Tree Stand Umbrella Overall
Features:
Mossy oak camo
Good for one person stand
In our opinion, durable construction, easier setup, and small collapsing design are the fundamentals to look for in the best tree stand umbrella. And to get it all, better consider the Ameristep Hunter umbrella.
Staying dry while hunting in the rain couldn't be any easier than a tree roof having the most practical design. This option, in the first place, has a design that not only resists the rain to the greatest but remains sturdier, no matter how windy it is.
The next noteworthy thing about the design of this tree umbrella is its canopy. The blended material cut it very well under heavy sleet or wet snowflakes. We have found no saturation of snow or raindrops over the canopy, as its construction helps them slip off straight away. On top of it, the fabric is high quality and can bear the highest temperatures.
The camouflage pattern on this umbrella includes a mossy oak break up country design for better concealment. So when the deer see upward, it isn't going to trace your presence in the tree.
Considering that you know how to set up this tree roof to the right spot above your deer hunting tree stand, we found it a no brainer. The rugged tree mounting arm screw keeps it firmer to the tree once attached.
For packability, it remains impeccable and folds very well. Overall, it is a good umbrella for the modest price. Ameristep accessories are widely used by some of the hunters in my group as well.
Pros
Impeccable coverage & Great concealment
Resists high winds, rain and snow very well
Limited 1 year warranty
Cons
First time use and setting up is difficult.
2. Allen Company tree stand umbrella Real tree – Best 57 inch Tree Stand Umbrella
Features:
Real tree edge camo
57 inches wide, good for a single person
A true hunter knows the importance of a cover that would protect them from the elements when they are out in the open. Allen Vanish Hunting Tree Stand Umbrella is a one-step solution for all such requirements. Spanning over 57 inches, the umbrella covers a reasonable portion of the tree when attached to a tree stand. It comes with an easy-to-use mounting rod that doesn't require an army to adhibit. This makes it beginner-friendly as well. 
Allen Vanish Hunting Tree Stand Umbrella is made of nylon to keep rain and light snow away. With a convenient cutting already made to the product, it makes it easier for the hunter to attach the umbrella to the tree and ensure that it fits perfectly. Weighing only a mere pound, getting hurt by the umbrella, or it falling over would be the least of the hunter's concerns. 
Allen Vanish Hunting Tree Stand Umbrella can be used as a tree stand umbrella as well as a portable blind, which increases its usability. The product comes with a storage sack, which brings it to a compact size, making it easier to travel with. 
While most hunters agree that the Allen Vanish Hunting Tree Stand Umbrella is a sturdy product, some also comment that it may not be able to protect the hunter from a blizzard or a heavy snowstorm. But such a circumstance would only occur a few times in a long while, which means that the Allen Vanish Hunting Tree stand Umbrella is a great product for everyday use.
Pros
57 inches wide.
Weighs only 1 pound./li>
Comes with it own storage sack.
Easy to use and beginner friendly.
Can be used as a portable blind.
Comes with a cutting that makes it easy to attach.
Cons
May not be able to keep heavy snow away.
3. guide gear deluxe tree stand umbrella – Best Tree Stand Umbrella For Two Persons
Features:
Tree camo (dxz camo)
4×4 ft. wide, good for one person
The hunters who use a hunting tree umbrella for a 2 man tree stand, are often found grumbling over the lack of shelter their tree roof gives them. More often than not, one of the two hunters might get wet either from their back or torso. So, when you, along with a partner, are hunting in a stand, you need a bigger tree umbrella to keep both of you safe from the elements. This pick accomplishes the job exceptionally well. 
In terms of design, this bears one of the sturdiest constructions. Built with heavy-duty steel and utilizing rubberized fabric material for the canopy, this unit can work under any weather conditions, be it sleet, heavy rain, strong winds, and whatnot. 
The best part? You can either flat the canopy by using its pitch adjustment knob or tilt it forward. But there lies a little catch to this function. When flat, the water gets collected in the center, and excessive water needs draining periodically. Be careful when tilting the roof downward or forward. Or place a PVC tubing attachment with a PVC tee under the roof for dumping the water.
Attaching this tree stand umbrella is a cinch as it has 2 cam lock style straps. Once it gets in place, it becomes rock solid. Nevertheless, you can use a ratchet strap for a much firmer grip.
Since it is versatile, it can be considered as a ladder tree stand umbrella, as well.
Pros
Heavy duty & rugged built against strong weather impact
Solid and firm after setting up
Versatile and durable for many years
Cons
Since its roof sits flat and collects water over it, modification to get rid of water is the prerequisite.
4. Allen Treestand Umbrella – Largest Camo Hunting Umbrella
Features:
Dark camo (next G2 camo)
57 inch diameter (4.7 ft. wide), sufficient for one person
The hunters who hunt with different deer stands, such as tripod hunting stands, or ladder stands, can opt for this option. After all, the 57-inch width roof should seal the deal for hunters who want the largest tree stand umbrella. Rest assured, it can't be used as a turkey hunting blind since it is primarily meant to be used around a tree, so it basically falls into the category of a tree stand umbrella.
Since it is bigger, it tends to flap more often in light or strong winds, no matter how hard you install it around the tree. With this in mind, you might have to go beyond to take measures so that deer do not catch any unnatural sound. Nevertheless, this drawback shouldn't break the deal as it does its intended job excellently.
Speaking of its job, i.e., helping hunters stay dry, our testers found its design to be impressive and functional. The shape of an umbrella prevents rain from dripping over your sides or back. Neither does it collect water over the roof for dumping later on. 
It comes with the largest footprint yet has a collapsible design for making transporting it a breeze. However, once you open it up in the tree, it never gets folded unless you remove it from the tree.
For installing it in the tree, it comes with additional hardware to fit all tree sizes. But in our field tests, we have found that unscrewing it from a tree is painful, and if done carelessly, the plastic parts on the mounts can be chipped off.
Yet for the price and performance, it outperforms many of its contenders.
Pros
largest hunting umbrella currently available
Easy installation and set up for almost every tree size
Did great under light winds and rain in Canada
Cons
Create noise sometimes
Removing after installation is comparatively difficult
5. Muddy Universal Umbrella – Best Hunting Umbrella For One Person
Features:
Brownish camo
48 inch diameter (4 ft. square), one person use.
Made in China.
Since you aren't seeking a toting umbrella for preventing rain, you need a hunting umbrella with all the essentials to make your hunts worth in the rain. Bearing this in mind, we think the Muddy Hunting umbrella won't let you go wrong unless a 45mph strong windstorm hits you. 
You'll get a 48-inch square-shaped canopy with an arc style. That means the design is incredible for providing full coverage from each side. Such sort of design holds firmer during snowy weather as it won't cause snowflakes to gather on its roof. More to this, the design sets at a low key, keeping sun rays away from your eyes.
In case you don't like umbrellas with screw style mounting systems, this one has got you covered. It bears straps for knotting it around the tree. This installation method holds it firmer to the tree, but a minor modification is required. The stock straps are too short and don't fit all three sizes. You need to buy longer straps to secure it firmly against the tree with thicker diameters.
Another attention-grabbing feature that most hunters may not choose to ignore is its interior. Instead of using a camouflage pattern for inside and out, this umbrella is black from the bottom side. This bug might break the deal for hunters looking for hunting umbrellas with foolproof concealment. Because when a deer passes under your tree stand, the black color may help him land your presence. 
Nevertheless, this camo umbrella is versatile. You can convert it into a blind by attaching any camo fabric through the holes on its frame.
Pros
Great tree stand umbrella for one person
Easier to set up and provide value for money
Durable, well built and rugged construct
Cons
Impossible to secure around trees with 16 inches diameter
6. Big Dog – Best Tree Stand Hunting Umbrella For Windy Rains
Features:
Wood camo
32 inch x 50 inch roof cover for one person
Since structurally infallible hunting tree stand umbrellas are hard to find, this one from The Big Dog is the perfect rig to consider. 
A tree stand umbrella, be it lightweight or heavyweight, in the first place should protect hunters from harsh weather conditions. And this unit is significantly good at helping hunters in staying dry. Unlike a tree stand roof that falls flat and accumulates water atop, this specific unit comes with a dome-shaped roof. This is a convincing feature for hunters who don't want to modify an umbrella roof to allow water atop to slide off side by side.
Since the rain falls at an angled position and may wet your face or back despite you're using a hunting umbrella. But this Big Dog hunting umbrella sets it apart. It won't be wrong to expect a 50-inch wide roof cover to protect not just your face but the whole body from the rain falling with light or heavy winds. 
From a wider-sized umbrella, we're expecting a heavier design. But this one excels in this regard, too. It utilizes fiber poles for cutting down the overall weight to a great extent for improving its transportable functionality. The cherry on top is that the polyester canopy isn't just water resistant but is durable enough to last you for many decades.
The best of the best? Its setup is effortless and takes less than 2 minutes to set up. Experimented using the best hunting watch. The camouflage-patterned canopy blends into the woods remarkably well to take your hunting experience to the next level.
Pros
Well thought design
Exceeds expectation when used in rain.
Provides value for money
Cons
While using, we found some parts flimsy but it worked
Buying Guide for Best Tree Stand Umbrella
Tree stand umbrellas, or deer stand roofs are the sure bet to get when hunting in rain. "One size fits all" or "all are made the same" selling strategy isn't applicable to treestand-specific umbrellas. You need to be clear in your head that you're looking for a canopy that isn't just keep you from the rain, but it should never get in your way when you're bowhunting.
With that being said, whenever you set out to buy a quality tree stand canopy, ensure that certain key qualities are there to make it work optimally for you. 
So, let's run through the following key features to know which type of treestand umbrella you should invest in
1. Construction
you're supposed to use a tree umbrella not only on rainy hunting days but also during gusty winds or sweltering temperatures. 
Look if the metal parts on your specific model are powder coated and can stand the test of time. Similarly, it's important to check the durability of the fabric used for the canopy. Most models utilize stainless steel spooks and nylon or polyester fabric, considering the durability and portability factor in mind. Yet, you still need to make sure that all of its parts are completely undamaged.
2. Coverage/Size
As said earlier, the one-size-fits-all rule doesn't work for tree stand umbrellas. Why? Because deer stands come in different sizes and configurations. Before getting the right size umbrella for your specific stand, you first need to check the diameter of your stand. 
As a rule of thumb, your tree roof needs to be slightly bigger in diameter than the diameter of your deer stand to keep your sides dry. Likewise, if you're using a two-person tree stand, then you should invest in a bigger variant of a tree stand rain cover with greater width and depth to provide you and your partner full coverage.
Simultaneously, bear in mind that heavier tree roofs mean lesser portability.
3. Style
You can choose a square-shaped tree stand umbrella or a circular one. The circular umbrella typically has a small diameter and provides good coverage for one hunter. Conversely, a square or rectangular deer stand umbrella provides significantly more coverage and is ideal to consider when you want to hunt from a tripod deer stand with a roof.
4. Set up
No hunter wants to spend his whole morning setting up hunting gear, and this accessory is also not an odd one out. Despite getting opened up in a jiffy, setting up a tree stand roof may ask you to spend 20-30 minutes or more.
Like other tree stand hunting accessories, it also requires a strap or two for attaching to a trunk's tree. When looping a tree stand roof around the tree, be wary that it gets a snug fit and prevents raindrops from tripping over your back.
Perhaps this is the reason why many manufacturers have introduced a slight cut-out in the design of a tree stand canopy to ensure water repulsion.
While installing tree stand umbrella, it is crucial to wear a suitable safety harness. Although it is mostly ignored be experienced hunters but taking risk in remote locations is not sane idea.
5. Covertness
A reason for hunting in rain is the edge hunters have when they know their scents and any kind of noise is being masked. So evidently, the hunters won't cherish a tree stand umbrella with fancy detailing. Generally, these canopies either don't come with frills but rather use camouflage patterns for allowing a hunter to meltdown in the background.  
Choosing Tree Stand Umbrella – Pro Tips for Different Types of Weather
 As long as you don't know the weather conditions of your area, you may not have a crystal clear picture of a particular tree stand umbrella you should try. In general, tree stand umbrellas don't weigh more than 1 or 2 pounds but can invert in strong winds if not installed very firmly. Being super lightweight, the loose-fitting umbrella flaps even in the breeze, so be careful. 
On the contrary, when you're hunting in the wet snow, bear in mind that snowflakes must not accumulate over the roof of your umbrella. In this situation, an umbrella with cone shaped silhouette is the best explanation. So, knowing weather conditions is a deciding factor in getting the right type of umbrella.
Read to know how weather plays its part in making this apparatus substantively useful.
Rain
In states such as Ohio and Oregon, the hunters hardly have a choice of hunting with no rain. Therefore, a tree stand umbrella would be one of the best investments for these hunters or any hunter who never minds hunting in the rain.
Whether there are intermittent showers, drizzling, or a steady rain with light wind, your treestand umbrella needs to keep you dry through and through. So, be mindful to check the size and style of your deer stand roof to ensure that when the rain is pouring with light winds, you receive full coverage.
And when there's heavy rain, you need a sturdier and wider umbrella that can withstand a lot of weather abuse.
Sweltering Temperature
Deer hunting is unpredictable; you might have to sit all day to score a whitetail. And the warm weather of an early Spring morning might bring scorching noon ahead. Again, the treestand umbrella becomes the best bet to shield you against the blazing sun. 
Yet setting up a tree stand rain roof is quite demanding in hot weather. In fact, the noise level during Summer's noons and afternoons gets too high to distract deer's attention. So, if the nuts, bolts, or spooks on your deer stand umbrella are creating squeaking of any kind, your chances of success are lower to a great extent.
Windy Weather & Snow
Be it a light wind, breeze, or strong wind, your tree stand roof will flap very often. Should this be the case, you need to watch out that you firmly tie your tree umbrella around the tree to eliminate any possible sound produced by this device.
The passionate hunters aren't afraid of hunting in mild, snowy weather. The snowflakes and sleet have their weights, and a quality treestand umbrella should bear the weight of snow by letting you hunt carefreely in snow or sleet.
Conclusion
The true value of a tree stand umbrella depends upon its design, which must keep you dry. The Big Dog Hunting umbrella is one such option that pushes away water to the maximum and keeps you dry.
So, instead of prioritizing the size of a tree stand roof, don't look down upon how well-planned its design is. Good coverage will come at the cost of a design that never wets your body during a rainy hunt.
Frequently Asked Questions (FAQ's)
Do hunting umbrellas get folded once they open up in a tree?
All tree stand umbrellas, after popping up in the tree, never fold up. But they are collapsible and can be tucked in your hunting backpack with quite ease.
Can I make a DIY tree stand umbrella?
One can easily make the tree stand umbrella using an umbrella frame, a camo fabric, some paints, ratchet straps for securing it on the tree, and an adhesive material.
What is a tree stand roof kit, and what does it hold?
A tree stand roof kit includes all the tools needed to attach the hunting umbrella to the tree. Read the manual before using a tree stand roof kit to put together all the accessories.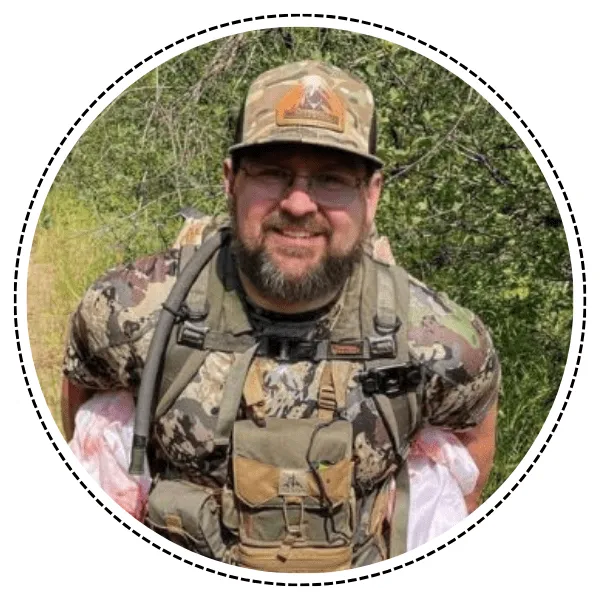 About Alex David
I am an avid bow hunter and author of Tree Stand Ranger. Hunting from tree stands has been a passion of mine for many years. I've had the privilege of owning several tree stands and hunting properties throughout my life, and I take great pride in having the opportunity to do so. Read more about me.