The deer movement has been a hot discussion topic among hunters for quite a long. Rain and hunting have always had a poor clash which obstructs a smooth experience for every hunter. That said, many ask a common question i.e., do deer move in the rain or not?
A straightforward reply would be yes. Deer movement in the rain is highly impacted but not halted. In such weather conditions, these trophy animals become a lot more cautious. Hence, these don't only watch out for potential predators but also travel to a safer spot.
Places having large pine trees are the favorite shelters for deer especially when it's pouring down heavily. If you like chasing bucks on rainy days, make sure to understand all the factors and behaviours associated with it.
Tracking The Movement Patterns – Do Deer Move In The Rain?
Generally, drizzle or passing showers don't bother deer. But these animals make preparations for incoming heavy spells. Finding bucks in such weather is indeed challenging and hunters must understand deer moving patterns.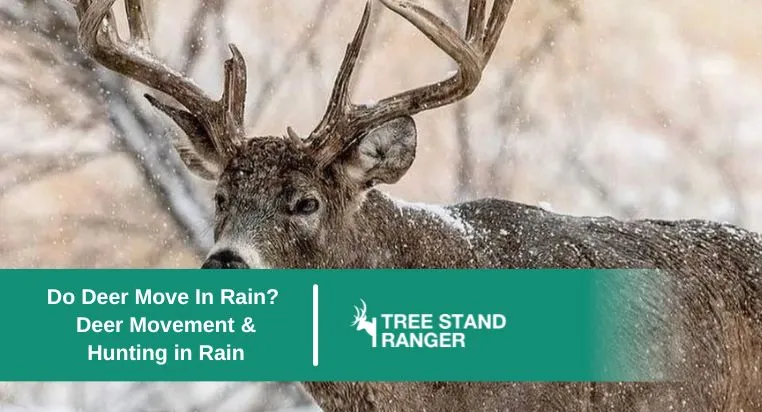 Deer Hunting In The Rain
One of the major things to consider before going out on a hunt is the weather conditions. In case of infrequent light to moderate rain spells with an interval of two to four hours, hunting could be fun. But, do deer move after rain?
Yes! As soon as the drops start settling in the woods and it gets quieter, bucks are once again on the move.
Similarly, when the weather forecast predicts continuous heavy rainfall with thunder and lightning, spotting deer might not be easy. These animals are extremely stressed out hence hunker down in loaded covers.
Time just before when a thunder cell is approaching, bucks go crazy and some of them run here and there. Also, as the rain showers halt, they reappear from different places mostly in search of food.
When it rains heavily on chillier days, deer activity is drastically reduced as compared to that on warmer days. It is because, during cold weather, they don't only seek shelter from the rain but also need a super cozy place to stay dry and comfortable.
In case the wet weather continues all day, deer won't stay in their bedding areas the entire time. They would move out before dusk towards the feeding sites. Darker clouds in the late afternoon or evening make navigation a bit of trouble for bucks therefore, they travel earlier in the day.
If by any chance you spot a deer during a cloudburst, you are less likely to spook it because of the surrounding loud noise. However, taking accurate shots in such conditions is pretty rare. If you are on tree, you need to account for several factors to accurately shoot a bow from tree stand.
If you are using bow and arrow, make sure to hit gut so it won't go far. Read where to shoot deer with bow/arrow.
Make sure to keep checking the radar and check if there will be any calm window for a couple of hours after the rain or not.
Bowhunting In The Rain
Just like slight rain affects deer movement patterns significantly, it won't cause trouble for bow hunters. However, harsh conditions might interrupt bowhunting. To learn how to hunt deer in the rain with a bow, the following are some important tips:
Check the weather forecast before entering the hunting grounds.
Regardless of your experience, it is better to whittle down the distance between you and your target. If you take best shots from 30 yds., try taking those from 20 to 25 yds. for better accuracy.
Rain also washes away blood trails therefore, shooting from a distance wouldn't be a great idea.
During moderate to heavy showers, it is recommended to use ground blinds rather than climbing on tree stands. If you have invested in tree stands, make sure to buy tree stand umbrella which will save you from light rain.
Hunters on tree need essential tree stand accessories to safely hunt for longer sits even in worse environmental conditions including winds and rain.
Do Deer Move When It's Raining?
Yes, these animals cease their travel when it rains. Being wild creatures, their bodies are capable of surviving rain as well as harsh weather conditions.
As mentioned earlier, deer move when it rains for various reasons. Since bucks are not sure about the duration of rain, they forage for food to survive in the shelter. Deers are prey to numerous carnivorous animals so, they have to hide from them as well.
Hence, some of the bucks like going out in such weather since rain sound covers their noise and keep them safe from nearby predators. It makes their migration a lot more safe as compared to the regular days.
When light mist combines with cold weather, it is probably the most amazing time to hunt deer. They would continue their regular activities all day long. Because of the mist, some bow hunters can find difficulty shooting from long distances. Also, you have to pay attention to other tracking signs since the blood trail fades away in no time.
For me personally, I plan my hunting trip away from rainy areas or on sunny days. If sudden showers come up, I have waterproof hunting tent along which provide shelter from extreme winds and chilly nights.
Do Deer Move More In The Rain?
While it's pouring down lightly, deer move more. They will continue their regular daily movement and search for food, water and mineral source. Placing mineral salt licks near water source is one of the proven ways to keep them throughout the year.
Speaking of heavier rain spells with high winds, trophy bucks prefer staying undercover. Though they can sustain extreme cold, rain, or humid weather, they won't be able to use their sense of hearing as efficiently as on clearer days.
The noise of water will disrupt their ability, making it harder for deer to identify any danger around. During this time, deers stay as low as possible and move out once the weather gets a little better.
Does Whitetail Deer Move In The Rain?
Yes, whitetail deer are on the move when it rains but the movement decreases with extreme weather.
Hunting Elk and Mule Deer In The Rain
For species including elk and mule deer, the travel behaviors are quite identical. They take shelter in pine thickets and tall, heavy bushes. These places not only provide them with a warm and dry shelter to take a nap but also keeps them hidden.
Where Do Deer Travel In The Rain?
When it comes to 'will deer travel in the rain?', the answer every time is Yes. But, will they bed down in rain? Not really.
Even though light rain showers are less likely to impact the daily movements of bucks, they don't like bedding down in wet areas. For a drier area to sleep in, they travel to safer places. These include places with tall pine trees or rocky outcroppings.
It keeps them safe from hunters and other animals. Also, the tall and thick surroundings provide a relatively dry place to bed down comfortably. This is one of the factor that decides how far do deer travel.
Can You Hunt Deer in The rain?
Hunting deer in rain is tricky but not impossible. As you shoot the animal with an arrow or a bullet, the water drops on its body produce a smoke-like effect. It determines if the shot has hit the buck's body or not.
The best time to find a good couple of deer is right when the rain stops. These animals will come out in numbers in search of food. So, make sure to keep a close eye on feeding sites.
Be it with a gun or an arrow, never shoot from a large distance. The maximum you and your target should be apart is between 20 to 25 yds. The foremost reason is an accurate shot because rain and wind can have a major impact on the bullet or arrow. Read: Do dear move in wind?
With reduced visibility due to the downpour, firing the arrow/bullet from a long distance will be a great risk. This can result in a poor shot, leaving the animal to suffer pain from wounds
Furthermore, tracking the animals in rain is a huge challenge especially when all the blood is washed away. You have to stay extremely vigilant and search the area for every kind of sign. These include deep deer tracks (if visible), broken branches, and overturned leaves.
Conclusion
Do deer move in the rain is indeed the most common concern among all hunters. Luckily they do but as it starts pouring down like cats and dogs, you would notice them moving maniacally. Most of the time deer sense incoming storms and move before the rain.
The best time to hunt in the rain is during light showers. Keep a close eye on the surroundings, especially food sources as soon as the rain ends. That is when you will see a herd traveling towards it to gain energy.
Frequently Asked Questions (FAQ's)
Should I deer hunt in the rain?
Hunting in light to moderate rain wouldn't be challenging because deers are active as usual. However, with an ongoing thunderstorm, not only seeking shelter for yourself would be difficult but finding deer would be as well.
Do deer like rain?
Neither do they like rain nor do they hate it. Light rain never bothers any deer but as it starts getting loud with thunders, lightning, and heavy cloudburst, they get terrified. That said, trophy animals will act normally during light to moderate rain but will hide when it rains heavily. 

Do deer move before or after rain?
Yes, they move before and after rain. Deer have a tremendous ability to sense incoming storms therefore, they travel before it arrives. They seek shelter under tall and thick trees. As the rains end, they move back to their territory.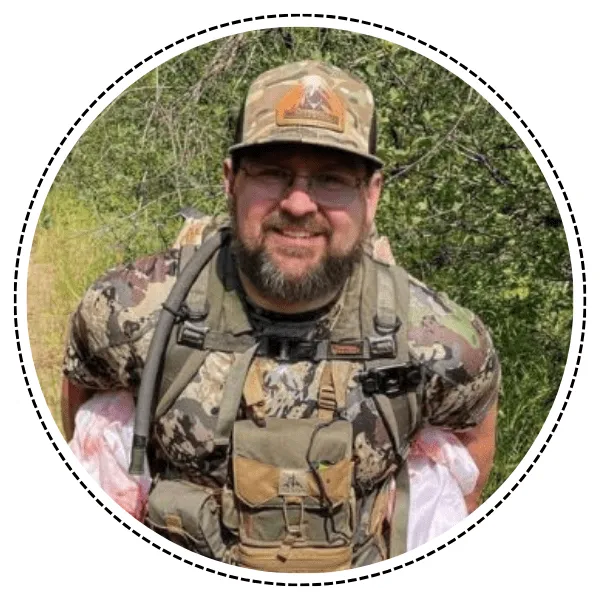 About Alex David
I am an avid bow hunter and author of Tree Stand Ranger. Hunting from tree stands has been a passion of mine for many years. I've had the privilege of owning several tree stands and hunting properties throughout my life, and I take great pride in having the opportunity to do so. Read more about me.
Related Hunting Guides
Tree Stand Hunting
Tree Stand Hunting Essentials