The main difference between ground blind and tree stand is vantage point for hunting. Moreover, level of comfort, mobility of hunter, and location also decide ground blind vs tree stand.
When hunting, one must consider the type of deer that is being hunted. When deciding ground blind vs tree stand, various factors should also be taken into account. For instance, the agility of the animal will tell if it can jump into trees and escape. Or if it is slow enough to easily catch on the ground.
Depending on how fast and agile the deer is, determines whether you should use a tree stand or ground blind. Because at one end, hunter on a tree stand, have a clear edge in areas that are covered with tree branches. If you have set them up correctly, the deer can not spot you. Even if the tree stand is not high up above the ground.
On the other hand, hunting blinds are another good option, but the only major disadvantage is their lack of vantage point that tree stand provides. However, a camouflage tree cover is sometimes essential in hunting tree stands as well.
Factors To Consider – Ground Blind vs Tree Stand for Bow Hunting
While setting up ground blind or tree stand, various factors like trails, wind direction, feeding, and bedding areas should be observed. This will increase the chances of getting closer to deer and taking a perfect shot.
Besides, the best way to set up a tree stand is to find hill that faces the direction of the wind. Because the wind should be able to take away the scent of yours far away from the bucks. This will make it easier for you to hunt.
If a hill can not be found, a ground blind can be set up facing heavy brush where the deer like to bed. In that way, you will be completely camouflaged and the shot angle would be perfect for you as well. The blind should almost always face downwind because deer can sense your odor. So it is better that the wind carry your odor away somewhere where the deer cannot sense it.
The biggest mistake that hunters make is choosing the wrong type of blind or stand. Another mistake is setting it up in the wrong location.
1. Concealment
Ground blinds are man made covers that are put on the ground to help keep you concealed from wildlife. Ground blinds, however, offer good concealment, but they can be heavy and bulky to move around. They also don't offer much in terms of a view of your surroundings.
There are a few key differences between ground blinds and tree stands in terms of concealment that hunters should be aware of. Firstly, a deer stand offers much more concealment than ground blind because of elevated position. It makes harder for prey to spot.You can use other accessories like stand blind and stand umbrella to improve concealment.
In certain areas, ground blinds can be used to catch deer that are less agile. Because such deer would not spot a difference in the woods and your ground blind will stay concealed. In short, hunting blind or tree stand both are good in providing concealment but in different scenarios.
2. Mobility
As for ground blind or tree stand deer hunting. It greatly depends upon the type of tree stands that hunters use. If they get a climbing tree stand or a hang on tree stand then the mobility is not that much affected. These tree stands are also called Run and gun tree stands.
However, with a ladder stand, a hunter is pretty much confined to the same tree. The reason is ladder stands take time to assemble. Sometimes it requires 2 to 3 people to install such a tree stand.
When talking of ground blinds, they somewhat fall in the middle. Neither do they entirely affect the mobility of a hunter nor do they let a hunter change places. Because most hunters do not want to change the location of a ground blind after setting it up.
3. Cost
Cost is another factor to consider when choosing a deer blind or tree stand. Because there is a major cost difference between both of them. When talking of tree stands, their prices can vary but a basic climbing stand or a hang on stand will cost you around 100$. Good stands with extra safety, usability and comfort can go up to 400$.
Whereas in ground blinds, there are various options for less than 50$. However, along with the low prices, quality and other factors often get compromised.
4. Comfort
When talking of bow hunting tree stands in comparison to ground blinds. Ground blinds tend to be more comfortable. Because they offer more space and protection from the environmental elements like extreme weather conditions. Moreover, in ground blinds, leg room and gear storage are abundant. Some blinds are tall enough to allow you to stand within. You can also use blinds to protect yourself from harsh weather.
Tree Stand or Ground Blind – Pros & Cons
There are various advantages of using ground blinds. First, they are more concealable than tree stands. So it is less likely that the deer would spot you. Second, they offer a bit more protection from the environmental elements. Since you do not get exposed to the wind and rain like you do in a tree stand. And third, they're typically cheaper than tree stands.
Tree stands, on the other hand, have various pros. They are much more lightweight and portable. They also offer a 360 degree view of your surroundings, which can be beneficial for spotting games. Additionally, tree stands provide a better vantage point for hunters. Allowing them to see further and spot the game more easily.
Despite these advantages, tree stands also have a few drawbacks. The best Ladder tree stands are less portable than ground blinds. That means they are not as easy to set up in different locations. Additionally, they can be more dangerous to use. Since hunters can fall from height if they are not using safety harnesses and not following instructions carefully. Finally, tree stands can be more expensive than ground blinds.
Conclusion
Mostly the ground blinds are there to set up on private land. However, tree stands are for both public and private lands. In public land, hunters often detach tree stands and move to different locations. Each option has its own set of pros and cons that should be considered before making your decision.
Ultimately, the choice between using a ground blind or a tree stand depends on the hunter's preferences and hunting style. Our choice is almost always a tree stand that is durable, safe, noiseless, and can be carried to difficult terrain easily.
If concealment is important and the hunter wants a better view of their surroundings, with the ability to move around more easily than a tree stand is the better option. However, if safety and being static on one location are key considerations, then a ground blind may be a better choice.
So, which one is better, deer hunting ground blind or tree stand? As we said, it depends on your hunting style. If you are a mobile hunter who likes to be up high for a better vantage point. Then, a tree stand is probably the better option. However, If you are looking for more concealment and protection, then a ground blind is the way to go.
Related Hunting Guides
Tree Stand Hunting
Tree Stand Hunting Essentials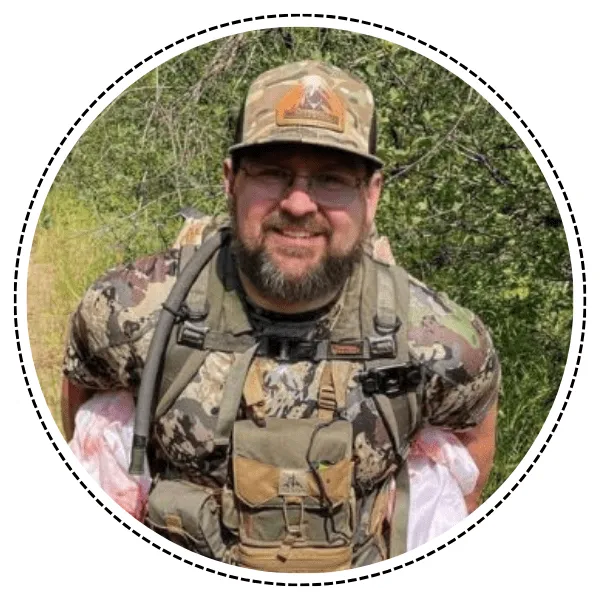 About Alex David
I am an avid bow hunter and author of Tree Stand Ranger. Hunting from tree stands has been a passion of mine for many years. I've had the privilege of owning several tree stands and hunting properties throughout my life, and I take great pride in having the opportunity to do so. Read more about me.