A lot of hunters have a hard time finding a good tree stand location. Or they don't know how to camouflage a tree stand. Getting suitable tree stand location and camouflaging it is important to scare away the buck. Thus, the whole point of going hunting goes to waste.
The most often used tricks to camouflage tree stand is by using tree stand blinds. These include camo colored blinds/clothes that can cover various types of tree and stand alone hunting stands to match colors of environment. Moreover, treestand umbrella which is primarily used for weather protection can also improve camouflage.
The purpose of this article is to instruct hunters on how to camouflage a tree stand effectively. The best approach, however, will be different for every environment. We have taken the reference of our hunting conditions i.e. Northeast States of the USA. 
Tips and Tricks on How to Camouflage a Tree Stand
Camouflaging does not only require specific gear/products but an art itself. If you can use resources around you properly, camouflaging is not that hard!
If you are patient enough to get to the end of here. You will see ideas on how to camouflage a tree stand and solutions to almost every problem one faces while hiding a tree stand.
Allen Company Magnetic Blind To Camouflage A Tree Stand
Recommended
Dimension: 96″ wide and 35″ high
Colour: Real tree camouflage
I liked: Camo pouch to store hunting accessories
Noise: No sound or rattle noise while entering or leaving blind.
This camo blind by Allen is one of the best ways to cover up your tree stand for the whole season artificially. Tree branches and leaves are a solution too but you will have to redo it while making noise on each trip which is not ideal. A fixed ladder stand with cheap camo blind like this is better than DIY-style camo.
Do check Allen's mossy oak treestand camo or Big Game darker camo for color variations.
Following are the basic DIY camo principles which will reduce or eliminate your chances of spooking deer in any area.
Create Natural Cover: Leaves, Vines and Green Branches
An easy way to cover your tree stand is to simply take some green branches and place them onto the tree stand. This will give you a nice cover. But it will be completely visible to anyone who walks by.
You can also grow vine if tree stand is going to stay on your property for several years. For example, a best ladder stands once set up is rarely replaced.
Use different shades of green
Try mixing up different shades of green if you are trying to cover a tree stand. We found that the best colors for doing it are dark green and light green. The surrounding trees will help you create a natural balance.
If you are using commercially available tree stands and get spotted by targets easily, you might want to try a primitive technique. Learn how to build a tree stand platform and try a more spacious economic and relatively safe method of tree stand hunting.
Be Careful with Camo clothing
Don't wear too much camo clothing because you will blend in way too well. It is best to wear a dark camo clothing with bright orange hunting vest or hunting cap. This will let other hunters identify you from far.
However, dark green is preferable for the purpose of blending in with trees. Also, be careful when wearing camo face paint because the scent may easily scare away deer.
Start With Blending in the Tree Stand
The most important principle in tree stand camouflage is to focus on colors and shape of the stand. The basis of this is to paint all shiny surfaces matte black and all non-shiny surfaces green or brown. All hunters should have these basic colors on hand. Using natural cover like leaf as explained earlier is the best method.
If you choose to hunt from a best hang on stand. Consider draping some camouflaged burlap on the stand before mounting it. Keep in mind that the goal is to break up the shape of the tree stand and cover any shiny areas.
Keep the Time of the Day in Mind
Another consideration when concealing a tree stand is whether you plan to hunt from it during the day or at night. If you are hunting in the early morning or late afternoon sun. How well will your white hunter's clothing contrast with the surrounding foliage? White is effective, but hunters should consider wearing more earthy tones while hunting on sunny days.
Hunters should consider a few rolls of brown or green camo tape. Remember that deer have an excellent color vision so it is critical that diverse shades of colors are used when attaching camo tape.
Find Commercially Available Camouflaged Tree Stands
Recently, many manufacturers have begun making hunting tree stands that camouflage well without any effort needed on part of the hunter. These stands are designed with an integral camo covering on them and have different camouflage patterns.
There are various best climbing stands and hang on units that have camo covering, camo seats, camo backrest and dark colored platform. They provide enough concealment and you don't necessarily need to use tree branches as cover anymore.
Using these tree stands is the best and easy way to camouflage yourself without thinking much.
Conclusion
Hunters should be prepared by creating cover on hunting spots. For that, knowing how to camouflage a tree stand is necessary. The stand should be completely concealed and it should blends in well with the surrounding foliage.
Beginners can always seek out help from experienced hunters, in installation, concealment and other important aspect of deer stand hunting.
In doing so, even the beginner hunters will have the best chance of success during their next hunting adventure. That sums up an extensive guide on how to camouflage a tree stand!
Frequently Asked Questions
How do I get into my stand without spooking the deer?
Using some proper camouflage techniques on your tree stand can always help. Other than that, if you do not make any noises and control your scent, the buck will never sense you.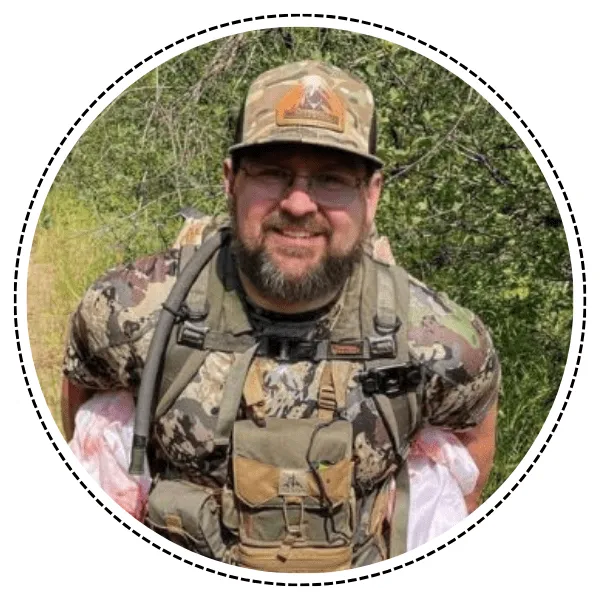 About Alex David
I am an avid bow hunter and author of Tree Stand Ranger. Hunting from tree stands has been a passion of mine for many years. I've had the privilege of owning several tree stands and hunting properties throughout my life, and I take great pride in having the opportunity to do so. Read more about me.