You can't begin with deer hunting in the majority of US states without a license. To get that, people born after or on Sept. 2, 1971, have to get a certified hunter's education. But, is that all you need? No. Even after all the education, you need some guidance on where and how to start deer hunting.
The key to starting a successful hunt with minimal chances of mishaps is good preparation. It includes stocking the appropriate gear and other essential supplies. There is so much more to understand before you officially hit the hunting ground for the first time.
Practicing in open space will help you determine the distances and aim at the right points.
Everything discussed in the guide below is from our expert hunters who swear by these tips and tricks. If you understand and follow everything correctly, we ensure you a trouble free and memorable experience.
Start Deer Hunting – When, Where & How
Hunting requires the willingness to put in an extra bit of effort for a good meat harvest. Knowing when, where, and how to start deer hunting involves a vast number of factors to understand. From finding a secure cover for yourself to tracking deer movement and behavior, there is so much more.
Things Needed For Hunting
Before anything else, write down all of your deer hunting needs and gather them in one place. In case you miss anything, here is a list of hunting gear you will need for a hunting trip
Pre Hunt
For Hunt
Post Hunt
Find A Safe Shelter
The first and foremost thing to do is to find yourself a good spot to hide when hunting deer. Whether you spend one day or a couple of them in the woods, your preparations should be adequate.
If you are deer hunting from the ground or on a treestand, make your shelter waterproof and warm, especially during the rainy or chilly season. Use sturdy materials to build the cover that can withstand shifts in wind speeds. if hunting from deer stand, use treestand umbrella and treestand cover to camouflage and protect from extreme weather.
Choose a place where no other animal except for the deer visit. This will save you from burglaries by bears or other creatures in the wild.
As a new hunter, it is better to start with ground hunting and not climb on a treestand. If you wish to do so, make sure to practice climbing a tree using a safety harness. Try it under an expert's supervision so there are no accidents.
How To Start Bow Hunting Deer
If you wish to learn bow hunting bucks, the first thing to do is check the relevant laws in your state/area. Different US states have varying laws that tell the legal hunting hours and lots of other things to keep remember.
Practice To Shoot Deer
Regardless of the type of hunting you perform, your first move should be practicing religiously. When learning how to become a hunter using a bow, the best idea is to use a 3D target. These help you achieve accuracy for deer shooting right in the spot.
If you are hunting using bow knowing where to shoot a deer with arrow and how strong the bow is should be your primary concern.
Deer are cautious animals and can bounce away if you spook them or don't hit in the critical spot. Practicing from various distances and elevations will surely polish your skills. The best places are public lands where you don't have restrictions to practice 3D target shooting.
Initially, you might get a grouping with an inconsistent pattern of arrows which is absolutely fine. Be patient and keep trying. Start with a distance of 5 to 10 yds. then gradually add 5 yds. As you lock the aim at the target, shoot with a clear mind. This will help form muscle memory for you.
Understand Deer Behaviour And Patterns
My best suggestion for beginner deer hunters will always be to learn the animal's movements and behavior patterns. Carry out a detailed research and assist expert hunters before your first official solo hunt. Doing so makes it easy to understand and remember common deer movement patterns.
Being nocturnal, they are more likely to be active during the night and less seen when the sun is out. Therefore, you need to be highly attentive when these animals are on the go.
Always pay attention to the wind. It's the most dependable way to hide your scent. Place your stands where you have good cover to hide movement. Tree stands too high make it difficult to take good shots when the deer are close.
When deer are not moving, they are probably munching at feeding sites or resting in the bedding areas. To find out where the animals are headed or where they are coming from, you should learn to read their trail signs.
These creatures travel in a unique pattern and leave some signs behind, known as trails. It is crucial for the hunters to know what these signs mean. Since these tell you where and how to see deer. A great way to find deer is to secure a spot or treestand in an area between two trails or on the camouflaged side of the trail.
Refer to article: Deer Trails to understand different trail signs in depth.
Stay Scent Free
Human scent is a major factor that spooks the nearby deer like nothing else. Therefore, you must cover your odor before entering the hunting grounds. The easiest way to do so is by using a scent-free spray or jacket. Both items are designed to cover your fragrance hence, preventing the deer from sensing danger around.
Watch Out For Rain And Wind
Wind plays a vital role in carrying various scents including human fragrances to deer. Whereas, rain is likely to interrupt the impeccable hearing sense that deer utilize to stay safe.
During strong windy conditions, you should choose higher spots and not low-lying areas. Check a detailed guide on deer hunting in wind.
However, when the conditions are wet, light rain never impacts deer movement but heavy thundershowers do. Plan your hunt accordingly so you get the maximum number of deer in sight. This article shows when and where deer travel on rainy days.
Learning How To Hunt Whitetail Deer
Whitetail deers are generally pursued by the majority of hunters in the United States. Just like any other deer, shooting or bowhunting whitetails require loads of practice. When you are completely satisfied with your skills and accuracy, get your hands on the most efficient weapons.
Be it whitetails or blacktails, the beginning of your hunting profession always starts with ample practice and strategic plans. Whitetail deer are also incredible with their hearing and smelling sense. Make sure to stay as low as you possibly can while hunting whitetail.
Whether you are on the ground or in a treestand, conceal yourself using camo apparel. When on a treestand, the best height is 16-20 ft. or above. This saves you from getting arrested by the deer even from far distances.
All deer including whitetails can be tricked using attractant scents. There are various scents that hunters can use to draw deer toward themselves. While you can use these scents throughout the hunting season, the ideal time is before the rut period starts.
That is when a mature buck is in search of the doe for mating. Here is how you can use different deer attractants for a successful hunt.
Solo Deer Hunting Basics
Those who begin hunting alone, all by themselves, get obsessed with it, and then, there is no going back. But, how do you start deer hunting solo? This could be challenging initially but as you understand everything clearly and follow the proper guidance, no one can stop you from bagging trophy bucks every hunting season.
As mentioned above, take hunter education as the first step for getting the license. Following the education, practice extensively on 3D targets. Some people like saddle hunting while others use treestands. Whichever you choose, it is important to practice it on low-heightened trees on public lands.
The key to success for solo hunters is to stay in the right place for a long time rather than moving around frequently. This can only happen with extensive knowledge and proper planning. It will also reduce the chances of missing the animals. As discussed earlier, it is recommended to find trail signs and stay between the two most used paths by deer.
When hunting a deer all alone, always carry a high end compass and GPS tracker. You never know when you can lose track and end up in the middle of nowhere. That's when these gadgets come to the rescue.
Since you won't have any company during the hunt, good food and sufficient sleep will get you a long way. You can use solo hunting tents for a safer shelter with no invasion of harmful animals such as snakes, bugs, etc.
Achieve your hunting goal by executing the plan right and keeping all the crucial aspects in mind. This video shares some amazing tactics to follow while hunting deer solo in the woods.
Where To Go To Hunt Deer
People usually prefer public land whitetail hunting because of lesser restrictions in comparison to those on private lands. The public lands only require a legal hunter's license and you are good to go. There is no requirement for a permit from the landowner which is usually the case for private lands.
Areas that come under the category of public lands include national forests, state forests, national wildlife refuges, state parks, and state Wildlife Management Areas (WMAs).
Wondering how to bow hunt public land? It is not a hassle, in fact, it is quite simple. Just make sure to keep your license with you all the time. Bowhunting on public lands is as simple as finding the best place for yourself and starting to chase the trophy bucks.
Here are some important links to buy license:
Similarly, you can look for your state and territory to get online license quickly and effortlessly.
Still Hunting – How To Still Hunt?
Still hunting is when you move slowly while staying low and ambush at the right time. This type of hunt is performed by professionals since they are aware of deer behavior quite well. Moreover, they track the animal's movement accurately and stalk accordingly.
To learn how to start deer hunting with this technique, there is so much to understand. For example, you should study deer travel patterns, their trail signs, wind, rain, vegetation, and topography.
Based on the season that you are hunting in, staying quiet could be a challenge. Regardless of the month, your walk can sound like that of a deer's gait with an empathetic heel-toe walk.
Still hunting is commonly preferred by people that use guns and rifles. This is because shooting an arrow within seconds of ambush becomes difficult even for experienced hunters.
When searching for deer on hilly surfaces, travel down the ridge in a way that the wind quarters away from you. Generally, deer will find bedding sites on the downside that leads the path to the ridge top.
As you walk slowly toward the end of the ridge, the chances of finding several deer are extremely high. It is one of the widely used approaches to finding deer while still hunting.
Conclusion
The amount of education and skills needed to learn how to start deer hunting can overwhelm you. Though it might take a few months for you to get fully prepared, once you do, nothing will stop you from bagging a trophy buck.
Carefully understand our free hunting tips and incorporate these when on a hunt for a guaranteed and memorable experience.
Frequently Asked Questions (FAQ's)
Can I hunt without a license in the USA?
No, legal hunting in every state of the USA is only permitted to people holding a valid hunting license. 
What is the annual deer bag limit in the US?
Every hunter has the allowance to bag only five deer annually. Out of these five, no more than two of the animals harvested should be antler-less.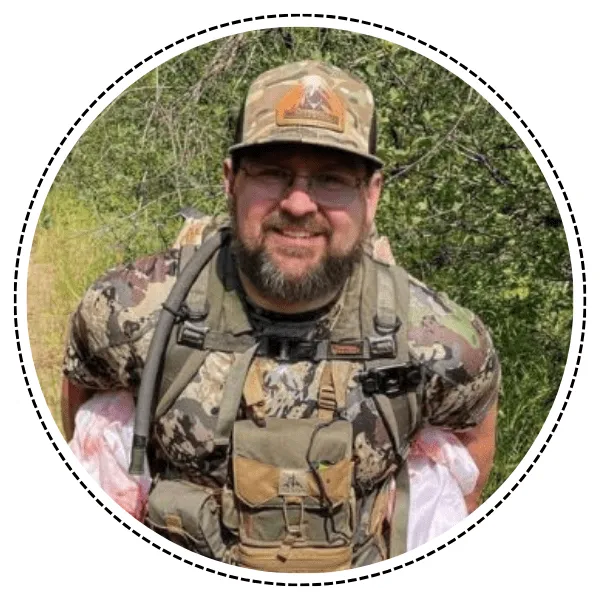 About Alex David
I am an avid bow hunter and author of Tree Stand Ranger. Hunting from tree stands has been a passion of mine for many years. I've had the privilege of owning several tree stands and hunting properties throughout my life, and I take great pride in having the opportunity to do so. Read more about me.
Related Hunting Guides
Tree Stand Hunting
Tree Stand Hunting Essentials