Run and gun treestands are go to tree stands for various public land hunters. With a run and gun tree stand, you can be as mobile as you want while hunting from elevation. These stands are perfect for the hunter who likes to move around and change up their hunting spot often and are often in the use by mobile hunters who don't have the time to wait around for their prey and need to be able to move quickly.
Run & Climb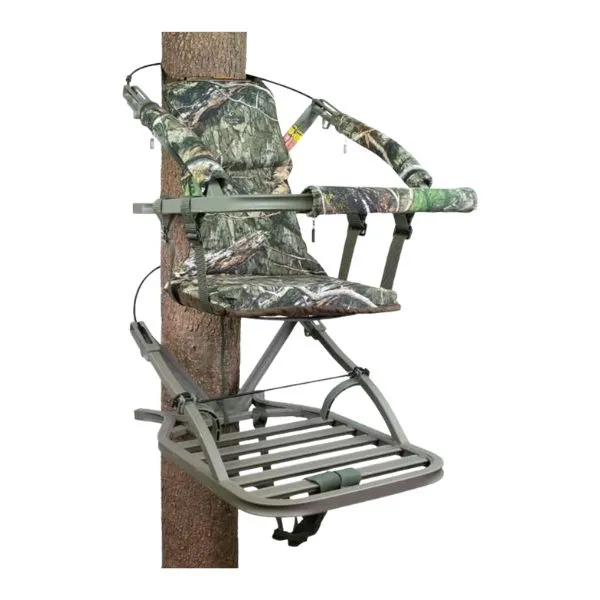 Summit Viper Tree Stand for Run and Gun Hunting
Viper SD is our top choice and is best run and gun tree stand.
Great to hunt on state & federal lands across USA.
Design & adjustable seat is suited for both rifle and bow hunting.
It can carry up to 300 lbs. weight and is a top rated run and gun tree stand.
Run & Climb
Summit Goliath Run and Gun Treestand
With increased weight carrying capacity of 350 lbs. and wider seat than viper sd, goliath sd is best run and gun tree stand for big guys.
Safest run and gun stand for public land hunting, make sure to select strong, rough bark tree.
Rated best run and climb tree stand for rifle and bow hunting.
Run & HangOn
XOP Vanish Run & Gun Treestand
Aluminium lightweight build, can carry up to 350 lbs. weight.
TMA approved safety accessories included.
Rugged built, no linesman rope included.
My go to hang on stand option for run and gun style hunting.
The best run and gun tree stand is the one that is lightweight and easy to transport from one place to another. Therefore, whether it is a new hunting spot that a hunter is in search of, or he just wants to change things up, a run and gun tree stand is a perfect choice.
Pros of Using Run and Gun Treestands
One main advantage that a run and gun treestand combo is it is portable and can be easily set up. It can be either a best hang on stand, or best climbing treestand. Hence, there are plenty of ways to do mobile hunting with convenience.
Moreover, these are lightweight, versatile, mobile, easy to transport, and carrying them with you is not a worry at all. In short, the best tree stand for run and gun is the one that has all these qualities. Besides, they have an adjustable design, so a hunter can use it in any way he likes.
A great advantage of run and gun treestands is that the hunter never gets spotted. Your prey won't be able to see or hear you coming, giving you the upper hand. Another advantage is that you can move around a lot, which can help you stay hidden and increase your chances of getting a shot off.
Cons of Run and Gun Tree Stand
However, there are some cons to run and gun tree stand as well. For instance, you have to carry a lot of stuff with you while hunting, so you have to be prepared to haul all your gear with you. The biggest downside of this stand is that it can be quite uncomfortable after a while, and you can get pretty tired from all the movement.
Moreover, using a run and gun setup is not feasible for everyone, as it can be quite tiring and difficult to maintain for long periods of time. If you are not comfortable moving around too much. Or if you have any medical conditions that make it difficult for you to move around. Then, this probably is not the best option for you.
You also need to be very careful not to make any noise, as even the slightest sound can scare off your prey and ruin your hunt. But overall, the pros of a run and gun tree stand far outweigh the cons, making it a great choice for any hunter.
Practice is the key to master using a run and gun tree stand!
If you think a run and gun tree stand is the right pick for you. Then make sure to practice before using it on a real hunt. In that way, it will get easier when hunting for real with a run and gun tree stand. Ensure that you don't make any mistakes that could jeopardize your chances of success.
Hence, with a bit of patience and perseverance, you can make your way up the ranks and be successful with this type of stand. Overall, the run and gun tree stand is a great option for mobile hunters who want to increase their chances of success while hunting on public land.
Conclusion
When looking for a run and gun tree stand it is important to see how much mobility it will offer. Because at the end of the day, mobile hunters need mobility and ease in carrying them from one tree to another.
However, one can not assume that run and gun tree stands can assist every hunter. In some places run and gun would simply not work out. Or, in some places, there are better chances of getting your hands on the game with a ground blind. To get the buck, tree stand placement is key.
Therefore, it completely depends on the place and the hunter, either he can select climbing ones, hang ons, or saddles. These will all work just fine in different scenarios.
Frequently Asked Questions
Which tree stand is the best for run and gun?
Although hunters have their own preferences and it greatly depends on what they find the most suitable. But, Millennium M7 Microlite is a good tree stand for run and gun. This hang on tree stand only weighs 8.5 pounds which makes it very convenient to carry around.
Are run and gun tree stands safe?
Run and gun tree stands are basically hang on tree stands or sometimes climbing tree stands. They are all built to provide comfort, along with safety. However, it is necessary to carry a safety harness too which makes it a lot safer while sitting 20 feet above the ground. In short, run and gun tree stands have a specific design that ensures hunters' safety. Therefore, safety is not something to worry about.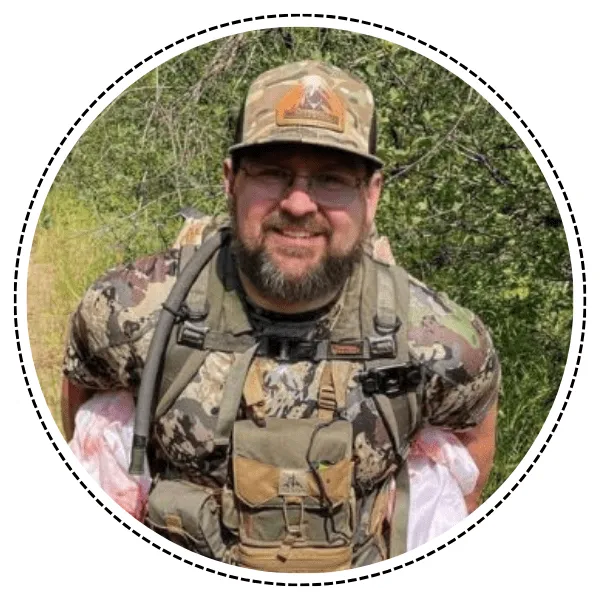 About Alex David
I am an avid bow hunter and author of Tree Stand Ranger. Hunting from tree stands has been a passion of mine for many years. I've had the privilege of owning several tree stands and hunting properties throughout my life, and I take great pride in having the opportunity to do so. Read more about me.