V bracket for tree stands helps hunters to attach, mount, or secure tree stands and climbing sticks. It is an essential tool for hunters who hunt using tree stands.
V shaped, that's why V bracket! This bracket has a V design to distribute weight evenly across the tree, ensuring a stable and secure connection.
Acting like an anchor point for your elevated treestand, it maintains the stability of the hunter and the sturdiness of his treestand. Not just crucial for treestands, but hunters utilize V brackets for climbing sticks, as well.
In this article, you'll learn the benefits of v brackets for treestands and climbing sticks. We'll guide you about how to properly install v brackets and what to look for when installing and purchasing this supportive tool.
Benefits of V Brackets For Tree Stands
The most important thing when hunting from an elevated position is to maintain safety. Tree stand brackets including v brackets are for getting stability on the elevated platform. The v brackets prevent the tree stand from shifting or wobbling, which could be dangerous or cause the hunter to miss their shot.
For run and gun hunts, its benefits are manifold. Thankfully, these brackets are easy to install. They come with pre drilled holes, making it easier to attach to the trees with screws. Once installed, the hunter can quickly attach his treestand or climbing stick setup to the bracket for increasing his efficiency and safety.
We used to attach these v brackets to cadillac tree stand and other old units for extra sturdiness and grip.
To buy v bracket, you can
V Brackets For Climbing Sticks
Installing climbing stick alone on a tree can cause the stick to wobble, making a hunter unstable and having bruises in case. However, the right spacing between the climbing stick and the tree can provide hunter more stability along the tree. V bracket is used to perform the said job.
Climbing stick brackets's specifications differ from manufacturer to manufacturer. The LW V bracket come without ratchet straps whereas XOP has introduced its V bracket kit, including two brackets.
Recently, new brackets are coming with camo colors to provide you full concealment while hunting. If you are using best hunting camo, make sure to buy ones with dull colors to match the disguise.
How To Install V Brackets
Proper installation of V brackets is crucial for keeping up stability. Follow these general steps to install V brackets properly.
Tree stand hunting depends primarily on the right selection of the tree you're installing on your treestand. So, always choose a suitable tree with a sturdy trunk.
Mark the spot and watch out for the level on the tree prior to attaching the V bracket. This is important for installing the V bracket straight on the tree.
Make holes in the trees at the same level and the same height on both sides to keep the V bracket straight.
Now attach the bracket to the tree by using screws to the pre drilled holes of the V bracket.
Once installed, attach the tree stand or climbing sticks to the bracket.
Always read the instruction manual from the manufacturer of V brackets to install the tool properly.
What to look for in V brackets
Be mindful of certain things when utilising V brackets for tree stands.
1. Size
V brackets are available in different sizes. 3"x3" size V brackets are sturdier than 1"x1"; however, hunters generally prefer 1" * 1" bar stock V brackets for hanging climbing sticks. 3×3 V brackets are heavier and require DIY ing.
The bracket should be able to support the weight of the stand and the hunter. (Check manufacturer's guidelines)
2. Material
They are made with aluminum or steel. Pay attention to the grade of material used for manufacturing V brackets.
3. Quality
To maintain your safety on the tree, investing in quality gear is vital. So, always ensure that you're getting high quality v brackets from a reputable manufacturer. I personally used v brackets for warren and sweat tree stand and docs recliner tree stand.
How To DIY V Bracket For Treestand Or Climbing Stick
Here's a general outline for making a v bracket for your treestand or climbing stick.
Get high grade steel or aluminum tubing of about 1" diameter and cut into two equal halves. To obtain more with from a v bracket, cut the pieces long.
Drill a hole near the end of each piece of tubing using a 5/16 inch drill bit. This will be the hole for the bolt that attaches the bracket to the tree.
Mark the center of each tubing piece and drill a hole through both pieces using a 3/8 inch drill bit. This will be the hole where the treestand or climbing stick will attach to the bracket.
Align the two equal pieces to form a v shape, with the holes for the treestand or climbing stick on the same side.
Insert the bolt through each hole and secure the nut. Repeat the step on the other side of the bracket.
Now attach the bracket to the tree by securing it with a nut at the middle of the V.
Attach the clim bing stick or the tree stand.
Check if V bracket system is properly secured along the tree.
Conclusion
For safer climb up in tree stand ( especially old units like tomcat tree stand and gunslinger tree stand) v brackets provide stable and secure attachment point for tree stands and climbing sticks. Along with this, mobile hunters with multiple hunting setups generally opt for multiple V brackets one treestand to save their money.
When installing v brackets, make sure to follow the manufacturer's instructions carefully, and choose brackets that are the correct size and weight capacity for your tree stand. By selecting high quality brackets from a reputable brand and installing them properly, you can stay safe and comfortable while hunting from a tree stand.Also read: api treestand review.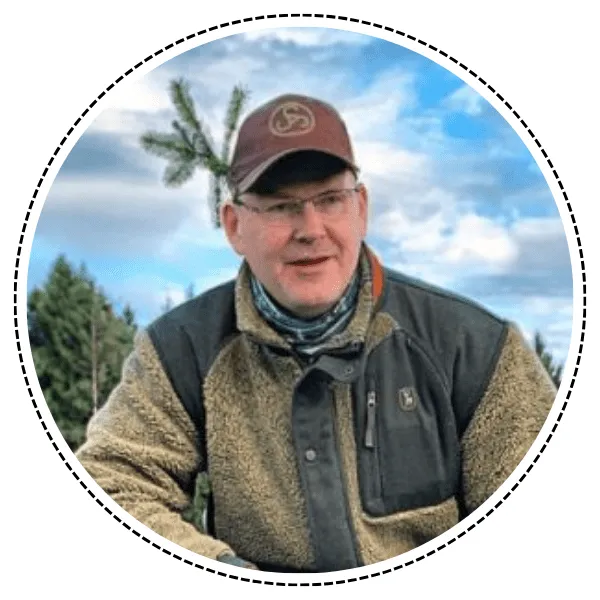 About Henry Liam
I am a father, veteran, database engineer and a hunter from Pacific Northwest. I am also the founder of Children Outdoor Adventure Network. I live with my wife and two children in Seattle. Since teenage I am doing run and gun style hunting on public lands and have visited all 50 states as well as Canada. Read More about me.