Summit Goliath vs Viper tree stands have unique features that set each of them apart. These features include a sitting room, weight rating, seat size, and more. In terms of the hunting gears, both are very potent to use for all-day-long hunting.
The features that Summit Goliath offers are very different from the ones that Summit Viper offers. The design and material is essentially the same in both. Yet the seating is more comfortable in Goliath as compared to Viper.
IMAGE
PRODUCT
DIFFERENCES
PRICE

Bigger

Summit Goliath

Weight: 21 lbs.
Carrying Capacity: 350 lbs.
Time To Setup: 3 min. 30 sec.
Seat Size: 24.5″ x 37.5″

Check Price

Standard

Summit Viper

Weight: 20 lbs.
Carrying Capacity: 300 lbs.
Time To Setup: 3 minutes
Seat Size: 22.5″ x 37.5″

Check Price
Differences Between Summit Goliath Vs Viper
Goliath and Viper offer a range of features that are unique to each other like seating frame and weight capacity. Goliath climbing stands holds more superiority to the Viper for its weight capacity and larger frame size for big-size hunters.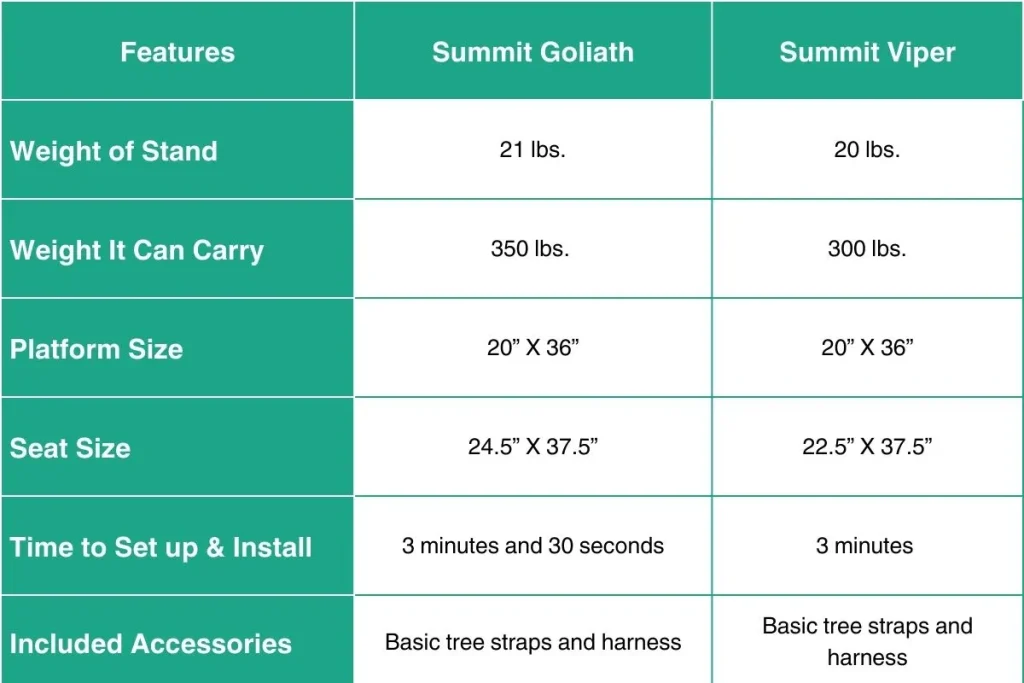 1. Stand Weight
Between Goliath and Viper stands, there is a slight difference in weight. The Viper stand weighs about 20 lbs. while Goliath weighs about 21 lbs. From this perspective, both stands are quite close to each other. Choosing either won't make much of a difference.
2. Weight Rating/Capacity
The weight carrying capacity of Goliath and Viper varies a lot. The Goliath is designed and introduced to support bulkier and larger hunters. It supports a weight capacity of about 350 pounds which includes all the gears and accessories apart from the hunter weight.
Whereas for viper, the weight carrying capacity is limited to 300 pounds. Thus, making Viper a less favorite choice in comparison to Goliath.
3. Seat Frame Size
The seat frame of Goliath and Viper has little variation between the two. The frame for Goliath is 24 inches wide and 37.5 inches in length. While the viper frame is 22 inches in width with 37.5 inches in length. This gives Goliath an upper edge against Viper making it a more comfortable choice for the hunters.
If you are looking for something even bigger and spacious than goliath, read a comparative analysis of goliath vs titan, two famous Summit's big guys stands.
4. Price Variations
Among seasonal hunters and those who don't earn from it, the price would be a factor in choosing between the two. The price of both Goliath and Viper is under $400, there is a huge difference between these two. But the features offered make up for this.
Keeping the price under consideration, the Goliath's spacious seating and more weight rating give it a huge advantage over Viper.
Similarities Between Summit Goliath And Viper
The two stands share more similarities than the features that set them apart. Following is the list of features that are unique to both these climbing stands..
1. Platform Size
The platform size of Goliath and Viper measures 20 inches in width and 36 inches in length. This makes these stands quite comparable in terms of strength and quality. Goliath features more weight-carrying capacity as compared to the Viper.
2. Material And Design
The design of these stands is quite similar to each other, except for the part where Goliath provides more width in the seat. Aluminum is used in their construction, offering more strength to the stand frame while making it more light and portable.
3. Seat Type
The seat used in these models offers full back support with a padded armrest. There are also adjustable quick-release buckles. The seat offers comfort to hunt for all day long. The closed front is also padded which can be used to rest the gun while hunting.
4. New Technology
These stands are designed with new technology imbued within. These stands make use of sound-deadening technology, allowing the hunter ease of hunting. The stand is designed to create no noise after being set up and fixed with a tree.
Then there is a quickdraw cable retention system that securely locks the stand in place. The stands are designed based on SummitLokt technology that reduces stress on welded points. Lastly, the stands are designed with rapid climbing stirrups that keep the boots securely attached to the platform during climbing.
What Features Should You Look For When Buying A Stand?
While you go through the rabble of buying a tree climbing stand, you should be mindful of buying one with at least the following characteristics.
Noise level
Safety
Seat comfortability
Portability
Weight rating of the stand
These are the few listed features that are to consider when buying a climbing tree stand. However, there is always the option of including some extra features for more comfort and ease of hunting.
Conclusion
Summit Goliath vs Viper tree climbing stands offer quite similar features with a set of unique characters that set them apart. These stands are designed to support different sizes of hunters with more seating comfortability in Goliath as compared to Viper. They both are designed lightweight with noise-deadening technology to silence sound during hunting and easy portability.
Frequently Asked Questions
What are the accessories that come in packing with Summit Viper?
With Summit Viper, besides the stand and platform, there are tree strapping cables and harnesses. Other gears like range finders or storage bags are sold separately.
Does Summit Goliath come with a footrest?
No, it doesn't. The footrest needs to be bought separately. Only the harness and straps come with a stand and platform.
Is there a safety harness in the stand package?
These stands do come with a harness. The harness is a belt type that comes with it. But Hunter Safety Harness should be bought separately to make life easier.
What is the tree size to which the Summit Goliath or Summit Viper stand would fix?
The Summit Goliath or Summit Viper will fix to a tree with a diameter of 8" – 20".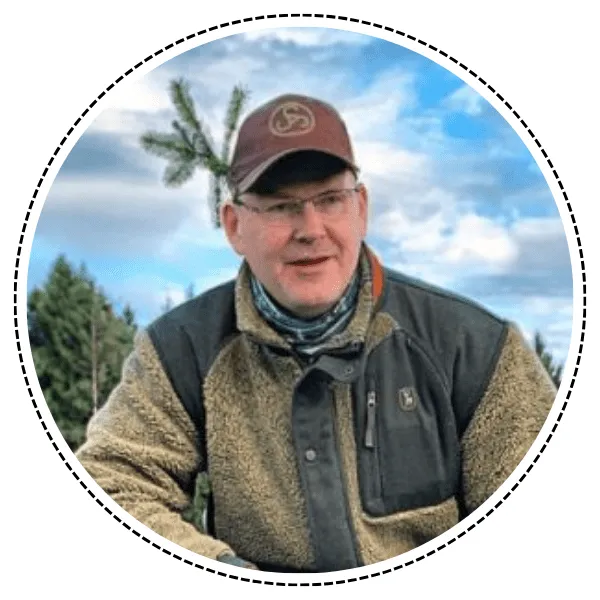 About Henry Liam
I am a father, veteran, database engineer and a hunter from Pacific Northwest. I am also the founder of Children Outdoor Adventure Network. I live with my wife and two children in Seattle. Since teenage I am doing run and gun style hunting on public lands and have visited all 50 states as well as Canada. Read More about me.