Acknowledging the supersharp senses of sight and smell of whitetail deer, the bowhunters know how worthy it is to hunt from an elevated position. The need to remain higher from the ground by concealing themselves in trees has urged the hunters to use the best hang on tree stand for their trial.
Top Pick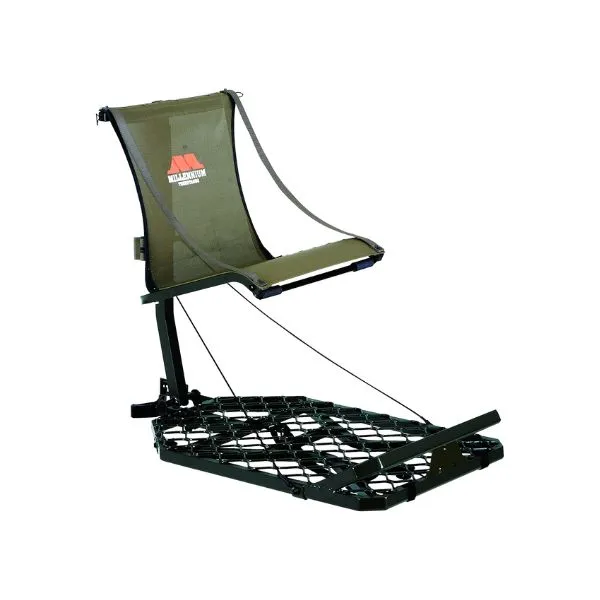 Millennium Monster M150 Hang On Treestand
Sturdy seat and platform lock on stand.
Wide aluminium seat & platform of 24 inch each.
It comes with adjustable seat height. Safety accessories also included.
Aluminium build making it a lightweight hang on stand with weight capacity of 300 lbs.
Editor's Pick
Millennium M100 Lock On Tree Stand
Sturdy but lightweight stand, can carry 300 lbs. weight.
Platform and seat are 20 inch wide.
M100 hang on stand has slightly smaller platform and seat compared to M150 unit.
TMA approved and safety accessories included.
Editor's Pick
XOP Hang On Tree Stand
Aluminium lightweight build, can carry up to 350 lbs. weight.
TMA approved safety accessories included.
Rugged built, no linesman rope included.
One of the best option to buy. If out of stock, wait to order.
Over the years, Millennium Monster Hang on Treestand have become an unbiased choice among bowhunters.
We also couldn't help but appreciate the Millennium M100U Ultralite as best lock on tree stand for being the most versatile choice for helping hunters to score a successful game.
Many enthusiastic hunters in Tree Stand Ranger's community call XOP hang on stand a gamechanger as well.
Since a hang on treestand increases the hunter's field of view, lesser chances are left to go home without a prized buck. As the best and most useful hunting utility for hunters, knowing this tool to its fullest is crucial.
Whether a treestand with aluminum is preferable or a treestand with steel building? Is it OK to have a stand without a backrest or armrest? What significance does it make when a treestand has ratchet straps over a cam buckle strap? What do hang on treestands require additionally for hanging on trees? These are some questions going to intimidate you once you enter the mainstream market.
10 Best Lock On Tree Stands – Lightweight Aluminum Hang On Stands
We are at your back to save you from the hassle. After rigorous testing, we've listed down the 10 best hang on tree stand reviews of 2023, you can think of trying and buying this hunting season.
Our buying guide would clarify all your concepts related to this useful gear.
1. Millennium Monster M150 – Best Hang on Treestand with Receiver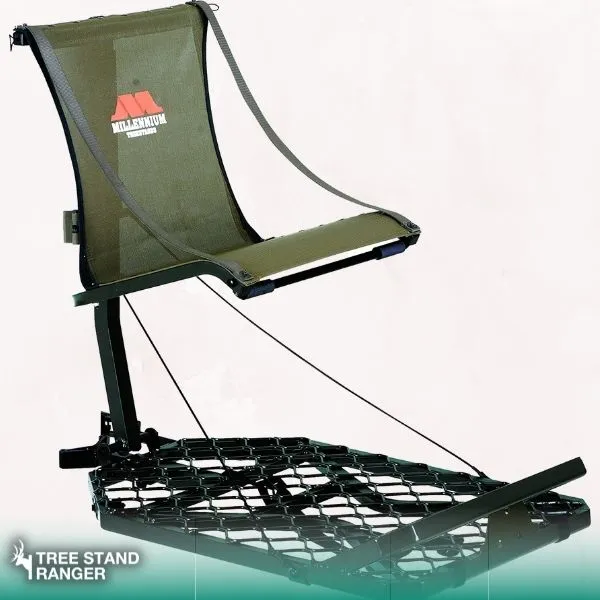 Only the bowhunters know how painful it is to sit on a stand for dang long hours. Millennium values that pain and has introduced the M150 Monster hang on treestand touted to be "one of the most comfortable seats" on the market. After all, the 24 inches wide and 20 inches deep seat size is significantly larger than several other competitive options available in the market. The cherry on the top, its full backrest is so comfortable to make hunters fall asleep. (metaphorically).
The big treestands are often designed in a way to provide more durability while asking the users to compromise on portability. But the M150 is an exception. Our hunters not just vow about its durability but claim that it remains portable for hunters who love switching spots during the game. The lightweight aluminum make and the overall 19 pounds weight of the stand are the culprits behind.
From building to performance, the Millennium150 impressed us yet it comes with a slight catch. The ratchet straps on the stand are shorter and may not fit trees that exceed 9-22 inches in diameter.
However, quality wise the straps are thick and very well made. It also seems that Millennium has kept straps short to make the seat a tight fit. Should that be the reason, the stand creates no sound at all when the hunters are doing any movement.
Regarding the safety of the users, the manufacturer has surpassed our expectations by backing up the unit with its patented SafeLink technology. Besides that, the 24 inches wide and 37 inches deep platform is wider and allows a hunter to well maintain his position when aiming. Even a hunter with 300 lbs of weight can give this treestand a shot, without any nosediving.
Pros
One of the most comfortable treestands
Solid construction & safe to use
Quieter than many leading treestands on the market
Good choice for a big man
2. Millennium M100U Ultralite – Best Lightweight Hang on Tree Stand
The idea of an ultralight treestand couldn't be sold better than the Millennium hang on treestand's M100U. By making some little yet improved techniques, the M100U is an exaggerated and better variant of the M60U and is advertised 2 times lighter, as well, entitling it one of the best lightweight hang on treestands in 2023. Therefore the hunters who don't want to cut down on mobility in a treestand should look no further than this piece.
Apart from being a highly portable stand, the M100U is unparalleled when it comes to providing comfort to hunters. The design of the M60U has gone better with some minor constructive tweaks in the overall design of the M100U. The exclusion of a backrest in the M60U has found its way into the design of the M100U, providing hunters more ease all day long. That's not all! The millennium hang on treestands M100U offers a wider platform to increase the overall functionality of this unit.
A treestand should offer adequate safety features to avail the optimal of it. Thankfully, the M100U has scored well in this category. It has impressive ergonomics and every essential safety aid to let hunters hunt safely.
This treestand can withstand 300 lbs. of weight but we found the seat height somewhat low for hunters with long legs. No doubt, the stand has a wider platform and no straps invade the path of hunters during bowing.
We also suggest that an additional strap may be needed to save the seat wobbling. Nevertheless, constructed with weather-resistant material, the seat catches no dew or wetness when hung around for extended periods.
The best part? It comes with backpack straps for allowing hunters to carry it when they're on the go.
Pros
A relatively lighter treestand
Valuable product in good price
Wider platform
Resists severe weather conditions
3. XOP XTREME Vanish Evolution – Best 350 lb Hang On Treestand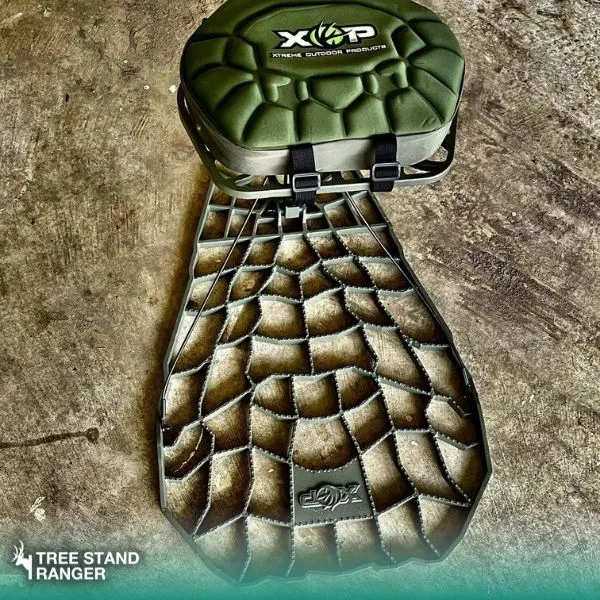 Here comes yet another mind blowing hang on treestand sharing many features with Millennium M7 and Lone Wolf Assault. Three of them share the same merits: ultra portability, supremely lightweight design configuration, and a very comfortable and secure seat. Yet where the XOP stand has outperformed its friends is a question worth pondering for whitetail hunters. Let's see the spectacular deliverables of XOP Xtreme.
Designed with big and mobile hunters in mind, this xop hang on treestand offers one of the most comfortable seats one could think of. The three ply foam seat ensures that the shooters won't feel exhausted even when long sittings become the need of the hour.
The ability to use the quick connect bracket for leveling hang on treestand sets it apart from its rivals which are hung just by the stand itself. Very conveniently, you can hang the stand into bracket while assuring no leaning of stand to left or right.
This xop hang on treestand is also impressive for having a wider platform. The seat when flips up against the tree not only widens the platform of the stand for standing but also ensures that the shooters can lean back easily to take a perfect aim.
Added to this, the seat height is highly commendable and is accurate for hunters having multiple physiques. No matter if you're a big, medium, or short guy, this is the stand that you're after.
A word for its construction: Xtreme Evo is cast aluminum hang on treestand and material heighten its portability and durability. Made with cast aluminum, it also maintains its silent footprint to its best.
The xop hang on treestand is a best 350 lbs. hang on treestand for next level hunting as it can tolerate a weight of up to 350 lbs, as per TMA (treestands manufacturer association) approved standards.
Nonetheless, a little contention is found in field testing and it has come to us that the stand is a bit heavier than it is advertised. The stand weighs more than 10 pounds and might raise the concern of users who're looking for a slim and trim variant in a hang on treestand. Overall, for its efficiency, we won't mind suggesting you add this item to your cart.
Pros
Easy to carry
Great for run and gun style hunters
Easy to use and install
Worth the money
Cons
User may need few accessories for comfortable long sits
4. Lone Wolf Alpha II – Best Aluminum Hang On Treestand
Lone Wolf hang on treestands are much hyped among hunters and for good reason. The feature-rich Alpha II hang on treestand is an unparalleled choice for hunters who want a dead silent stand. This isn't all! It is the best phenomenal hang on treestand with the receiver that allows hunters to hunt effortlessly from various locations.
Cruising in a stand from sunrise to sunset is challenging for hunters, largely when the treestands don't offer a wider platform and reasonable height of the seat. But the lone wolf hang on treestand Alpha II not only offers one of the largest platforms in a stand one could ever think of, but it also has an impressive seat height. So, if your old treestand is giving you a tough time by having a low seat height, the time has come to get a better deal.
Unlike the stands which come with ratchet straps, the Lone Wolf features its unique looped straps that get looped around the versa button on the stand. Tighten them to make the stand a secure fit and prevent wobbling.
Owing to this uniqueness, this stand is one of the quietest stands in the market. That's not all! This particular lone wolf treestands is one of the best aluminum hang on treestand as it is made with lightweight and patented aluminum material to enhance its portable practicality while maintaining its durable side.
The only downside to this unit is its high price tag which breaks the deal if multiple hang on treestands are required. Nevertheless, the avid hunters won't mind shedding a few more bucks on safest lock on treestand that is worthy of high quality performance.
Pros
Great choice for big hunters
Significantly impressive platform
Quality product
Undeniably the safest hang on treestand choice
5. Rivers Edge RE556 – Best Hang On Treestand With Armrest
Our earlier-mentioned choices are exclusively priced options in the mainstream market. So, the hunters who're looking for a budget treestand without cutting down the quality may find rivers edge hang on treestand's RE556 variant a deal to reckon with. The good news is, you won't have to sacrifice features and performance for this stand. Plus, if you're looking for multiple yet the best hang on tree stands for public land, it certainly does make a decent buy.
Waiting for a prized buck starts feeling trivial when your tiring limbs get a cushioning feel during the hunt. The fully padded TearTuff seat with backrest, flip-up armrests, and footrest serve the purpose and ensure that the bowhunters remain comfortable even when all day sits are needed. But on the other hand, these fancy details seem to increase the overall weight of the stand, asking bowhunters to have a trade-off on mobility.
Opposite to its competitors which use two or more ratchet straps for hanging and fitting stands into trees, the rivers edge hang on treestand's RE556 uses one single strap and a lever action system. No traces of squishing sound are found when metal-to-metal contact occurs.
However, our experts disagree and say that you may still need an additional ratchet strap to fit the stand into trees with a larger diameter.
We have found that the seat is not as silent as it is said to be. The flipping seat might cause a little clinking sound when hit against the square metal tubing and may not give bowhunters a pin drop silence required for the best experience.
For long sits hunting, the RE556 variant of rivers edge hang on treestands is a synonym to comfort and durability.
Pros
Great for long sits
Pocket friendly
Durable built
1 year warranty
Cons
It's not compatible with bigger trees and may require longer straps.
6. Summit The Stump – Best Portable Hang On Treestand (Budget Pick)
This summit hang on treestand with minimalistic design and phenomenal performance could outperform many of its rivals! The Stump by the Summit has made it too good to be true. During field testing, we were blown away by the outstanding performance and the highest level of concealment it provides to bowhunters.
This Summit hang on treestand remains one of the most budget friendly portable hang on treestand in the market since you won't have to break the bank for picking it up. Its mid range specs aren't cheaper but are solid for providing plenty of room to do hunting in peace. The seat is roomy and comfortable to sit for long hours. The rubber shock absorbers ensure that no sound would be produced to distract the hunters and the prey. For a quieter operation, what else the hunters would have asked for.
The Summit builds the Stump with steel to make it comparatively more durable than its competitors. With a powder coated finish, the stand is made to last longer while maintaining rust and corrosion free footprint.
So the users who prefer leaving treestands on trees should consider investing in this stand. Also, being a steel-made stand, the mobile hunters may find this stand a bit beefier for their backpacking needs.
The stands with ratchet straps usually won't fit bigger trees. To save the trouble, you can always reconsider buying stands with a cam buckle strap. Such a kind of strap took less time to hook up in a tree, no matter what size the tree is.
This summit hang on treestand also utilizes a cam buckle strap to resolve the issue. But the concern arises, since we all know that cam buckle straps usually can't withstand more weight pressure. The big man may not find a deal to lock with this treestand but overall, it outlasts other stands for being a simple and functional unit.
Pros
Simple and small built
Minimal yet durable design
Quieter and noise free than most others
Heavy duty body
Cons
Might not provide much comfort compared to others
7. Rivers Edge Big Foot Lite Foot RE553 – Best Hang On Tree stand For Big Guys
If ever you have had a chance to get a treestand without cutting your expenses, the RE556 could be your best bet, bearing a price tag of just under $100. This is certainly not the best of the best hang on treestands you're searching for, yet it accomplishes very well what it is designed for: a systematic hunting game.
What many leading brands are offering in their treestands are excellently replicated in this cost friendly treestand. Fortunately, with a much lower price bracket, the hunters won't have to put comfort and safety on any threshold. The safety and load capacity is as per TMA Standards.
The flip up seat of RE553 stand is unique and gets foldable to provide big hunters more room on the platform. More to this, the seat is fully padded and gives hunters the comfort they need during long hunting sessions.
River Edge Big Foot is also amazing for it hooks into every tree, no matter big or small. With only one ratchet strap, the users may feel a bit overwhelmed and concerned about whether the stand can tolerate a lot of weight.
The River Edge hasn't overlooked this safety concern of the users. The unique lever action on the stand completely bites into a tree to prevent the stand from wobbling and enhancing its stability. Thus, making it safest lock on treestand.
This stand is meant to deliver quietness without causing any metal to metal contact. But in our testing, we have found that this isn't squarely a 100% quiet treestand. Some squishing and clinking might occur when a hunter sits or stands immediately on the stand. However, to address this matter, the hunters could always get another ratchet strap to make the seat a more secure fit.
Pros
A decent sized platform for hassle free standing
Lightweight & quick to set up
Durable and reliable product in decent price range
Cons
The seat is short and relatively less comfortable
8. Millennium M7 – Best Comfortable Hang On Treestand
The Millennium hang on treestand M7 isn't going to make any distinctive difference in the world of ultralight treestands, but it certainly has the potential of being the best hunting companion for mobile hunters. Considering the weight of this stand, which is just 8.5 pounds, the hunters can expect higher mobility from this treestand.
Thanks to the Millennium for never asking the users to make adjustments to the performance and comfort of the stand. Even though the stand never bears a wider seat with a full backrest and armrest, the seat is smartly designed to improve the usability of the platform. Plus, the seat gets folded once a hunter stands up for aiming a standing shot. The importance of a wider and no hindering platform is certainly going to make you win your prize buck.
On the other hand, the big hunters who are needing a more comfortable seat may find this stand a bit uncomfortable.
For extended periods of hunting, no one can deny the need for a comfortable seat with a backrest. Unfortunately, the M7 treestand lacks this feature. However, we think that the exclusion of the backrest is done intentionally to keep the hunters alert throughout the game.
Similar to other stands, this millennium hang on treestand is also safe to use and easy to set up. With its SafeLink technology, this device allows the hunters easy climbing and descend.
The best of all! This stand makes the least wobbling throughout the usage, giving bowhunters a quiet hunting game. Though it makes a dependable choice for mobile hunters with increased portability demands, it still requires backpacking straps to avail portability.
Pros
Smart seat with easy installation
Roomy and spacious platform
Feels very light to carry and portable
Cons
Seat does not suit long sits and stand requires additional ratchet straps for static installation
9. Muddy MFP1200 Boss XL – Best Large Hang On Treestand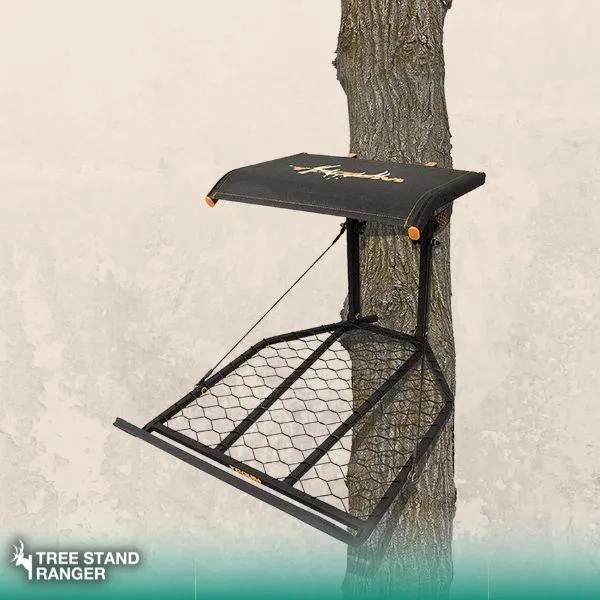 If ever you'd need a stand with a wider platform and more room, give this option a must try. Its impeccable features have credited this stand as "a great stand" on repeat. Without busting your bank, this mighty hang on treestand comes at a fraction of your money.
Speaking of its construction, we won't mind applauding how durable this stand is. The credit goes to high quality steel that just makes it impressively more durable than its aluminum mates, but strictly heavier than them. Owing to its steel construction, it remains a beast for withstanding a lot of use and abuse.
Another attention grabbing feature of this stand is its seat, though made with steel is completely comfortable to sit on. It is also worth telling that the seat on the stand has neither any padded accessory nor any backrest or armrest to provide your limbs a cozy feeling. Yet we commend the seat for being highly supportive through the long sessions of hunting. So the users must not bother opting for this stand due to its "unfoamy" seat. There is comfort taken well care of.
It is understood that a stand with welds may create noise when the hunters do movements around. Since this stand has welds, the users are required to take every possible caution to prevent clinking and squishing to distract the prey.
Securing this stand around the tree is a tricky process since it requires some additional ratchet straps to tightly hang the stand on the tree. But the good thing is once you tight fit the stand, you also decrease the wobbling and clinking associated with loose fit stands. Notwithstanding this, this is an economical buy and may ask you to make little negotiations.
Pros
Wide and durable platform/li>
Easy to install and use
Budget friendly option
Cons
A mighty stand thus less portable and does not have safety harness(additional cost)
10. Hawk Mega Combat – Best Big Platform Hang On Treestands
The Hawk Mega delights the hunters with its improved performance that never cost them an arm and leg. At first sight, it may seem like a mediocre treestand with some mid range features, but during field testing, we looked deep into its performance and found it practical to all bits.
The big and heavyweight hunters who want a treestand with some durable footprints should look no further than this. This treestand uses high grade steel that is powder coated and remains one of the most durable choices in hang on treestands at a budget friendly price.
Apart from being a super durable choice, this stand is faciliated with the four ply foam padded seat to provide hunters with a complete relaxation when looking for prey to come in the range of their bow shots. More to this, the flip up seat can be adjusted either way to give the hunters the accurate and precise angle required for shooting.
Thanks to the Combat for making a wider platform on this stand. The tall hunters should surely get the best out of it since the seat is appropriately heightened to provide enough room.
A little rut for your attention is it tends to create a metallic sound for distracting the attention. However, with extra attachments, you can hush down all the sound coming from the unit.
Not every hunter is a big man with great height, the height of the seat on a stand should be neither less nor more. Or at least the seat height should be adjustable for making it a universal deal for all hunters. Unfortunately, we experienced that the distance from the platform to the seat is too large for short hunters. Nevertheless, for the big man this stand is the best bet.
Pros
Solid mesh platform
Great value for money
Feels like can bear more weight
Great concealment if used properly
Cons
Mighty platform gives more weight to product and we had tightening problem while installing
Why Do You Need A Treestand?
Many hunters are switching from ground blinds to elevated treestands for offering a handful of advantages. Treestands not only offer better visibility to hunters during the game but contribute to hiding hunter's movement. By detecting the game earlier, there are fewer chances that hunters would go home empty handed.
Conversely, keeping in mind the alarming number of casualties happening due to the treestands, the hunters should squarely pay close attention to the usability and make of the treestands they are choosing.
How to Install A Hang On Treestand?
Fastening the straps and adjusting the stand to your desired location on your own may seem a no-win job to a person who hasn't done it before.
But you can make it easier for yourself by following the instructions below:
As a rule of thumb, many bowhunters install their treestands 20 feet above the ground. And for installing a treestand to this specific location, they either use best screw in steps or best climbing sticks for treestand.
If you want to hang your stand by using screw in steps, you need to install it on the tree from one foot above the ground to that specific location where you want to hang your hang on seat.
By placing your weight on the stands, you can then fasten the straps and buckles of your seat precisely.
Buying Guide for Best Lock On Tree Stand
Favorably, hang on treestands aren't "one size fits all". Neither all trees are created equal nor all treestands should be equal. They come in various configurations, making it an overwhelming process for whitetail hunters to choose one of the best hang on treestands.
Before you naively select a hunting treestand, better to do proper research first to find a perfect match for your hunting needs.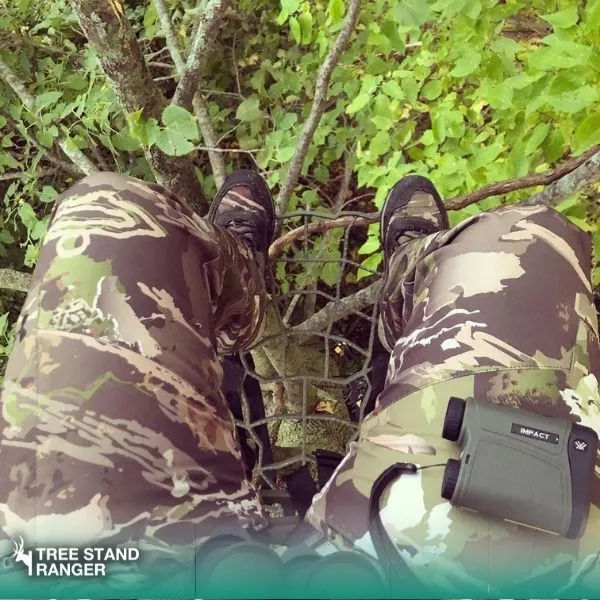 Once you determine which type of treestand (here, in this case, particularly a hang on treestand) fits your needs the best, some concerning questions should be asked.
whether your selected treestand is going to offer you durability and practicality is an important question to ponder. And is it compatible with your physique and weight to let you play the game? The weight, build quality, and material of a treestand also play a vital role in making your hunt a safe and optimal game.
The other features like safety harness and treestand accessories are valuable stuff to make this equipment functional to its fullest.
If you're feeling confused at this point and thinking things are intimidating you, we're here to lend you our helping hand.
Below, we've pointed out specific key considerations that you must look for when purchasing the best hang on tree stand.
Weight
Though every hunter has his preferences. However, the weight of a treestand is the predominant feature looked at by hunters.
Neither extra light to wobble nor heavier to not lug around, a hang on treestand should ideally weigh somewhere between 18lbs to 20lbs for increasing its portability.
Again, your style of hunting also determines whether you should go for a heavier version or a lightweight treestand design. For instance, if you prefer hunting from a single spot, then a slightly heavier hang on treestand with a wider platform and add-on features shouldn't prevent you from locking the deal. On contrary, if you're an active hunter, hunting from multiple positions, then a lighter model of the treestand is an enticing bargain.
Size
At the same time, the weight of the stand may become a secondary concern if the treestand isn't offering you ample room, a comfortable seat, and a wider platform.
It's possible that your investment in a lightweight lock in treestand won't pay off. There are equal chances that its platform is way too small for your foot or the backrest isn't allowing you to sit and wait for the prey for several hours.
So, the overall size of a hang on treestand should be your key concern to make this equipment a true value for money.
Platform
In hunting, some days are fruitful while others may just turn into long hours of tiring labor. To prevent your legs and feet from soreness and swelling, a comfortable and wider platform for foot resting has its place. It is a much needed aspect to look for when buying a treestand.
Comfort
What's the use of a treestand that has all the above mentioned features but lacks comfort? Likewise, if the footrest offers ample room but the seat isn't wider and comfortable to sit on, the entire package becomes useless.
Therefore, whenever you're purchasing a stand, rest assured that it must thump all the points on our checklist for comfort.
The seat is large and spacious to sit for long hours, without causing buttock pains.
It should be padded well for comfortable sitting.
It should have a good quality backrest.
The platform on your treestand is vast.
Followed by that, you can also look for a padded armrest on your hang on treestand for enhancing its comfort level.
Construction
The next aspect to look for is the material of your treestand. Treestands are typically made with steel or aluminum. Both materials offer their pros and cons, making it a personal choice for hunters to decide which material of treestand they want.
Treestands constructed with steel are sturdier and tougher than aluminum. Nevertheless, they are comparatively heavier and less portable. But if you're a still hunter who doesn't change his position frequently during the game, steel made hang on treestand is the perfect match.
Since hang on treestands are famous for their portability, aluminum is also used to build these treestands. Lighter and more portable, be wary that your ideal aluminum made tree stand resists corrosion and rust.
Quietness
The whitetail deer are sensitively prone to detecting sound. Therefore, if your treestand is making any clinking sound, lesser chances of deer coming to your shooting range.
However, you can turn the table by ensuring that your treestand remains quieter during your movement.
Even though hang on stands are quieter than best climbing stands and even some of the best ladder treestands, you should always check the sound deadening quality of the treestand before spending hundreds of dollars.
Another wise suggestion is don't wear clothes and boots that create a rustling sound if you want to make your game successful.
Safety Features
The excitement of deer hunting may cause you to overlook the safety features on a treestand. From sitting on a stand 20 feet above the ground to coming down safely on the ground should be your fundamental consideration.
To ensure that you have a safe adventurous hunt, you must watch out if:
Your treestand has a foolproof safety harness.
It should provide a unique fall arrest system.
The adjustable straps with secured locking functionality are present.
Watch out for the weight capacity of your treestand to prevent accidental injuries, in case.
If you won't mind spending extra bucks to add more safety features and accessories, then go for adding as more as you like.
Accessories
Once you have set up your hang on treestand onto a tree, you certainly require some climbing tools to climb up to your stand. Hang on tree stand climbing sticks or a segmented ladder are the ultimate ripostes. Check list of tree stand accessories.
Attaching climbing aid to your treestand has its benefits, too. Before you shift all your weight on the platform of your treestand, you can check if the stand is tilting or not.
If in your jurisdiction, tree steps aren't prohibited, they offer hassle free installation and are a convenient option to consider.
Budget
Hang on treestands, just like any other item, come at various prices. The size, weight, and material are unique personal choices of hunters, so the budget is. The bigger hunting needs require an exclusive stand that should be durable, reliable, and remains ultra quiet during the operation. For getting such kind of gear the bowhunter won't mind cutting his expenses. On the other side, if you aren't a hobbyist, then any unit with durability and the least fancy accessories should make an optimal choice.
Rest assured you won't compromise on safety features and quality over a low price.
Types of Treestands
In the market, you can find various best tree stands. In order to find a relatively better option that will suit your hunting conditions, understand tree stand categories.
Hang on Treestands (Lock on Treestands):
This is practically the most compact type of treestands since they just include a seat and a platform. Being compact, they are easy to transport and are perfect for outdoor camping needs. Bowhunters who prefer hunting on public land use hang on treestands.
Setting up a hang on treestand is a breeze as there are just some brackets and straps included.
The best hang on tree stand are lightweight, flexible and can virtually work with any type of tree. The good news is, that the hunters don't have to fold or unfold hang on tree stands frequently. Once set up, the hunters can leave them on trees for the rest of the year.
Climbing Treestands (Climber Stands):
As the name is self-explanatory, climbing treestands let the hunters climb to tree quickly, hunter can switch trees and can move from one place to another making it pleasing phenomenon. The climbing treestands include a seat and a platform. But unlike hang on treestands that require climbing sticks to climb up in the tree, climbers require hunters' ab workouts for climbing up in the tree.
A best climbing treestand works great with trees with little rather no branches at all. Also, for bowhunters who are avid climbers, climbing treestands are a good bargain for hunting on public and private lands.
A safe side note to this type of treestand is not going up more than 25 feet to prevent accidental falls and injuries.
Ladder Treestands (One Person):
As compared to hang on and climbing treestands, ladder treestands are less portable. They consist of a platform, seat, and ladder. Being relatively heavier than climbers and hang ons, these ladder style stands are hard to set up. Hence, they reduce mobility and remain fix on one location for whole hunting season.
Nonetheless, the comfort these stands offer is matchless and the bowhunters who require more space and stability during the game should prefer opting for this category of treestands. It is also noticeable that the hunters choose to leave best ladder stand in the private hunting land so that the deer get used to this massive structure.
Easiest Tree Stand to Set Up
There are several types of tree stands available on the market, including ladder stands, climbing stand and hang on stands. But, the easiest tree stand to set up and use is the Hang On Stand.
Hang On Stands are easily and quickly set up by one person. They typically have a harness style seat that fits securely to the tree, and they are designed with quick-release buckles that make it easy to adjust the stand height. Additionally, all hang on stands come with a safety strap that keeps you securely fastened to the tree while allowing for some movement.
If you are looking for an easy and reliable tree stand that you can set up by yourself, then a Hang On Stand is the best option for you.
What Do Hang On Stands Require (Additional Accessories)
Hang on tree stands differ from other types of tree stands. The tree stand needs to be supported and held by straps. This is why hang on tree stands require various accessories to be properly secured.
The most important accessory for a hang on tree stand is a set of straps. These need to be high-quality and durable so they can support the weight of the tree stand and keep it securely in place. You will also need climbing sticks or a ladder to get up to your stand, as well as a haul line to help you get your gear up to the stand. Finally, you will need a best treestand safety harness to keep you securely attached to the stand in case of any slips or falls.
With all of these best treestand hunting accessories, you can be sure that your hang on tree stand is properly secured and you can stay safe while hunting. If you are looking for a new hang on tree stand, make sure to carefully consider all of these accessories before making your purchase.
Straps for Hang On Tree Stand
Hang on tree stands are a great way to hunt, but you need the right accessories to make them work. The straps should be made of sturdy material that can support your weight, and they should be easy to adjust so you can get the perfect fit. 
One of the most popular types of tree stand straps is a simple suspension strap. This is typically made of strong webbing material that can easily support your weight without breaking. The strap has a carabiner on either end that allows you to easily attach it to your harness for safe and secure transport.
Another type of tree stand strap is a fall arrest system. It is made of seat belt and buckles that can be adjusted to fit securely. This type of strap is ideal for those who need extra support and safety while hunting, as it keeps you attached to the tree stand at all times.
If you are looking for a high-quality tree stand strap that can keep you safe and secure, be sure to choose one that has been tested and certified by an independent testing agency. This will ensure that you are getting a strap that is truly safe to use while hunting in your hang on tree stand.
Conclusion
If you value comfortable seats the most, then the Millennium (Millennium Monster and Millennium Ultra lite M100U) definitely make the best hang on tree stand. However if you don't want to cut down on mobility, then the cast aluminum made Lone Wolf Alpha II could've been the end of your hunt.
Whereas we know what big hunters are striving to get in a best lock on tree stand: a durable structure of River Edge RE557 which uses industry grade steel to enhance its strength and endurance.
You can always consider likewise to see which hang on tree stand reviews variant better suits your needs.
FAQ's – Best Hang On Tree Stand
Lone Wolf vs Millennium: which is a better hang on treestand?
Both are champions in their relative worlds; Lonewolf stands are usually the most expensive stands on the market since they are constructed with a patented aluminum for achieving its portable goals. On the other side, the Millennium stands also leave the hunters spellbound by providing the most comfortable stands in the market. You can opt for a Lone Wolf treestand if budget isn't your prime concern. For some lower price, the Millennium has never failed to produce quality stands for hunters.
What things make the best hang on tree stand?
Any feature rich treestand approved by Treestand Manufacturers's Association (TMA) should be considered as the best hang on treestand as it comes with a fall arrest system to save injuries. The other things such as comfort, leveling hang on treestand, the tight fit attachments shouldn't be looked down upon in the best hang on tree stand.
Which is the safest hang on treestand?
Any stand with wider platform and stability could be the safest hang on treestand. However, from our list, the monster M150 from the Millennium is the safest among all.
A steel hang on stand or an aluminum made stand? Which is better?
It all depends what type of hunter you're and what kind of hunting you prefer. The mobile hunters would squarely need a stand which is lightweight, foldable, and have backpacking straps for effortless carrying. An aluminum treestand will make a decent choice for providing portability. Whereas a steel treestand is heavier than an aluminum stand, and causes limitations on mobility in a stand.
What gears hang on treestands require for hanging?
For hanging around the trees, the hang on treestands use straps, belts, and teeth to bite into the trees. The users also need climbing aids to ascend on or descend from a hang on treestand. 
What are the ideal dimensions of base on a stand?
The need of a stable and wider platform on hang on treestand is a prerequisite to have a safe game. There aren't any ideal dimensions put by hunters for the platform on a treetstand but every hunter agrees that a wider platform with spacious room and complete stability can make a huge difference in the game.
What is easiest tree stand to set up?
Hang on tree stands are easiest to set up to hunt on public or private property.