By definition, a tree stand is a piece of equipment used for elevated hunting. Climbing stand which is common among public land hunters usually comes with cushioned seat, arm rest, backrest and gun rest (to hold firearm steady when shooting from elevated positions). Knowing how to use a climbing tree stand safely, is necessary for beginner hunters.
To use a climbing tree stand, find straight, sturdy branchless tree (diameter 16 to 24 inches) with rough bark. Fix treestand seat and platform via cables, around the tree. Use hands to take seat upward while putting pressure on platform via foot to move it along.
Leaning trees having curves are challenging to climb and are discouraged.
Climbing stand also known as climbers (among hunters) allows you to climb up and sit on cushioned seats with support of trees easily. They are most common among mobile hunters who used public land during hunting season.
A climbing tree stand allow more mobility and ease of use while staying concealed form game animals in elevated positions. Various climbing tree stands are available in market. They can be carried like a backpack and are portable compared to ladder treestand units.
Climbing tree stands are extremely versatile, comfortable, easy and will get you up the tree in minutes. Furthermore, they are an excellent way for beginners to learn the craft of hunting from trees. Before buying a best climbing tree stand, learn how to use it efficiently.
It is important to point out that there are various climbing stands manufacturers and each unit come with different styles and features.
Before buying a climbing tree stand, make sure that the unit you choose is safe and worth the money. Some variants are cheap and comes even under 100$. Others are bit expensive with prices up to 400$ and sometimes 500$.
How to Use a Climbing Tree Stand
Many new hunters and even some seasoned professionals look upon a climbing tree stand with disdain. Maybe it is because of the fear of heights or it is safety. No matter what the reason might be. They are equally beneficial, safe and comfortable to other tree stands. There is no reason you should not learn how to use a climbing tree stand.
Climbers are considered most risky among all variants. Although they are quick to move up and down, selecting a sturdy and living tree bark and carefully taking each step while moving upward is crucial.
For that, a lot of practice should be done near by home with seasoned climbing stand hunter to gather experience and confidence needed to hunt alone.
Climbing tree stands typically range from about 15 feet to 30 feet above the ground, or 4 meters to 9 meters. They may also be referred to as "tree climbers," "climber treestands," and "climber hunter stands."
Using a climbing tree stand is super easy. We will tell you how to safety and comfortably set it up in minutes to start your hunting day.
What Are Climber Tree Stand's Main Component?
There are few main components of a tree stand that when assembled together, are of great help to hunters. Every climbing tree stand should have the following components:
A seat for easy use. Most seats are padded to be more comfortable and safe.
Two stirrups that can be adjusted to fit your boots.
A platform where you place your feet.
Two cables that provide support for the platform.
A belt with multiple buckles to attach the stand to the tree.
Two poles that help you ascend or descend, depending on which direction you're facing.
Guide On How To Use A Self Climbing Tree Stand
For those of you who have never climbed a tree before, here is the breakdown on how to use a climbing tree stand.
Find a sturdy tree with rough bark and no branches. The tree diameter should be appropriate.
A tree with sheet like smooth bark and branches don't work. Scaly bark or sheet like bark is also discouraged. Loose tree bark is safety hazard.
Tree should be healthy, fully alive and without dead branches. (that may fall on you in case of wind)
Before climbing up, check all the straps, nuts, bolts, back and foot rest, seat and other parts of a climbing unit.
Climbing stands are holding the tree trunks via cables. These cables should be strong, rust free and unbreakable.
Once stand is attached, apply pressure via foot and sitting position to lock it in the tree. Tether yourself to tree trunk via safety strap.
Now keep moving tether and seat up via hands and platform via feet until you reach your desired hunting height.
You can watch the attached video to get better idea.
Using Climbing Tree Stand – Things to Remember
Climbers are often used by public land hunters for run and gun style hunting. In such cases, setting up stand in forest where human population exists is of no use. You should look for remotest of locations to find and hunt big bucks easily.
1. Choose A Stand That Has Good Carrying Capacity
The main thing is the weight capacity that one should always consider. If you are a big guy, you should opt for the one with a higher weight limit. Because it will be easier to haul up the tree in such climbers.
That being said, it is always better to stay a little cautious and pick a stand with a higher weight limit. It will give a sense of security even to those who don't weigh that much.
2. Know Your Tree Stand
Tree stands are designed differently depending on the manufacturer and model. However, they typically have three components: seat, platform, and steps.
Each component is made up of pieces that need to be assembled before you can use the stand. Knowing how to properly assemble your tree stand is a key part of safely using it.
3. Check Your Stand for Damages
Tree stands have a particular composition to support a specific amount of weight. Otherwise, they will eventually wear down and break. Due to their weight, it is difficult to tell if a tree stand is broken.
A good way to check it is by checking bolts or screws completely. Look for rusted part and dents. If it cannot be assembled properly, take your tree stand out of use and return it to where you purchased it for an exchange.
4. Pick the Proper Location
Make sure you and the tree are on speaking terms. If you approach a tree that looks like it has had some rough dealings with hunters in the past, do not pick that one to climb upon. Moreover, always make sure that there is enough room between the stand and the branches of the tree.
Also, if you can find a way up into the tree that will not damage its bark, it is best to go with that route. A damaged tree will not provide a cover or camouflage and may be noticeable to deer or other animals in the area.
While in a climber stand, you must camouflage yourself so that the the target would not be able to spot you easily from far. For that you should understand how to camouflage a tree stand.
5. Pick the Proper Height
Once you have found a climbing path that will not harm the tree, it is time to pick the proper height for your stand. How high should a tree stand be? It depends upon what kind of prey you are hunting. For example, if you are hunting deer, try to set up closer to 12 feet off of the ground.
While staying up in a tree stand, you should know how to stay warm In a tree stand as well. Remember that you're 20 feet off the ground at least and deer can notice the slightest sound. That's why hunter need to be always quiet when ascending or descending climber stand. This will avoid scaring away all the game animals.
6. Secure Your Stand
After setting up your tree stand, make sure to secure it properly.
The best way to do this is by using ratchet straps. They are easy to use and work well with most tree stands. In case you don't have any available. Bungee cords can also be used to help prevent tipping or falling from the stand. If you are using a lock seat leveling system to help with balance, tie it down as well.
Once your tree stand is secure, only then decide to climb up the tree. Place your safety harness on before sitting down. Your hunt will only be a secure and successful one if you ensure that the stand is set up safely for climbing and the proper height has been reached.
7. Ascend The Tree And Have A Safe Hunt!
Now that you have followed each and every step with keenness, it is time for you to go up the tree and aim at your target. It is a skill that takes time to master, just like anything else in life. But the payoff of being able to climb a tree is internal satisfaction and a great hunting experience.
Tips On How To Use Climber Tree Stand
Have you bought a climber stand unit? In order to get the most out of your investment, here are some tips to efficiently use a tree stand.
Gain Knowledge To Use A Climbing Tree Stand
Some manufacturers will allow people who are interested in having their own self climbing tree stands to rent or buy them for a limited period of time. This means that you can try the equipment out at home before going hunting with it. In this way, you will know how to use it in a safe and secure way.
Always Climb With A Safety Harness
This may seem obvious, but you should not forget to use a safety harness when climbing your tree stand. Although the stand is supposed to be self-supportive, it can easily give way or slip while you are using it if you do not add the support of a safety harness.
Check Your Equipment Before Going Hunting
Before you go out on a hunt with your climbing tree stand, it is essential that you inspect all screws and bolts closely for signs of wear and tear, as well as check the tightness of all joints and connective bolts to ensure that they are in a secure position.
Carry The Climbing Tree Stand Properly
Carrying a climbing tree stand with you can be tricky, especially if it is heavier or hard on the back. Make sure to carry it by the handle or arm of the climber rather than carrying it by its legs. This will ensure a much smooth and safe transportation.
When you are hunting with a self climbing tree stand, you should practice your aim before hunting season starts. You should check weapon settings to ensure optimal working condition.
To ensure that your equipment is stable and secure, you need to have at least two good anchors for your climbing tree stand. This will mean that the climber cannot slip or move from side to side while being on it.
Safety in Tree Stands
Tree stand safety is an important factor when choosing a stand. Hunters are advised to follow the manufacturer's instructions when setting up and dismantling the stand. In this way, they avoid serious injury if they misjudge their weight limits or are bucked off of the stand during use.
Tree stands can be dangerous if not used correctly. When hunters use a tree stand, they should always wear a harness and keep both feet firmly planted on the platform.
Uses of Tree Stands Other than Hunting
Outside of hunting season, some people use tree stands to enhance their outdoor experience by using them for bird watching and wildlife photography.
Conclusion
For beginners, knowing how to use tree stand is essential to hunt safely. Since climbing tree stands are relatively risky, if instructions are not followed. However, they can make great hunting stand if used securely. Just make sure you're prepared with the proper gear and equipment beforehand.
Frequently Asked Questions (FAQ's)
Is it easy to climb with a tree stand?
Yes, tree stands make it a lot easier to climb up and down the tree. They are comfortable to sit in, easily portable, and convenient in setting up. However, one needs some prior practice and knowledge on tree stands to efficiently make use of it. 
How high can I go in my tree stand?
20 feet height is often considered a benchmark. At that height, you are fairly out of sight of your target. Also, 15 to 20 feet is an optimal height because it doesn't make you feel insecure.
Are climbing tree stands worth it? 
Climbing trees are worth it for a lot of reasons. Hunters who don't like to keep themselves in one place usually prefer climbing tree stands. These tree stands are fairly portable and easy to use.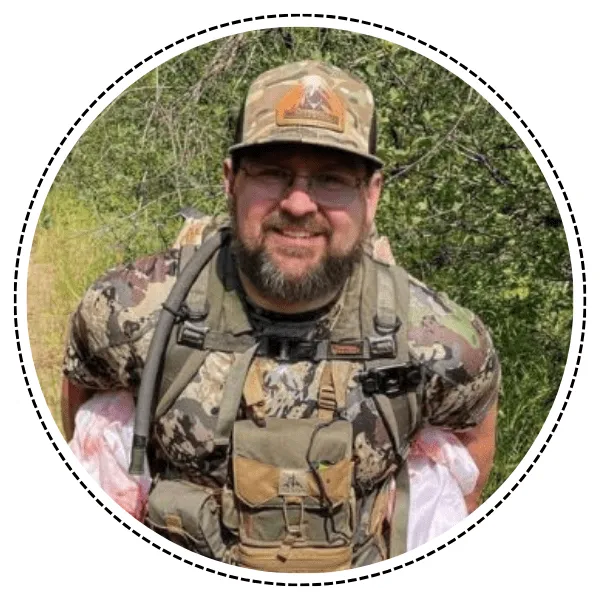 About Alex David
I am an avid bow hunter and author of Tree Stand Ranger. Hunting from tree stands has been a passion of mine for many years. I've had the privilege of owning several tree stands and hunting properties throughout my life, and I take great pride in having the opportunity to do so. Read more about me.