Hunters are blessed with double tree stands to ward off the boredom they feel when hunting all alone in the wilderness. While hunting on a private land, you can bring partner, friend or kid along. The best 2 man ladder stand act much like the single treestand except they have double seats for taking two hunters aboard.
As per my experience, Rivers Edge RE649 (18 ft. high without backrest) and Rivers Edge RE665 (17 ft. high with backrest), both are best 2 man ladder stand. The feel of padded sound dampening gun rests, comfortable seats and impressive noiseless stability make both the best two man ladder.
Comfortable Unit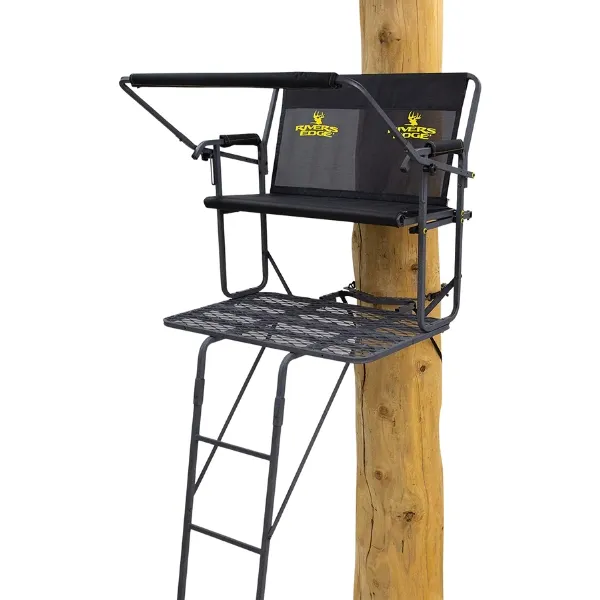 Rivers Edge RE665 17 ft.
40 inch wide platform with 500 lbs. weight limit
17 ft. tall unit with adjustable and sturdy shooting rail
Dual tree biting design & stability
Most comfortable among all
Bench Style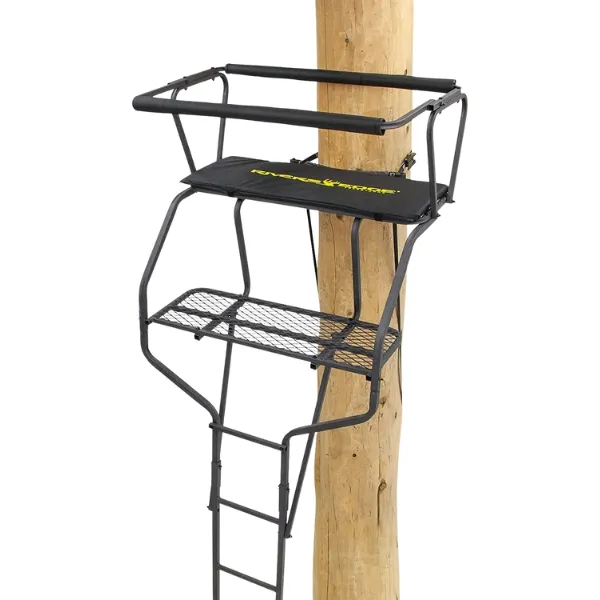 Rivers Edge RE649 18 ft.
18 ft. tall unit with 500 lbs. weight limit
Wide seat and spacious platform
Sturdy steel design
Bench seat for 1 or 2 hunters
Editor's Pick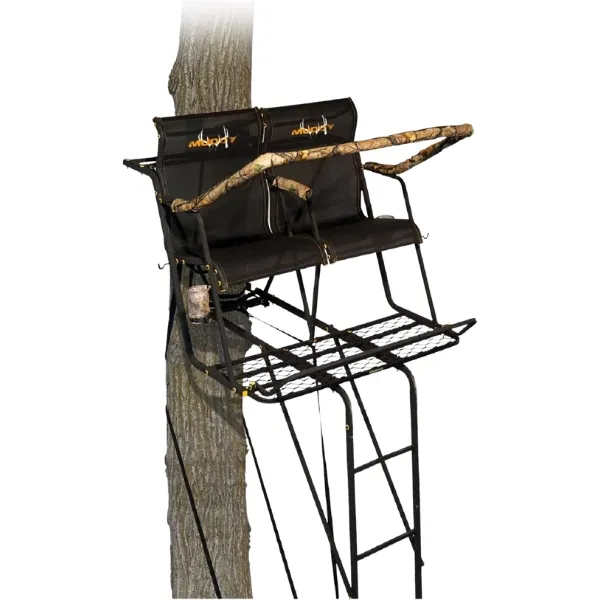 Muddy MLS2251 18′ 2 Man Ladder
Comfort plus design with mesh seats, foot rest, arm rest and gun rest
Rugged camo look, can withstand 500 lbs. weight
Steel made 18 ft. tall
Padded comfortable noise cancelling body
TreeStandRanger.com is reader supported website. We may earn affiliate commission if you shop using links on this page (without additional cost to you). Learn More
Whether you are going to train your kid to hunt or need some extra space for yourself and your gear, a rugged is what you need. As a beginner, you can bring an experienced hunter along on a best two person tree stand. You won't have to feel lonely anymore.
15+ Two Person
Stands Analyzed
10 Best
Recommended
3 Months of
Research
If you are looking for rugged ladder stands with only one seat option that will significantly reduce cost, check best ladder stand for bow hunting deer.
10 Best Rated 2 Man Ladder Stands
Since there're numerous misleading products on the market, claiming to offer the best of every world to hunters, we've curated a list of the best rated 2 man ladder stands for our readers.
1. Rivers Edge RE649 18 ft. – Best Two Man Ladder Stand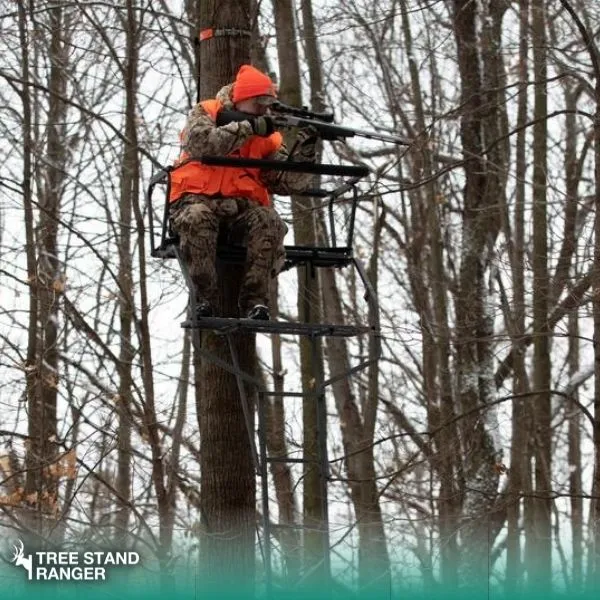 Key Features:
Stand height to shooting rail: 18 ft.
Weight of stand: 63 lbs. (2 hunters needed to erect)
Weight it can carry: 500 lbs.
Have padded gun rest
Size of seat: 38" × 12", comfortable for two hunters.
The RE649 is an incredible option to take your friend, wife, or sibling along with you on a hunt. The River Edge claims to engineer treestands in which hunters can have their faith, and this unit isn't an exception in this regard.
Starting with the basics, we've found this unit one of the easiest 2 man ladder stands on the market. Thanks to the simple design that doesn't involve thousand fancy pieces to assemble this stand. It involves two bolts, some pins, and straps to assemble the whole unit.
More often, 2 person ladder stands are heavier and require more than 2 persons to put them in place. This stand is also impressive in this regard since it is relatively less heavy with a distinguishable cut down of weight. Installing and moving this 76.5lbs treestand may be done even by a single stout person. However, better to ask your partner to assist you.
While keeping the hunter's comfort in mind, the seating area is breathable and padded. However, according to our evaluation, the seats could have been better if padded thicker. For cruising two hunters at the same time, the seat offers enough room and can withstand 500lbs of weight.
The stable and sturdy platform isn't looked down upon since the stand is a real force to deal with. No records of the stand's swaying are found so far. The gun rest bar on this stand is neither too low nor too high. However, the hunters taller than 6" would need the shooting rail a bit higher. All in all, the stand is worth the price.
Pros
Easy assembly
A lighter 2 person ladder stand
Built stability
Rugged Construction
Cons
Shooting rail might be low for some people
2. Rivers Edge RE665 TWOPLEX 17 ft. – Most Comfortable 2 Man Ladder Stand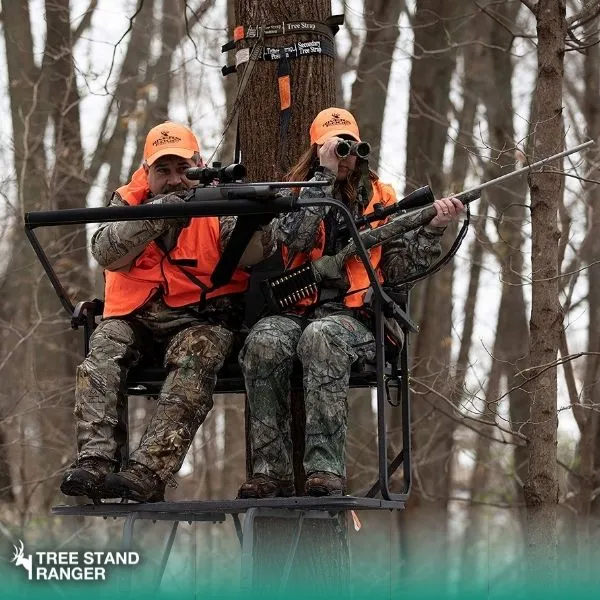 Key Features:
Stand height to shooting rail: 17 ft
Weight of stand: 86 lbs. (require 2-3 people to install)
Can support up to 500 lbs.
Do create squeaky sound during long sits
Have padded armrest for sound dampening and arm rest.
Size of seat: 43″ x 16″ (relatively larger)
RE665 twoplex epitmozes durability, reliability, and comfort in this one unit. To make this unit apart from its rivals, the River Edges has kept the design simple to assemble yet comfortable for sitting two people.
The stand is incredibly durable and is built with steel that is powder-coated to stand against rust and corrosion. Being this, hunters won't have to wax about hanging this model throughout the year. Yet in our field tests, the powder coat finish on the stand seems thin and prone to chipping. However, we think this issue shouldn't break the deal since, for the price and quality, this stand offers everything you're looking for in the best 2 man ladder stand.
The two man ladder stands either have two separate seats or one bench seat for hunters. The RE665 comes with a bench seat that fits two hunters at the same time. This again seems a bit of exaggeration on the part of the manufacturer since we've discovered the seat is slightly smaller for two tall persons. However, honing the hunting skill of your kid is certainly for you.
We'd also like to draw your attention to the fact that the shooting rail on this stand has a glitch. The shooting bar on the stand rubs against your legs and limbs, restricting your movement. This is especially true if you're a tall person or need a 2 person ladder stand for all-day sitting. To address this issue, we recommend using a thick padded cushion to raise your posture on the seat.
The good news is the platform on this stand is remarkably wider with 40". The adjustable shooting rail can move both ways to widen the space on the stand. Don't forget to look for tree stand accessories that you can use to upgrade 2 man ladder stand comfortability and hunting experience.
For a successful hunting experience, a ladder stand should be considered high quality only if it cancels every type of sound. But instead of using nylon washers for joining all bolts together, the stand uses metal washers that create clinking and squeaking. Therefore, rest assured to replace metal washers with nylon ones to enjoy a more stealth hunting experience. Yet for training your kid about hunting, this is an "add to cart" option.
Pros
Comparatively, installation is quite easy
Enhanced strength in built
17 feet height
Flip up one unit seat
Cons
Relatively a noisy two man ladder stand
3. Muddy (MLS2251) 18 Ft. 2 Man Ladder – Best 2 Man Deer Stand with Comfort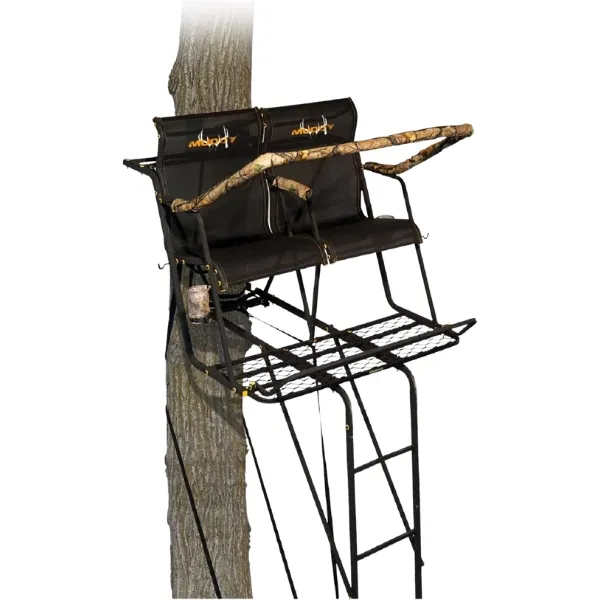 Key Features:
Stand height to shooting rail: 18 ft.
Weight of stand: 24 lbs.
Can carry up to 500 lbs. weight
No sound observed while hunting and field tests
Padded gun rest available
Size of seat: 24″ x 17″
Muddy Ladder Tree Stand with Tree Lock System works effectively when you wish to take your hunting buddy along. The 18 feet ladder tree stand houses two Flex-Tek seats along with armrests. Each armrest is layered with 1 inch thick padding to improve the quality of your hunting experience, comfort wise.
Muddy Ladder Tree Stand is easy to anchor to the ground and attach to the tree trunk. Using a two-person ladder stand is convenient even for a single person because it allows them more space to keep their equipment and bag in. Muddy Ladder Tree Stand provides a great vantage point to hunters, making it easier for them to spot their prey.
As the name suggests, Muddy Ladder Tree Stand also has a ladder attached to it for a comfortable climb. The tree stand also has a shooting rail which gives the hunters different angles to shoot from. It also takes away the weight of the weapon which makes the hunting experience pleasant.
Since Muddy Ladder Tree Stand is quite stable and sturdy, it has often been noted that it weighs a little more than what a single person would be able to manage, making it a two-person job. But with the comfort that entails, this seems to be a meagre issue.
Pros
Flex Tek seats
1 inch foam padding in armrest & 18 feet ladder tree stand
Easy to attach to the tree & allows more space if being used by one person.
Great vantage point and comes with shooting rail.
Cons
Can be a little difficult to set up.
4. Ol'man Tree Stand Assassin – Best 18 ft. 2 Person Tree Stand with Maximum Comfort
Key Features:
Stand height to shooting rail: 18 ft.
Weight of stand: 107 lbs.
Capable of weight capacity: 500 lbs.
Noise: does not generate sound while climbing and sitting for long hours.
Padded armrest and gun rest for noise dampening.
Look no further if you're looking for an extremely durable and sturdier treestand for you and your partner. The Ol'Man Assasin treestand fits all your needs. Coming in single and dual ladder stand variants, this stand has its manufacturer at its back, and therefore is reliable.
Like Ol'Man Assassin's single ladder tree stand, this dual version also features a Millennium-style ComfortMax seat. The exclusivity of this seat provides hunters with a polytech sling seat that can absorb water and remains quiet while hunters are sitting or standing. And the comfort exceeds all the expectations when hunters find no signs of fatigue or muscle sprains.
Like numerous of the heavier 2 man ladder stands we've tested, this one is about a heavy-duty stand. Constructed with steel and having a powder-coated finish this stand is a durable choice to consider. Apart from this, the stand weighs around 110lbs., and has a weight capacity of 500lbs.
No swaying or faltering happens when both hunters shift their weight on the stand or when both hunters sit or stand. Thanks to the well-thought design that joins all the bolts together with the ladder in a way to muffle the sound.
Apart from being a heavier and more comfortable ladder stand for two hunters, this stand comes with a downside. Putting up this monster is a time consuming process and might take more than two persons to set it up. But who cares if a stand would be real steel to use for.
Once all parts are assembled and the stand puts up in the tree, the stand proves itself the best option for two hunters.
Pros
Most comfortable comperatively
Platform felt sturdy
heavy duty built with quite (noise free) usage
Weather resistant built with powder coating
5. BIG GAME LS4860 18 ft. Guardian XLT – Best 2 Man Ladder Stand for Bowhunting
Key Features:
Height of stand up to shooting rail: 18 ft.
Weight of stand: 53 lbs.
Weight capacity: 500 lbs.
Rattling observed during climb and prolong sits
Padding on gun rail
Size of seat: 38″ x 12″
This ladder stand can accommodate a weight capacity of 500 lbs which is significantly unexceptional to ask from a 2 person ladder treestand that itself weighs just as little as 53 lbs.
If you're strictly maintaining your budget, then getting a stand for two persons without emptying your fortune is a great deal. And the greatest thing about this stand is its lower price tag which takes hunters to the next level of comfort and quality.
The stand is equipped with a Flex tech bench seat to onboard two persons without any hassle. But keeping in mind the seat size on a standard ladder stand which can be 29" wide, we evaluated the seat on this stand as narrower at 38" width. Yet, if you adore spacious seats, then this can serve as a best ladder stand for one person, as well.
Putting up a 2 man ladder stand is a real headache but not so with this stand. Being lighter than its rivals, the stand is pretty easy to move around and install.
Besides that, the stand features a removable and adjustable shooting rail to enjoy gun hunting and bowhunting.
Along with this, this stand offers a tremendous height of 18ft. The higher a stand would be, the better visibility of the cover area to keep an eye on your prey.
In our field tests, the stand is a real winner when it comes to its comfortable seat and ladder. Yet, during descending or climbing, certain noises and rattling sounds are being observed that might alert the deer. Still, electrical tapes can be masked onto bolts to keep them as quiet as possible.
With a one-year limited warranty and two additional safety harnesses, this stand should, nevertheless, make a nice bargain.
Pros
Comparatively lighter
Easy to move
Adjustable shooting rail
Taller 2 man ladder variant which is also cost effective
Cons
May be narrow for 2 healthy persons
6. Muddy Partner 2 Man – Best 17 ft. Double Tree Stand
Key Features:
Stand height to shooting rail: 17 ft.
Weight of stand: 75 lbs.
Capable of supporting weight capacity of 500 lbs.
Padded gun rest.
Size of seat: 37″ x 18″
Nothing could be as overwhelming as combining a simple design and durability in a 2 man ladder stand. The Muddy Partner offers hunters this joy and is a complete budget-friendly package.
Crafted very robust, this 2 man ladder stand employs aluminum for construction and is significantly lighter in weight. At 83 pounds of weight, it relentlessly loads 2 grown-up men without causing the stand to sway or wobble.
When accomodating two hunters, the Muddy Partner offers impressive room on the platform. The platform becomes wider and more spacious when the seats flip back. Also, the 17" height to the shooting rail is just perfect to visualize from where the deer is coming.
If you aren't a fan of a bench-style seat on a 2 man ladder stand, then this unit comes with two separate seats for each of the two hunters. To avail more room on the platform, the hunters can flip up the seats at their disposal. The great news is the seats are waterproof and perfect for hanging the stand for extended periods.
For enabling hunters to have a quiet hunting experience, the Muddy Partner makes use of nylon washers and caps. This is to withhold the sound that may occur when metal parts contact one another or the hunters are climbing or descending the stand.
The designer has put his efforts into keeping design wider and quieter for archery and gun hunting alike. The stand has a shooting rail with a camo fabric that remains as silent as possible.
Negating the popular belief that shooting rail comes in the way when hunters are bowhunting, the rail on this stand flips back when needed to make platform more roomy. Besides that, the footrest also flips back silently, allowing hunters to make extra movement.
One word to explain its assembling process is: its fairly easy to assemble.
Pros
40" wide platform
17" height to shooting rail
Comfortable and weather resistant seats
Flip up footrest and padded armrest
7. BIG GAME The Spector XT – Best 17 ft. Ladder Stand for Two Persons
Key Features:
Height of stand up to shooting rail: 17 ft.
Weight of stand: 85 lbs.
Capable of supporting weight capacity of: 500 lbs.
No rattling or squeaky sounds
Comes with padded gun rest.
Size of seat: 41″ x 18″
There doesn't exist an ideal two man ladder treestand in the market. If some are durable and spacious, they might be hard to assemble or if some are easy to assemble, they might ask hunters to make adjustments on some other features. Being so, we've included the Spector XT 2 man ladder stand in our list, which isn't perfect but surely makes a good choice as the best 2 man ladder stand.
The 2 hunters weighing 500 lbs. in total can easily use this stand for their bow or firearm hunting. This being, you can give this stand a definite try if you want to take your friend or a family member with you for hunting.
We've tested the seats on the stand not as comfortable as ComfortMax seats on a Millennium ladder treestand. Yet both seats feature Flex Tek technology and have backrests to provide hunters a good amount of comfort. Apart from this, the seat is wide and deep enough to sit a hunter all day long.
Be clear on this, the stand has a 17.5 ft height from the ground to the shooting rail. Fewer chances of missing the aim when the cover area is fully exposed before you and you're looking down from such an extreme height.
The Spector XT is a solid buy because, in many aspects, it resembles many higher-performing two man ladder stands. Like its competitors, it also enables hunters to flip up the seats to maximize space on the platform.
Also, just like its rivals, this stand also has a padded shooting rail for gun hunting. Thankfully, you won't have to get another two man ladder treestand for your bowhunting tasks, the shooting rail can be flipped back, giving hunters freedom of movement when they want to do archery.
Nonetheless, think the stand lacks proper instructions for assembling and the built quality could have been made better to make the stand last longer. All in all, an average product of medium quality.
Pros
Comfortable for long sits
A heightened 2 man ladder tree stand option
1 year limited warranty for reliability
A wider platform
8. X Stand The Comrade – Best 18 ft. Two Person Tree Stand with Separate Seats
Key Features:
Stand height: 18 ft.
Weight of stand: 122 lbs. (require 4 people to erect)
Capable of supporting weight capacity of: 600 lbs.
No noise after installation
Padded gun rest and arm rest. Roomy foot platform with added storage bin.
Size of each seat: 10″ x 16″
X Stand is the company that stands behind its treestands and the ComradeX is another masterpiece form the company. It's durable, convenient, and offers two independent seats to let each hunter hunt independently. Definitely bigger, yet asks you to go extravaganza to avail of this exclusive two man ladder tree stand.
First, its fundamentals. Assembling two man ladder stands are a time consuming and a labor intensive task. But for an aficionado, it's not any rocket science to join all its parts together. According to our tests, The ComradeX demands at least two people to assemble the whole unit, yet its worth the effort and time you put in.
Setting a gigantic ladder stand without causing the stand to wobbling is impeccably challenging. The ComradeX, again, superseeds our expectations since it has unique jaw safety system to lock the stand in the tree. Aprt from its size, the stand impresses us by keeping its stable platform without being swayed at all.
Though there are different 2 man ladder stand models by Xstands with bench seat, or two separate seats, the ComradeX is exclusive by far. It has two independent seats, facing at two different angles so that each hunter can keep an eye on his specific field of view. Along with this, there's a centre console for putting all your hunting accessories. The comfort of each seat is maintained by incorporating a backrest and fully padded armrests.
The ComradeX is well known for its amazing stealth ability. The shooting rail is perfectly camouflaged to keep hunters out of the sight of the deer. And with 18" height, the stand keeps away the hunter's smell.
The icing on the cake, the nylon washers, and the patented Helix tubing used throughout the construction of this stand ensure to provide hunters a quieter hunting experience.
In our field tests, this product is highly recommended!
Pros
Two independent seats
Long and wide arm rails for each seat
A console for holding hunting equipment
Comes with longer ratchet straps
Cons
An average camo pattern that is quite visible
9. X Stand The Jayhawk 20 ft. – Best 2 Man Ladder Stand
Key Features:
Height of stand up to shooting rail: 20 ft.
Weight of stand: 85 lbs.
Weight rating: 500 lbs.
No sound during prolong sits and climb.
Padded armrest, and gun rest
Roomy platform and spacious seat: 41″ x 18″
The Jayhawk 20 is a real workhorse that stands out among its competitors. Cleverly featured, this 2 man ladder stand provides hunters the most stable platform for bow and firearm hunting.
First, the essential thing about this ladder stand is its heavy duty construction. Out of the several models, we've tested the Jayhawk is a clever winner because it is sturdier and well built. While the stand itself weighs 122lbs., it can easily take 2 persons of a total 500 weight limit onboard without swaying.
Both seats on this model are equally comfortable and utilize the characteristic Flex-mesh technology to offer hunters a comfortable hunting experience all day long. The padded armrests and flipping footrest are an add-on bonus. Best of all, the seats can be flipped up to provide hunters more room on the platform to lean against a tree.
Along with this, this model is our top pick as the best 2 man ladder stand for the reason that it comes with an adjustable shooting rail. The hunters won't have to worry about having restricted movement when they are using this stand for bowhunting. Remove the shooting rail if needed to get the most out of it.
Of course, the stealth and quietness are prerequisites the hunters won't compromise on. Thanks to the manufacturer who has used nylon washers to dampen every type of sound that may produce when metal-to-metal contact happen.
A ladder treestand generally tends to sway if not well thought set up for fastening with the tree. But this one is outfitted with two steel jaws and ratchet straps to lock treestand perfectly with the tree.
However, in our field test, we've found that moving this stand to the tree is the real challenge and more than 2 adult persons are needed to perform the said job. Besides, we've evaluated that ratchet straps are slightly shorter and need to be replaced with longer ones.
Pros
Adjustable shooting rail
Comfortable and flip up seats
Stable platform
Worth the price
Cons
One of the heaviest 2 man ladder stands
10. Millennium Folding Seat – Best 18 ft. Two Person Ladder Stand
Key Features:
Height of stand up to shooting rail: 18 ft.
Weight of stand: 108 lbs. (need 3-4 people to erect)
Can carry up to 500 lbs.
Do produce sound while climbing and movement while sitting
Padded gun rest and armrest.
Size of seat: 40″ x 17″
The hype for Millennium treestands owes to the excellent craftsmanship the brand has put in for making its products. This choice for Millennium is an exorbitant option because of its higher pricing, yet the exclusive features of this stand provide two hunters a luxury experience of hunting, in many aspects.
First off, the seats on this stand are identical to any seat on a Millennium treestand. Both seats are accented with ComfortMax technology for putting hunters at ease when long sits are asked for. A comfort max seat provides hunters lumbar support as well as holds against strict weather conditions. Combining comfort and years of usage into one unit, this stand lets hunters experience the same hunting experience every year.
The sheer strength of the stand comes from its exceptional construction. At 108 pounds, this 2 man ladder stand is constructed with industrial-grade material to take two big hunters onboard at the same time. Or use the second seat for putting up your hunting gear along with you.
This Millennium treestand is a fantastic choice for it keeps you covert. Thanks to its dark tan color and the padded camo shooting rail. Plus, the stand ensures to retain sound at its optimal so that hunters won't miss the shoot.
A bigger platform on a treestand is the most in demand feature and the Millennium has worked on improving the space on the platform. The shooting rail can be flipped and therefore, is great for bowhunting. Further to this, the height of the shooting rail is adjustable, making this stand a great choice for gun hunting, as well.
Regarding its assembling and installation, we've evaluated the design of this stand straightforwardly. For exceptional quality, shedding some extra pounds shouldn't happen to break the deal.
Pros
Well built design
Heavy duty construction
Lasts several years comfortably
Excellent sound deadening performance
Buying Guide for 2 Man Ladder Stands
You may assume that the main advantage of a double-seated ladder stand is that it can accommodate two people, but that is not the whole affair.
2 man ladder stands are more durable. Aside from taking 2 man onboard, a 2 man ladder stand is far more powerful than a conventional ladder stand.
This implies that everything in the best 2 person ladder tree stand should be larger, stronger, and sturdier, while last longer too. Due to that, a 2 person ladder stand is going to be life long investment.
2 man ladder stands offer perfect usage to big and heavyweight hunters. Don't just restrict yourself to using 2 man ladder stand always for 2 people. They are versatile and are constructed in a way to tolerate the weight of 2 people or even one beefier adult.
They're highly sturdy and well built, so there's no need to be concerned about them toppling over or performing poorly due to the extra weight. Nevertheless, rest assured to wear safety harnesses before using them. Review tree stand safety guidelines by Massachusetts government.
Hunters who hunt together (on double ladder stand), stay together. 2 person ladder stands never let hunters feel lonely during long sits in the wild. To kill the boredom you go through while waiting for the deer to come into the cover field, a 2 man ladder stand is a lifesaver.
Sitting side by side with your pal will not just provide you a company while you can help each another in good decision making to win a prized buck.
The best 2 man ladder stands must share a lot of good things in common. Once you're shopping around, you start seeing that there are numerous features each ladder stand is offering. Some of the key considerations you should focus on are
Price
You shouldn't have to break your bank to get yourself a good 2 man ladder stand. But still, a 2 person ladder stand is an expensive purchase since you're filling two needs with one deed.
That's why we have ensured to list down only top quality ladder stand options at different price ranges. If you're hunting quite a lot, then probably it makes sense to invest in a good and long-lasting product that lasts for many years of use.
If you're looking for an option while maintaining your budget, then check our recommendation for the best budget tree stands.
Seat
Be it a best lightweight hang on tree stand, a best climber bowhunting stand, or a best tall ladder treestand, we think, the comfortable seat is the fundamental feature to make any treestand worth its actual usage. However, the comfort of the seat depends upon several other factors.
A comfortable seat is roomy while the incorporation of a fully cushioned backrest and padded armrests can make a huge difference when all-day sittings are needed.
It's also noteworthy to mention here that there are 2 man ladder stands with both seats flip-able. However, if you want to lift up a seat separately, you might have to check closely to fit a stand for your needs.
Similarly, the height adjustment on a 2 person ladder stand to share the same system. You can either raise or lower both seats together.
Platform
The bigger platform means more room for sitting and standing! A good 2person ladder stand ladder stand should offer both hunters enough space for standing together while maintaining the stability of the while stand.
Even if one hunter wants to stand independently, there should be ample space for the second hunter to put his feet on the platform. At the same time, the platform size is crucial for preventing your hunting equipment from falling to the ground.
Item Weight vs. Hunters' Weight Limit
During our research on the best 2 man ladder stand models, we've discovered that these kinds of stands are heavier and are less transportable. Due to their weight, it is hard to set up and move these stands.
But take our suggestion by not buying a huge version of 2 man ladder stand which is too heavy to move. Instead of looking for a heavier model, a durable and stable ladder stand should make a deal to reckon with.
Along with the weight of a specified ladder stand model, how much weight your selected model can withstand is also an attention-grabbing factor. Check with the manufacturer manual to avoid hazards. On the most important note, always use your safety harness to prevent accidental falls.
Shooting Rail
Some of the 2 man ladder stands are equipped with shooting rail whereas some don't have them at all. If you're a gun hunter, then a shooting rail lets you rest your gun.
But if you're a bowhunter, then the shooting rail can be the bitter pill if not removable.
Height
The bare minimum height for a ladder stand from the ground to the foot platform is 10 feet. This is the lowest height any ladder stand would probably offer. But with this height, you might be visible to the deer's field of sight or the deer might smell your scent. However, there are ladder stands with heights ranging from 15ft. to 20ft. or even more.
According to our calculations, the ideal height for a 2 man ladder stand should approximately be 17ft. To 18.ft. However, you can always get another model with more height if you love hunting from extreme heights. And if at a certain point, you think a ladder stand is somehow restricted and doesn't meet your criterion of height, you can choose between a hang on tree stand or a climber to get more heights for hunting.
Quietness & Noise Free
How would it feel if you were ready to take down a deer perfectly but suddenly a squeaking sound had scared away the animal? We hope you want this to happen the least.
A ladder stand with fewer separate parts is supposed to create less sound. Besides that, to provide hunters pin drop silent during gun or bowhunting, manufacturers have come up with a solution. The latest ladder stands are incorporated with noise reduction technology. The manufacturers use nylon washers to prevent any clinking occurred when metal to metal contact happens.
Installation
Since a 2 man ladder stand is heavier than any standard single man ladder stand, setting it up is a sweat breaking phenomenon. It might require 2 or 3 persons to lift the stand against the tree to set it up at a certain height.
Another focal point about ladder stand is you have to set up it before the advent of hunting season to get the deer accustomed to this gear.
Conclusion
We identified the best 2 man ladder treestand is not only a convenient option for 2 persons but even if your stature is tall or huge and you with your hunting accessories won't fit a single ladder treestand, then grabbing a wider tree stand would be a sure way to go.
We considered for an average price tag, the River Edge treestands are worth investing in. And if you and your partner want to hunt independently from two different angles, the Comrade X stand is what you should go after.
We consider your choice the best, therefore looking for your comment below to know which choice has fulfilled your requirements.
Frequently Asked Questions Regarding Best 2 Man Ladder Stands
Is it safe to hunt from a two man ladder treestand?
Ladder tree stands are sturdy and are erected in a way that they are permanent to that position. Hence are comparatively more safe than hang on and climbing counterparts.
Does ladder treestand spook up the deer?
Ladder tree stands are huge and can spook the deer. That's why it's been advised to set up a ladder treestand before hunting season so that the deer gets used to it.
Can I use ladder treestand for bow hunting?
Yes, you can use a ladder treestand for bowhunting. You need proper concealment and scent proofing so that game animal won't detect you from far.
Are two man ladder treestand any good?
Two man ladder tree stands are comfortable and convenient to use. The only difficult part is its installation. However, they are great to install on private land for longer period of time.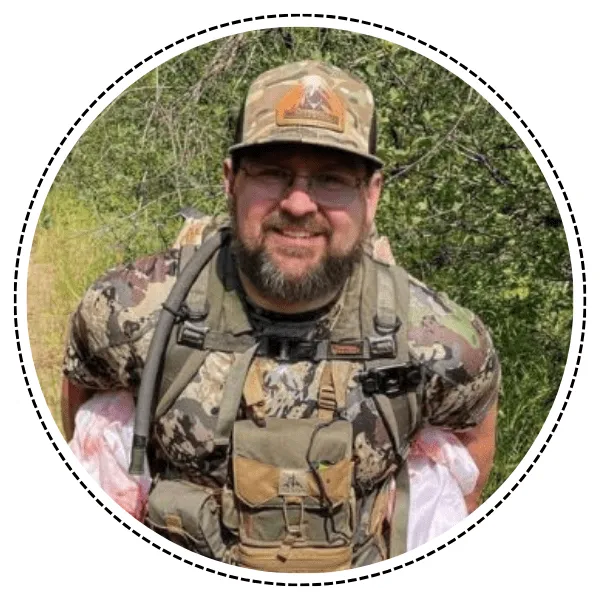 About Alex David
I am an avid bow hunter and author of Tree Stand Ranger. Hunting from tree stands has been a passion of mine for many years. I've had the privilege of owning several tree stands and hunting properties throughout my life, and I take great pride in having the opportunity to do so. Read more about me.