When there are no trees around to set up a tree stand or your field is letting the deer detect your movement from a hunting blind, you might opt for using an outpost hunting tower. An outpost hunting tower aka a quadpod deer stand is the ultimate solution to all your hunting problems.
For best quadpod deer stands, although we have fewer options but as per my analysis, Guide Gear hunting quadpod stand makes a great choice. You can find 2 swiveling seats, a spacious platform, an adjustable shooting rail, and a wider ladder on this stand. These aren't fancy features yet they can take your hunting to the next level while ensuring your safety, concealment and winning a game.
Before you buy one of these, let us tell what we experienced. For quadpod stand, the ground should be plain or you will need to dig hole to keep quadpod stand erect. Moreover, assembling quadpod stand requires time and instructions on manual should be followed. For comfort in quadpod stands, sometimes an extra cushion seat is required for long sits.
If you're in the market to get yourself a quality quadpod deer stand, you need to read this guide and product reviews to understand this gear in depth. Certainly, there would be a quadpod deer stands for your specific needs.
Best Hunting Quadpod Deer Stand (Outpost Tower)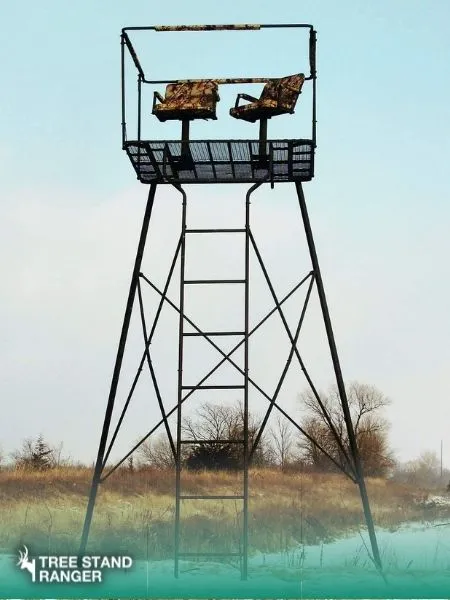 This quadpod deer stand will intrigue you with its incredible features despite being an oversized unit.
Built with steel, this deer stand can cater to several needs of hunters using various shooting equipment and hunting styles. By offering 12 ft. height from the ground, this deer stand enables hunters to keep an eye on all dimensions, increasing the chances to shoot down the deer.
You can opt for taking your hunting partner along with you since there are two seats on the stand. At the end of the day, the hunters are likely to feel tired, but not with this deer stand. Why? Because both seats are fully padded and are wide and deep, making long sits comfortable and tolerable.
Further to this, the seats can swivel 360-degree, giving both hunters access to shoot in any direction. Being a quadpod deer stand, stability is much anticipated. However, its huge platform and footpads add more stability to this unit. The external ladder is tailored to make ascending and descending this tower stand easier.
Best of all, you can use this stand as a tower blind since it allows you to integrate an optional hunting blind. Rest assured to fit in and out all bolts properly to avoid fabric ripping off. Though a bit pricey, this deer stand makes a top choice as the best quadpod deer stand.
Pros:
2 ergonomic seats
4-sided shooting rail
Footpads to avoid stand sinking into the ground
500 lbs. Weight capacity
Cons:
River Edges has made significant deer stands for hunters and this outpost tower with four limbs stays there in the market for many good reasons.
The most prominent feature of this deer stand is its patented TeearTuff mesh seats. Contoured with breathable material, these seats remain weather-resistant in all seasons. To elevate things to the next level, we think a little thick padding on the seats can do wonders.
This stand bears one of the most spacious platforms on an outpost tower with dimensions of 57.5"* 57.5" inches for allowing hunters more movement while standing. Apart from this, with more room on the platform, the hunters can keep all their hunting equipment and eatables on it.
This stand ensures hunting success as there are two independent swiveling seats to see all around a field zone. At a height of approximately 11 feet from the ground, there are fewer chances the hunters would miss a winning aim.
To accentuate stability, the stand is crafted with high-grade steel and the unique criss-cross design certainly makes no wobbling. The weight capacity is also impressive with 500 lbs of weight.
Being a giant, this outpost tower might take more than 2 persons for assembling and install, but worth it every bit.
The one caveat with this deer stand is its premium price tag that might break the deal for hunters looking out for a budget-friendly quadpod deer stand. Overall, it does well what it is intended for.
Pros:
Very well-built construction
Maximum freedom to move on its wider platform
11" ft height from ground to platform
Reliable with 1-year limited warranty
Adjustable, padded shooting rail
Cons:
Heavy, not easy to transport
Exorbitant quadpod deer stand
Isn't it sound fancy to build your hunting blind above the ground instead of setting up on the ground? Thanks to the Guide Gear quadpod hunting platform for making this idea possible.
Where in general, we have a quadpod deer stand with seats and a shooting rail, this one is a stand-alone outpost tower with no fences around. This is good news for hunters who are looking for a hunting blind-cum-hunting stand.
Allowing hunters to customize this hunting stand to meet their specific needs, this elevated platform is a significant addition to any hunting lab. Set up one or two chairs to match your preference or go on setting up a camouflaged blind after setting plywood boxes around the stand. The ball is in your court.
The one glitch, worth mentioning here is, that there isn't any shooting rail on the stand. Therefore, this stand owes some restrictions and needs to be utilized at the hunter's own risk. Ensure to use a body harness always when you're hunting from an elevated position.
For climbing and descending, it utilizes a sturdy steel ladder. The handrails on the ladder provide hunters the sought-after safety.
Also, the stand is a significant choice for its rock-solid stability. It perfectly anchors into the ground and no swaying of the stand is found when shifting 500 lbs of weight.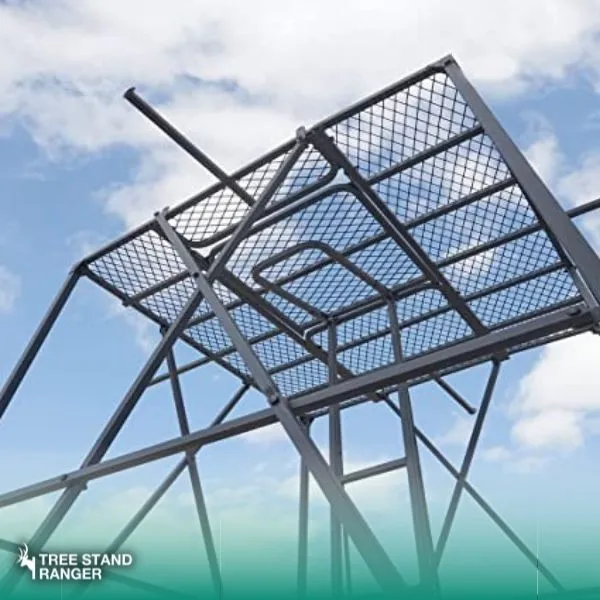 The platform on the stand is knowingly less than its contender quadpod stands. Yet, you can expand this area by incorporating an outdoor plywood exterior.
Like all other quadpod deer stands, assembling this stand is also sweat-breaking. But for the price and use, it offers great value.
Pros:
A Tailor-made quadpod hunting stand option
Robust construction
Saves from detection
Great value for money
Cons:
The ladder is very narrow
There is a hell of features on this stand to make it the best value hunting stand around. Essentially it's not a state-of-the-art quadpod deer stand as it never includes any 4 feet structure to stand on the ground. Even though, you can bolt up this stand to any elevated hunting platform or a custom elevated hunting box to cater to your hunting needs.
Also, unlike a full oversized quadpod deer stand that usually is expensive to buy, this platform kit remains on the cost-effective side.
We fell in love with the strong construction of this stand. The credit goes to its alloy steel construction.
Putting all bolts and nuts together is nerve-shattering but once done properly, ensures the highest efficiency.
The ladder on this platform is sturdier and never flexes with 500 lbs of weight capacity. However, the arm rails are flimsy and unsafe. You can also adjust the height of this platform from 5 to 10 inches.
The ladder on quadpod stands either come with skates or without skates for holding the stand into the ground. This stand is also impeccable for utilizing adjustable feet for anchoring the stand into leveled or uneven surfaces.
Pros:
An efficient platform stands
Compatible with all-terrain
Weatherproof construction
Adjustable height
Cons:
Flimsy arm rails of the ladder
Look no further than MQP1600 if you want a true sparking plug as the best quadpod deer stand for hunting. Muddy lives up to its name and creates the chassis of this tower hunting stand to last for many decades to come.
We've used this stand for sitting all day and found the seats most comfortable. Both seats are made with breathable mesh to keep hunters cool throughout a sunny day. Though it doesn't include any padding on the backrest and armrests, it still is fairly good to sit on these seats. The height of the seats on the platform is outstanding and our favorite feature on this stand, as it never prevents tall hunters from stretching out their legs if needed.
Similar to its competitors, it also features a ladder for entry and exit. Like them, it also has an adjustable padded shooting rail to experience bowhunting and rifle hunting.
This hunting stand isn't the lightest stand to buy and isn't portable. Also, if you don't have real estate for setting up this treestand, you can always try a 2-man ladder treestand from Muddy to get the best of both worlds. However, trees are a prerequisite.
One of the hinges with quadpod deer stands is their overwhelming assembly, and this stand isn't exempted, too. According to our evaluation, it takes 2 adults and approximately 4 hours to do the chore. It shouldn't certainly break the deal but is something you must consider.
Pros:
Nice and stable stand
Heavy-duty stand
Adjustable shooting rail
Does its work
Cons:
Complex assembling instructions
We were tempted to include Sniper pinnacle quadpod deer stand in our list because the 14" height factor has incredibly won us.
It feels great to sit on the seats as they are fully padded to ensure optimal comfort. With two independent seats, it allows you to take your hunting partner with you to ensure hunting success. The swiveling seats can rotate 360-degree to look around in all directions. Besides that, with a 16" seat height, it's quite rare that tall hunters would get tired.
By adding a wider platform on the stand, Sniper has successfully beaten its competitors. Not only hunters can move freely on the stand but it also provides ample room for placing additional hunting equipment and bear necessities.
The hunters who utilize firearm hunting know the worth of shooting rail on a deer stand. And this tree stand has covered this basic need of gun hunters by featuring an adjustable shooting rail. You can adjust the shooting rail vertically or horizontally to practice rifle hunting and compact crossbow hunting.
At 143 pounds of weight, this quadpod stand is a beast that can withstand weight capacity up to 500lbs. Swaying? Not at all! Since it is constructed with heavy-duty steel tubing and the ladder on this stand is nicely sized. Yet, we would like to draw your attention that the stand never comes with skates to hold it down on uneven surfaces. However, you have the benefits of adding personalized skates to the feet to provide the stand with its required stability.
The only thing frustrating about this stand is its assembly which needs at least 2 people and 2-3 hours to put all things together.
Pros:
Robust construction
A relatively heightened quadpod deer stand
comfortable
Cons: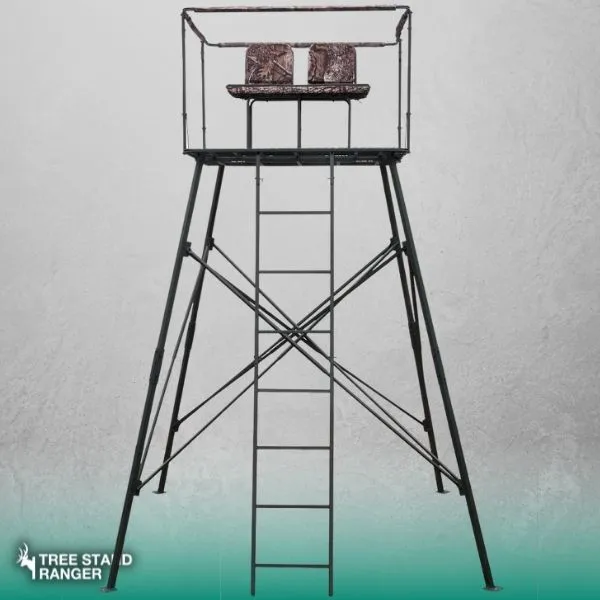 This quadpod deer stand by the Big Foot isn't without compromises, yet it makes a great choice for hunters who want to set up a deer stand with an enclosure at a certain height.
This quadpod deer stand might not outperform its competitors and other mainstream hunting stands, yet it's effective with its productive features.
The most prominent feature of this stand is its steel construction which gives the stand its durability. Powder-coated steel fights against rust and corrosion all season to make your investment a great deal.
No matter if you and your partner want to use a rifle or crossbow for hunting; the adjustable shooting rail made both things simpler.
This quadpod deer stand is different from our other reviewed options since it doesn't have swivel seats. The seats on the stand are static and might become troublesome for those hunters who are expecting to keep an eye on all directions.
When we tested the platform of this stand, we felt it was awkwardly small in size, especially when the thing is advertised to provide enough room for two big hunters. This is something you must bear in mind before giving this stand a shot. Again, we think two many ladder treestand options can accommodate two hunters without causing the stand to wobble and sway.
Nevertheless, if your field area doesn't have trees to support treestand and you are eager to hunt from an elevated hunting stand with two seats, this option could lock the deal.
Pros:
A 12" quadpod deer stand
Comes with a stand enclosure
Accommodate two hunters
Ladder for easy climbing and descending
Cons:
Buying Guide For Quadpod Deer Stands
Even after reading all our suggestions on the best quadpod deer stands, you must have the urge to know this equipment a little more in detail and what features a hunter must look at to buy a unit. A quadpod deer stand aka an outpost hunting tower must be checked out properly before buying and utilizing it.
Unlike hang on and climbing tree stands that require climbing aids as its fundamental accessory, a quadpod deer stand doesn't need it at all. However, quadpod deer stand accessories are characteristically the same as any other deer stand would ever offer. These may include blind cover, shooting rail or seat cushions.
A similar yet very portable option for hunters is a best tripod deer stand. Some of these can be carried easily and are safe just like a quadpod. However, these are not as spacious as a quadpod stand.
To reap the maximum benefits out of your hunting stand, you must check if every bit of your stand is efficient and in proper working order.
If you're a dedicated hunter and want to take advantage of the peak rut season, lend our helping hand to know the fundamental quadpod deer stand accessories, making this gear worthwhile.
Comfort
Any deer stand, regardless of its kind, should be comfortable. And several features work together to bring comfort to the deer stand. A sturdier platform, a stable base, safe hangers, and a padded seat provide hunters the much needed comfort. A quadpod deer stand should also follow the same route to provide maximum comfort.
Quadpod deer stands usually offer two independent seats. If the seats on your stand are uncomfortable and pinching, supposedly you'd make more movements, possibly leading to spook the deer. However, you can add pads or replace the seats with aftermarket seats to get your desired comfort level.
Versatility
Deer stands need to be versatile. From setting up to use, a deer stand should facilitate hunters with better ergonomics. Owing to its huge size, a quadpod deer stand is generally difficult to install and requires more than 2 persons to erect properly.
Nevertheless, a quadpod deer stand with adjustable shooting rails makes it a versatile choice for archery and gun hunting.
Apart from this, some quadpod deer stands feature a center console for placing food or drinking supplies.
Camo Blind Enclosure
Deer stands are generally made with camo fabric for maintaining safety to its maximum. A quadpod deer stand may not offer you optimal concealment because it sets up in an open field area with no trees.
But when an outpost tower, be it a tripod hunting stand or a quadpod, facilitated with a camo blind enclosure can keep hunters unseen by the whitetail. The best thing about a blind enclosure is it never cuts down on giving the hunters the best view of all dimensions since there are 8 double zippered windows to view around 360-degrees.
Further to this, a blind enclosure uses water-resistant fabric to provide bowhunters with the advantage of using it in all seasons.
Noise Cancellation and Adjustable Shooting Rail
Deer spook in a fraction of seconds, and spooking deer isn't good for the game unless you're not interested in winning a trophy. Being this, deer stands need to be as silent as possible. So whenever you're buying a deer stand, pay attention if the bolts, nuts, and various joints remain noise-free when a hunter is moving on it.
A quadpod deer stand with an adjustable shooting rail is useful for gun hunters. Not only the hunter can adjust the height of the shooting rail to perfectly aim a whitetail, but he can also adjust his desired shooting angle while sitting comfortably in a padded seat.
For availing of more mobility for bowhunting, a hunter can remove or lower down the shooting rail when the need arises.
Ladder
You don't have to spend extra bucks to get a ladder for entering or exiting a quadpod deer stand since it already owns the one. Make sure that the ladder on your quadpod stand is stable and can withstand your weight capacity. Also, consider carefully if the ladder on your stand allows you a quieter climb to ensure a successful hunt.
If you are hunting in forest with sturdy trees, make sure to look at best 2 man ladder stands, as they provide similar benefits with ladder, safety, comfort sacrificing a little space in almost same average price.
Conclusion
For those who want to build their hunting blind on an elevated platform using hunting tower box, the Shadow adjustable platform kit is worth considering choice. It provides additional space and a comfortable ladder.
When it comes to getting the best quadpod deer stand, you might get afraid of its gigantic size. Yet this equipment is essential for a hunting enthusiast when he wants to hunt a field with wild bushes and shrubs and without trees.
Frequently Asked Questions (FAQ's)
What is a tower stand?
It's a freestanding stand that never uses trees and is set up in an open area. With three legs, it's a tripod deer stand, and a four-leg tower stand is called a quadpod deer stand. Generally, tripod and quadpod deer stands have one or two seats, a platform, a shooting rail, and a ladder for accessing the platform.
Is a quadpod deer stand safe?
Everything is bigger and heavily built with a quadpod deer stand. That being, they are safe. However, to ensure safety, climb on its ladder by putting one foot on the step and holding the handrail with your two hands.
Is an outpost tower worth it?
An outpost tower will let hunters hunt in open areas with more game. Besides, hunting from an elevated position to match your firearm hunting and crossbow hunting style is possible with an outpost tower. So an outpost tower is significantly worth its use and price.
How to setup quadpod stand on uneven ground?
Use shovel to dig hole on side with height to make it even. Use big nail and force it in ground using hammer. This will hold the uneven leg/legs of quadpod stand and secure it.