Perhaps, the urge of hunting above from the ground to see down into a cover field when there are no trees around became the reason for introducing a tripod deer stand. Getting yourself the best tripod deer stand would come as a breeze if you know how to get the most out of this equipment.
Among several tripod hunting stands, we have found Millennium T100 offers amazingly higher functionality. It bears the minimum weight to offer higher portability to hunters on the go. The aluminum seat is the most comfortable feature that meets the hunter's expectations. And regarding its setup, it is believed to consume minimal time to set up and put in use.
Top Choice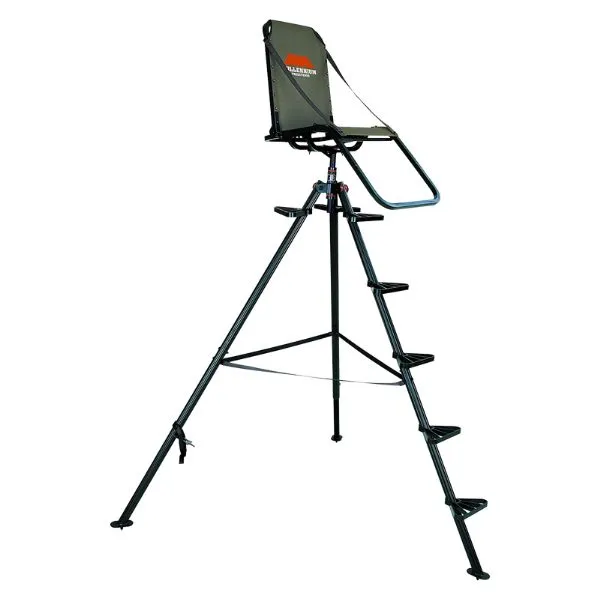 Millennium T100 Tripod.
Easy to carry with just 36 pounds weight
Can withstand 300 lbs. weight
Aluminium rugged built
360 degree swivel for smooth hunting
Editor's Pick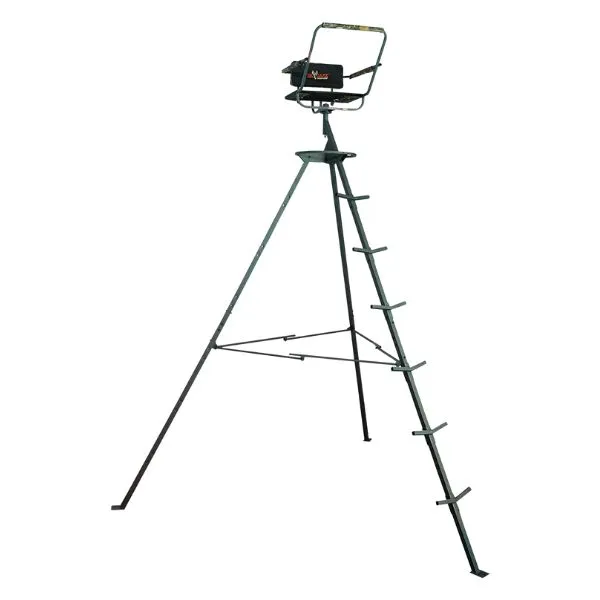 Big Game Pursuit Tripod
Steel stand (66 lbs. weight) with padded and adjustable shooting rail
all around swivel (360 degree)for smooth hunting
Stand has 12 ft. height and can carry 300 lbs. weight
Better standing capability on uneven and rough grounds
Editor's Pick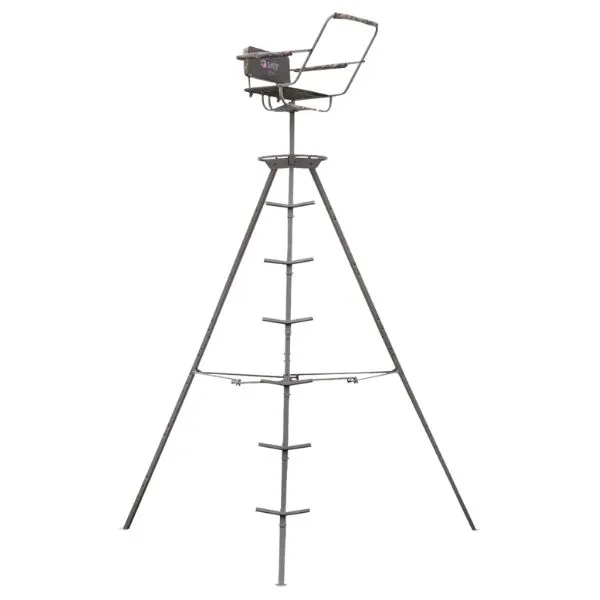 Guide Gear Tripod Deer Stand
This is 12 ft. high stand with 360 degree seat.
The shooting rail is stationery
Arm rest and back is padded for comfort and noise reduction
Comfortable, reliable and rugged build
Since a whitetail blind spot is thrice less than a human's field of view, a tripod stand successfully keeps hunters away from the sight of the deer, improving the chances to win the game. Besides this, a tripod hunting stand is a self supporting device that allows gun and bowhunters freedom to shoot above from the ground.
With that said, we believe that every hunter would once feel the need for a tripod deer stand for his hunting career. So if you're also on the quest of finding the one, then we're here to save your back.
Best Tripod Hunting Stands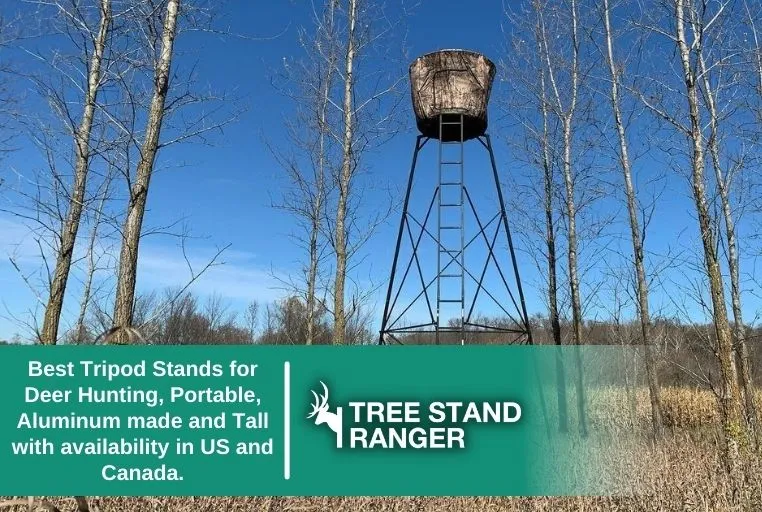 Have a look at some of the best tripod deer stands on the market with a detailed buying guide to save yourself from the hassle.
Let's dig in:
1. Millennium T100 Tripod – Best Comfortable Tripod Deer Stand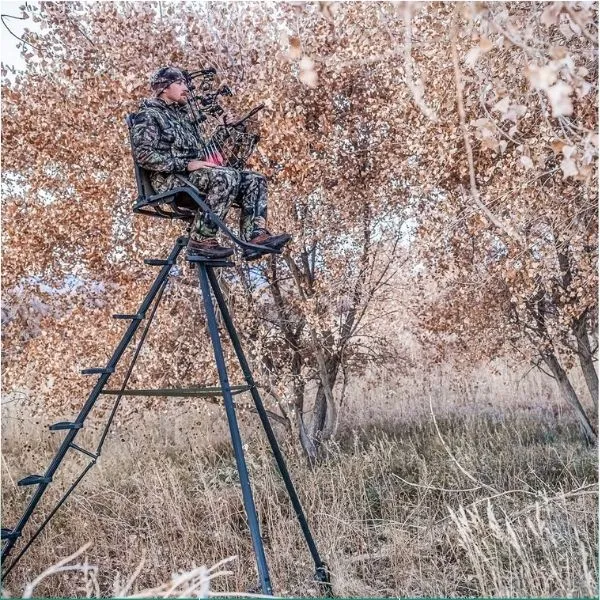 Millennium T-100 tripod hunting stand is the top dog of tripod deer stands for many good reasons. Loaded with essential features, this tripod hunting stand is the perfect rig to deem about.
T-100 has all the hallmarks you can expect from a Millennium treestand. At first, we can't help praising the lightweight footprint of this deer stand. But being a Millennium hunting stand, we shouldn't expect anything least from this stand. At 36 pounds of weight, this aluminum tripod stand is remarkably the lightest deer stand on our list and is therefore worth mentioning as the best portable aluminum tripod deer stand.
In our field' tests, we have found this hunting stand an outstanding choice for it takes less than a minute to set up and use this deer stand. Thanks to its uncomplicated design that allows its legs and seat to fold together, maximizing the portability to its fullest.
Not only Millenium T100 is one of the most comfortable tripod deer stands but is also highly functional. The swivel seat can rotate at 360 degrees and come with adjustable height. Also, the stand offers a 10 ft. height which is neither too less nor too more. However, this might be the glitch for hunters who're expecting more height from a tripod deer stand. At the same time, where the cover is low and the hunters want to avoid sky-lighting, this is the thing for you.
Pros
Lightweight and extremely portable
Offers the most comfortable seat
Adjustable height and effortless setup
Ruggedly constructed to withstand harsh environment
Cons
Highly priced and don't have camo
2. Big Game Pursuit Tripod – Best 12 ft. Tall Tripod Hunting Stand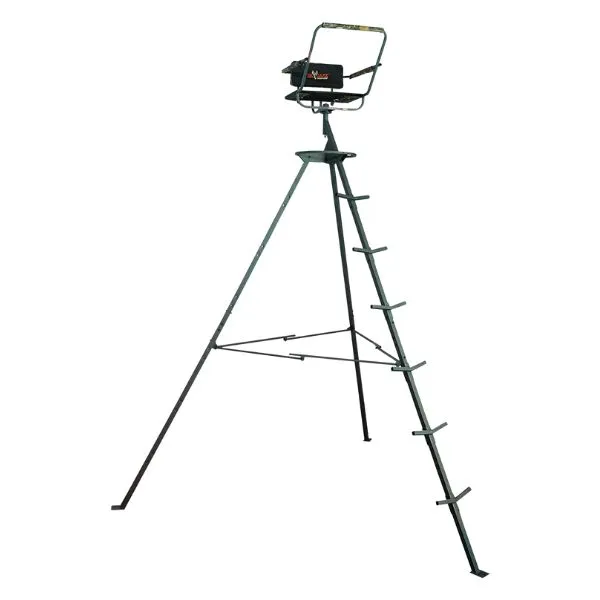 Tripod tree stands are for those hunters who like carrying around their vantage point with themselves. Big Game Pursuit Tripod Tree stand is one from such a category. Hunters who prefer choosing the location of the lookout themselves often opt for tripod tree stands. Standing tall at a staggering 12 feet and 20 inches wide, this tripod tree stand is one to look out for.
The metal frame of the tripod tree stand is sturdy. The frame can withstand strong wind blows which makes it a trustworthy product. To keep the hunter comfortable, it has padding all around the Flex-Core seat. This makes the wait time a little more enjoyable. The tripod tree stand is portable and can be set up at various places as per convenience.
To add to the features of Big Game Pursuit Tripod Tree stand, it also has a shooting rail which works as a firearm rest as well. The shooting rail gives the hunter a number of angles to shoot from which helps them in approaching their prey better.
Big Game Pursuit Tripod Tree Stand stands out with its 360 degree rotating seat. This is a game changer when it comes to hunting. Unlike conventional tree stands, Big Game Pursuit Tripod Tree Stand gives the hunter an all-around view which improves their field of vision. Our tests showed that the tripod tree stand is also easy to climb, even for those who may be afraid of heights.
While the company states that Big Game Pursuit Tripod Tree stand can be used on uneven ground, personal experience with the product revealed that it may not have the strongest footing on rocky terrain.
Pros
12 feet height, 20 inch diameter.
Flex-Core seat with padding for comfort.
Sturdy steel frame.
Shooting rail that provides different angles for shooting – can also be used as a firearm rest.
360 degree rotation for a broad field of vision.
Easy to climb.
Can be used even on uneven ground & easy to carry.
Cons
Not suitable for rocky terrain.
3. Guide Gear Tripod Deer Stand – Best Durable Tripod Hunting Stand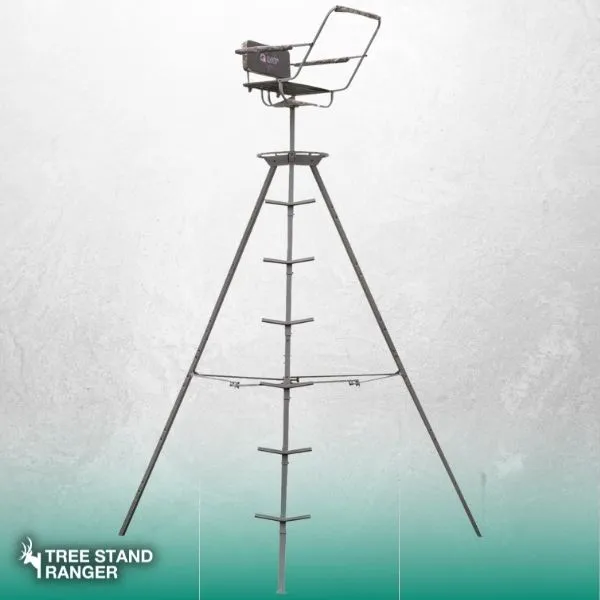 Guide Gear 12" tripod deer stand is a fantastic product that hunters can set up without looking for trees. Every specification aims at providing hunters with an optimal hunting experience, bringing it to the top of our list for the best tripod deer stands in 2023.
A good tripod deer stand should provide you the freedom to place the stand virtually anywhere with no trees. And this is well accomplished by the Guide Gear tripod deer stand. The design speaks for the mindfulness behind this gear. Its three legs are facilitated with footpads that further have ground anchors to keep the stand in place.
Though made with steel, this stand never begs you to compromise on mobility. At 66lbs of weight, it is transportable with its 3 foldable legs. The compactness of the stand also emphasizes the hassle-free storage side of this stand. And due to the steel body, this product fights against wear and tear on a decent level, enhancing the durability factor of the stand.
The most essential requirement in a tripod deer stand is its height. This stand comes with a 12" height, which is fairly higher than many of its rivals. A treestand with this height level gives you the freedom to shoot down the deer easily while keeping yourself hidden from the deer's sight. Moreover, with an ability to withstand 300 lbs. of weight, this treestand is regarded as the best choice among tall tripod hunting stands.
A word for the seat: a huge hunter is bound to commend the comfort level the seat of the stand offers. The fully cushioned seat with padded armrests and backrest work together to make long hours of hunting less tiresome. What's more? The seat can rotate 360 degrees, allowing hunters to keep moving in any direction to keep an eye on the surroundings.
Pros
Comfortable padded seat
Sturdier tripod hunting stand
Worth the money
Easy to assemble
4. Muddy MTP 8100 – Best Tripod Deer Stand for Big Guys
When hunting for the best tripod stands for deer hunting, we have found the Muddy MTP8100 nevertheless better than many other options in the market.
What height does a tripod stand is offering? This is the elementary consideration of many hunters. The MTP8100 offers an extreme height, which is, 12". Being this tall, the hunters have a command over their surroundings which increases their chances to win a game.
With this height, the weight of the stand tends to be slightly on the higher side. The Nomad is advertised to be weighing 40lbs, while we have found this factually wrong. This workhorse weighs 72 pounds and is a heavier tripod stand choice.
Assembling this tripod deer stand is a time-consuming process initially, but once all parts are assembled, the design is collapsible and becomes travel-friendly. However, two people are required for carrying and moving it around.
We have discovered the FlexTek seat on this steel stand comfortable enough for sitting for long periods. The seat swivels 360-degree and helps in acquiring the target without missing the aim.
The Nomad steel tripod stand is impressively designed and has a 36" padded shooting rail, providing an impressive platform. It's also worth mentioning that this stand can bear a weight capacity of 500 lbs., which is undoubtedly one of the higher weight limits a stand is offering in the market. However, when climbing the ladder of this stand, a flimsy hint might bother you. Nevertheless, the stand is found to be very safe for climbing in/out.
For archery, the stand offers some limitations since the rifle rest doesn't fold up to increase the space on the platform and comes in the way. Nonetheless, for rifle hunting, this is the tripod stand you must consider.
Pros
Easy to assemble and install
1 year limited warranty
Great product against demand price
Collapsing design is great for portability
Cons
Without dis-assembly, two person required to move it
5. Muddy Liberty Tripod Black (MTP 3000) – Best Tripod Deer Stand for All Terrains
Climbing onto a deer stand that is twice the height of a hunter sounds scary and unsafe. Yet with Muddy MTP3000, you can rest assured to have one of the sturdiest tripod stands for your deer and bowhunting.
If your hunting style involves shooting down from extreme heights, then MTP3000 is the deal for you. It offers 14" height which is unquestionably one of the greatest height ranges we're expecting from a tripod deer stand.
Taking down the deer from extreme heights raises safety concerns if the stand you're hunting is flimsy. However, with Muddy Liberty, there are lesser chances of being wrong. The stand is made with steel and it acts like steel by tolerating the weight limit of up to 300 lbs.
Setting up the MTP 3000 stand in a swampy or dry area is equally effortless. Thanks to the legs which are facilitated with anchor grounds to stand firmly on any terrain. Also, the 3 steel legs can adjust according to the demands of the terrain you're setting it up.
The fully rotating FlexTek seat never lets your muscle cramp. Thanks to the depth and width the seat offers to hunters when all day hunting is involved.
Besides, the shooting rail is uniquely designed and utilizes the flared and padded rail to provide hunters more room for bow or gun hunting.
The one bitter pill is assembling the unit since it comes with various bolts and nuts in different sizes. But once it is done, carrying this 132 lbs outdoor gear from one place to another becomes much more painless. So for gun and run hunting style, this is worth recommending!
There are various treestand accessories that can increase comfort, help in camouflaging the stand or provide better experience. You can also increase height of it up to 4 ft. by adding liberty tripod extension.
Pros
14 ft. eye height
A roomy and wider seat
Adjustable legs to suit any terrain
One year limited warranty
Cons
A bit overwhelming to put all of its parts together
6. Guide Gear Elevated Swivel – Best Tallest Tripod Deer Stand
Yet another great tripod deer stand is introduced by Guide Gear. this deer stand is highly packed with essential requirements hunters look for in a high-quality tripod deer stand.
The first thing that needs to be mentioned about this stand is its extreme height which is 20". Where several contender options offer a height range of 12"-16", this one aces the job more perfectly by increasing some more inches heights to broaden the panoramic view of surroundings. Simultaneously, some hunters feel it cumbersome to shoot down from such an elevated position. But if extreme height suits your hunting style, we suggest you give it a thumbs up.
Apart from offering an extreme height, this stand utilizes a swivel seat for hunters, allowing them to aim in any direction. The seat features a backrest and fully padded armrests to provide a cushion to your back and limbs during long hours of wait.
Besides that, this hunting tower comes with one of the spacious platforms the hunters could expect from a hunting stand. The platform has a 42" diameter, providing hunters the confidence to take perfect aim while standing and pointing the bow or gun towards the deer.
However, we would like to draw your attention to some pointers about this stand.
Guide gear elevated swivel is, to some degree, hard to assemble. Also, in our field tests, we have found this stand a bit clumsy and unsturdy and wished the Guide Gear could make it much better by inducing more strength and power to this unit.
Nevertheless, keeping an eye on the game 20" above from the ground is something the avid hunters couldn't cherish to miss out on.
Pros
Durable and comfortable seat
Silent
500 lbs. Weight capacity
Swivel seat
Cons
Somewhat a cheap tripod deer stand constructed with flimsy parts
7. Sniper Sentinel 12′ Tripod Deer Stand – Best Tripod Hunting Stand for Gun
According to our testers, this option isn't an average tripod stand and sets the bar higher by offering market-competitive features. Combining versatility, height, comfort, and safety, all in one, this deer stand takes the No 6 position in our list of the best tripod deer stands.
This is a 16" tall tripod stand with a platform size of 37", which can accommodate any single hunter weighing somewhere between 300 lbs.
Regarding its efficiency, our experience with this product tells us that this stand performs exceptionally well for rifle hunting. When we used it for crossbow hunting, the stand tends to offer some limitations by cutting down the room on the platform. And for archery, we have evaluated this product as not much useful as shooting bars come in between the way.
It will take a few minutes to assemble this tripod stand if you're a pro hunter. Once it is assembled, the legs get anchored in the field to provide you with a sturdy stand for climbing in/out. However, you are required to make an additional purchase to get ground anchors for the legs separately.
Regarding its noise level, the Sniper offers you a quiet hunting experience. This owes to its padded shooting rail.
In our evaluation tests, we have found the seat of sniper sentinel, slightly uncomfortable as the knees might hit the enclosure while swiveling the seat from right to left or vice versa. But for the strength and height, the product is value for money.
Pros
A good portable tripod deer stand
A roomy platform
Easy to maneuver
Cons
The seat is uncomfortable
8. Big Dog BDT 300 Command Tower – Best Mid Priced Tripod Deer Stand
This hunting tripod deer stand is well-applauded for many good reasons and gets successful in winning a prestigious place on our list.
When it is about the height of a tripod deer stand, the hunters likely seem to go with extreme heights. Although there are tripod stand options with 20" heights or even more, but BDT-300 model offers you a decent amount of height in a stand. With 16" tall, the hunters can have a sharp look around their surroundings while hiding their scents and sights from the deer.
A tripod deer stand should not only offer you ample height for shooting but it should never cut down on comfort and safety. The Big Dog BDT addresses these issues and provides its users with a fully padded seat and a roomy platform for playing the game confidently. In our evaluation tests, we have found that the seat is uncomfortable but is usable. We hope the Big Dog could have made more improvements to make the seat more comfortable.
Like all other tripods on our list, this one also comes with a swivel seat that rotates in all directions to provide the hunters with complete command over the game.
The BDT 300 boasts to carry 300 lbs of weight, which according to our field tests is a bit of an exaggeration since the ladder parts are flimsy and prone to break off.
Assembling any tripod deer stand depends upon the skill level of hunters. For pros, it will take less than an hour to put together all units of the stand, whereas, for starters, we think more time is required to perform the function. In our evaluation tests, this unit lacks proper information for putting all things together.
We think Big Dog BDT 300 hunting tower makes a nice bargain for the performance.
Pros
16" ft. tall tripod deer stand
The swivel seat included
Strong built and worth the price
Tripod Stand Extensions
Most companies often provide extension made of either steel or aluminium to raise the height of tripod stands. Extensions are also common for best tall ladder stands. The most common tripod stand extension I personally use is by Muddy.
Muddy provide 4 ft. extension for liberty tripod stand. It is made of steel and need to be bought separately. We don't highly recommend as it is separate weight and installation. Instead our recommendation is stand alone kind of units.
Buying Guide
What makes deer hunting unique is every hunter's unique style and personal preferences. Some hunters prefer hunting from treestands while some may find ground blinds a more convenient option. But if the need zone doesn't have oh-so-fitted trees to install stands or ground blinds aren't your style, then tripod deer stands come in handy.
Don't weigh yourself down with an array of the best tripod deer stands on the market unless you know what the product is? What are its potential benefits and uses? Are they worth the use and your money? We also advise you to take opinions from experienced hunters before investing in this gear.
Closely scrutinising the efficiency of these stands, we have put together some high-ticket information for you to help you decide why you should employ them.
Seat
Hunting becomes an annoyance if a stand (regardless of its type) doesn't provide a comfortable seat for hunters. No matter if you're a big guy or a short guy, always pay attention to the seat of the tripod stand you're thinking of investing in.
Never go for luxury but also don't compromise on the comfort level of the seat. A fully padded seat with a backrest and armrest can lessen the fatigue you may face while waiting for the game to begin. If not comfortable, check best treestand seat for comfortable hunting.
Height and Weight
Whenever you're buying a tripod deer stand, make sure that it gives you a decent height. A tripod stand with a height between 15" to 20" is perfect for keeping hunters away from deer sight.
It is also crucial to look for the weight endurance in a tripod deer stand. It should neither be too flimsy to not support your weight. We also don't recommend bulky tripod deer stands either since lugging heavier objects usually requires you to cut down on mobility.
Stability and Durability
Hunting above from the ground should be safe and sound. Whether you're using a treestand or a tripod stand, it should have a stable and wider platform that should create less wobbling when a hunter is sitting or standing. So we suggest you get a tripod stand that has a stable platform.
To get the best value for money, ensure that you are getting a durable tripod stand option. You can explore best tree stands for the money. Durability should never be settled upon if you want to ensure your safety during a hunt.
Easy to set up
To avail every single minute in the game, we think a tripod stand should come with simple assembling or dissembling. Therefore, if you're also passionate about deer hunting, we think a simple tripod stand with minimum assembling will make an ideal deal for you.
Why choose tripod treestands
You may be a hunter who prefers hunting from an elevated position to have a better field of view. But the area where you're hunting may lack long and straight trees to support best 2 person ladder stands, best lock on stands or best climber stands, then obviously tripod deer stands are going to justify your needs.
No doubt, the latest treestand models have much room for standing and sitting for bowhunting. But still for starters, using treestands may be a safety concern. Therefore, we find tripod stands safer since they have wider space for moving around. And climbing on the ladder on these stands is easier, too.
If you have worked with hang-on stands, you must know that screw-in steps or climbing sticks are the prerequisite accessories you need to set up them. But tripod stands become our favorite in this regard as they require no add-on accessories for setting them up.
Similarly, if you've used ladder stands, you might feel awkward transporting from one location to another. Again, tripod stands are comparatively more compact and lightweight than ladder stands and are usually more transport-friendly.
At this point, if you've decided to invest in a tripod deer stand for your bowhunting, a few things need to bear in mind:
Conclusion
By far, we have learned that the best tripod stands do have a swiveling seat, a ladder for climbing, three foldable legs for portability and set up in the ground, and mostly a shooting rail. However, some of these stands are made with aluminum for cutting down the overall weight of the stand for improving portability needs whereas some are constructed with steel and are relatively more durable.
The above-mentioned list for the best tripod deer stand comprises the most popular stand options in the mainstream market. On the portable side, we think the Millennium T-100 is the perfect rig to consider. While if you're in the quest for finding a tripod deer stand with more weight capacity, then the Nomad MTP 8100 by Muddy comes in handy.
Yet we advise you to have a thorough reading of our reviews for each product to make yourself a wiser and more suitable purchase.
FAQ's About Tripod Stands
Are tripod stands worth investing in?
A tripod deer stand fits well in fields where there are no trees to set up a treestand and shooting from an elevated position has become the ultimate need of a hunter. By positioning you above the ground, they help you track down your surroundings to the fullest. Fairly portable, they are worth investing in if your hunting style involves run and gun methods.
Which is the most demanded big game tripod hunting stand in the market?
The big game is famous for introducing top notch quality hunting stands in the industry. And when there are no trees, the Big Game steps forward by introducing the Apex 12.5" tall tripod deer stand for hunters. It's a heavy duty stand that offers a roomy platform to hunters for easy bow and gun hunting. The Pursuit and the Defender are two other tripod deer stand variants presented by the Big Game for its valued customers, and are versatile to accomplish the job very well.
Is the Summit tripod deer stand any good?
The Summit is another industry-leading brand for manufacturing several kinds of deer stands. And when you're specifically looking for the best tripod deer stand, the Summit brings a 10 ft. tall steel tripod stand, named the Watchtower Ultra. This tripod deer stand is one of the most reliable tripod stands the hunters could ever think of from design to performance.
Can we have tripod hunting stands in Canada?
Yes, you can avail of any tripod deer stands in Canada, directly placing your desired order on Amazon.