Tree stands are not spacious enough to keep all your belongings in them, especially the large hunting bows. After extensive research and tries, we found the best tree stand bow holder based on impeccable durability and usability; Summit Treestands Universal Bow Holder.
Luckily, storing these with convenience on your tree stand isn't a hassle anymore. No matter what type of bow you have, there are some of the best tree stand bow holders designed to provide stable support to your bow while you look around for your target.
Summit Hunters
Summit Treestands Bow Holder
Metal bow holder best for summit tree stands.
Rubber coating reduce metal to metal contact and noise.
Made in USA
Suitable for several tree stands other than summits.
Editor's Choice
HME Universal Bow Holder
Perfect for ladder and climbing stands.
No tools required, quick and easy to install and remove.
Rotatable shape makes it perect for several types of bows.
top pick
Third Hand Bow Holder For Tree Stand Hunting
Fits almost all types of stands.
Can be installed quickly using screws.
Easy to install and remove meanwhile keeping bow in ready to hunt position.
Super quiet and made in America.
TreeStandRanger.com is reader supported website. We may earn affiliate commission if you shop using links on this page (without additional cost to you). Learn More
The bow holders are designed to allow hands-free mobility while you are on the treestand. Different holders are compatible with different types of tree stand. Some are universal, i.e., they can be attached to a deer stand or round as well as square rails.
So if you are searching for the ultimate hunting accessory, below are some capable choices.
8 Best Bow Holders For Tree Stand Hunting
Summit Treestands Bow Holder – Best Screw In Bow Holder
Top Choice
Summit has always taken a prominent lead when it comes to hunting accessories. Rightfully so, this product fulfils every requirement of the best treestand bow holders. We tried this bow holder for various treestands; however, it only works with those having square rails. Some treestands with thicker rails were unable to accommodate the Summit bow holder.
In our experience, there was no difference in the performance, and the holder was equally impressive with almost all Summit tree stands. There were a few compatibility issues because of the varying sizes of tree stands of other brands.
Speaking of the construction, the metal holder is coated with a layer of rubber, making it exceptionally durable in the long run. The rubber coating is also responsible for diminishing the unnecessary noise while taking out and placing the bow in the holder. Hence, you can enjoy a great hunting experience without spooking the nearby animals.
Attaching this summit tree stand bow holder involves screw mounting. There is a single bolt on the holder which you must unscrew. Place it near the tree stand where you wish to attach it and screw the bolt back in. Just like that, you will have a highly stable and functional bow holder within a few seconds.
Pros
Budget friendly
Setup within a minute.
Offers a stable and silent bow usage.
Cons
Unfit for thick tube tree stands.
HME Products Bow Holder – Best Universal Bow Holder
Editor's Pick
This gear from HME is universally mountable treestand bow holder. It features a similar design to the Summit bow holder but has two bolts for extra stability.
The metal construction makes it a premium and highly durable choice. The HME bow also features a rubber coating that is responsible for reducing metal to metal contact. As a result, our hunters experienced significantly reduced noise while using the bow.
Speaking of compatibility, this one takes the lead. Unlike the Summit bow holders, we were able to attach this product from HME to almost every tree stand of varying widths. Hence, it is known as a universal bow holder.
Its unique feature is the slide and lock system which every hunter can do without any assistance. Simply unscrew the bolts, and remove the sliding plate. Now adjust the bow holder on the treestand, and place the sliding plate back. Secure it by tightening the bolts on both sides.
We loved how the fork could rotate at 360° to easily hold the bow riser and limb curvatures. It includes multiple small parts which, if lost, are hard to find. Overall, it's an amazing product for all kinds of bows.
Pros
4 point attachment for ideal stability
Compatible with treestands of different widths.
The fork rotates 360 degrees.
Third Hand Bow Rest – Best Crossbow Holder For Tree Stand
Editor's Pick
When buying a crossbow holder for climbing treestand, you need something that is extremely sturdy. We tested this on Summit Viper, Goliath SD, API grand slam climbers, and lock-on Gorilla treestand. Being a universal bow holder, this one easily attached to all of these without requiring drilling.
The design is different from the aforementioned universal bow holders. The holding arm is S-shaped and can provide support to all types of hunting bows. We tested it for a crossbow specifically. Needless to say, we didn't encounter any issues.
It was super easy to place the bow in the holder and keep it stable in various weather conditions. The Third-Hand bow holder also differs from other choices in terms of installation. You would require screws and drills to attach it to the tree stand. Furthermore, the installation is relatively time-consuming.
To avoid drilling, try mounting this bow holder on the outside edge of the stand at the top part. Generally, you must have basic knowledge and skills for an appropriate mounting. Once it is attached, there are no parts moving, and you get absolute sturdiness.
Even though installation could be time consuming, it is a one-time process since you won't have to remove it every time you pack your tree stand.
All in all, this one from Third Hand is surely one of the best tree stand bow holders that you can invest in. Though not as strong as a metal bow holder, this one has all the power to keep all bows, including crossbows in place.
Pros
Offers a full range of motion to the hunter.
Rubber coated bow holding arm.
Mountable on the outside of the tree stand.
Cons
Time consuming installation process.
My Bow Buddy Hi Profile Bow Holder – Best Hang On Bow Holder
Editor's Pick
Offering amazing durability, this one from Bow Buddy is an ideal choice for compound and crossbows. What makes it unique is the hang-on mounting to keep the bow still and quiet. Because of the hang-on mounting, it also turned into a sturdy climbing stand bow holder.
For the construction, manufacturers have used first-rate solid steel that we found surprisingly durable. Moreover, the stainless steel avoids rust and stays strong during all seasons. Whether you are hunting a hawk or a deer, this 8-inch tall holder offers quick access to the bow.
Despite the different design, and a rubberized coating, the holder doesn't prevent noise when accessing the bow efficiently. We were delighted to see the installation time for this holder is less than 60 seconds.
Attaching and detaching this holder on a tree stand is an easy task. All you need to do is loosen the screw and attach the holder to the tree stand. When done, tighten the screw, and viola! The bow holder will stay in place for as long as you remove it yourself. During our field test, bows with horizontal limbs could fit perfectly, while those with slightly vertical limbs were a misfit.
Pros
Quick installation.
8 inches height helps with accuracy.
Attaches to all types of tree stands.
Cons
Time consuming installation process.
Not suitable for recurve bows.
Hawk LIMB GRIP Bow Holder – Best Clamp Treestand Bow Holder
Editor's Pick
The Hawk LIMB GRIP bow holder is an innovative product designed to securely hold your bow. One of the standout features of this bow holder is its adjustable design, which allows it to accommodate a wide range of bow models and sizes. However, it was a slight challenge to mount this bow holder on square-tubed treestands compared to the round-tubed ones.
Furthermore, the clamp mounting design lets the bow holder raise 7.5 inches above the platform. Because of this feature, we experienced maximum convenience while shooting the bow from the tree stand.
This hawk bow holder is made out of resin material. Though it is designed to withstand the rigors of the outdoors, it might not perform as amazingly as metal bow holders. However, the bow holding arm is made using high-quality metal.
The U-shaped bow holding arm features a quiet, non-slip grip material that won't make any noise while taking the bow out. Besides that, the clamp mounting system is reliable and secure, ensuring that your bow won't slip or fall even in high winds.
Talking about the attachment, the unique clamp design of this holder allows it to mount on either side of the treestand. As a whole, this one is the best treestand bow holder for all.
Pros
U shaped bow holding arm rotates 360 degrees.
Easy to install.
Offers superb stability with a raised arm.
Cons
Resin material isn't highly durable.
Hang On Buddy Regular Tree Stand Bow Holder – Best Compound Bow Holder
Editor's Pick
Slightly less pricey than the High-On Buddy Hi-Profile bow holder, this one is a low-profile model and doesn't raise from the point of attachment. We used this holder with Lonewolf and Summit treestands, and it worked amazingly. The only downside is the incompatibility with recurve and longbows because of the design.
It is made out of solid stainless steel, and the bow holding area is covered with rubber to prevent damage to the bow and holder.
With the tight screw-in installation, the bow stays quiet and stable for as long as you use it. Attaching it is an extremely simple task with no additional tools required. Untighten the screw and pass it from the bottom of the treestand.
Then, attach the bow holder plate and place another small plate that comes with the package over it. Finally, put the bolt back and tighten it. The entire process took us nearly 30 to 60 seconds.
What impressed us the most was that this hunting bow holder grips the compound and crossbow extremely well, and we could use it with our back straight and without leaning forward. All in all, it is the best treestand bow holder for hunters who need a sturdy holder for their compound bows.
Pros
Suitable for treestand with expanded metal or mesh floors.
Can cause your bow to tilt if not attached properly.
Sturdy and stable.
Cons
Doesn't fit all types of bows.
High Point Products Treestand Bow holder – Best Recurve Bow Holder
Editor's Pick
Not many companies roll out a holder for recurve bows. We tested this product exclusively for recurve bows. Our hunters used it with Summit Goliath climbing treestand, and it was a great fit for it. We found out that the High Point bow holder is suitable for any treestand having a round or square tube rail measuring 3/4 or 1 inch.
During our experience, it didn't fit the Summit Viper Elite SD treestand mainly because it has round tubing on the upper part. However, when mounted to the foot part of the stand, it worked fine, but our hunters found it a bit difficult to remove the bow from it.
The bow holder isn't made out of metal but re-engineered nylon resin. Surprisingly, it was quite a sturdy holder for various recurve bows. It also held the compound bows with ease and kept both bows stable throughout.
Though it is designed to accommodate a compound bow, it won't be a great choice for crossbows.
One unique feature of this bow holder is the 360-degree rotation that locks after every 5-degree turn. Furthermore, you can attach it to both the left and right sides of the treestand. Fix the groove onto the treestand rail and secure it by tightening the bolt.
Pros
Rubber coating reduces noise.
360 degree rotation.
Suitable for a wide range of treestands.
Cons
Not suitable for crossbows.
KMHS Quick Draw Tree Stand Bow Holder
Editor's Pick
Forget folding your lap or reaching behind to grab your bow with the best treestand bow holder by KMHS. It rests right on your treestand and offers little movement and quick access when you need the bow in a hurry.
Our team tried it on climbing, and ladder stands as well. Fortunately, it was a great source of convenience for both. We used it for the XOP Vanish climber and the bow holder mounted perfectly.
Attach the receiver to the treestand rail and secure it with screws. It also comes with hex bolts that we used to attach the holder directly to the bow stabilizer.
Unlike other choices, the manufacturers have used high strength aluminum for the lightweight and superb durability of the bow holder. The rubber coating is there for safety from damage and noise reduction.
Needless to say, it was one of the most stable bow holders that we tested. The KMHS Quick Draw bow holder is an excellent choice for hunters who demand versatility, durability, and ease of use from their gear.
Pros
Attaches with the bow stabilizer.
Lightweight yet robust construction.
Rubber coated L bracket prevents damage.
Cons
Limited to compound bows only.
Buying Guide
Even though a deer stand bow holder isn't a hefty investment, you must choose the right accessories for the best performance. Make sure that whatever tree stand holder for the bow you choose, it doesn't miss the following factors. Some hunters prefer guns/rifles over arrows and use best gun rest for tree stand.
Sturdiness And Stability
The foremost thing to consider when purchasing bow holders for tree stands is durability. The materials used to make the bow holder tell a lot about its sturdiness. Don't opt for those made out of resin or plastic since these are prone to breaking.
Usually, metal bow holders offer amazing durability as well as stability. Getting a metal one with a rubber coating will be the cherry on top. It helps reduce the sound while shooting and saves the bow from damage.
Mounting
The three common mounting options for tree stand bow holders include screw, bracket, and clamp. A screw mount requires attaching the holder to the tree stand's platform or rail using screws.
On the other hand, the bracket mounts utilize a secure bracket system to connect to the treestand. These provide sturdy support to the bow on the tree stand and ensure the most adjustability.
Lastly, as the name suggests, the clamp mounts involve a clamping mechanism and attach directly to the tree stand rail. This type of mounting is the easiest to install and remove.
Frequently Asked Questions (FAQ's)
Can I adjust the angle of the bow holder?
Some hunting tree stand bow holders allow you to adjust the angle of the holder to ensure that your bow is in the best position for your hunting style. For example, the HME Products Bow Holder allows 360 degree rotation.
How noisy are hunting tree stand bow holders?
The noise level of a hunting tree stand bow holder can vary depending on the specific model and construction. Look for bow holders that are designed to reduce noise, such as those with rubberized parts to minimize contact noise or those with locking mechanisms that are quiet when engaged.
Conclusion
Investing in the best tree stand bow holder is essential for all serious bow hunters. These not only provide a secure place to store your bow while you wait for your next target but also allow you to stay hands-free and use the bow with stability.
In our experience, one product that we found perfect of all time is the Summit Treestands Bow Holder. Featuring a screw in mounting, it is one of the most durable bow holders we have ever used. It works like a charm with numerous treestand, especially those from Summit.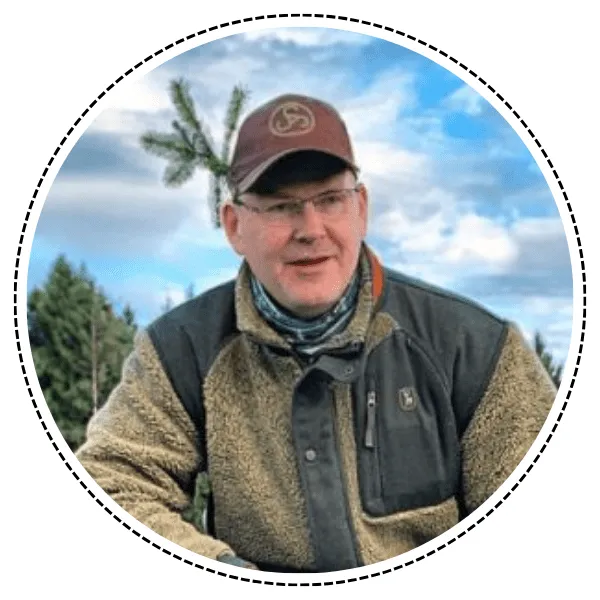 About Henry Liam
I am a father, veteran, database engineer and a hunter from Pacific Northwest. I am also the founder of Children Outdoor Adventure Network. I live with my wife and two children in Seattle. Since teenage I am doing run and gun style hunting on public lands and have visited all 50 states as well as Canada. Read More about me.