Investing in the best gun rest for tree stand is essential for accuracy and precision of gun while on hunting stand. After thorough research, we found BOG FieldPod Hunting Rest provide the highest quality, is incredibly adjustable and versatile. It allows hunters to install within seconds.
Multiple Options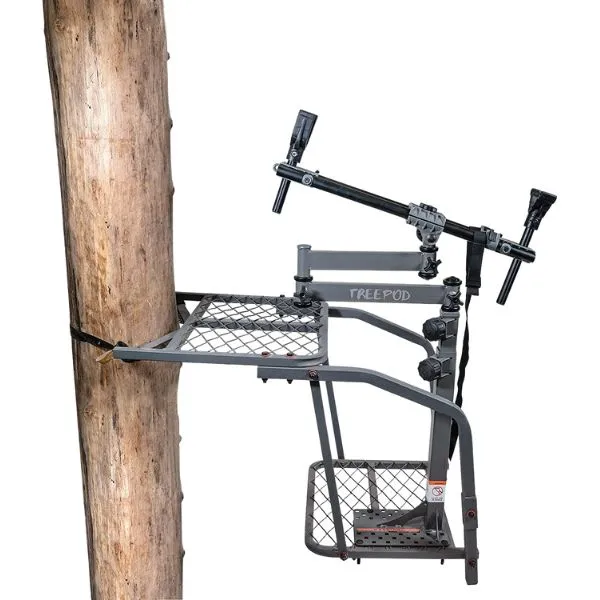 BOG Tree Stand Gun Rest
Extremely usable in case of on ground and on tree attachments.
Best for big gun hunters on tree stands.
Treepod has 15 lbs. weight.
Buy just before start of hunting season to claim 1 year warranty on product issue.
Shooting Rest
Guide Gear Hunting Gun Rest
Durable rest made for rifle and long guns.
Can change height and work as stand alone unit.
Padded to minimize noise.
Can carry weight of rifle but not of body.
Climber's Rest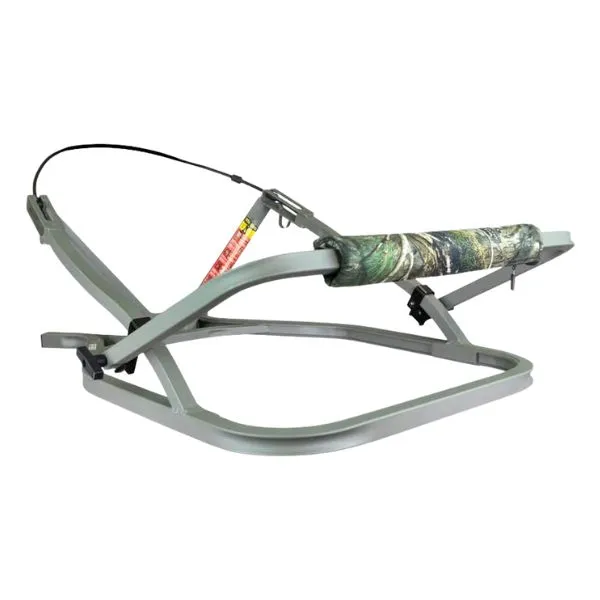 Summit's Shooting Aid
Can be used with all summit's climbers easily.
Can carry gun and body weight.
Lightweight aluminium and durable built.
Easy to attach on summit and other climbing stands.
TreeStandRanger.com is reader supported website. We may earn affiliate commission if you shop using links on this page (without additional cost to you). Learn More
So, if you are confused about selecting the best one for yourself, try the following options.
BOG FieldPod Hunting Rests – Best Durable Shooting Rest For tree stand
Multiple Attachment Options
BOG's adjustable tree pod gun rest is the perfect accessory for hunters. The tree pod is exclusively designed to be used with tree stands where hunters can sit and have the weapon set on the sturdy gun rest. You can easily shoot while having your firearm placed on the rest.
This tripod style gun rest is sturdy enough to hold up to 300 lbs. of load. Its height can be extended from 22 to 40 inches, making it a great choice for professional hunters. Place your gun on the rest after you have settled down in the tree stand and remove it before getting out, or else it will trip over.
Unfortunately, we didn't experience a reduced recoil of the gun with this rest. However, it does offer sturdy support to various types of rifles. We also tried it for a crossbow by adjusting the legs, and it worked fine.
The adjustable tension knob allowed us to tilt the gun in any direction while providing 180 degree panning ability vertically. This feature makes it an excellent tool for multitasking during hunting time. A few cons of this tree stand gun holder lie in safety, as it needs an efficient lock.
Pros
Rubber cradle for additional support and stability
Extended height option
Suitable for rifles and crossbows
180 degree vertical panning ability
Cons
Less secure compared to its competitors
Fails to reduce recoil
Guide Gear Universal Gun Rest – Best Tree Stand Shooting Rail
Stand Alone Shooting Rail
If you need an incredibly convenient and lightweight gun rest to use with your rail-free climbing tree stand, the Guide Gear Universal shooting rest is the ideal choice. This shooting rail is designed to provide robust support to your gun while you shoot.
Remember, this gun rest has a relatively less weight-holding capacity. In our experience, it held a loaded hunting bag using a carabiner and a firearm. Any additional item caused extra pressure on the rail.
What makes it unique from other choices is its design. It isn't a rest with any grooves to affix the weapon but a simple rail that provides support to your wrist when shooting. That said, it is suitable for all types of guns, rifles, and even bows.
The padded rail provides a soft feel when the wrist rests on it. Moreover, the back support also comes with soft padding. Installing it is as simple as securing it around the tree trunk using a strong ratchet strap. We could use it for trees having diameters between 8 to 20 inches.
Because of the flip-up design, the shooting rail is easily folded up when not in use. Even though it doesn't grip the weapon, the rail offers superb stability, but there is no reduction in the recoil.
Pros
Padded back support
Easy to install
Usable with all types of guns and even bows
Cons
Doesn't hold for a hands free experience
Summit Gun Rest – Best Adjustable Tree Stand Shooting Rest
Climbing Stand Essential
The summit tree stand gun holder is famous for being one of the highest-quality models on the market. Similar to the Guide Gear rail, this one is also a shooting rail with padding. It sits well on the seat of every Summit climber tree stand and you can shoot while resting your weapon on it.
This superb shooting rest can hold up to 250 lbs. of weight. To use it with tree stands other than Summit, try getting one with the width that corresponds to that of the stand's seat. This shooting rail comes in two sizes which you can choose accordingly.
Installation is a simple process where you have to attach the bolts and washers to the tree stand's rail. Moreover, there is a solid strap that goes around the tree trunk for better security. Like most shooting rest for deer stand, this one also fails to lower the gun's recoil.
After utilizing this gun rest for various tree stands, we found that it did not alter the performance and worked just as well in each situation. The only setback to be noted is its brackets, which are unfortunately prone to wear out after a few years when used frequently.
Pros
Relatively lightweight
Offers good stability with padding
Easy adjustability
Cons
Limited tree stand compatibility
Might not have an exceptionally long lifetime
High Point Products Gun Holder – Best Clamp On Tree Stand Gun Rest
DIY Style
This one is a unique tree stand gun rest compatible with all types of treestand having 3/4 or 1-inch square tubing. This product offers storage only, and you will have to grab the weapon from the holder and shoot. It won't help with the stability or recoil.
These gun holders might not be able to hold weight as much as shooting rails do, but these are strong enough for supporting most hunting guns. That said, the HPH gun holders have a weight limit of approximately 20 lbs.
What adds to its overall value is that the installation process is super quick and doesn't require any tools. Use one holder at the front and the other at the backside so the weapon can easily rest on it.
Simply slide it around the rail, and tighten the bolt. The weapon-holding boot is covered with a rubber material so that the firearm stays free from damage. Because of this, there was a significant reduction in noise during the retrieval and placement of the weapon.
We were amazed to see that this small accessory could hold a wide range of hunting weapons. For example, rifles, muzzleloaders, and shotguns. To test the durability, we used this deer stand gun holder during harsh weather conditions. Needless to say, it was able to withstand all conditions.
Pros
Allows hands free storage.
Rubber reduces noisy retrieval
Super easy to install
Cons
Doesn't stabilize the gun
High Point Products Gun Rest – Best Crossbow And Gun Holder For Tree Stand
Editor's Choice
This one from High Point is made for hunters that use multiple weapons such as guns and crossbows. Similar to the clamp-on bow holder by High Point Products, this gun rest fits all tree stands having 3/4 or 1-inch square tubing. However, it won't fit on round rails.
Since the holder mounts to the side of the tree stand, you cannot aim and shoot the weapon while it's on the holder. High Point Products is designed with robust materials; hence, it is able to store large hunting guns and even crossbows with ease.
For the construction of this tree stand rifle rest, manufacturers have used high end materials. In our experience, we used it during various environmental conditions, and the gun holder stood robust everything, thanks to its weather-resistant properties.
There are two boots on the holder, a Y shaped one and a V shaped one. Make sure to install the holder in a way that the Y shaped boot comes in the front. The rubber coating on these boots makes them ultra-silent during use.
The installation is super easy and can be done within a few minutes that too, without any tools. When packing the treestand after hunting, this tree stand gun mount is easily folded down flat for convenient packing. All in all, it is the best gun rest for tree stand that can also be a sturdy holder for hunting crossbows.
Pros
Holds crossbows, rifles, and shotguns
Quick and secure attachment
Weather resistant
Cons
Incompatible with round rail tree stands
No weapon stabilization or recoil control
East TN Outfitters Tree Stand – Best Retention Shooting Rest
Flexible Shooting Rest
This deer stand shooting rest weighs barely over a pound, making it a portable option for many people. It easily ties to any type of tree. Since it doesn't mount on the treestand, you can use it with any type of deer stand. Boasting a unique design, this one is also capable of withstanding the weight of most hunting rifles, shotguns, muzzleloaders, etc.
It only takes a few seconds to install it on your next hunting spree, along with its extra-large tree strap, which effortlessly transports during scaling up or down the climbing tree stand. The catch here for hunters is its accuracy, precision, and adjustment features that allow vertical and horizontal movements.
These movements offered our hunters to follow their target effortlessly and make a direct hit at them. Furthermore, the gun rest is comfortable and easy to carry on tree stands for extended periods.
It is an excellent retention shooting aid for hunters that offers a durable rest to the gun, saving you from fatigue. Sadly, it can take a bit of time to adjust and get the right angle. Additionally, it doesn't offer a hands-free experience since the hunter has to keep a slight hold of the gun while it's resting.
Pros
Stabilises the firearm while shooting
Compact yet durable
Ties to any type of tree
Cons
No effect on recoil
Needs efforts to get the right angle
Summit FasTrack Gun Holder – Best Tree Stand Rifle Holder
Quick Gun Rest
Don't underestimate the power of this product because of its small size. This superb rifle holder can withstand as much as 15 pounds of weight. It is designed to work with Summit's PRO series treestands. This could be one major limitation and can keep hunters with treestands other than Summit from buying this product.
This is because the small bolts on the holder slide into the side rails of Summit's treestands that have these particular grooves. Once the pieces are affixed to the rail, tighten the screw, and there you have the gun holder installed in no time.
Speaking of durability and performance, this climbing stand gun holder duo is well-made to hold the weight of rifles and shotguns. After placing the weapon into the holder, you can secure it using stretchable capture straps.
Overall, it is one of the sturdiest and most convenient tree stand rifle rest that we tested. Remember, it only holds the firearm and doesn't provide any kind of stability or recoil control while shooting.
Pros
Robust construction
Offers a handsfree experience
Stretchable capture straps
Cons
Very limited compatibility
BOG DeathGrip Shooting Rest Head – Best Gun Rest With Extending Arm
Extendable Gun Holder
Hunters who value convenience can easily choose the Death Grip gun rest as their hunting buddy. This gun rest can easily attach to a climbing tree stand with the help of its ratchet straps. Its heavy duty construction makes it durable enough to withstand around 250 to 300 lbs. of load.
What makes this product the most unique is its extending tri-arm design. With this feature, we could extend our shooting range and aim with better stability. On the front side, there is an innovative clamp that provides a solid grip to your weapon. We tested it with various rifles and shotguns; the clamp is easily adjustable and tightens accordingly.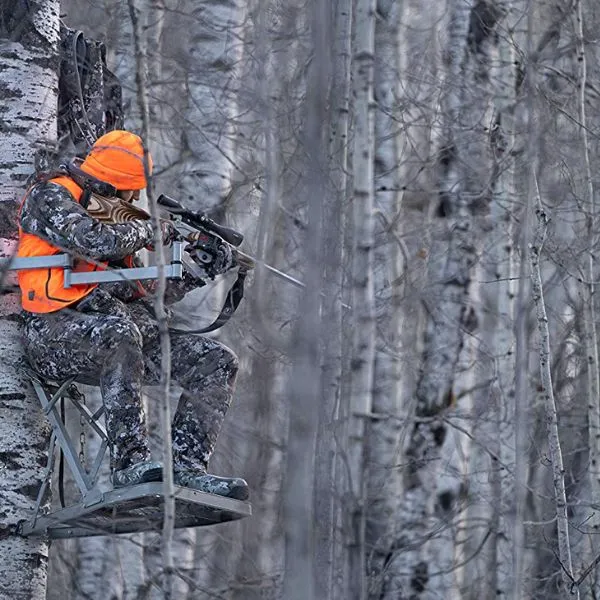 Installation is quite simple; use the ratchet strap to secure the product with the tree. Remember, you can use it with any type of tree because of the large sized strap. Furthermore, mount the bracket to your deer stand for added security.
However, this device is not the best option for hunters looking for an affordable or budget friendly gun rest. It is also not very lightweight compared to other gun rests on our list.
Pros
Convenient to set up
Adjustable tri arm design
Heavy duty construction
Cons
Comparatively expensive
Quiet heavy
Buying Guide
As a hunter, deciding on the right product that provides high performance, accessibility, and affordability is critical. Before you add any gun rest to your cart, there are several factors you need to consider to ensure you make an informed decision.
1. Quality
When selecting a gun rest for your next hunt; quality should always be a top priority. Reliable and high-functioning support is crucial when you're using a tree stand. Make sure to select a gun rest that securely holds the weight of your weapon at all times.
Always choose gun rests made by prestigious brands noted for their superior craftsmanship and remarkable longevity.
2. Adjustability
Weight is a critical element of any gun rest, especially for those who prefer packing their climbing tree stands with them on their hunt. That's why lightweight gun rests are so important, as they enable hunters to move around easily while maintaining control over accuracy and stability when shooting.
3. Weight
An adjustable gun rest should always be your go-to choice as it enables you to adjust the weapon easily, allowing for accurate shots. When purchasing a gun rest, look for one that helps convenient tilting and customization according to your comfort level.
Gun Rest Vs. Gun Holder
When it comes to hunting from a treestand, having a stable and secure shooting platform is essential. Two popular options for hunters are gun rests and gun holders, but there are some key differences between the two.
A gun rest, also known as a shooting rail, is a platform that attaches to the treestand and provides a stable base for your firearm. The shooting rail is typically padded which you can adjust to accommodate different firearms and shooting positions.
It is designed to keep your gun steady while you take aim and make a shot, which is particularly important for longer-range shots. Many gun rests can support up to 300 pounds of weight, making them suitable for use with even the heaviest firearms.
On the other hand, a gun holder is a tool that attaches to the treestand and holds your firearm securely when you're not using it. This is particularly useful for hunters who need to use their hands for other tasks, like calling the game animals or using a rangefinder.
A gun holder keeps your firearm close at hand and easily accessible when you need it, which can be crucial for taking a quick shot. Many models can support up to 15 pounds of weight, making them suitable for use with most hunting rifles and shotguns.
Both gun rests and holders are compatible with various treestand models, including ladder stands and lock on stands. Some gun rests are also directly secured to the tree trunk and don't attach to the treestands at all.
Conclusion
When preparing for a hunting expedition, having the right gear is essential. Tree stands give you an unobstructed view of your surroundings, and gun rests guarantee accuracy and precision.
In our opinion, the top three choices for the best gun rest tree stand for your next hunting adventure are BOG FieldPod Hunting Rests, Guide Gear Universal Shooting Rest, and Summit Adjustable Gun Rest.
Offering maximum durability with the convenience of holding the hunting gun and bows, these are some incredible products.
Frequently Asked Questions (FAQ's)
Standing vs. sitting gun rests – which is better?
While standing gun rests provide a clear sight of your target, sitting gun rests are better suited for those who plan on hunting over extended periods.
Can I use a tree stand gun rest for hunting bow?
Yes, some gun rests are equally usable for crossbow hunting.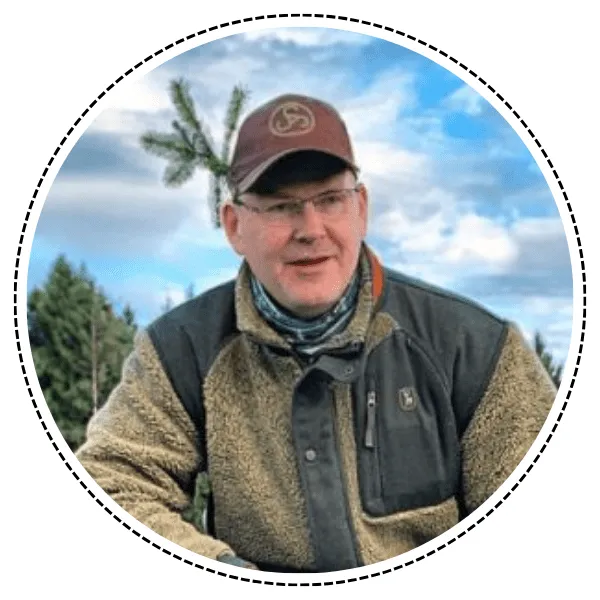 About Henry Liam
I am a father, veteran, database engineer and a hunter from Pacific Northwest. I am also the founder of Children Outdoor Adventure Network. I live with my wife and two children in Seattle. Since teenage I am doing run and gun style hunting on public lands and have visited all 50 states as well as Canada. Read More about me.