Game Winner is the in house store of Academy Sports, the United State's most significant and growing sporting goods brand. Academy's Game Winner has toppled the game by providing the 2 man stand that is durable and has a breathable backrest, making it easier for hunters to stay up there for hours.
Academy Sports has been serving the nation since 1938, with its headquarters in Katy, a suburb of Houston, Texas. The company has grown over the last decade with rising sales each fiscal year. They have an assortment of equipment for fishing, hunting, and other outdoor gear. One can also find leisure products like footwear, apparel, and sports.
Academy Double Up Ladder Stand Review
Maximum comfort
Academy Comfortable
Seat Stand
Colors: Multiple color options
Comfort: Soft padding backrest.
Strength: Welded steel frame
Gunrest: 180 degree adjustable shooting rail
Weight rating: 500 lbs. Weight capacity.
Harnesses: 2 included
Warranty: 1 year
Academy offers a remarkable and comfortable ladder stand for hunting from tree. This Game Winner ladder stand is designed to be comfortable, durable, and adjustable for hunters. The wide seat is best for one large hunter.
Game winner double up 2 man ladder stand offers a comfortable adjustable seat. There is also a padded armrest for hunters to place their arms while taking a break from hunting or if they have dozed off.
The frame of this game winner stand is 40 X 27 inches, which is comfortable for a hunter to sit and hunt. However, it is a little tight for two hunters to sit here. It comes with its attachment ratchet straps, which are observed to break after some use. So order up a few extra for your hunts. 
A pro hunter knows the best time to go hunting in deer stand, which makes these permanent ladder units a luxury to hunt on your land.
The 2 man double up stand also has a ladder stand that you can attach for easy climbing. There is also a side stand to place your food or drinks while waiting for your prey. The stand is designed for a guy of 4.62 feet in width and 18 feet in height.
In summary, the Game Winner double up 2 man ladder stand is a single hunter designed with ample room to aim and hunt without anything getting in the way.
Pros
Side stand for quick access to items
Flipout footrest
Adjustable backrest
Spacious for a single hunter
Cons
Straps may tear after some use
Not for 2 large hunters
Game Winner Double Up 2 Man Ladder Stand
Cheap Game Winner
Academy Beginner
Ladder Stand
Colors: Multiple color options
Ladder: 12.5 inches per step space.
Weight rating: Carry upto 500 lbs. (advertised for 2 persons)
Build: Steel frame
Harnesses: 2 included
Warranty: 1 year
This game winner's 2 man ladder stand features adjustable padded shooting rails to help you aim. However, a step space of 12.5 inches allows you to scale up your gears. This stand from academy's game winner brand is a bit cheaper and is good option for beginners.
This 40 X 12.5 inch platform gives you ample room to move. Also, there is a 39.3 X 8 inch backrest that provides comfort. It comes with 1 year of manufacturer's warranty. You will also find 2 FAS safety harnesses with their packing.
The double up 2 man hunter stand box includes 2 ratchet strap attachments, an academy ladder stand, 1 cam buckle strap, 2 crossing straps, and the owner's manual.
In short, the double up 2 man hunter stand is a reliable option for 2 family members to hunt and spend time together.
Pros
1 year warranty
Spacious platform
Comfortable padded seats and backrest
Meets TMA standards
Non reflective matte finished frame
Game Winner Double Up 2 Man Ladder Stand Replacement Parts
Since game winner double up 2 man stand is for sale at Academy Sports, you can also find its spare parts from them. Though it has a complete guide for setting up the stand, you can follow their instruction manual to check for local stores for nuts or parts that need replacing.
The instruction manual for these deer stands is available on the academy sports website, which you can also access to order parts. You can contact them through their email or chat support, whichever is feasible for you, and request the parts.
Conclusion
In short, the Academy sports game winner double up 2 man ladder stand is a remarkable double man stand that gives decent cover during hunting. Its 18 feet height gives hunter clear visibility to target and aim at prey while staying out of their sight.
The seat of this deer stand from Academy Sports is breathable, padded, and comfortable, along with the durable steel welded frame.
Frequently Asked Questions
1. What Is The Weight Capacity Of The Academy 2 Man Ladder Stand?
For 2 man ladder stand of the Academy, the weight limit is 500 lbs. whether it is two people or a single person.
2. Is There Any Relation Between Ladder Length And The Platform Weight Capacity?
No, there is no relation between ladder length and the platform's weight capacity. The ladder just takes you to the platform responsible for carrying the hunter.
3. Are Game Winner Ladder Stand Extensions Safe To Use?
Yes, these ladder stand extensions are safe to use. They are fixed with the tree, which is then supported by the ladder. This way, it has ensured safety by securing itself from trees and ladders.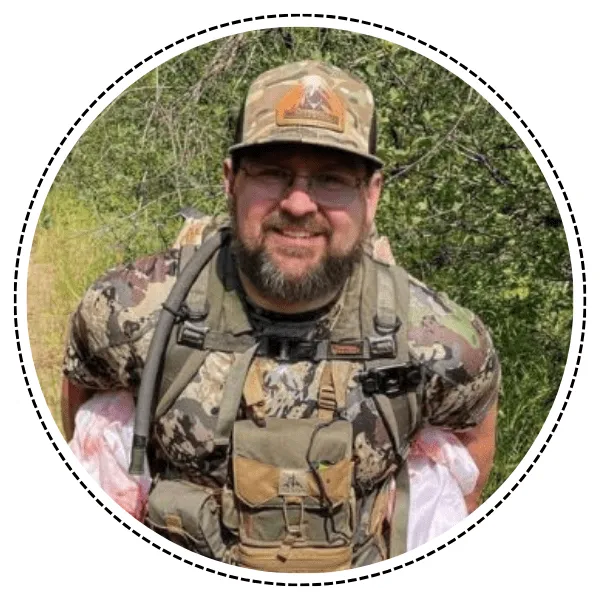 About Alex David
I am an avid bow hunter and author of Tree Stand Ranger. Hunting from tree stands has been a passion of mine for many years. I've had the privilege of owning several tree stands and hunting properties throughout my life, and I take great pride in having the opportunity to do so. Read more about me.