Tree stand height is a personal preference. It depends on what you are looking at. Most tree stands are placed on private hunting lands and oversee a food plot. In that scenario, anything above 10 ft. would work quite well. However, a public land hunter who uses lock on stand or a climbing stand for hunting may go even further up.
Setting up a portable deer stand also depends on the tree length and cover it provides. So according to that, if you can set up your treestand at 12 feet or 30 feet, it only matters if you are not in the deer's line of sight.
All in all, there is no hard and fast rule for how high should a tree stand be. It depends on what type of stand you are using, better concealment, tree type, and personal preferences.
Your portable hunt stand's height is dependent on cover, terrain, and many other factors. However, keep your tree stand above the deer's line of sight to avoid getting busted by deer or spooking it. So the deer won't bust you while readying your bow.
While using a portable unit, remember that concealment from deer's sight is crucial. So that you will not spook deer while sitting in the tree. Using tree branches to select your height is a good option. You can also use artificial leaves/branches as cover. I personally set up my treestand at about 20 feet elevation.
Is 10 Feet High Enough For A Tree Stand?
As mentioned earlier, everything depends on the situation and area. For a box blind, 10 ft. height to the window of the deer stand is perfectly good. This will easily overlook the food plot.
However, for a portable commercially bought stand, the height should depend on the concealment it provides. Anything above 15 ft. with proper cover is suitable. This is a comfortable tree height and gives you maximum shooting range to vital areas of deer.
An important tip is removing your scent from clothes and gear while in the stand. Scent control is more important than deer stand height. Play the wind so it won't carry your scent toward the deer trail, feeding, or bedding areas.
I consider a 10 feet height as the safe range for beginner hunters. It is a minimum treestand height, providing cover and a better vantage point to stalk and shoot game.
Is 12 Feet Height Optimum For Deer Stands?
For box blind, the height is static, and a hunter can't increase or decrease it. However, for hang on or climbing units, one can easily increase or decrease height based on climbing sticks. The cover should be good, though, and the view must be clear while being concealed under branches/leaves and camo clothing.
I consider the 12 ft. high stands a bit low when hunting using hang-ons or climbing units. Just like 10 ft., at 12 ft. height, you will definitely feel safe. Also, there won't be much difference. However, your scent can reach deer on the ground.
What Most Hunters Say on "How High Should A Deer Stand Be?"
Hang on unit hunters prefer a height of 20 ft. Beginners prefer deer stand at a relatively low height. The reason is they have to carry less number of climbing sticks and, thus, reduced weight.
Move on the deer trail to see your line of sight on the target tree. Install your stand above that position and bow hunt accordingly.
Although your scent is controlled at more height, and you will have a better view, the bowhunting range is limited. Therefore, height plays a major role in hunting a deer successfully. The optimal height ranges from 15 ft and above.
Most hunters pursue to go as high as 20 or 25 feet. I have met people who set up at 35 ft., but their hunting range is significantly reduced.
Why 15 Ft To 20 ft. High Stand Is Optimal?
Here are some advantages. Firstly, you won't need to carry too many climbing sticks. Secondly, your scent is controlled. Thirdly, you are above the line of sight of deer.
However, there are a few cons too. It gives you a limited hunting zone to aim at the deer's vitals to shoot. You will need more climbing sticks (in case of hang on) and, thus, more weight!
Different Treestands Height
The market has about 5 types of hunting stands that hunters use. Ladder stands, quadpod deer stand, box blinds, and tripod hunting stand have a static height. They usually range from 10 ft. and reach up to 20 ft. or more (in case of ladder ones).
However, hang on and climbing units provide flexibility in case of height, and you can change position and height as per your comfort. I usually prefer to go up to 25 ft. at max.
Conclusion
To conclude, how high should a treestand be? It largely depends on where you are hunting, the line of sight on the trail, available cover, the type of terrain, and the tree type you are hanging on to.
The minimum required height is 10 feet, and the optimal is around 20 feet. Moreover, it varies as per hunter experience, type of hunting weapon (which decides your hunting zone), and the type of stand you are hunting from.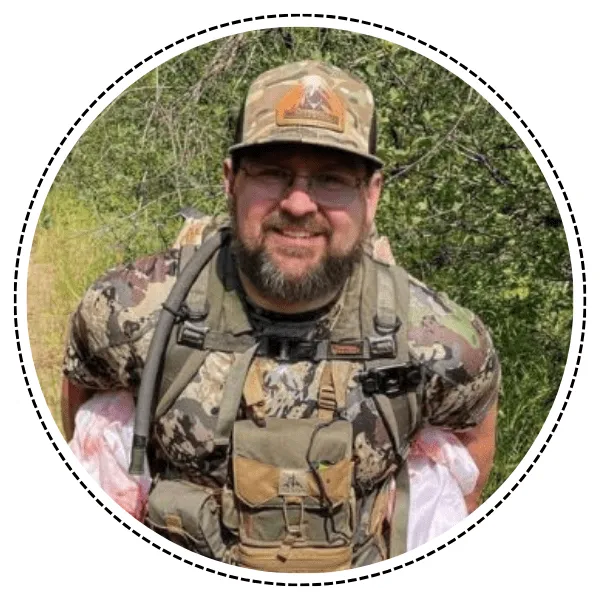 About Alex David
I am an avid bow hunter and author of Tree Stand Ranger. Hunting from tree stands has been a passion of mine for many years. I've had the privilege of owning several tree stands and hunting properties throughout my life, and I take great pride in having the opportunity to do so. Read more about me.