Besides buying the blind tree stand, you can build your pallet deer stand at home using simple plans. Over time, the popularity of pallet deer stands has increased as they are DIY and cheap. At first, you need one scaffolding deer stand. It will be cheap, easy to build, and help you understand the available resources you can use on your hunting land. Later, you can build multiple better ones using the same technique and strategically place them all over the hunting property.
If you are a beginner or have small hunting land, a pallet stand or blind is perfect for stalking a small area or a food plot. You just have to make and place it appropriately. You must understand how to get in and out without crossing the deer trail or entering the food plot. This way, you will not spook deer while getting in and out of tree stand or ground blind.
This article will explain a complete deer stand plan using a pallet. Before starting, it is important to know that you can also build a ground blind using a pallet, which is fairly concealed and can be disintegrated to move to another location easily later. However, moving a pallet deer stand is relatively difficult.
Building A Pallet Deer Stand
Many hunters have built their tree stands for hunting at home because buying them goes out of budget. For those looking to build their pallet deer stand, we have simplified the steps to make it yourself at home. 
Different 6 X 6 foot deer stand plans are available for stands online. However, depending on your requirements, we have simplified the steps to build one. However, building a deer stand can take a whole day of the weekend, which is worth it if you bring a buck each year.
Materials – Pallet Deer Stand Platform
To build up your pallet stand, you need a rough estimate of
2" X 4" lumbar – 42' in length
2' X 6" lumbar – about 30' in length
¾ inch plywood sheet – about 40' in length
Roof sheet for 6X6 feet stand
Tools – Pallet Deer Stand Construction
Here is the list of tools you need to use to construct a scaffolding deer stand.
1.6", 2.5", 3.5", 4.5" screws
Hammer
Measuring tape
Carpentry square
Portable mechanic hand saw, or milter saw
Sander
Safety gloves, glasses, and mask. 
Enclosed Deer Stand Plan Steps
For constructing your pallet deer stand, the following steps should be followed for easy homemade stand construction.
Cut the 2 X 6 inch lumbar into 6' long pieces. Use 4 pieces to build the frame. From 2 X 4 inch lumbar, cut the joists to support the frame. Place joists about 16" from each other. Level and align each cut appropriately. Lock them tight with 3.5" screws. Now, using ¾ inch plywood sheet, cover the frame. Use 1.6 inch screws to lock the sheet on joists every 8".
For the front wall, use a 2 X 4 inch lumbar and place the window at about 3' height or, according to your needs, with a 1.2' window opening. Use 3.5" inch screws to lock and fix it down.
Similarly, for the back wall, use about 3' space for the door frame and rest to either cover or you can add a window in it.
Build the side frames similarly to the front wall.
Now fix the wall frame into the stand using 3.5" screws. Make sure everything is aligned properly and the edges are flushed.
Use 2 X 4 inches lumbar wood for the roof and place 6.5" L brackets on the front and back wall. Over it, fix a 6' 2 X 6 inch lumbar wood ridge beam. Lock it with 1.6" screws tightly.
Now add rafters cut from 2 X 4 inch wood every 16". Cut the rafters at about 18 degree angle. Fix them with 4.5 inch screws.
Now attach the wall panels or plywood sheet to the wall frames according to its cutting. Fix it using 1.6" screws.
Install the roof sheet so that water doesn't drip.
Adjust the supporting stand according to your needs, and you can buy a ladder for climbing according to your height requirement. 
This is the basic design for a 6×6 deer stand. However, using the same plan, you can design any measurement pallet deer stand. For 6X8 deer stand plans, you need to adjust the lengths of your cut and are good to go.
Aside from that, metal deer stand plans can be implemented in place of wooden ones to make your stand. They are sure to last longer and are durable for carrying heavy weight. But it falls to the budget and needs of the user.
You can customize it based on your needs and the space you need inside the stand. The best part about this DIY method is you can make it roomy enough to even bring sleeping bag in tree stand.
Building A Ground Blind Using Pallets – Easier Compared To Tree Stand
To build ground blinds using pallets, you need three pallets of 10 ft. length and two pallets of 4 ft. length. You will also need 4 inch deck screws, a cordless mechanical screwdriver, and a mechanical cutter to create a doorway opening.
You will also need some spare wood to attach intersecting pallets, making them even stronger. A piece of carpet or padded camo clothes is needed to place it in the window as a gun rest. Last but not least, you would need a tarp of color that is similar to the environment to cover up the complete structure.
Conclusion
Pallet deer stands have gained fame recently, but buying them can cost a lot. Therefore, building them at home is the best option if you want such a blind deer stand. We have listed the deer box stand plan that you can follow to build your deer blind.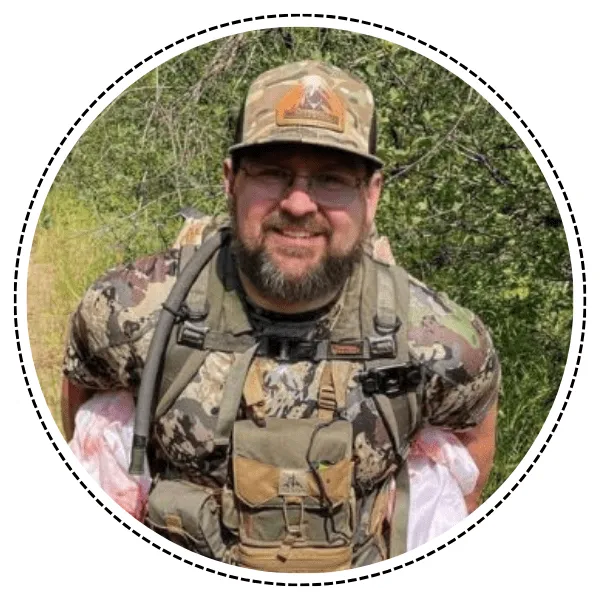 About Alex David
I am an avid bow hunter and author of Tree Stand Ranger. Hunting from tree stands has been a passion of mine for many years. I've had the privilege of owning several tree stands and hunting properties throughout my life, and I take great pride in having the opportunity to do so. Read more about me.