Climbing sticks are required for hang on stands as well as saddle hunting platforms.
The best climbing sticks for saddle hunting are lightweight and portable, letting mobile hunters reach desired height on trees, easily. The Hawk Helium is a top climbing stick and a best choice that supersedes many of our expectations. It has excellent packability, lightweight design, and double steps.
Top Pick
Hawk Helium 30 Inch Aluminium Climbing Sticks for Treestand Hunting
The 3 pack option of the best tree climbing sticks is requirement of every saddle hunter.
The aluminium build makes it easy to carry (weighing 4-5 kg for all 3) and can carry up to 300lbs. easily.
Frictionless and anti slip foot step design makes it our go to choice for climbing sticks.
As per our experience, these are lightest of all tree climbing sticks available for sale.
These are the best sticks for saddle hunting and coems with 1 year warranty.
Editor's Pick
Hawk Helium 20 Inch Aluminium Climbing Sticks for Saddle Hunting
These are slightly lesser in height and weight making them best climbing sticks for mobile hunting.
with 4 pack, it can easily take you 18-20 ft. above ground to your saddle or hang on stand.
The frictionless anti slip foot placement design makes it well suited for long run usage.
These weigh 7 lbs. (4 x1.7 lbs) and can carry 300 lbs.
Easy to setup for hang on stands and best climbing sticks for tree saddle mobile hunters.
Editor's Pick
Guide gear Climbing Sticks for Saddle Hunting
Rugged and cheap climbing sticks (weighing 10 lbs.) to be used for lock on stand or saddle hunt.
Rated best for 300 lbs. carrying capacity and take you 15-20 ft. above the ground.
Unlike screw in steps, these don't damage trees at all .
Stick has double feet wide design with buckle strap.
Placement is key making them top rated climbing sticks.
TreeStandRanger.com is reader supported website. We may earn affiliate commission if you shop using links on this page (without additional cost to you). Learn More
Price wise, it's a good value for money and comparatively two to three times cheaper than some sticks in market. Climbing sticks, these days, come in a variety of styles and designs. Each of them is good, but some are superior to others in style, ergonomics, and usage.
19+ Climbing
Sticks Tried
10 Best
Sticks Listed
1 Month
Of Research
There are some other brands that have impressed me and my pals with their execution of climbing sticks. Through, this write up, we have tried to remain unbiased to bring out only those brands whose climbing stick models have won the users.
10 Best Lightweight Climbing Stick for Saddle Hunting (Mobile Hunt)
Disclaimer: we're a team of avid hunters and fishermen who always look out for any potential hunting equipment that can make our job quick, efficient, and result-oriented. The following article on the best climbing sticks is composed after taking a lot of pain to verify the effectiveness of the below-mentioned products in the real world.
Soon after a hunt or two with ladder tree stands, you would start feeling "nay man! Come on! This isn't your thingy." rest assured you're a versatile hunter who wants mobility in your game. Instead of nipping this urge, the hunters discovered hang on stands and, saddle hunt platforms for mobile hunting.
1. Hawk Helium Climbing Stick (3 Pack) – Best Climbing Stick 2023
Key Features:
Each stick weighs 2.9 lbs.
Each stick is 30 inches long.
Set of 3 sections make it 7.5 ft. long and can easily take you 10-12 ft. above.
Suction cup design that attach all 3 sticks together making it easy to carry.
No rattling sound during movement.
For the money and versatility, look no further than Hawk Helium 30" climbing sticks. This option beats several of its premium competitors which bear the same price tag for only one stick where Helium owns for a set of 3.
Carrying three big sticks on the go? The mobile hunters might say a big NO to such a deal. But the Heliums clarify all suspicions by remaining extraordinarily lightweight and one of the most portable climbing sticks options. Plus, I prefer to place them inside best game bags.
The steps on both sides are foldable and the sticks get stacked together, enhancing their portability. With this, the aluminum construction keeps the sticks lighter in nature.
The older version of Hawk climbing sticks has a metal part on the strap that creates banging every now and then. Therefore, we have scrutinized carefully if hawk helium's sticks are quiet or not. And again, we can't help applauding the quietness factor of these sticks.
The newer variant has loops on both ends of the strap for tying the stick around the tree with much silence. However, you could avail of daisy chains for keeping them dead silent. For maintaining quietness, you also have to remain mindful when stacking them up. Tape the strap buckle with a stealth strip to prevent banging and popping.
Our testers felt happier when they set up these sticks. Once set properly, it becomes hard to get off this climbing stick as its tree digger teeth bite into the tree forcefully.
Another plus factor of Helium stick is its overall design. The steps on both sides allow hunters to hunt even in the dark. And the pattern on these steps provides a better grip when a hunter is placing his foot over a step.
Pros
Budget deal
Versatile, portable, lightweight and sturdy
Cons
The stock strap might need replacement since it tends to create noise.
2. Hawk Helium 20" Climbing Sticks (4 Pack) – Best Climbing Sticks for Saddle Hunting
Key Features:
Each stick weighs 1.8 lbs. making them most portable climbing sticks.
Attached with straps for fast and silent strap.
Each stick is 20 inches long.
Set of 4 sections make it 6.7 ft. long which can easily take you 12 ft. above.
All sticks are suctioned together making it easy and soundless to carry
No noise created during movement.
The adaptability of hang and hunt style of hunting always asks hunters to invest in the most adaptable hunting equipment. And this set of 4 climbing sticks 20" each allows hunters to be as experimental as they want when climbing a tree for acquiring any specific height in the tree. Applaudable as the best lightweight climbing sticks in the market!
This variant of climbing sticks is a sister to Hawk Helium's full length sticks that we've mentioned above. For tall and big hunters who have higher weight and length, the pack of 3 sticks might not be as ideal as this set of 4 mini climbing sticks. Because, they might take them too higher in a tree and require a bit of chopping down their length to doctor them to reach a specific height level. On the flip side, a set of 4 shorter climbing sticks is a considerable rig that lets hunters to use three sticks along with aiders to gain a desired height in the tree. Besides that, the hunters can always use the extra stick when extra height is required.
Like its elder brother, these sticks also offer nice and firm foot gripping when hunters climbing up and down a tree. However, when using the stick in dark or dim light for descending a tree, make sure not to hit the step to make it folded. The same foldable steps become a tradeoff when you see how they add to packability of the sticks making them ultra portable.
Where several nifty climbing stick models with exorbitant pricing also require some tweaking to make them desirable for hunters, this pick isn't an exemption. You might have the urge to modify its metal strap with a better one. Our testers suggest using daisy chains to tie it around the tree so that it could offer better stealth efficiency.
A slight shortcoming needs your attention is its average quality. It is rated to withstand 300 lbs of weight, yet in our evaluation test, it doesn't hold up well against this weight rating. Nevertheless, it never found to raise any safety concerns and shouldn't break the deal.
Pros
Lightweight and portable
Can go upto 24
Excellent traction
Cons
Strap buckle tends to make noise.
The foot grips are sharp and may cut hands when held without gloves.
3. Guide Gear Climbing Sticks – Best Cheap Climbing Sticks
Key Features:
Set of 3 sticks weigh 18 lbs. (6 lbs. each)
Each segment is 32 inches long.
Set of 3 segments can easily take you 8-12 ft. above based on how long your legs are.
Sides are a bit rough but for the price, they beat many competitors.
No sound produced during movement or installation.
Hunters usually avoid leaving their expensive climbing gear behind on the land they hunt. However, this product from Guide gear is a real bang for your bucks since it has all the nice features a hunter would expect from another high tier climbing stick option. So, if you hunt public land most of the time, then leaving your hang on treestand with these climbing sticks will not overwhelm you.
We have also noticed that these three climbing sticks in total weigh comparatively more than several of the other competitors. After all, carrying 17.1 pounds of weight in a running and gunning hunt is something that no mobile hunter would appreciate. However, if you want to leave your climbing sticks in a permanent location for all season, then this is an attention-grabbing deal.
Coming to its efficiency, this thing never disappoints our testers. Although it's three segments will take a hunter just 8 feet off the ground. Yet if you won't mind setting the first segment 1 or 2 feet apart from the second, and then second to third, you can make it work to reach 18-20 feet above in a tree.
Quality wise, Guide gear climbing sticks might not be as awe-inspiring as other extraordinary options. But these are easier to install and remain stable to withstand load capacity up to 300 lbs. The occasional movement that happens is the result of the average quality metal used to construct this unit. But this is a quality issue that doesn't intervene with safety concerns. For the price, it's a worthy deal.
Pros
Great for private land hunting
Worry free installation
Thick straps and wide steps on both sides
Cons
Quality wise, don't feel rugged.
4. XOP Quality Climbing Sticks – Best Hunting Climbing Sticks for Big Guys
Key Features:
The notable feature that set XOP climbing sticks apart from rest is one sided foot step that can rotate for both left and right feet.
Each stick is 34 inches in length and pack of 4 sums up to 11.4 ft. long.
Each stick weighs 3 lbs. making all 4, 12 lbs.
Multiple options for camouflage climbing sticks design.
No sound during transportation and usage.
A mighty hunter? And worried about the safety of climbing sticks you're going to invest in? Well, the XOP climbing sticks are one such solution that is touted to withstand heavier weight hunters who are as heavier as 350lbs. The best part? Its all features stand brilliantly the test of time to make it a versatile pick in our list.
Each stick from a pack of four climbing sticks is 4 feet long and one stick is almost 12 inches apart from the other. That means, for hunting from a position that is 20 feet or so higher from the ground, this gear needs your attention. When a desired elevated position is obtained, the hunters won't feel the urge of using aider alongside these climbing sticks.
Speaking of its quality, this is a real beast. Not only do these remain stable during an ascend or descent but they are sturdier because of their patented aluminum make.
Carrying 4 climbing sticks that weigh more than 12 pounds isn't duck soup when hunters want maximum portability with their gear. However, the XOP has tailored its design nicely by introducing a unique lock mechanism. They nest seamlessly into each other, making portability a child's play. Added to this, once they are locked, they remain dead silent when a hunter walks in or out.
Even if you don't like climbing sticks with one sided step, we suggest you have a go at it to avoid regretting later. The step is long enough to provide the hunter with ample room for placing feet with hunting boots on.
What we think is it's somehow more expensive than its contender and might not fit every hunter pocket's needs. However, you "get what you pay for" complies with its high end performance.
Pros
Stable and sturdier than its competitors
Excellent packability and solid design
Efficient in providing stealth and silence
Cons
Mighty and relatively heavier
5. Millennium M210 Stick – Best Climbing Sticks For Saddle Hunting
Key Features:
Fairly long and is best permanent climbing sticks solution.
Each stick weighs 4.25 lbs. and set of 4 is 17 lbs.
The pack of 4 sticks can take you 20 ft. up easily.
Steel made sturdy sticks.
Since its steel, it is noisy during installation and packing.
Are hard to assemble compared to climbing sticks mentioned above.
It shouldn't surprise you why Millennium climbing sticks are a reliable option for hunters. Millennium stands behind the efficacy of its products by backing up with a warranty. The M210 also never lags and comes with one year warranty.
Where most climbing sticks come with a limited strap length and fail to set up in trees with thicker bottoms, this pick becomes a no brainer. Thanks to its relatively larger cam buckle strap that gets wrapped around the trees, regardless of how thicker diameter they have. The 7 foot long strap also optimizes its functionality by allowing hunters to install these sticks on inclined or straight trees.
For imparting these sticks more durability, they are made with steel. TMA-approved sticks withstand a load capacity of 300 lbs. Yet our testers found that the steel isn't of impressive quality and tends to bend often.
Whether you want a quick mobile hunting setup in under 5 minutes as recorded by best hunting watch. Or, looking for climbing sticks with higher portability, this choice might not fit your needs. They are massive to transport from one location to another. But considering its versatility about using either two, three, or all sticks at a time to reach an elevated platform makes it a nice rig. By the way. The 4 pieces set of sticks take hunters 20 feet above from the ground.
A downside that has pulled our attention is they make noise. The noise affects its stealth efficiency on the whole. You have to take extra caution when using these sticks during in and out hunts. Strapping these sticks with a daisy chain might be the ultimate solution to numb the squeaking and rattling of this gear.
Let us also mention that though they aren't stick with double steps on each side, each step of the stick is wider to provide more foot room for hunters. Considering that double step isn't a necessity for you, we think the M 210 makes a good choice.
Pros
Powder coated finish to prevent rust
Larger steps, great for extra large trees
6. Rivers Edge RE719 – Best Climbing Sticks For Money
Key Features:
Each stick weighs almost 4 lbs. The pack of 3 weighs 12 lbs.
Each section is 32 inches long.
These climbing sticks are made of non slip coated steel.
Strap attachment design eliminate noise during transport and usage.
Good value for money.
There are different climbing stick choices in the market, but the better ones are those that offer maximum packability, stability, and endurance. This being, we think the RE719 is a reliable option the mobile hunters must consider for their gun and run hunts..
This pick hasn't obtained any superlative degree from us, yet we have gauged its versatility as exceptional. First, they're a good bet as they are inexpensive and good for leaving this hunting season. Being modestly priced, they set hunters free from worrying about the theft of their investment.
The next impressive feature, we have found in this gear is its steel making to make it last for years to come. This reminds us of Millennium M210 climbing sticks that also are made with steel. But to differentiate this gear from the said rival, the River Edge crafted its own unique design. Unlike The M210 which offers a single step, this climbing stick comes with double steps on both sides. So the hunters who prefer steel climbing sticks but with double steps might find this an ideal deal.
Setting up these sticks isn't cumbersome since they feature a ratchet strap for looping them around a tree. Yet we have established them somehow an average performer since they require an additional ratchet strap for a snug fit.
It is also important to mention that this piece of equipment never offers dead silence—an essential feature for maintaining stealth during bowhunting. But a stealth tape or a silence buckle may be a helping hand to keep these climbing sticks quiet to a greater extent.
This option is good value for money, so consider buying it.
Pros
Offers good foot grip in wet conditions
Solid and heavyweight climbing sticks
Double steps, steel constructed climbing stick option
Reasonably priced
Cons
Noisy, and somewhat heavier
7. Muddy Pro Sticks (4-Pack) – Best Aluminum Lightweight Climbing Sticks
Key Features:
Comprise of 4 sections each with 2 steps (instead of 3)
Each stick weighs 2.5 lbs. totalling 10 lbs. for 4 sections.
Each section is 20 inch long and can take you 8 to 12 ft above (varies person to person).
These were recalled back in 2012, but latest ones have improved a lot.
Rope attachment system is quiet to setup.
The best climbing sticks for mobile hunting should offer effortless installation and these are the ones doing great job in this context. Assembling this system is so hassle free that even the starter hunters can make this piece of gear a true workhorse.
Installing climbing sticks can be a time consuming job and may require modifications to the strap parts. But Muddy Pro sticks are among those few sticks that prevent you from the hassle of replacing or tempering its stock strap with aftermarket strap solutions. The rope cam buckle keeps the sticks secure against a tree and never gets loose at any moment. Besides that, this type of locking system is one of the quickest and easiest locking systems to secure a climbing stick.
The Muddy Pro stick inspires us with its unique design. The double step design with a central aluminum tubing is something most climbing sticks come with. Yet the tree digger teeth on each step is a different concept used by the manufacturer. This is a well thought idea to keep the sticks firmer and quieter in place.
A significant feature about this unit is its massive weight which might break the deal for mobile hunters who're looking for hunting sticks with a higher portability factor. More to this, these sticks are relatively shorter aluminum climbing stick variants that will take hunters just 15 feet above a tree. But since they nest together and offer optimal packability at a price that never asks to break a bank, this is a pick to go for.
Owing to its decent price tag, this pick is great for mobile hunters who leave this stuff on public land.
Pros
Stable, secure and quick to setup
Quieter than several climbing sticks
Requires no modification
Cons
Short and slightly heavier for some users
8. Big Game CS050 – Best Climbing Sticks For Hunting On Large Trees
Key Features:
Big game's climbing stick comes in 5 sections.
Each section weighs 4 lbs. totalling 20 lbs. (comparatively heavier)
Each stick is 4 ft. long and all sections will take you 20 ft. above easily.
Not for portable purpose but is great for permanent fix on your private property.
Not portable for mobile hunt.
Best for good hight in price less than 100$. However, they did rattle during use in our field test.
The hunters who're inclined to hunt from great heights often end up buying more than 2 climbing stick sets. But this climbing stick system from the Big Game comes with 5 sticks to make it possible for hunters to get 20 feet or even higher in a tree. So these are the real beast in this regard.
These sticks bear steel construction but are unique in a way as they use cam buckle straps to secure them against a tree. As generally happens with most metal constructed equipment, these are prone to make a loud sound which might minimize their stealth ability. Nevertheless, you can always avail of the opportunity to modify this unit by utilizing hockey tape or some daisy chain to prevent sticks from squeaking and rattling.
To surprise hunters, the 5 sticks remain as light as possible as they ow just 20 pounds of weight. Therefore, for mobile hunting setups, these are the rig to invest in.
You must bear in mind that these aren't double step climbing sticks. Yet this thing shouldn't intimidate you since the alternative steps on each side of the stick are wider to hold the hunter's foot firmly in place.
A slight glitch about this option that you probably want to know is they are made to use as a fully assembled one piece unit. Once assembled, they never get folded and you would have to use the 5 segments of this gear on the whole. Since trees are short and big, this limitation makes this stand good for only large trees. So, be mindful in your selection of trees.
Pros
Cost efficient and versatile
Easy set up
Cons
Not effective for low-positioning hunts
9. Muddy Quick Stick Xl – Best Aluminum Portable Climbing Sticks
Key Features:
These are again 5 section sticks.
Each section if 48 inches (4 ft.) long totalling 20 ft. hight of 5 sections.
Sturdy steel made and are 25 lbs. (5 lbs each ) in weight. (best for permanent fix)
Some reports of faulty welding but during testing we found the, fairly sturdy and good to use.
Rattles during installation but once buckled up, they don't produce a squeak.
Not portable for mobile hunt.
Again, if prime heights are your focal point and you don't want to spend your funds on more than one climbing stick model, then this XL climbing stick from the Muddy can be a go to choice. The stick consists of 5 segments and takes hunters 20 feet above the ground.
To make it distinctive from several other ladder-like climbing stick systems, it features double steps on each side between its central tube. All the parts are steel welded to enhance their durability and strength against harsh weather conditions. This thing never catches rust, yet to maintain a safe side, spray it with a flex seal to make it more durable.
A word that would suffice its packability is they are good. All the 5 segments fit into each other and remain quiet when a hunter is packing in or out. But take things to the next level and use stealth tape to prevent metal to metal contact for ensuring peace of mind when carrying it for long distances.
The cam buckle strap is an added feature to maximize the stick its stability and firmness. The steps are kept angled to give more traction when the hunter is climbing up and down a tree.
The portability of this climbing stick system might be below average as they weigh 25 lbs. But for reaching exceptional heights in no time with a qucik climbing stick system, this choice will not disappoint you.
Pros
Easy and quick setup
Wide and inclined step for holding foot firmly
Quiet and dynamic
Cons
Some units had certain quality issues
10. X Stand Climbing System – Best Steel Climbing Sticks
Key Features:
Highest tree stand climbing sticks reaching up to 25 ft.
Need multiple people to install in tree (not portable for run and gun hunt)
Comparatively heavier as it is made of steel. (20 lbs.)
Set of 3 sections make it 7.5 ft. long and can easily take you 10-12 ft. above.
Among ladder like climbing stick systems, the X stand has gone beyond the limits by introducing a giant stick that can reach 25 feet higher from the ground. So, for higher hunts, this pick will save your life by increasing your chances to score a prize buck.
The manufacturer has kept the design precise and efficient. The double steps are large and offer plenty of foot room to hunters. The steps are inclined and keep the tree away enough to forbid any restriction in movement. To icing the cake, the steps feature sure grip technology to prevent slipperiness in wet or dewy weather conditions.
To maintain stealth and quietness, each segment of this huge stick has a button attachment for securing its strap. These buttons fit loosely and create a banging sound whenever a hunter with 300 weight range would use it for in or out hunting pursuits.
Assembling this piece might shatter your nerves if you prefer quick and easy assembly of your sports gear. It takes nuts, bolts, and washers to assemble this gear and when you want to dissemble it, you gain have to grab your tool kit for doing the job. So, for quick hunts, this remains a hinge you won't find desirable.
The stand is touted to let hunters reach 25 higher on the top of a tree, but there lies a significant reality. The last step is 200 feet high and the rest of 5 feet are imparted by its unique handle design. So a modification is an en route to go for to get 5 extra feet from this climbing stick.
They are well crafted and meet all the considerations of gun and run hunts, so a considering pick.
Pros
Sturdy and rock solid
Pocket friendly price tag
Great for higher trees
Climbing Sticks Buying Guide
Although the bowhunters also use screw in steps for climbing up and down a tree with their hang and hunt system. Yet for a versatile hunt, the use of climbing sticks remains second to none. Whether hunting at dawn or dusk, climbing sticks are relatively safer than screw in steps and save more time when installation comes.
Most climbing sticks come in a set of 3 and help hunters to reach the desired height of 17-20 feet in a tree. To maximize the height per stick, the hunters use a climbing aider to gain more height in a tree.
Climbing sticks have many specs, but according to us, the simpler, the better. As per my experience, the most sophisticated climbing tools were of tethrdnation. The two key features that I focus on for the best tree stand climbing sticks are the number of steps and the width of the steps.
Most climbing sticks list these two features. However, when you set out to buy a quality climbing stick, you will notice that the big names have granted more features to their specific climbing stick models. Being feature rich, these models are exorbitantly priced. Not just the budgetary constraints, the style, versatility, packability, robustness, ease of use, and safety are the important considerations to look for in a quality climbing stick.
At this point, knowing the anatomy of climbing sticks becomes crucial. After digging deeper into a dozen climbing stick models, we have uncovered the essentials making this gear extremely beneficial when you're on a hunt.
1. Safety
Keeping in mind the treestand-related injuries, you must not put your safety in danger, and always look for climbing tools that ensure safety. The material, weight rating, and style of a climbing stick determine its safety.
It is important to take into consideration the weight rating of your climbing stick. You're not just carrying your body weight but other hunting stuff along with you when climbing up and down a tree.
The most important thing? All your climbing tools must withstand your total weight to provide you peace of mind regarding your safety concerns. Therefore, always look for a climbing stick or a set of sticks with a greater weight rating.
2. Style
Adding to this, you should look for the style of a climbing stick. Know your hunting preference, whether you need a ladder-style climbing stick with a base and a top or you prefer the one with steps on both sides. Where the earlier type models are safer and maintain hunter's stability, the later style of climbing sticks provides hunter support and the balance required when ascending or descending a lock on treestand.
The height between the steps is also worth pondering in deciding if you prefer taking giant leaps or short steps while ascending or descending a tree. Don't forget to look for the width of the step to check if it accommodates well your hunting shoe size. A larger foot base prevents slipperiness and eventually ensures your safety.
3. Packability
In gunning and running type of hunting when a hang on treestand and climbing sticks are involved, portability and packability of hunting equipment matter the most. Right? Therefore, always take into consideration the portability factor in a climbing stick.
Climbing stick manufacturers use industrial grade yet lightweight aluminum to maintain the portable factor in their sets of climbing sticks. With this, most climbing stick models contain separate sections that you can assemble at the time of use.
Even so, never let the portability factor put your security at stake, and always count on the weight rating of this gear.
4. Quality
A quality climbing stick never gets rusted and should last longer even after years of usage. That's why, climbing stick companies are making them with aluminum to prevent corrosion.
I have various types of sticks stored in my best hunting tents away from moisture, snow and rain. I use these only during hunting seasons.
However, some exclusive climbing stick models such as the Tetherd One Gen 2 climbing stick utilizes Titanium to provide strength and longevity by holding a lighter side. The price of this premium model is remarkably higher than any standard climbing stick model.
5. Adaptability
As a matter of fact, climbing sticks are a versatile way of climbing up the tree as compared to screw in steps method. They get installed on almost every type of tree, therefore, used by best saddle platform and treestand hunters with equal liking.
Nevertheless, in chill weather conditions when hunters have to haul hunting gear along with warm hunting outfits, it may take some time to learn how to maintain balance on the stick. So adaptability of climbing sticks depends upon several factors including the weight, number, and stackability of the sticks. So set your preferences before buying climbing sticks for your hunts.
6. Stealth
Imagine you're completely armed with the best hunting and climbing equipment and having the prey within the shooting field area. But a clicking sound produced from your climbing stick or any other hunting tool has spooked the prey. Tables got turned and the entire game becomes nothing but chasing a wild goose.
Even the little details which keep hunters undetected from the eyes and nose of the prey matter the most when it comes to bowhunting. being that, watch out carefully how much noise level a climbing stick produced at the time of usage. Read the instruction manual properly before assembling and installing a climbing stick.
7. Price
Some buyers believe in the " buy once, cry once", strategy while others may want to invest in only pocket friendly options. Interestingly, certain brands are offering relatively expensive models with similar features which you might get from a less renowned climbing stick manufacturer. Added to this, a set of climbing sticks with steel would be more pricey as compared to the one made with aluminum.
No matter which climbing stick' set suits your budget needs, you should always invest in a high quality climbing stick that is worth the use and price and will last years after years.
How to determine the accurate height for setting up climbing sticks
when selecting one or a set of climbing sticks, you might want to know how high you can go with a climbing stick. Do you need aider with your climbing stick to reach your desired height? And most significantly, is there some advantage of using two step sticks over three step sticks? And vice versa? All of these questions need to be addressed before you invest in a set of climbing sticks.
Since climbing sticks don't work with best climbing stands for bowhunting or ladder treestands, you're required to ask yourself how up you want to mount your hang on treestand in a tree. The experienced hunters prefer hunting from 20-22 feet above the ground and to reach this specific height, you might need a set of three to four 20" climbing sticks.
Doing some maths will save you a lot of trouble. Let's say you want to hunt from 16 feet stand, then you might need four or five 2 step sticks along with an aider to take you to your stand.
For example, if the spacing between your two step stick is 20", then with one stick you can go 40 inches in a tree. Since 1 foot is equal to 12inches, with one stick you will go 3 feet in a tree. That means, four sticks of the same length will take you 12 to 13 feet in a tree.
To maximize the height to 2-3 inches more, you can add an aider to your climbing stick. Also, how far you set apart your one climbing stick from the other helps you evaluate the height for going up in a tree.
Conclusion
I believe packability and a user friendly design are the essentials to look for in the best climbing stick. But for quick hunts, you can't ignore that quick and effortless setup need to be scrutinized, too. So, for a quick climbing stick setup, give River Edge climbing sticks a trial and thank me later.
Frequently Asked Questions (FAQ's)
Screw in steps vs climbing sticks? Better one?
For packability, screw in steps are better. Most states don't allow damaging trees in public land hunts. Climbing sticks are modern, lightweight, safe and convenient. They comparatively take up more space.
How high can I go with climbing sticks?
The more sticks you use, the higher you go up the tree. To reach 20 feet in the tree, you may need 2 packs of 3 short sticks. Likewise, long climbing sticks of 4 or 5 segments will help you reach 20 feet in the tree.
How to use climbing sticks?
Attach first stick 2 ft above the ground and next stick 1 ft. above the upper portion of the lower stick. Keep 1 ft. space until you acquire the required height.
Do climbers (climbing tree stands) need climbing sticks?
No, climbers don't require climbing sticks. They are connected to the tree throughout and the hunter pushes one of the two sections of a climbing treestand to go up into the tree.
Is climbing stick a necessity of saddle hunting? 
Yes, for hunting saddle, climbing sticks or a lineman's belt is used to go up the tree.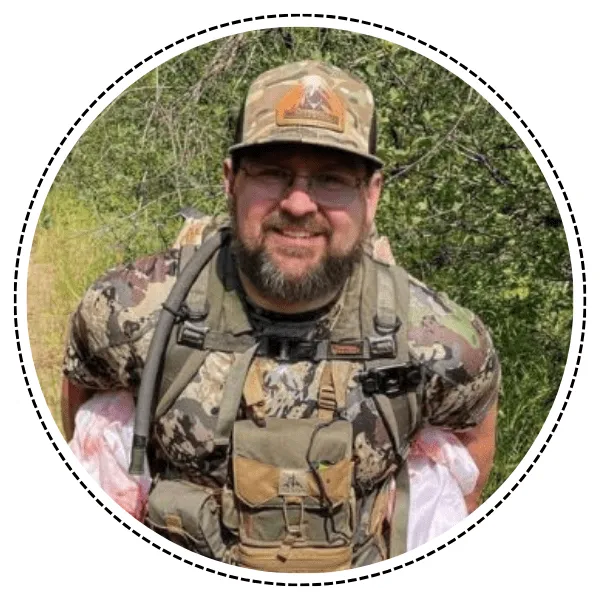 About Alex David
I am an avid bow hunter and author of Tree Stand Ranger. Hunting from tree stands has been a passion of mine for many years. I've had the privilege of owning several tree stands and hunting properties throughout my life, and I take great pride in having the opportunity to do so. Read more about me.