Even though a screw in step doesn't offer hunters two sided steps to get a balanced position to reach a tree height, they are loved for their portability, time saving, noise free setup, and inimitable profile on public lands.
If you haven't tested any mainstream market screw in step model so far, we suggest you go with the Ameristep screw in tree steps for your tree stand. Packing 8 screw in units, they are great for beginner hunters who want a mixture of value and performance.
Ameristep Screw In Tree Steps
Extra large length up to 6 inch.(Pack of 8)
Sturdy extra friction slip free design.
No need for drill and easy to use by hands.
Can be used to climb tree or hang accessories, trees remain healthy after use.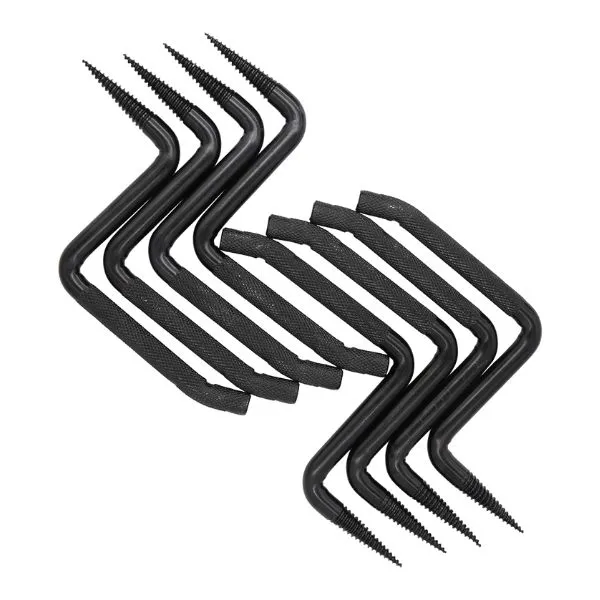 Leimo Kparts Screw in Tree Steps
Sturdy tree screws of 4 inch length.(Pack of 8)
Heavy duyy can carry up to 700 lbs weight.
Re usable scre steps and can be used on sturdy tree (Tree will be fine after use).
Common among bow and rifle hunters using hang on stands.
Highwild Screw In Steps
4 inch screws, cmes in 8 pack.
Can carry upto 300 lbs. weight due to a relatively small screwing thread of 2 inch.
Works great and can damage tree lesser than longer screw still is safest option.
TreeStandRanger.com is reader supported website. We may earn affiliate commission if you shop using links on this page (without additional cost to you). Learn More
Let us be honest: all mobile hunters share one thing in common, to be as light and minimalistic as possible. One of the surest bets to remain lighter is using a pack of the best screw in tree steps instead of using some competent climbing sticks.
So if you're planning to go after them, go ahead. They will work extremely well for your pre hang tree stand settings.
10+ Screw In
Tree Steps Tested
5 Best Ones
Recommended
200+ Hours Of
Research
Ameristep steps tops the list of best one based on various factors. We have carefully gauged its design, construction, the way it gets installed, and the sturdiness it offers to the hunter when he has shifted all his weight on it.
Not just that, I have conducted a series of tests to check several available units in the market. To summarize, the foldable screw in step is profoundly followed by tree steps' fans for their convenient packable functionality. Not withstanding that, we advise looking keenly if the design of that kind of step is constructed attentively to avoid slipping.
Screw in tree steps are often used with budget tree stands. Hunters who want to install multiple stands on their property need several climbing accessories. They often opt for lowest price units with inexpensive screws to reach the stand.
5 Best Screw In Tree Steps for Tree Stand Hunting
We have gathered some useful information along with the reviews of 5 of the best screw in tree steps in 2023 for trying out.
1. Ameristep Tree Steps 8 Pack – best Easy To Use Screw In Tree Steps
This option is by far the easiest to start and screw in tree steps tool that we have used. Not only this, but they stand up very well for several years of service to win the highest rating among the crew of hunters.
The screw part of these pegs is comparatively longer than its rivals. This is significantly a beneficial to penetrate deeper into the bark of the tree, ensuring your safety utmost.
Along with this, the foot pegs have larger space to make sure you can get fair traction when using these steps for going up and down the tree. So for comfort level and security, this is a win-win pick.
This tool is also better because of its solid heavy duty construction. it is touted to load 300 lbs. of weight capacity without bending. We have tested this at 265 lbs. of weight inclusive (hunter + hunting equipment).
Yet, a slight glitch must seek your attention as they might not get into a hardwood tree such as oak without pre drilling. So you would need a cordless drill machine.
Strength
A package of performance and durability & good investment
Longer screws for biting into the tree
Lightweight pack of 8 steps for reaching a 20" treestand
Weakness
It has flat threadings around its screws, making it cumbersome to insert into hardwood trees.
2. Leimo Kparts 4 Inch – Best Sturdiest Screw in Tree Steps for Tree Stand
If you're looking for the sturdiest screw-in steps, then this option stands second to none. The reason? Its solid steel construction and well-crafted design allow the heaviest and the tallest hunters to give it a go.
While most American screw-ins like the one we've mentioned above bear a red sticker, giving others a hint about your hang on stand, this one doesn't own any such label and provides your preset stands with better concealment.
In our evaluation tests, we haven't faced any issues when inserting these steps into the tree.
Along with this, the design of the step goes to another level when we see that these pegs aren't dead straight but feature a knurl at one end of each.
You would also get blown away to find this tool as one of the most substantial tree step choices in our list. This is credited to its solid construction that provides your bucks a real bang.
Strength
Skid-free footing
Heavier, that's why sturdier
Super sharp tips for biting into a tree
Weakness
The package doesn't come with thread covers.
3. Highwild Pack of 8 – Best Affordable Screw In Tree Steps For Tree Stands
If you're looking for some modest screw in steps that might not supersede your expectations, yet get the job done fairly, then this option is for you.
The design of this tool is slightly shorter in size as it is just 6 inches as a whole. Without breaking the deal, the somewhat shorter steps promote the portability of this option for your goodness.
The good news? You don't have to sacrifice its sturdiness since its engineering involves alloy steel for construction. However, our testers discovered that steel used for these steps is below average and should get an upgrade for supporting the so-called load capacity of 360 lbs.
I have personally used these for various hang on tree stand units I own for hunting properties my friend own in Montana region.
It took our energy and time for removing the rough bark of the tree to approach the wood of the tree. Nevertheless, we assume that you don't mind sparing your time in peeling the flaky bark with some portable bark peeler. You can be sure that your hard work is going to pay off.
All these weaknesses remain microscopic since these steps are solid and affordable.
Strength
Cost effective screw in tree steps
Meet your expectations for ascends and descends
Quicker installation with pre-drilling
Weakness
Not impressive for old and thick wood trees.
4. Cranford Ezy Climb Folding Pack of 4 – Best Compact Screw In Tree Steps
Mobile hunters who're looking for smaller and stackable screw in tree steps, should look no further than this pick. This rig has satisfied our testers with its miniature footprint while fulfilling all the guidelines tree stand hunters could think of, such as easier installation and a user friendly design.
Cranford has unique conceptual design. These remain distinctive with their double folding design.
Luckily, the foldable design doesn't deter the performance of these steps. For they are constructed with industrial grade stainless steel to take heavier hunters onboard.
Besides this, with this option, you will get one of the most considerable footing designs. Whether you're worried about the wider size of the step of this unit or you want to ensure your foot must get secure gripping, this option got you covered.
The points are sharp and bite into old and young trees effortlessly. No swaying of steps has been recorded as per our experience since they hold firmly into the tree after installation.
Solid, space-saving design, and fast installation, to have it all, go with Cranford.
Strength
Rock solid construction as built with 11-gauge stainless steel
Sturdier and firmer once screwed in the tree
Packs super small
Great for hardwood trees
Supportive design
Weakness
Load capacity isn't explicitly stated by manufacturer
5. North Mountain Gear Monster – Best Wider Screw In Footsteps For Tree Stands
Most variants of screw in tree steps feature small step size for footing, to save some extra space in hunter's backpack, yet this option is an exception. It doesn't sacrifice size and comes with a remarkably wider platform size of 5 inches. With a more roomy step, the hunters can climb the tree with comfort while paying more attention to the game.
What's more? This unit doesn't skimp on quality and value. Made with higher grade metal, each screw in tree step from the pack of 5 is believed to withstand 300lbs of weight. This is approximate, the same weight rating you get with any popular choice screw in tree step model, but to make it strikingly different, the foot section has a different design.
The texture on the platform provides more foot gripping to ensure a hunter could have secured ascending and descending. On the contrary, the patterned surface may get tough on the hands when a hunter is screwing the step in the tree.
Since the design of this unit doesn't just involve its foot portion, it largely depends if the screw and thread portion to provide maximum performance. Verifying this, we gave this unit a high rating. North mountain gear wide screws and threads have sharp ends and bite straight into trees.
That's not all! Once set up they become rock solid and provide a sturdier base for standing and leaning on them.
The powder-coated black finish remains rust free for several years to come, to value your money. Overall, it's worth buying.
Strength
Sharp tips on screws
Anti slip design to make sure your safety
Wider foot base
Weakness
Its textured base may harm your palms, so ensure wearing gloves when screwing them.
Buying Guide
After knowing these specific merits of screw in tree steps, our testers run all of the selected screw in tree step models through a series of tests. To check their efficiency, ease of use remained their primary consideration.
After that, they've checked their durability and design. Since these steps are used as a cheaper alternative to climbing sticks, they have checked for the price if they are easier to remove and install.
So, if you're determining to buy yourself some screw in tree steps, look for the following key features to ensure you don't get robbed of your money.
1. Ease of Use
The ease of use is a broader term that squarely depends upon a user's experience. With numerous styles, each screw in tree step model behaves differently in different settings on different trees. However, installing and removing screw in tree steps determine its ease of use in a particular setting.
Besides this, the hunters use these tools with their pre hang settings, so your selected screw in tree step models should last years of service. That said, if you're planning to leave on these humble tools for a long time, the veteran bowhunters suggest not to leave them on poplar or cottonwood trees for longer.
On the contrary, pine and tamarack trees are considered better for leaving the steps for relatively longer.
Though you can install and remove them on all kinds of trees in all settings, rest assured your safety should remain atop.
2. Comfort
You have the right to be skeptical about whether using screw in tree step is comfortable or a cause of discomfort. Ultimately, you don't want to end up with sore feet after leaning all day on these steps. As a rule of thumb, a step with a larger foot space area would provide your feet more comfortable.
Simultaneously, what steps you choose, be mindful to check if they meet your load range. Further to this, to optimize comfort, avid hunters recommend using cowboy boots instead of soft rubber sole boots. Why? For they puncture less and won't make your feet sore for a greater time period.
3. Value of Money
The major reason behind preferring screw ins is their modest price factor. They are proven useful for cheap saddle platform hunts, hang on/lock on stands and lightweight climber hunting stands. Yet even if you're determined on getting the most inexpensive tree steps, bear in mind that low prices shouldn't cut down on the quality feature.
Cheap or expensive, make sure not to put recklessly your safety in danger. After all, screw in tree steps could be the most valuable item on your preset hunts.
4. Silence & Noise
The most impeccable feature of screw in tree steps is their quietest nature. The hunters prefer these tools because they get in the tree very firmly and don't make any kind of noise when a hunter is getting up and down a tree.
Yet, for optimal silence, watch out if you have installed these steps correctly in the tree.
5. Design
The last yet foremost feature, often overlooked, is the design of screw in tree steps. Hunting tree steps have various designs, yet one that supports your weight and gets into the tree with little to no elbow grease should make the best rig. Along with this, the design should provide ample foot space and hassle free traction when a hunter is going up and down the tree, with his hands free.
How To Use Screw in Tree Steps?
To get a screw in tree step bite into the tree, you first have to determine the age and specification of the tree. The old trees are tougher to start screw in tree steps and you are required to do pre drilling before starting a screw in tree step.
You might have to shave some dead and scaly patches of the tree to start this tool. On the flip side, younger trees with their smooth barks are easier to start and install these steps.
Use a hammer or a cordless drill to make a hole into the tree to give this specific item a start. With a sharper tip and higher thread depth, you can effortlessly screw in tree the tree step. Yet, ensure that you wear gloves to avoid your palms catching blisters when installing a screw in tree step.
A general criterion set by the users of screw in tree steps is: that you should keep one step apart from the other by measuring the distance from your elbow to your finger and then placing them accordingly.
Why You Should Buy Screw In Tree Steps for Tree Stand Hunting?
The effectiveness of screw in tree steps for preset hang & hunt or saddle hunting systems is always a controversial subject. However, without trusting the absolute majority of mobile hunters who shun using screw in tree steps over climbing sticks, our hunting team members give them a whirl.
They have tried several models of this tool in the market to find if this tool is as bad as you think of it. The encouraging news screw in tree steps user is:
These are cheaper,
More back packable
Easier for transportation and lugging, and
Better invisibility, therefore least snoopy.
Someone who hunts on private or public land using run and gun style hunting, screw in steps is a real deal.
Conclusion
Among plenty of screw in tree step choices, it is crucial to decide which option is the best bet. Some are exceptional on the installation side whereas others may provide a comfortable base for footing.
After testing all of the above products, we recommend Cranford folding steps as the best screw in tree step option. From easier installation to ergonomics and a space saving design, they are hunter's no1 choice.
Frequently Asked Questions (FAQ's)
How do you measure the size of a screw in tree step?
Measure the width of its step and depth of thread. Most screw in tree steps are 7" in length from the screw end to its footstep end. For sturdy grip, he depth of threads should be higher than the diameter of screw.

Are tree stand screw In tree steps safer?
Tree stand screws are safer to use for hunting. However, don't compromise on wearing a safety harness.
Are screw in tree steps popular among hunters?
They used to be famous in in 90's when there were no alternate climbing methods to reach tree stands. Now, hunters prefer climbing sticks to ascend or descend trees. Due to portability, screw in tree steps is still choice of veteran hunters. 
How many screw in tree steps do you need to reach a 20" lock on tree stand?
For every 2 ft. 1 screw in step is enough. So for 20 ft. height, 10 screw in steps are good. Make sure to buy few extra as well.
One piece or multi piece screw in tree step? Which one is better?
Always go with one piece screw in step as a multi-piece screw in step tends to breakage and may cause severe injury.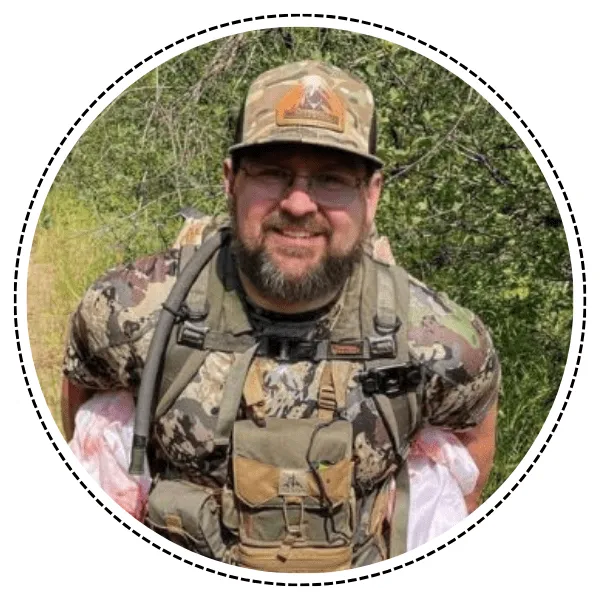 About Alex David
I am an avid bow hunter and author of Tree Stand Ranger. Hunting from tree stands has been a passion of mine for many years. I've had the privilege of owning several tree stands and hunting properties throughout my life, and I take great pride in having the opportunity to do so. Read more about me.