If hunting from an elevated platform or a tree stand paves the way to scoring success in the game, it poses serious life endangering threats and risks, too. Wearing one of the best tree stand safety harness is compulsory. Our first pick, Hunters Safety System X1 establishes itself as a stellar performer.
The slim line design fits almost every man and woman, no matter what body shape he/she has. The X1 has a size to fit youth with torso sizes ranging from 24" to 33", making it an all rounder in the mainstream market.
Best Harness
Hunter X1 Bow Hunter Harness for Tree Stand Hunting
Certified by Tree Stand Manufacture Association (TMA).
Sturdy built to last with 5 year warranty.
Lightweight with torso and leg strap for increased safety.
Need to buy linesman rope separately.
Different sizes for various torso and weight classes.
Comfort Harness
Summit Tree Stand Safety Harness
TMA approved safety harness with 1 year limited warranty.
Comfortable to wear and comes in many sizes.
Padded torso and shoulder for comfort.
A bit heavier yet sturdy for up to 5 years usage.
Comes with prusik, carabiner and lineman's rope.
Lightweight
Muddy Tree Stand Safety Harness
minimal design for lightweight & breathable wear.
Leg buckles and strap for extra safety.
Lightweight can easily endure upto 300 lbs.
Comes with loop for lineman rope.
One size adjustable for men, youth and women.
TreeStandRanger.com is reader supported website. We may earn affiliate commission if you shop using links on this page (without additional cost to you). Learn More
Without denying the fact that a safety harness provides hunters peace of mind when hunting 15-30 feet above the ground.
The interesting fact about tree stand safety harnesses is their unisex functionality. But, now a days, hunters can even get gender specific safety harnesses, as well. To put hunters in hot water, some harnesses come either with a dozen of straps or just some basic three to four straps to hold the legs, waist, and chest.
6 Best Harness for Tree Stand 2023
The decision to select the right pick became itchy when you want to ensure that your selected gear must not create any clinking to spook the deer in the game. So, I with my friends tested several harnesses available in the local hunting and fishing shops. (Each one of us have multiple safety straps and use them on regularly)
Our concerns are properly watched out by the renowned manufacturers. However, if you still feel yourself in trouble and don't know how to get the best tree stand safety harness in 2023, read our reviews and buying guide to make a wiser decision.
1. Hunter Safety System X1 – Best Top Rated Tree Stand Harness
Key Features:
Weight of Harness: 1.67 lbs.
Comes with adjustable torso and leg strap.
Comes with lineman's rope and relief strap.
Comes in various sizes and men, women and youth chart is provided.
The enthusiastic hunters who hunt whenever there's a deer hunting season have given this safety harness a thumbs up for many good reasons. It's adjustable, comfortable, and lightweight. The coolest thing? It doesn't include complex straps and clumsy buckles to consume hunters' time and effort when putting it in and getting out of it.
The HSS X1 comes in various sizes to choose the right fit to meet a hunter's sizing needs. However, what our testers suggest the hunters who're in between sizes is to go for buying a larger size safety harness.
Why? Because it will eliminate the need for buying an additional harness when the hunter is wearing warmer and thicker clothes. Being adjustable, the hunter can adjust a larger size harness to the smallest size when he is utilizing it over lighter clothes.
The HSS X-1 pronounces the well-thought out engineering behind its design. It comes with a built in suspension relief strap to keep the blood circulation in flow during an event of fall. The shock-absorbing tether ensures to reduces the forces of fall. Besides that, this harness is touted to withstand hunters with a weight capacity of up to 300 lbs.
The vest style harness is lightweight and is significantly better than many higher priced safety harness systems.
Pros
The grey color mixes well with the hunter's camo patterned dress
Cost effective and versatile
Available in various sizes to fit weights ranging from 100 lbs to 300 lbs.
Cons
The shoulder straps rustle and may spook the deer
2. Summit Tree Stands Men's Pro- Comfortable And Sturdy Safety Harness
Key Features:
Weight of Harness: 2-3 lbs.
Comes with padding on torso and leg strap for comfort.
Comes with safety line, carabiner and prusik.
Comes in 3 sizes based on waist: 28" to 35" for medium and 35" to 46" for large ones.
From a brand like Summit, it should come with no surprise to expect anything less but quality. The Men's Pro safety harness is popular among hunters and here's the reason why.
To set it apart from its contenders, the Summit makes its design MOLLE-inspired. A harness with MOLLE will allow hunters to attach several hunting accessories through a series of woven straps. Such a design also ensures no wobbling and jostling create when hunters are moving around.
A safety harness for deer hunting should be neither too loose nor too tight. And the Summit is the right one for hunters who are in search of an adjustable safety harness to customize the size to their fitting needs. Available in two different sizes; medium and large, this safety harness has made it easier to get the right yourself the right fit.
For acing the job nicely, the tether on this gear can support a load of 300 lbs. While it facilitates the hunters with a lineman's climbing rope for installing hunting gears with minimum effort.
Unnecessary and tangling straps don't make hunters happy when they want to get into the game quickly without spending hours wearing a safety harness. And the Summit acknowledges this demand and keeps the design simple and straightforward to let hunters slip into it easily.
Along with this, this safety harness has a little catch. It remains on the heavier side with nearly 3lbs weight. But a few extra pounds contribute to making the gear extremely robust in construction.
This gear is efficient by all means, nonetheless, check properly if the harness sung fits well with winter's clothes on.
No matter how rugged a tree stand is, even hunters on best 2 man ladder stands are required to wear safety harness.
Pros
Easier to put on
Fits extremely well
Quick-release straps
Creates no noise
3. Muddy MSH120 – Best Affordable Tree Stand Harness Canada
Key Features:
Weight of Harness: 1.5 lbs.
Padding on shoulder and waste but not on torso.
Comes with safety line, suspension relief strap, carabiner and prusik.
Completely silent as no hard object to clank with metal
Among our picks as the best treestand safety harnesses for 2023, we've reviewed Muddy MSH120 as a cheap safety treestand harness. Being ultra-friendly to hunter's pockets, the Muddy Magnum Elite Safety harness won't compromise on standard features of a good quality safety harness.
Similar to HSS X1 and HSS UltraLite, this one also has a slim-line design. One size fits all ⸺ is the right line to justify the design of this safety harness since it comes with two adjustable leg straps and one chest strap to custom fit the size to meet a hunter's specific building needs. Rest assured, the load capacity should not exceed 300 lbs.
Along with this, The vest includes two padded shoulder straps and a padded waist for providing hunters optimal comfort. For maximum breathability, this safety harness has airflow mesh to give hunters the pleasure of enjoying bowhunting during hot temperatures.
Gladly, there aren't any dangling straps on this safety harness, therefore, it's a no-brainer. Even beginners can feel how easy it is to put the harness on and off.
In our field tests, the MSH120 is incredibly functional but still needs some improvements. Though it offers a lineman strap and a tree strap for attaching the harness to the tree, it excludes a carabiner for connecting the loop on a tree strap and the loop on the tether.
Let us draw your attention to the fact that this safety harness lacks a suspension relief strap. For the hunters who're specifically looking for a safety harness with a suspension relief strap, this drawback might break the deal. Nevertheless, for the price, it does its work to an optimal level.
Do you know best quadpod deer stands do not requires safety harness?
Pros
Comfortable and lightweight
Easy to get in and out
Safe and reliable
Relatively affordable
Cons
The safety clip on the chest is prone to breaking
4. Muddy Magnum Pro Harness Black – Best Lightweight Hunting Harness
Key Features:
Weight of Harness: 1.5 lbs. only
Shoulder and waste padded.
Comes with safety line, suspension relief strap, tree strap and tether.
Comparatively inexpensive and value for money
The Muddy has vowed to make its Magnum Pro harness the best lightweight safety harness by just keeping its weight at 1 pound.
With its low-profile and slim-line design, the hunters might feel concerned about the effectiveness of this gear. But let us tell you that it still offers everything hunters could possibly ask for. TMA-approved, this safety harness features padded shoulders and a padded waist to provide hunters extra cushion needed for long sits.
The adjustable cam leg buckles and cinch adjustable chest strap eliminates the need for buying any other safety harness. The Muddy Magnum fits nearly most sizes: men or women, short or tall, and small and fat hunters. All you need is to strap the buckles to let the harness completely adapt to your body size.
For providing the hunter a good extent of concealment, the harness remains scent-free and noise-free when a hunter is on his game traction.
Also, like its counterparts, the Magnum Pro holds a lineman's strap, a tree strap, and a suspension relief strap to open three different choices for the hunter to keep connected to the tree the way he desired to be.
The hunters can imagine how feather like it seems to be when worn. Being lightweight, it never hinders a hunter's way when he is moving on best climbing tree stand. Likewise, climbing, descending, and moving on the stand is with no pain when the harness is on.
For the money, it makes a nice and safe harness option as put.
5. Hunter Safety System Pro Series Harness – Best Safety Harness For Women
Key Features:
Weight of Harness: 3.06 lbs.
Adjustable torso and leg strap.
Have added pockets and comes in different sizes
Comes with safety line, suspension relief strap, tree strap and tether.
Top rated camouflage hunting harness.
Comes with lineman's belt but no carabiner.
Though standard safety harnesses are mostly unisex and adjusted to fit both men and women. However, if you're looking for a woman-specific safety harness for a lady hunter, this one offers a handful of features to ensure peace of mind during a hunt.
The above-mentioned two variants from HSS have a vest style design, but this one is unique with its jacket style. Though this type of harness is getting outdated since they block the pockets of a hunter's onesie. However, this gear offers a total of 8 deep pockets to let hunters keep their stuff.
The one pocket holds a USB charging port, I practically used it for saving my small gadgets like best hunting watch, which I need time to time on remote public land hunts.
In our field test, we have discovered that adjusting the harness to get a snug fit is also a bit tricky. However, instead of having a too loose fitting, better to opt for a tight fit for optimizing the safety purposes to a greater extent. To make this gear a nice rig, the hunters are provided with sought-after comfort.
Though it comes with a tree strap and a suspension relief strap. Without no loops on each side, it becomes painful to keep connected to the tree throughout the hunt. To this, the gear employs Elimishield Scent Control Technology to prevent the hunter's body odor from reaching to deer.
Giving two cents from our experts, we think that instead of investing in a generic specific treestand safety harness, get the particular one that fits your size and stature.
Pros
Comfortable
Easy to use
Reliable with a 5-year warranty
Offers a quiet and scent-free hunting experience
6. Hunter Safety Harness – Best Comfortable Tree Stand Harness
If you're looking for a comfortable harness, without breaking your funds, this one is for you. Easy to put on and off, this harness literally is a life belt that would keep hunters safe if they happen to fall from an elevated platform accidently.
Looking closer at its design, our testers can't stop praising the craftsmanship behind it. Where most competitive treestand safety harnesses lack an adjustment feature, this one is highly adjustable. No matter if a hunter is tall, short, or of medium stature, this one snug fits incredibly. The credit goes to two adjustable leg straps and one waist strap that hunters can adjust whenever the need pops up. This also means that whether hunters are using this harness over summer clothes or under winter clothes, the HSS ultralight flex won't lag behind.
Mentioning the build quality of this safety harness, we again find it to be superlatively impressive. Instead of utilizing metal buckles, the HSS UltraLite uses high-quality plastic buckles that aren't just strong but also prevent noise in case a hunting gear rubs against them. The vest-style harness comes with a 2-foot nylon strap tether to keep a hunter tied to the tree. The tether has 3 shock-absorbing folds to reduce falling force in case of a fall.
To put more versatility, the HSS UltraLite lets hunters attach to the tree by choosing from three different styles. This harness comes with two side loops on each side of the waist. Being this, hunters can remain attached to the tree either by using a lineman's strap or an HSS rope-style strap.
Along with this, there's a suspension relief strap for controlling the flow of blood circulation. The same feature also functions as a deer drag strap feature by allowing hunters to loop the strap around deer's antlers.
Pros
Well made design
Affordable
Comfortable and versatile
Cons
It doesn't have any pockets and may block other pockets on your dress
Buying Guide
The above-mentioned choices are considered the best tree stand safety harnesses for bowhunting in 2023. We have put each one of them against our strict tests to know if they are easy to put on? Because with a dozen of straps, the hunters won't end up looking like a noodles monster.
We have also accessed if these safety harnesses are comfortable and lightweight to offer hunters convenience during hauling hunting equipment up and down the trees. And if you are going on remote hunting trip, do check best hunting tents for backcountry deer and elk hunting.
Though if you're a complete noob and don't know how to select a decent treestand safety harness, we've intended to lend you our support. Through our buying guide, we have highlighted those privileges hunters would have while using a safety harness.
Along with this, we have discussed some tips to ensure that your harness has a proper fit. Once getting awareness of this subject, our word to the wise is: don't forget to overlook certain key features to ensure you get an ideal deal.
Nonetheless, you need to examine certain key features of a tree stand safety harness.
Load Capacity
In general, tree stand harnesses can endure load capacity from 150 lbs. to 310lbs. As a rule of thumb, most standard treestand harnesses can support 300 load capacity.
The heavier hunters are likely to get injured more and harder when wearing no harness or a harness happens to fail. The big guys must take the load capacity of a harness into their consideration and always invest in a harness with an upgraded design.
Comfort
Make sure that you're buying a harness that provides you optimal comfort when ascending or descending the tree.
To keep comfort intact, the manufacturers are using "breathable" material to let hunters feel airy and dry within a harness. Any harness that is lightweight and is stretchable, and has good padding is a good safety harness. However, the comfort of a harness isn't dependable merely on material and design.
An ill-fitted harness can cause sore shoulders and back pains. A comfortable harness should provide hunters maneuverability in the upper and lower body without causing any pain.
Mobility
Mobility and flexibility are interchangeable terms that hunters want to retain when shooting from different and difficult angles. Hunters can't afford any distraction when deer hunting. A good harness is the one that won't let a hunter feel if he's attaching to the tree.
Check carefully the measurement of length between body embracing strap and tether is providing you adequate mobility.
Lightweight & Authentic
Too hot or too heavy harnesses shouldn't make a decent choice. So always choose a harness that is lightweight but well built and can do the job.
A lightweight harness also comes with another great benefit as it makes transportation much more effortless.
A tree stand safety harness must meet the industry standards to enhance its reliability. A tree stand safety harness is a personal fall arrest system that should follow the rules introduced by OSHA. Be sure to read all instructions carefully to prevent any hazards.
Why Do You Need To Buy A Tree Stand Safety Harness?
A safety harness is a costume that connects a hunter to a tree by preventing him from hitting the ground if a fall occurs. Even run n gun hunters need safety harness for best saddle platform experience.
The hunters are likely in danger either when they are climbing or descending. The fall can also happen when hunting gear is being hauled on the tree or if the platform of tree stand comes off accidently. For one reason or the other, there is still a community of over confident hunters who put their life at risk by not using harnesses.
Instead of being insane when hunting 20" feet above the ground level without wearing a safety harness, better to take safety measurements. Therefore, don't ignore wearing a harness or using a lifeline when bow hunting from a tree stand.
The definition of a safety harness may be like this: a safety harness makes a compulsory part of a hunter's hunting gear. However, ensure that it fits a hunter's size precisely and has no signs of wear.
Why Ensure The Fitting of A Safety Harness?
It's hard to keep an accurate record of the total number of hunters who get injured while falling from treestands. But each year during bowhunting season, you must have heard that an X hunter has fallen off a tree and has got cuts and bruises on his body. Or a Y hunter has undergone a broken neck or a broken limb due to an accidental fall from a treestand. The treestand-related hunting injuries are alarming and must be prevented. And nothing could do the job better than wearing a safety harness that keeps a hunter connected to a tree throughout hunting.
Modern treestands feature safety belts aka full-body harness systems to meet the standards introduced by Treestand Manufacturer Association. Don't use safety harnesses for extended periods and discard yours before the expiry date approaches.
As a matter of fact, how to wear a safety harness takes no brains. Yet, some facts must be vouched for carefully to make it sure that you're doing it the right way.
A treestand safety harness generally looks like a vest.
Ensure to keep D-ring between your shoulder blades.
Slip into each leg strap and secure all buckles to their places.
Stand upright and fasten the straps that run along the body to ensure it's snuggling the body.
Secure the chest strap.
Look if the harness is properly fitted on your body while providing you with complete movement.
Tighten all the straps to make sure the harness on your body has no slacks.
insert all the straps into the strap retainers to ensure no loops around the body.
Check the fitting by inserting fingers under the leg straps.
Once you learn how to wear a harness perfectly, you must employ the services of a professional to learn how a fall arrest safety harness should work.
Conclusion
A poorly designed harness, a flimsy part on the harness, or ripped fabric of the harness contribute to malfunctioning, putting a hunter's life in extreme danger.
To nip things in the bud, we consider only high quality and best tree stand safety harnesses that need to be appraised and Muddy Magnum Elite Safety Harness makes significantly an equivalent option as an effective tree stand safety harness hunters should invest in.
Frequently Asked Questions (FAQ's)
How long does a tree stand safety harness last?
According to the TMA, the hunters should discard a safety harness after 5 years of service. However, how long it lasts varies based on usage. If you find the signs of wear and tear, which usually show up after 2 years of extensive use, discard and buy new one.
Can a climbing safety harness be used as a tree stand safety harness?
Using climbing safety harness instead of tree stand harness can work but not recommended. It might cause the hunter to fall from the stand with his head down first.
Which is the safest tree stand safety harness?
The HSS Hybrid vest is the safest treestand safety harness in 2023. It is one of the safest and comfortable tree stand harness that comes in 3 different sizes.
Is Muddy tree stand harness any good?
Muddy tree stand harness is reliable. Muddy is one of the pioneers in the industry for making high quality treestands, safety harnesses, and other hunting equipment.
From where to get an Ameristep tree stand harness? 
As Ameristep safety harness is not available online on Amazon, you can buy it from ebay and Walmart.
Are Lock and walk tree stand harnesses available in Canada?
LocknWalk safety harnesses is USA made and gets delivered to Canada if you order online on their website or Amazon or Walmart.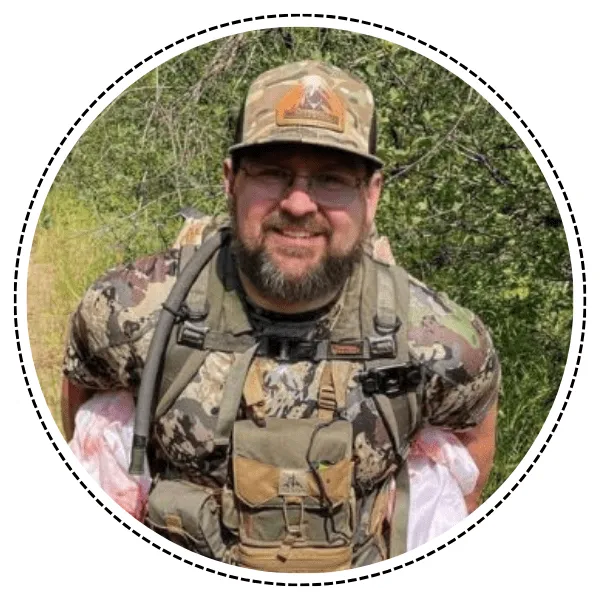 About Alex David
I am an avid bow hunter and author of Tree Stand Ranger. Hunting from tree stands has been a passion of mine for many years. I've had the privilege of owning several tree stands and hunting properties throughout my life, and I take great pride in having the opportunity to do so. Read more about me.