Deers have a heightened sense of smell. They have been recorded to smell about 15 miles away under perfect conditions. However, for a human not trying to hide his smell, deer can smell him about ¼ or ½ miles away, depending on the hunting pressure and environmental conditions.
Deer have been recorded to travel straight towards the food source from more than 10 miles away. This is quite awesome for hunters growing food plots for a whole year or using food attractants to lure in does and bucks. It is dependent on many factors. The intensity of the smell, air flow and direction of the wind are a few key factors. Wind makes them wary of their area. 
Can A Deer Smell Human Urine?
As we have discussed, whether should you pee in deer scrapes or not. Deer detects the scent at any time. This is one of the traits that protect them from predators. Moreover, the human scent also spooks them, alerting them as predators. However, urine from humans does not repel them like sweat. Instead, bucks are seen to smell it to assess unfamiliar does or bucks in the area.
During hunting season, hunters often attract bucks to their shooting lane using urine. If you are a coffee lover or drink a lot, peeing from tree stand can become your habit. You don't need to carry a bottle or use any sort of urinal to avoid spooking the deer.
It is believed that male urine has testosterone that attracts the deer towards it. It was considered a myth, but now it is used by many hunters to lure in bucks. Similarly, those who know how to use doe estrus scent bait in big bucks in late October and the start of November when the rut is at peak level.
But let me tell you one thing: all these scent and smell tactics work when you are familiar with wind direction and are scent-free. Knowing how far do deer smell will only benefit you if you play wind and wait for your prey quietly and concealed in the best tree stand.
Can A Deer Smell Water?
Water is a colourless and odourless substance that generates no smell itself. But there are certain factors like algae, grass, bacteria, and waterborne particles that emit their smell. Deer can follow this smell to reach the water source and drink to their fill. 
Often, hunters use bedding signs, feeding areas, water sources and deer trails to find if there are bucks and does in the area. These are helpful because deer usually move in between these and leave signs. One should know how to read deer trails before exploring new lands/hunting properties.
Can Deer Smell Food?
Deer does smell food. However, the smell works differently for different foods. For example, some can be picked out from a mile, others from half a mile, and so on. As mentioned before, it is dependent on air direction and flow. The scent picked up for food differs slightly from the buck-smelling doe excrements. 
Some studies and data show that deer will keep moving toward the food source once they smell it. They will continue until they reach it. This is especially important for hunters who grow food plots on their hunting land to attract does, fawns and bucks all year.
How Far Can Deer Smell Corn?
Corn is a delicious food for the deer; they love munching it. It is full of starch and covers their basic nutrition. Deer can smell it within 1 mile. I have personally seen it as one of the best food plot plants in the Northern States.
It is usually used surrounding food plots. This will give good surrounding cover. Hunters put up stands overlooking the land, so a big buck is hunted when the hunting season comes.
How Far Away Can Deer Smell Peanut Butter?
Peanut butter is your best bet if you are looking for cheap food to use as bait. It is an economical and less risky trap for deer. Moreover, you can use it year-long and set up a trail camera to see deer movement on your land.
Peanut butter is a safe play for young hunters looking for a lure, and deer can smell it from within 1 mile of it.
How Far Away Can Deer Smell Apples?
Fruits like apples and berries have a strong smell. They have soft mast which attracts deer towards them. Many hunters exploit this in their food plots and plant a few apple trees with varieties every year. This keeps does and fawns within the area. 
Deer can smell apples from a few hundred yards. Apples are attractive and can be easily seen. Especially the yellow/green ones. They are easy to locate in harsh weather conditions.
How Far Can Deer Smell Molasses?
Deer, especially whitetail ones, are attracted to the sweet smells. For that reason alone, hunters have used the apple scent to lure the deer into baits. After careful observations and studies, it is suggested that molasses's sweet smell attracts the deer, and they consume it all.
Deer can smell molasses from 1 mile away and will be attracted to them. So, if you are placing the molasses for bait, place it in an open area where they can find it and give you a clear sight. 
How Far Away Can A Deer Smell You?
A deer can smell you about ¼ to ½ miles away if you are not covering your scent. But sometimes, if everything is perfect, it can detect you from miles away. However, there is a difference between smelling a human and being concerned about it. 
Hunting pressure also plays an important role. Deer can not only smell but also detect predators by hearing and seeing. Since deer can hear you from about ¼ miles away, they are usually not concerned about them. If there is hunting pressure, they will consider it a threat and run to safeguard themselves. 
If you are wondering, can deer smell you in a tree stand? The answer is a bit different. Tree stands are relatively high, and scent can move upward or downward based on the time of the day and air thermals. This is an added factor for scent flow.
What Do Deer Smell On Humans?
The human scent of sweat is similar to those of predators. If you sweat a lot, your scent will be carried to deer via wind, which may get spooked. It depends on many factors, like your breath, sweat, environment, what you have been doing, and where you have been before coming to the woods. 
Deer smell everything, and based on these smells, they react to whether to run away or stay there. Masking your smell to avoid alerting the predator's instincts does show its effect in luring them. 
Conclusion
In short, deer have a heightened sense of smell, with about 290 million sensory neurons in their nostril to pick up scents. So, depending on the environmental factors, they can smell humans and food within 1 mile and plan their journey accordingly. 
Frequently Asked Questions
How Far Does Scent Travel?
Depending on the air movement and speed, scent can travel up to hundreds of yards for strong smells. It travels slower than the speed of sound as it carries on the air molecules.
What Does Doe Estrus Smell Like?
Doe estrus urine itself has no bad smell. It will be an eye opening experience if it is bottled and gets spoiled. Compared to fresh normal urine, it has a smell but is not very offensive. 
What Is Deer Scent?
Deer scent is the aroma many hunters use to lure them into traps and shooting lanes. Their scent includes urine/glandular and food scents. For deer, urine scent is used for communication between them.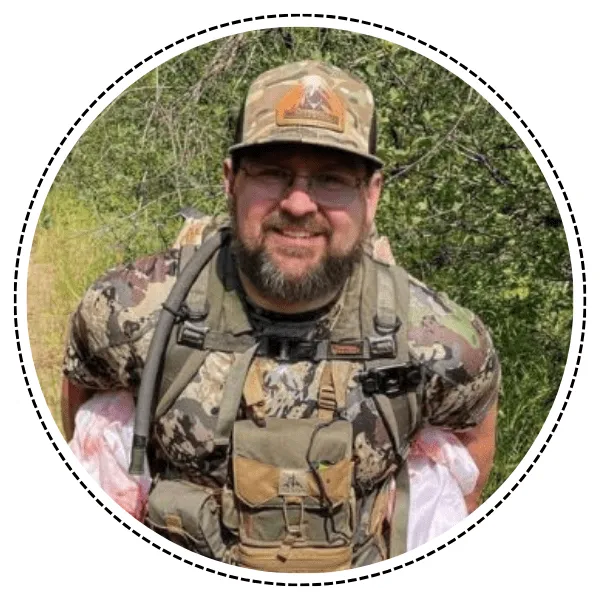 About Alex David
I am an avid bow hunter and author of Tree Stand Ranger. Hunting from tree stands has been a passion of mine for many years. I've had the privilege of owning several tree stands and hunting properties throughout my life, and I take great pride in having the opportunity to do so. Read more about me.