Hunters mostly avoid lights to refrain from spooking deer. However, using a flashlight to reach the deer stand in the dark can prove very helpful. In some low light hunting situations, a flashlight comes in handy. It's a problem solving device that comes to help from beyond.
For hunters, using flashlight to get to deer stand is not recommended because this might spook the deer. The white color of the flashlight is highly visible to deer's eye.
There have been long debates about whether deer are spooked by it. Also, which light color does so, and what color flashlight to use?
To answer it all, deer have very sensitive eyesight to the light. They can see the light from miles away. There is a debate about which color spectrum deer has more orientation.
The whitetail deer research facility in the US conducted experiments on deer eyesight using yellow and red apples on snow. The whitetail deer was able to identify yellow ones but missed the red apples.
Using Red Flashlight To Hunt Deer At Night
Best Red Flashlight For Deer Hunting
Deep red colored and high quality flashlight is recommended to use for deer hunting. We tested this on deer and it was not spooked (image attached below). Deep red is less visible to deer and this specific flashlight also comes with green light which is recommended to use for hog hunt.
Deer are unable to see orange and red at night. However, the fact that they can see more at night than humans helps them detect nearby movements.
TreeStandRanger.com is reader supported website. We may earn an affiliate commission if you shop using links on this page (without additional cost). Learn More
To my understanding, the colors have much more effect in helping them detect motion in woods. The blues, whites, and reflective colors of clothing don't blend in the environment, leading to help them detect anything moving. Don't wear any jeans or any shade of blue.
Avoid anything reflective. The most important part is to match your environment and restrict your motion on a deer stand. The orange is the least detectable and looks like a dark, unclear object if you see through deer eyes. But the blob of it moving too frequently may startle them as well.
You might have noticed the dark shades in camo, which is used because it does not reflect light. You can look at the camo colour of Summit's Climbers, which (as per my experience) is the best in the market based on comfort, portability, and concealment. The Viper and Goliath (variants of Summit Climbers) are the ones I love the most.
Light and movement are not the only factors that affect deer movement. You should also consider scent, the flow of wind that can carry your scent, and deer trails or signs. You should also question do deer move in wind? Before going into the great outdoors, know how do deer move in rain to avoid spending a week with no meat in hand.
Can Deer See A Flashlight?
As mentioned already, deer eyesight is sharper than humans. So, they can see a flashlight the same way we humans can. Now the question arises: does it spook them or not? Well, it depends on their environmental conditions.
Deer living in the forest without previous exposure to the flashlight will be startled. However, those living near the city are accustomed to continuous lights and will show little or no response.
It is safe to say that deer can be startled by light, but those who are continuously exposed may show little or no reaction compared to those who are not. Let's discuss the effect of different light colours on deer.
1. Can Deer See Green Light?
Different theories suggest that deer have an eyesight color spectrum oriented more towards blue and violet. So, for deer, it is safe to say that the green color is visible to them. But there are still many debates that suggest otherwise.
Some suggestions say deer can't see the green light as vividly as humans can. For this reason or else, deer do avoid green leaves or grass. So, if you are wearing green camouflage, you might not be as successful in getting your prey as you might think.
2. Can Deer See The Red Light?
There are many debates on whether deer can see red light or not. Deers in the dark can't see red and orange. However, deer have eye sensitivity in the blue and violet range.
However, some reports say that deer react to the red flashlight. They can see red light to some extent. Therefore, it is safe to be cautious with red light in areas with deer.
3. Can Deer See UV Light?
Among debates on deer light sensitivity, another one is their UV perception. It is proved that deer don't have UV filters, unlike humans. So, it was suggested that deer can't see the UV light. However, different studies prove that deer can see in the dark, but not everyone agrees.
4. Can Deer See A White Light?
White is spooky for deers; they will surely get startled if you flash it in their eyes. So, if you are wondering why they got hit by the car, the answer is simple: they could not see perfectly.
Everyone will walk towards a bright light source in the dark of the night, so deer are just curious until they get hit by a car. Apart from this, they can surely see white light, an amalgam of all color spectrum.
What Light Can Deer Not See?
Since deer are more sensitive to light than humans, they can see light from farther than humans. However, they are less sensitive to the red light, and it is safe to assume they can't see it properly.
So, if you are on your way hunting, using a red flashlight to get to the deer stand will be more helpful as this will avoid spooking the deer. The red light will create a safe zone to reach the deer stand without creating havoc.
If you are afraid of being spotted by deer in your hunting stand, get the best deer stand blinds for perfect camo covering and concealment while in the tree.
Conclusion
Using a flashlight to get to the deer stand is not recommended but can be used only in an emergency when you hear some noise. Most importantly, using a high quality, solid red flashlight is recommended.
Deer can see white color and be spooked from afar. So, avoiding a white flashlight while going to a deer stand is highly not recommended. It will spook any deer around and spoil your hunt.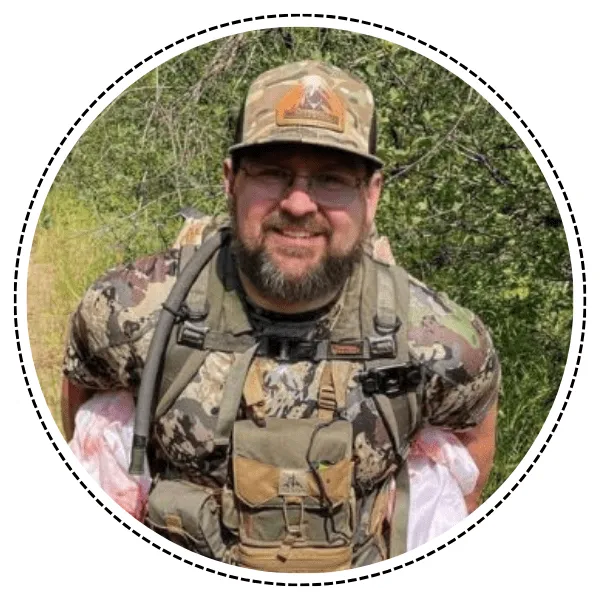 About Alex David
I am an avid bow hunter and author of Tree Stand Ranger. Hunting from tree stands has been a passion of mine for many years. I've had the privilege of owning several tree stands and hunting properties throughout my life, and I take great pride in having the opportunity to do so. Read more about me.