You never know what mother nature can surprise you with while you are on a hunt. Rain and wind are the two uncertainties that impact deer's usual movements and cause hindrances in a smooth hunt. Rain results in changing bucks' travel patterns, you can find out about it in detail here
But, what about deer movement in wind. There are numerous factors to consider while hunting on a windy day. From knowing where the trophy animals go to covering your scent, taking down a buck in wind isn't a piece of cake.
Make sure to understand where and how do deer move in the rain before you head out for the hunt. The most common issue deer hunter face is choosing the wrong direction. The wind takes their scent to the bucks and they bounce back to a whole different county.
Hunting In Breezy Conditions – Do Deer Move In The Wind?
Deer in wind are not easy to keep up with. They have different plans for breezy days depending on the wind speed. Typically these animals won't move a lot in the wind unless they sense danger around. Bucks have an impeccable sense of smell, even better than their hearing and seeing abilities.
That being said, the wind brings them various smells including that of their predator. It could either be a human predator or a carnivorous animal. The same wind if blowing in the opposite direction, takes away the nearby scents, keeping deer unaware of its surroundings.
Deer Hunting On Windy Days
How wind speed influences deer movements? Wind speed and whitetail have direct relation.
Hunting in windy weather on hunting property can be fine. With high wind, deer behavior changes. Just like rain, light to moderate breezes don't become troublesome for bucks and they don't change their location. However, as gusty winds blow, the trophy animals are likely to move somewhere less windy or places with thick covers.
For deer, their home range area is between a couple of hundred to a thousand acres. However, if the area fulfills their survival needs, these animals would stay within 1/3rd of that range. In case of extremely strong gusts, buck movement is observed to a safer spot with food sources nearby.
According to the studies, there are three types of winds based on their speed. When the wind velocity is within one mph, it is categorized as calm. Moderate wind is when it blows with a speed of one to 15 mph. Whereas, gusts reaching up to 15 to 27 mph come under the category of strong wind.
You can use hunting apps where you can find deer trails. You will have to look for hunting pressure and devise your hunting strategy accordingly.
Where Do Deer Move On Windy Days?
On calmer days or those with moderate winds, bucks are less likely to relocate. They would stay within their home range. However, as the conditions begin to get harsh, they will move to areas with thick covers to protect them from the wind.
Though these animals are capable of sustaining extreme weather conditions, they travel to stay safe from predators. Gusty winds impact their abilities to hear and smell which makes it difficult for them to assess the danger.
Bucks love bedding down in corn fields since these are tall and thick. Alongside providing a comfortable and warm shelter, these serve as the perfect food source. They usually seek shelter in corn fields starting from the end of summer till the harvest season.
Sometimes they use these fields for seeking refuge while traveling from watering or feeding areas to their bedding sites.
Do Deer Travel Upwind Or Downwind?
Speaking of deer hunting in the wind direction, they always prefer going downwind. This is because, during strong winds, bucks might lose the efficiency of smell. Hence, to ensure safety, they don't go against the wind.
However, the possibility of some bucks moving into the wind cannot be ruled out. Some mature bucks and doe are likely to move upwind only if they feel safe.
In case they sense even the slightest danger, they would run away to a safer place. These animals tend to bed down in a position where the wind hits their back. It helps them smell the surroundings and stay cautious.
During rut season, mature bucks are constantly searching for a doe in heat. That said, they travel anywhere for the female partners regardless of the wind speed and direction. As a hunter, you can make the most of this opportunity by tracking the movement.
Tips For Hunting Deer In The Wind
To understand how to hunt deer on windy days and become successful, make sure to keep the following things in mind.
Thermals
Trophy animals rely upon thermals for their movement. While you might only think about the wind that blows parallel to the ground, there is also a rise in air from the ground to the air and vice-versa. This process is known as a thermal column.
A thermal column is responsible for changing the ambient temperature no matter where the wind is blowing and at what speed. Even if you are not in the direction of the wind, thermals can take your scent to the nearby deer.
To prevent spooking your potential prey, it is advised to never stay in low lying areas. The atmosphere in lower areas is warm whereas, that in higher elevations is cooler. Since deer like staying in warm places, you can look out for them from higher spots.
Hunters often use salt licks to keep deer on their property. Hunters in our state strategically place & spread homemade salt blocks over various spots on their property.
Cover Your Scent
Nothing alerts a deer as much as a human scent. So, when you go out hunting on a windy day, be extra careful in covering your scent. Wash your clothes using a fragrance free scent or use a scent covering jacket. For added protection, generously use a scent eliminating spray on your clothes.
Some hunters use deer attractants as bait. Others use rattling antlers to call deer in pre rut and during rut seasons.
Where To Set Up To Find Deer In Wind?
Generally, you should stay as high as possible i.e., a treestand at around 25 ft. of height or more would be ideal. Since thermals can bring your scent down with the wind, if the velocity exceeds 12 mph, ditch the stand.
At this point, you should look for ridgetops however, leewards would be the best place. Make sure to not build a setup in low-lying areas because there is extreme wind swirls along with rising thermals.
Some other locations for situations where the heavy wind is constantly blowing in one direction include creek bottoms, dense timber, or bowls. These are the best places for tree stands.
Remember, you will find the most stable wind velocity of higher plateaus or hills. Predicting air patterns in ground-level areas is almost impossible.
Don't forget to check edge covers and creek bottoms in the route of food sources. The chances of finding bucks in such places are quite high. Some other deer hideouts could be irrigation ditches, pine rows, folds, or depressions.
How To Hunt Whitetail Deer In The Wind?
Whitetail deer also move only when wind gusts start exceeding 15 mph and they sense danger. According to various research, these animals are likely to travel more on windy days as compared to windy nights.
You can watch out for them near food sources, mineral licks and watering sites. Make sure to also keep an eye near thick covers where whitetails are likely to take shelter.
Turkey Hunting In The Wind
Just like deer, turkeys will also change their location when strong winds blow. They will begin the movement right after sunrise towards the fields that offer thick shelters. Their 270-degree eye vision allows them to see danger better than most wild animals.
To hunt these, you should determine the places where they move and set an ambush in those locations. Decoy tools work best to draw turkeys out of their hideouts.
Unlike deer hunting, you must stay in lower areas such as creek bottoms, draws, and hollows for turkeys. Higher elevations are a house for numerous of them but it is not suggested to move up.
As soon as the wind picks up pace, these animals would climb down in no time. Keep an eye on the possible places such as ridges and knobs. You might see a couple of turkeys traveling down through these areas.
Conclusion
Deer movement in the wind is a common question that hunters cannot get a clear answer for. Let us tell you, yes deer do move in the wind. However, it depends on the wind speed. They are most likely to stay comfortable during light and moderate breezes but vacate the place when winds blow strong.
To hunt these game animals in windy conditions, study whitetail behaviour, play the wind and secure a higher elevations and look around in lower places to spot a deer. Don't forget to check the feeding, watering sites and deer activity on calm days.
Do deer move with the wind or against it?
Deer are likely to move with the wind and not against it. This is because they rely upon their sense of smell and hearing which can only be detected when moving downwind.
Will deer move when it's windy – how fast do they travel?
Yes, whitetail movement increases with the increase in wind velocity. On calmer days, they move about 100 ft/hr., during moderate winds, they go up to 115 ft/hr. Whereas, with heavy winds blowing, deer pace up their speed up to 200 to 220 ft/hr.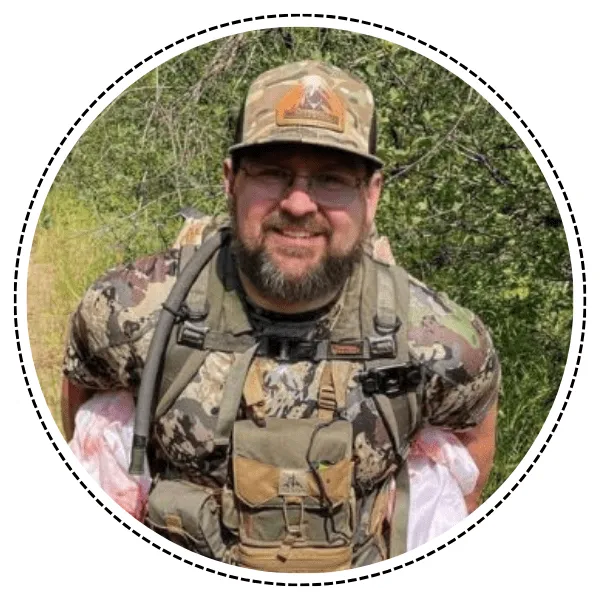 About Alex David
I am an avid bow hunter and author of Tree Stand Ranger. Hunting from tree stands has been a passion of mine for many years. I've had the privilege of owning several tree stands and hunting properties throughout my life, and I take great pride in having the opportunity to do so. Read more about me.
Related Hunting Guides
Tree Stand Hunting
Tree Stand Hunting Essentials