Often overlooked, a tree stand blind becomes the deciding factor when hunting from an elevated position. Hunters facing vast field or open grazing area (food plot) can be seen from far, thus need a blending camo blind. Lock on and climbing tree stands set up in woods and don't require masking with hunting blind. 
But since bucks also move around the open fields, ladder tree stands and tripod deer stands become the course of action. Covering the frame of a gigantic tree stand while concealing your form becomes the ultimate goal to score a buck, and nothing could serve better than the best tree stand blinds cover.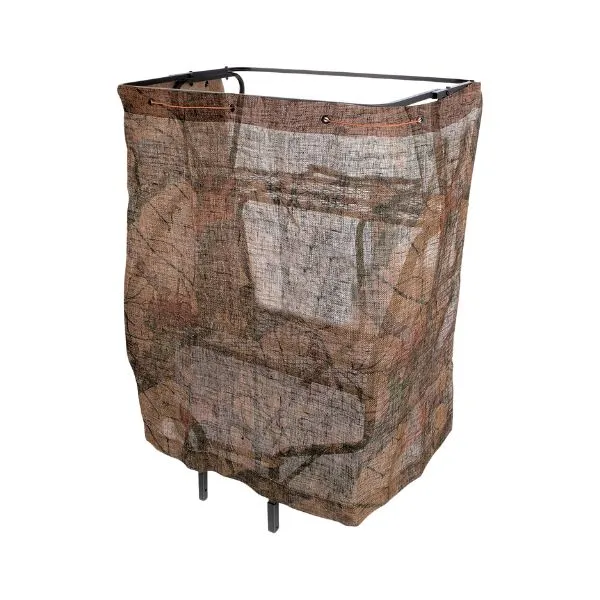 Allen's Mossy Oak Treestand Blind Cover
Mossy oak cover blind for all treestands.
Scent needs to be killed in first wash, quiet & works great afterwards.
Great for ladder stands, tripod as well as quadpods after slight modification.
Easy to install, use and remove (via thin rope).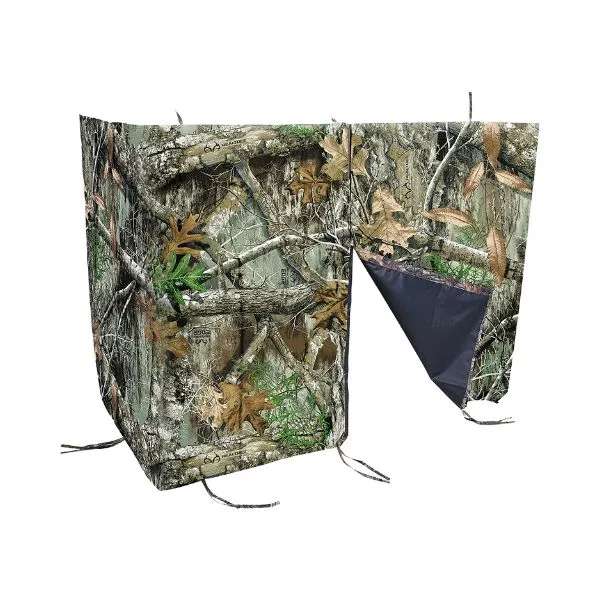 Allen's Realtree Treestand Blind Cover
Realtree camo with straps to tie to various types of hunting stands.
Magnetic entry/exit closure for quiet & quick use, comes with pouch bag.
Good size. Fits most 2 person ladder stands. Can be used as tripod stand cover & quadpod cover blind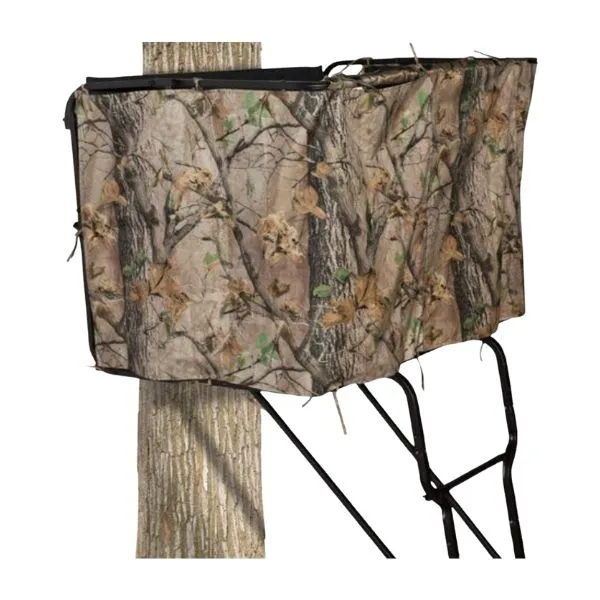 Big Game Hunting Stand Blind Cover
Great for treestands and installed with straps having dimension of 32 inch height to 100 inch length with velcro entrance.
Scent killer need to be used in first wash before use.
Great blind and lasts several years.
But with various styles, sizes, and materials, which option stood as the best one is intimidating.
After rounding up several options and testing them out on trees, we have ranked Allen Magnetic Tree stand Cover as our number 1 choice for tree stand blinds.
Allen created a dynamic tree stand cover not only conceals a huge tripod deer stand but it provides full coverage to a hunter who's sitting in an independent seat somewhere installed amongst the trees. Being lightweight, it folds up so compact while taking up very less space in your backpack.
Besides this pick, we have tested the following tree stand blinds and found them fulfilling most of our needs. Providing unfaltering concealment with hassle free installations, all of these picks have got us with their performance.
Top Artificial Tree Stand Covers
Find out to know if one of the following considerations earns a good reputation from you.
1. Allen Company Magnetic Treestand Cover Blind Kit – The Most Versatile Treestand Cover
On the whole, seasoned hunters look for hunting accessories with better adaptability. So, this pick is a true manifestation of the word "adaptability" as it comes with the grommet construction to fit nearly every tree stand size.
Though the manufacturer can use metal grommets to impart durability to this blind, we see the opposite happening. The precise use of plastic grommets is to keep the unit as silent as possible. This is a thoughtful feature to win over the hunters who want to mute the slightest sound to not tip off a whitetail.
When we reviewed this tree stand cover for installation, it took just a flash to perform the said job. On the other hand, when we set it up, we felt that the game activity decreased to a significant level. This is most probably because of the natural smell of the burlap used for its construction. But we're thankful to our team members who know how to neutralize this smell. Our two cents on it are to hang the cover in the air for at least one week before its usage.
For the price, Allen company treestand blind is durable and utilizes thick material to withstand inclement weather conditions. The camo blends well with mossy oak surroundings, offering greater concealment to hunters. The dimensions are 96 inch width and 50 inch height. Thus, it can be used to cover quadpod hunting stand or even ground blind.
Entering and exiting a treestand blind unnoticed should be your prerequisite to get the best in the rut. However, this blind has a catch as there are no openings or breaks to enter or exit the treestand. But we don't consider this feature a deal breaker as you can cut it according to your preference to have hassle free entry and exit in your treestand. And this is where we have found it to be highly versatile.
Pros
Fast to setup, lightweight and durable build
Reasonable priced
Maintains whisper silence
Cons
Strong burlap smell to alert the quarry
Feels a little thin
2. Allen Company Magnetic Blind Kit – Best Treestand Blind For Silence
Among all the characteristics of the best treestand cover blind, for us, the silence of the unit remains the principal concern. Speaking of that, we have found this blind the most stable and silent in strong windy conditions. This steadiness comes from its string ties that allow you to tie the blind tight to fit the skirts of a treestand. This is a useful feature for ensuring no flapping of the fabric would create during the game.
The standard tree stand covers feature either velcro ties or zip ties for accessing the stand. Yet, this blind cover outsmarts its competitors by giving one of the quietest ways to enter or exit a tree stand. Instead of featuring sound producing zippers or loose fitting velcro straps, its front opening bear magnets that open or close soundlessly.
The next impeccable feature of this cover is its accurate camo pattern that contributes to delivering maximum concealment. The shades of green and brown mingle into the thick wood surrounding them during the fall season. The more you're concealed in your tree stand, the higher chances of hunting success become evident.
For the size, this tree stand blind is a perfect fit for one person ladder stand. A few of us felt that for a ladder stand with two seats, this unit is somewhat smaller. To yeild effective results from a tree stand cover, it should cover all the way around your double tree stand.
The real tree camo look really make it invisible in some states with green tree flora and cover dimension of 96 inch width to 35 inch hieght makes it well suited for various types of budget hunting stand as well as portable tripod hunting stands.
With this specific size, this blind leaves the back of your double seated tree stand open. This drawback becomes minor when your presence in the tree stand gets full coverage from the front.
Regarding its installation, this unit sets up fast as there are plenty of ties to strap the unit along the tree stand. Nevertheless, the jute burlap construction creates a typical odor that might alert the game. A pro tip: hang the blind for a week prior to getting riddance from this strong smell.
Pros
Quiet and easy to install
My preferred choice for one person ladder stands
Meets needs & expectation with sufficient value
Cons
It may not provide good coverage to bigger tree stands.
3. Big Game Treestands Blind Kit – Best One Person Tree Stand Blind
Normally, hunters who use multiple tree stands invest in larger hunting blind. This helps in saving them some extra bucks while always asking to make fitting adjustments. So, if you think your standard tree stand blind is a good fit for a larger treestand but is much bigger for your single man treestand, this option is for you.
To experience undetected bowhunting and gun hunting without standing up in the tree stand, you need a versatile blind. We found it versatile in this regard. With a fitting to conceal a ladder tree stand from platform to shooting rail, it covers a hunter from legs to chest. half of the tree stand is open which enables hunters to see out and use their bows or guns while sitting comfortably in the stand.
We have found that for dynamic hunts, this tree stand blind performed very well. Yet, with an open top, it might not offer inspiring efficiency for saving inclement weather conditions. But its extraordinary durable construction has blown our minds as it blocked the wind fair enough.
For icing this cake further, the manufacturer utilizes straps for securing it to the rail of the hunting stand. Once secured, no fluttering of fabric is produced to distract the deer from coming closer to a shooting zone.
Most, if not all, treestand blinds require airing them out for nullifying their odor, and this one is no exception. A scent free hunt ensures higher chances of winning a buck.
To access the stand, it has velcro ties in the middle of its front. We discerned this feature disappointing as opening and closing these ties don't come without a sound. To save this, better to enter the stand before the game started appearing.
Pros
Thick and durable construction
Impressive camo pattern to blend in well with tree branches
Weather resistant exterior
Cons
Velcro ties get loose over time
4. Allen Company Blind Burlap – Best Blind Burlap for Hunting
Allen Vanish Hunting Blind Burlap is a need for a seasoned hunter who is confident enough to stay out in the open, looking for prey. The blind burlap keeps the hunter concealed on-ground as well as when they are up on the tree stand. Priced at around $13, Allen Vanish Hunting Blind Burlap is one of the most sought after products by hunters.
The blind burlap is made of an anti-glare material that keeps the hunter camouflaged at all times. The blind burlap is able to blend into different environments. This makes it a great camouflage product. The product is easy to carry which makes it user-friendly. It measures up to 12 ft x 54 inch which covers a good chunk of area around the hunter.
Like all other products by Allen, the Vanish Hunting Blind Burlap is also weather-resistant, keeping the elements away from the hunter at all costs.
Speaking from our experience, Allen Vanish Hunting Blind Burlap can be used for personal uses as well, such as providing cover to a shelter or a shed. Its multipurpose use is what makes it popular among customers. Field testing has also revealed that the blind burlap is durable. This allows hunters to use the product over a number of seasons.
Pros
Can be used on ground as well as over a tree stand.
Anti glare material.
Ensures camouflage.
12 ft x 54 inch; covers the area effectively.
Weather resistant & durable for multi use.
Cons
May only be reliable for 2-4 seasons.
5. Hawk 2 Man Ladder Blind – Best Hunting Treestand Blind For Price
Hawk's tree stand blind is a true value option with all the essential features hunters could think of. Advertised to work for Hawk's 2 man ladder tree stands, but impressively, it can cover almost all bigger treestands that aren't a standard size.
More to this, it has a size that provides a hunter full coverage from his feet to the chest. Without featuring a roof, it enables a hunter to experience using recurve bows and crossbows in a sitting position. Gun hunting, too.
To enhance concealment, it bears one of the most impeccable camo patterns. The exterior blends well in the woods to cover your treestand in branches. Besides that, its blackout interior doesn't reflect light back and keeps your movement undercover on a bright sunny day.
To take performance one step higher, the exterior is made with durable construction. After using the unit in the rain and on a scorching sunny day, its weather resistant exterior neither made me wet nor sweat. Before using one of these, my game bags used to get moist due to humidity in rain.
Along with this, installing this unit is super easy since there are strap ties at its bottom to loop it around the stand. For stable construction, knot the straps tightly so that the fabric won't flutter in stormy weather.
If you don't feel comfortable with velcro straps that are generally prone to get loose after frequent use, then luckily, this one would save you. Instead of having velcro straps in the middle for getting in it, this one has a zipper opening. Even so, the inclusion of the zipper brings in a slight catch as we have witnessed the unit produce a loud sound at openings and closings.
For its impeccable features and efficiency, this blind can't beat the price.
Pros
Weather protected hunting cover
Easy to setup and lasts longer than most of the blinds
Large tree stand cover
Cons
It doesn't tie around the shooting rail and may slip.
6. Guide Gear Tree Stand Blind – Best Tripod Treestand Blind
Hunting 10 feet off the ground from a stand installed in an open field may alert the deer of your presence. And no matter, how hard you try to cut the movement in your tripod deer stand, a tree stand cover system like this one is an ultimate need.
A well designed hunting blind helps in covering the shooting rail of a tripod stand. When we put it up to cover the shooting rail of a tripod stand, we felt glad that it fits impeccably. Not just that, but for any two seated ladder treestand, this cover provides a snug fitting.
However, I personally think, its bigger size makes it prone to flapping, resulting in the whitetail not coming closer to the field zone. This, partly is true as far as you never strap its hooks and loops tight enough to hug the treestand exterior. Once strapped in a proper way across the shooting rail, we haven't recorded any flapping or swaying of the fabric in strong winds.
Most deer stand blinds have a strong smell that needs airing out before they are put in use. But the Guide Gear takes things to the next level by ensuring that this unit contains no odor at all. If maintaining dead silence is a prerequisite for a successful deer hunt, remaining deodorized has its significance, too. This is well taken care of in this specific unit.
To reinforce concealment, it features a black interior to cancel out a hunter's shadow falling on the ground.
On the contrary, we were doubtful to look at the way it gives access to enter or exit the stand. This doubt gets firmer when our hunters tried to zip it even with utmost care yet the blind created a zipper noise. Nevertheless, you don't require to enter or exit a treestand every now and then, so we think this unit makes a good bargain.
Pros
Large and roomy hunting blind
Lightweight, Weather resistant exterior with a nice camo pattern
Good cover for a two man ladder stand and a tripod deer stand
Cons
I felt it a bit noisy compared to Allen Oak and camo.
The fabric tends to fade over time.
Guide To Buying Your First Treestand Blind
A well covered, durable and camo colored blind for treestand is great for log sits. Whether you are a bow hunter or rifle one, these are equally useful to cover elevated hunters.
I usually buy these for treestands on my property and sometimes for friends as well. Here are some of the main factors I look before buying treestand blinds.
Tolerance against wind and snow
Covered area
Tree Stand Type
Durability of cover
Waterproofing against windy rain shower
Ease of Use and setup
I will highly recommend to use stands that not only protect you from rain, snow and wind but also serve long term. They should be easy to install and remove and must have warranty so that one can use it for multiple hunting seasons.
Installing tree stand blinds and cover systems is quite easy. Usually all necessary instructions are mentioned on manuals.
If you need extra steps to go around the tree, as I usually do, you can always use best screw in tree steps.
Conclusion
Knowing the instincts of hunting animals is a godsend. You can't hunt impromptu and needs all your arms ready before the game start showing its signs. With this thing in mind that deer has sharp sense of sight and smell, the hunters use a tree stand blind to virtually wash away their presence and smell.
Since mature deer and turkeys show up around the open field edges, you might have set up a tripod hunting stand to shoot a quarry. Minding this, we suggest you cover your stand with Guide Gear tree stand cover to get full coverage.
To get the best results with your hunting blind, measure the size of your tree stand and the blind to have an accurate fitting. Also, make sure to install the tree stand with a blind over one or two weeks before hunt so that animals get accustomed to it.
Frequently Asked Questions (FAQ's)
Are treestand blinds worth it?
Deer can detect your presence in a tree stand from far. A blind with matching camo pattern merge in surroundings acting as camouflage. Besides this, you get decent coverage and can save the weather elements to a better extent.
Does an elevated hunting tower blind hide the smell?
Since tree stands are high, therefore seldom chances of human smell to let escape. Yet, treestand blinds utilize thick plastic, nylon, or jute materials; all may have strong smells. This being, hunters wash these blinds with scent-free soaps to neutralize the smell.
How to make a treestand blind silent?
You must not scare the deer by making any squeaky or fluttering sound. Silence is the key to have success in your hunt. Too loose blind around a tree stand may cause its fabric to flutter consequently producing a sound. Make sure you tie all straps tightly to prevent any possible noise.