If you are an avid hunter and need to hang several hunting accessories near you, the best bow hanger is what you need. Of all the choices we tested, Realtree Multi Purpose Hanger became the overall top pick. It is sturdy, easy to install, and keeps all the stuff at arm's reach.
Multi size
Realtree Multi Purpose Bow Hanger
Truly multi purpose bow hanger.
Durable and comes in different sizes.
Flexible to various accessories and adjustable for 360 rotation.
Primarily used to hang bows & arrows.
Multiple hangers
HME folding screw in bow hanger
Strongly built hanger with multiple hooks.
Can be used to hang bow, arrows and more.
Olive color to compliment camo hunting style.
Can carry heavy backpack if you insert it in trees deep enough.
Best for Bow
Realtree 2 arm bow hanger for tree stand
2 arm hanger is great for hanging a bow only.
Its made with aluminium and can extend up to 2 ft.
Most compact yet sturdy hanger for your bow.
Bow hangers store your weapon in perfect condition and protect it from accidental falls. They are essential for hitting targets while perched on a tree stand.
After countless hours of testing, we have selected the top-notch ones to make your hunting season successful and enjoyable.
If you are looking for something to hold the bow in a ready-to-shoot position on your tree stand, check out the best tree stand bow holder.
8 Best Bow Hangers (7 Multipurpose Use Hangers) of 2023
Read on to discover the best one that fits your needs.
Realtree Multi Purpose – Best Bow Hanger Of All Time
Multiple Size
This treestand bow hanger can be easily installed on any type of tree. It comes in three different sizes, each measuring 13″, 23″, and 34″. The hanger's arm is foldable, providing an extended space to store your stuff.
While testing it, we used these to hold a rifle, compound bow, coat, hunting backpack, rangefinder, binoculars, coat, and bib. All in all, it is an excellent tree stand gear hanger for a variety of items.
Pros
Very sturdy
Screws in the tree securely
Adjustable to any height
HME Products Folding Hanger – Best Screw In Bow Hanger
Multiple Hanging Points
Similar to the Realtree hanger, this one also comes with a foldable arm. Our team loved how this hunting bow hanger offered a quick and easy installation. Simply screw it in the tree, and ta-da! You are all set to hang your accessories.
We tried hanging a rifle, which the hanger started to pull out of the tree. Clearly, it was unable to withstand the weight. However, it was perfect for compound bows and crossbows. We also used it for hanging a backpack, rangefinder, umbrella, rattling antlers, etc. 
Pros
The arm extends up to 20 inches
Accessory hooks for convenience
Effortless mounting
Cons
Fails to hold the weight of heavy rifles
Realtree 2 Arm – Best Compound Bow Hanger
Best for Bow
Looking for a bow hanger for tree stand that can hold your compound bow easily? Say no more. This one from Realtree is a perfect choice. Like the aforementioned Realtree bow hanger, this one also screws into the tree.
While hunting, we hung the compound bow, quiver, rattling horns, rattle bags, calls, and backpack on it. The 23 inch extendable arms have ample space and strength to hold all the hunting accessories.
Pros
Silent arm movement
Robust enough to hold a rifle
Keeps items within arm's reach
Cons
Only ideal for compound bows
Highwild – Best Heavy Duty Bow Hanger
Editor's Choice
Featuring two foldable arms and three hooks, this is surely one of the best bow hangers to invest in. The screws are sharp enough that our team members easily installed it, even on dense hardwood trees.
It can withstand the weight of a compound bow. Alongside, we also utilized the hooks and hung a backpack, hunting bib, rattle bag, deer calls, quivers, binoculars, etc., on it. 
Pros
Rubber coated main hook enhances lifetime
23 inch extendable arm
Easy to transport
Cons
Might not be ideal for rifles and other bow types
HME Products Pro Series – Best Crossbow Tree Hanger
Editor's Choice
The HME bow hanger also features a two-arm design with one large hook at the end to hold crossbows, compound bows, or firearms. Moreover, the dual prong at the small extending arm screws into the tree.
Featuring unmatched strength, this held our bows and rifles easily. Furthermore, the dual prong could hold the backpack, binoculars, rangefinder, deer calls, quiver, etc. The super sharp point makes it simple to screw the hanger into the tree. 
Pros
Very sturdy
Sharp end makes a pilot hole in the tree
Suitable for tree stands and hunting blinds
Cons
Dual prong hooks don't hold everything
BWD Gear – Best Public Land Bow Hanger
Editor's Choice
No more screwing in the trees with this amazing strap-on hanger. It ties around any type of tree, thanks to its durable cam buckle closure strap. Since it doesn't require screwing in, it is legal to use on public lands. It includes one bow hanger along with three hangers for other hunting gear.
During our testing, we found this one to be a great crossbow hanger for treestand. The larger hook is for holding bows and rifles. We used the smaller hooks for hanging jackets, backpacks, rangefinders, cameras, rattle bags, quivers, etc. 
Pros
200 lbs. rated metal cam strap
Movable metal hooks
Can fit trees up to 72 inches of diameter
Cons
Too small for compound bow
Elong Outdoor – Best Archery Bow Hanger For Treestand
Editor's Choice
These are small hooks that are commonly used during archery but are now one of the favorite accessories for hunters. The Elong Outdoor screws sport a simple design, and the sharp end inserts into any type of tree.
We used it to hold our compound bow, rifle sling, quivers, rangefinder, binoculars, bib, coat, etc. Even though these held all the stuff amazingly, we found these a bit too small for recurve and crossbows.
Pros
Corrosion free hooks
Rubber coating on hooks reduces friction and noise
Super convenient to carry and install
Cons
Too small for crossbows and recurve bows
Auscamotek Treestand Strap Hangers – Best Strap On Bow Hanger
Editor's Choice
This versatile tree strap bow hanger is perfect for loading heavy items without the fear of dropping them. The webbed strap measures 78 inches and can easily tie around even the thickest tree trunk with the help of a self lock buckle.
The two holders with 4 hooks are strong enough to hold a compound bow or rifle. Moreover, we also used it for hanging water bottles, rattling antlers, quivers, rangefinders, trial cameras, backpacks, etc. 
Pros
Can manage 100 lbs. of load
Durable metal hooks with rubber sleeves
Includes a loop for carabiner
Cons
Not big enough for crossbows
Conclusion
Make sure you know your nature of use before purchasing the best bow hanger. This will enable you to enjoy a more stress-free hunt and have one less concern while waiting to aim at a special target.
Our top recommendation for a screw-in hanger is the Realtree Multi Purpose. Whereas the BWD Gear comes as an ideal tree strap bow hanger. 
Frequently Asked Questions (FAQ's)
What is the ideal place to attach a hanger?
Install the bow hanger close to your seat on a tree stand so you can easily grab your bow or other accessories when the game animal is nearby.
Can bow holders be used on any type of tree stand?
Most tree stand bow hangers are designed to be used with all types of stands.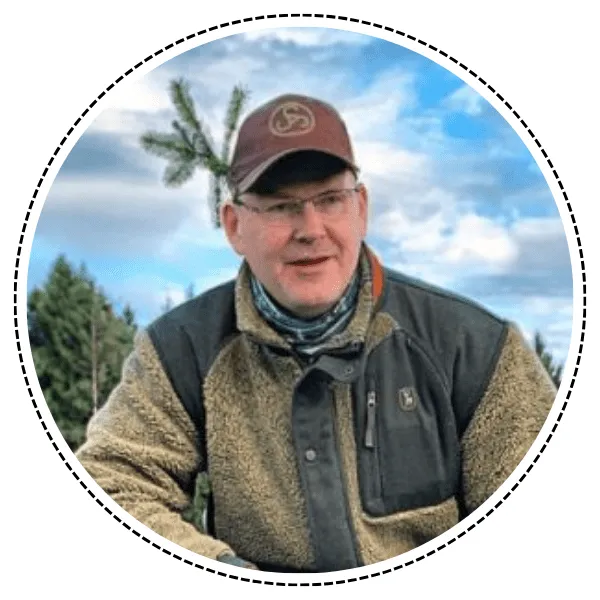 About Henry Liam
I am a father, veteran, database engineer, and a hunter from the Pacific Northwest. I am also the founder of Children Outdoor Adventure Network. I live with my wife and two children in Seattle. Since my teenage, I have been doing run and gun-style hunting on public lands and have visited all 50 states and Canada. Read More about me.