In the late 90s, J.R.H. Industries released its first Gunslinger Climbing Tree Stand. It was bigger, roomier, and easier to climb than some of the most appreciated climber stands like TreeLounge of the era. In 2015, the gunslinger trademark got registered and owned by the Deer Crossing Tree Stands, Inc.
Essentially, our comprehensive testing and research for Gunslinger Tree stand review has concluded it as a heavy duty climber stand, weighing more than 30 lbs.
It is immensely bigger climber stand model, toting it in a private or public hunting land is always laborious. Due to its weight and size, and better alternative, it has practically become extinct. Due to that, it is nearly impossible to find its spare parts or buy a new unit. However, we would recommend you to get a Summit Climber for long term hunting investment.
Nonetheless, keeping a constant eye on the need zone of whitetails may take a few extra hours. So, the Gunslinger tree stand is worth the wait since it is the most comfortable hunting stand to sit in for all day hunts.
Gunslinger Tree Stand Review And Guide
Over the years, this climbing treestands have become less popular among bow hunters. Yet these still are patriarchs of tree stands for acing a trophy buck. Among various configurations of climber stands, for many hunters, The Gunslinger climber stand is the modified "Cadillac" of the climber stands. And we couldn't agree more!
Upgrade From Gunslinger To Summit Viper Climbing Stand
Best In Climbers
Weight Capacity: 300 lbs.
Warranty: 5 years limited warranty
Comfort: Arm, back and gun rest are padded, foot rest can be bought as accessory.
Concealment: Camo design variants to select from
We are on the same page with hunters who think the Gunslinger treestands were good. But this is thing of past. Summit Climbers have dominated the market with quality, durability and safety of climbing tree stand units. Most of the stands of Summit are aluminium made but you can find a steel variant on Amazon too. The time of Gunslinger is gone now.
The Gunslinger packed in all the essential features but it got outdated and we figured there are a lot better options that a bowman can use. Explore best climbing tree stand for latest summit climber variants.
Looking for something even better? Check Summit 180 Max SD which has more comfort and extra room. It is worthy of investment of several years of comfortable hunting. A bit expensive though. Looking for something similar but cheap, check best budget tree stands
The Gunslinger's Specifications
Aluminum construction
Hammock style seat
Pull over padded shooting rail
20"by 21" platform
Compatible for tree sizes 6" to 20"
Backpacking straps
2 variants; Gunslinger250 and H.D. Gunslinger 350
The Gunslinger 250 with 30 lbs and 250 weight capacity
H.D 350 Gunslinger with 32 lbs and 350 weight capacity
The Gunslinger Tree stand Review
Breaking down its specifications, gunslinger tree stand review revealed what made these it so popular among hunters.
GS tree stand is the heaviest climber stand, which bears all aluminum construction. You might question why other aluminum climbing stands are lighter and why this particular climbing stand is so heavier. Well, GS is a huge climbing stand with bigger and better features. So, its higher weight is completely justified when you cast the first glance at a GS treestand.
Deer Crossing tree stand Inc. promises to provide hunters with the most comfortable hunting experience for all day. Being so, its GS 250 and HD 350 both feature a hammock shaped seat. Adjust the position of the seat to meet your specific sitting position and bring in the desired comfort to make your hunting more enjoyable.
As mentioned above, GS is a huge and heavy duty climbing stand with some bigger features. The platform size of GS is by far the biggest one you'll get in a climbing tree stand. Again, this is for the sake of giving a hunter opportunities to sit, stand, bend, or lean the way he wants to retain maximum comfort throughout the hunt.
Not just the inside width of the GS stand is roomier but the footrest on the stand gets adjusted in three different levels.
Watch this video to see why this stand is hyped as the most comfortable tree stand.
After rewarding the GS stand for sitting, a word for its climbing technique __ it is easier to operate. The foot section is attached to the seat section through a rubber bungee strap, and a binder strap secures the stand to the tree. Once secured, this climber stand becomes rock solid.
For durability, the Gunslinger climber won't disappoint you as its aluminum construction can withstand weather elements.
Reasons to Buy Gunslinger Tree Stand
You must have known that the Gunslinger is the No.1 choice of veteran hunters for its comfort.
Yet, it is also worth mentioning that this treestand is by far the most dynamic climber stand. The treestands that face the tree are generally used for gun hunting as they lack room on the platform for turning the other way.
The GS is well praised among hunters for its generosity in allowing bow and rifle hunting, thanks to its bigger platform. While sitting upright on the seat facing the tree, you can conveniently shoot down the deer. Adjust or remove the seat and turn your standing position at any angle to draw your bow for aiming at the deer.
Not only do versatility and comfort go hand in hand, but you can avail of the two models of the Gunslinger climber stand. Both variants are nearly identical, except the Gunslinger 250 has less weight capacity. If a higher weight rating is your concern, then HD 350 Gunslinger is for your needs.
Reasons to Avoid Gunslinger Tree Stand
If you're a stalk and spot hunter, just remain mindful that the Gunslingers aren't easier to transport. Even though the two pieces nest together and there are backpacking straps for hanging the stand over the shoulders, the footprint of this climber stand is quite bulkier.
The owner of a leasing property for deer hunting often prohibits four wheelers entrance into his land. So hauling 30 lbs. GS treestand can break your back if you want to set up this monster from more than 2 miles.
Apart from the bigger size, the Gunslingers cost a higher price and include shipping charges. The gunslinger for the sale might help you avail yourself of a budget deal.
The Gunslinger ComBow Hunter
ComBow Hunter by Deer Crossing Tree stands Inc. is the latest gunslinger treestand. Set up the stand to face the tree or away from the tree for honing your bow and gun hunting skills.
know that the Gunslinger Combo doesn't include a Deluxe Combo seat along the stand. To order the seat, go for the accessories section of Deer Crossing Tree Stand Inc.
Our Verdict
A debate sets up when you'd ask deer hunters what type of climber stand is the best to have success in the game. While we know that every hunter has his personal choice for a deer hunting stand, we value the Gunslingers for making tree hunting as flawless and comfortable as possible.
To add more weight to our claim, check for the reviews on the official Facebook page of Deer Crossing Tree Stands.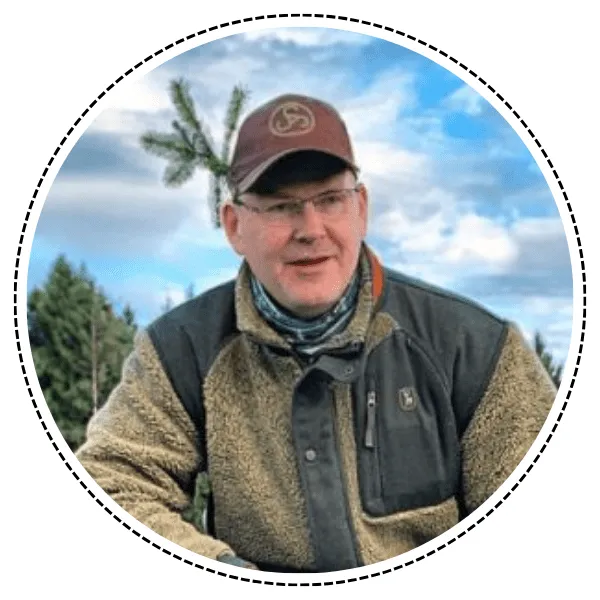 About Henry Liam
I am a father, veteran, database engineer and a hunter from Pacific Northwest. I am also the founder of Children Outdoor Adventure Network. I live with my wife and two children in Seattle. Since teenage I am doing run and gun style hunting on public lands and have visited all 50 states as well as Canada. Read More about me.