It is not wrong to say your success in the field start from hunting watch. Carrying a GPS tracker, compass, watch, stopwatch, etc. all individually is hectic. What could you possibly do? Invest in the best watch for hunting which based on field testing is Casio G-Shock Men's GD 120CM.
Hunting is a unique hobby that many people find intriguing and hence go out for exploration. Out in the jungle, most hunters do public land hunting using a climber stand. Sometimes, it is hard to find shortest route to your vehicle without a proper hunting gps watch. One cannot tell where you are standing unless you have proper directions and a GPS.
Casio G Shock High Resistance Hunting Watch
Water resistant, great for surface water sports
Digital display & multi functions
Shock resistant, thus best for hunting, hiking and extreme outdoor activities.
Can be used by age group 12 and above.
Luminox 3051 EVO Analogue Hunting Watch
Classic analogue hunting watch with date display.
Slightly less protective to falls.
Great for outdoor, illuminated (except date), and water resistant.
great battery life and comes with warranty
Garmin Fenix 5x Hunting GPS Watch
Best GPS hunting watch with multi network satellite reception.
Non medical sensors to provide data on heart beat, oxygen levels, stress level, calories burned and more.
Advanced colored topo mapping for hunters, hikers and outdoorsmen.
TreeStandRanger.com is reader supported website. We may earn affiliate commission if you shop using links on this page (without additional cost to you). Learn More
Boasting numerous useful features for hunting such as high durability, water resistance, world time, timer, stopwatch, and more, it is safe to call this wearable one of the best outdoor hunting watches.
After detailed research, we have found the following top hunting watch Amazon has to offer. So, without any further ado, let's dive into the details of this amazing wearable accessory.
Best Hunting Watches
There are a lot of features one wishes to have in best outdoor hunting watches. All the products mentioned below are loaded with impressive features that will suit your hunting needs.
1. Casio G Shock Men's GD 120CM – Best g shock watch for hunting
If you are looking for the best G shock watch for hunting that isn't too fancy, the GD-120CM could be a great fit for you. Made out of lightweight resin, this watch sports a knobby and knurly construction which enhances the overall durability.
The most attention-grabbing element of this watch is the camouflage appearance which makes it a go-to gadget for adventures and sports. Priced just right for its value, we realized that there is so much that the GD 120CM has for you.
Featuring a digital LCD, the watch shows the day, date, and time. You can set these in either a 12-hour or 24 hour format. On the other side, the LED backlight helped us see the watch even when the surroundings are dark.
Some of the best features of this timepiece as found by our field testing are world time, multi-time, countdown timer, stopwatch, full auto-calendar, five daily alarms, and more. Luckily, we felt the silicon band is super-comfy on the wrist and its buckle closure makes wearing or removing the watch even more convenient.
The water-resistant capability of the GD-120CM that too, for 660 ft. also makes it the best hunting watch. To test this, one of our team members who is also into water sports used this watch. He absolutely loved its flawless performance.
We found the absence of ABC or GPS is a little awkward for this watch. However, considering the price point and other useful features, it won't hurt to ignore it. Also, this watch could be a good choice for beginner hunters who don't go too far with hunting and need basic tools.
Also read: How To Start Deer Hunting
Pros
Water resistant
Highly durable
Withstand shocks
2. Luminox Men's 3051 EVO – Best Luminox hunting watch
Super smart on the outside and incredibly useful on the inside, the Luminox is an excellent hunting watch. It features a black color appearance with white markers on it that enhance the overall look of the gadget.
Unlike most hunting watches, this one comes with an analog dial and displays the date at the 3 o'clock position. Despite being an analog watch, you will get both i.e., 12-hour format and 24 hour format for time.
The unidirectional rotating bezel has a notch and we found it extremely helpful in finding the right path. Since this watch is made keeping the US military standards in mind, it is highly robust and ensures durability. It can easily handle some serious bumps as well as weather conditions.
One of the top reasons why we called it a great choice is its self-powered illumination property. Because of this, the hour markers of the watch constantly glow, allowing us to read the watch even in the dark.
Moreover, its superb luminosity is claimed to stay glowing for up to 25 years. Also, the amount of luminosity seemed just right to us i.e., neither too weak nor too bright. If you want a watch that has hunting specs and is also suitable for regular use, this could be it.
The luminosity feature comes in handy for run and gun style hunting.
It won't hurt to call it the best hunting watch with a compass but it comes with a minor issue of band durability. The polyurethane might not last as long as one would expect and requires replacement. However, this is an insignificant thing that can be traded off for the pros coming with this wearable.
Pros
Suitable for daily wear
Self powered illumination
Withstand extreme temperatures
3. Garmin Fenix 5X Plus – Best smartwatch for hunting and fishing
Are you looking for the best smartwatch for hunting and fishing? Say no more. Garmin is one of the finest manufacturers of smartwatches for hunting. It comes with unique features to level up your hunting as well as fishing experience.
Sporting a classy black colored appearance, the Fenix has almost every useful feature that one expected in a decent hunting watch. As per our testing, this watch estimates the pulse rate at the wrist and the saturation levels of blood oxygen. The mechanism behind this feature is known as the Pulse Ox Acclimation sensor.
Speaking of the altitude measured, we compared the built-in feature of this watch with a genuine altimeter. To our surprise, the results were accurate. Unfortunately, it is limited to a few countries only.
A really cool feature of this watch is that you can play and store up to 500 songs in it. Additionally, you can connect it to your headphones via Bluetooth and enjoy a phone-free listening experience. This can help you to relax when you take a break during hunting.
Along with the ABC feature, it also comes with GPS technology and TOPO maps for much better navigation. According to our experience, the Fenix 5X Plus is among the best outdoor hunting watches because of its advanced features.
Here is a use case for GPS. Recently I placed several best mineral licks for deer in hunting land. I stored that data using GPS feature of watch and will know use it to setup cameras and monitor deer activity.
However, it comes with a hefty price tag that not every user can afford. Therefore, for a budget choice, we will suggest the Casio G Shock Men's GD 120CM.
Pros
Pulse Ox Acclimation sensor
Can store and play music
Accurate altimeter
4. SUUNTO Traverse Alpha Stealth – Best Suunto watch for hunting
Are you looking for a professional hunting + fishing watch or more specifically a deer hunting watch? The Suunto transverse alpha stealth is easily one of the most feature rich watch among its competitors.
At the first glance, I was impressed by its sophisticated look which also attracts most buyers. Additionally, it is robust enough to tackle harsh weather conditions.
While using this watch, apart from all the regular functions, I found interesting features. These include watch sunrise/ sunset data, a diary function for safer tracking, and a specific keyword feature for marking the places of interest.
Moreover, we loved the breadcrumb trail feature which saves us from getting lost in unfamiliar terrains. It is designed to guide you back to the point where you started the journey from. This functionality makes it a great watch for hang on treestand hunters.
This Suunto watch stands out among its competitors because of a jaw dropping feature i.e., the shot recognition technology. This feature works for shotguns/rifles and is ideal if you wear the watch on the hand with which you press the gun's trigger.
Due to breadcrumb feature, I would prefer to take this on my saddle platform hunting trip.
With this function, the accelerometer will tell you the recoil movement after being processed by a complex formula. Sounds like a long function? Well, in our experience, we could see the results on watch within a second after firing the gunshot.
As our experts tested it, the GPS and GLONASS system integrated into this watch is highly accurate. The only trouble is that this model isn't as comfortable for everyday wear as other Suunto models are. However, wearing it for a few hours while hunting only isn't an issue.
Pros
Marks places of interest
Shows the way out of unfamiliar places
Accurate GPS
Cons
Was not very comfortable to me.
5. Timex Expedition Digital – Best Affordable hunting timer watch
For budget choice, this model from Timex Expedition is a deal to steal. It is indeed the best hunting watch with a timer to assist hunters in their adventure. The 40mm gray digital dial has a resin case that shows the day, date, and month on the top.
Whereas, time is shown on the bottom. You can set the time format according to your preference from the two choices i.e., 12-hour and 24-hour formats.
We tested this watch under the water for its water-resistant capability and it worked well at 100m. Therefore, it is suitable for casual water activities such as swimming and snorkeling but highly unsuitable for diving.
The 100-hour chronographic times are easy to operate via two functions i.e., split and lap. You can also utilize the 24 hour countdown timer that works with just a single tap on the button. It also includes an indigo backlight so that you don't experience any inconvenience while in darker surroundings.
The adjustable nylon strap measures 20mm with Fast Wrap feasibility. We found it extremely easy to wear, thanks to the convenient hook and loop closure. Because of its high adjustability, it fit the wrist of every team member.
With this watch, you will get two different time zones, and three daily alarms along with weekend and weekday alarms. Lastly, the watch also includes a 24-hour military time mode. Considering the super-low price of just a few bucks above $50, this is indeed the best watch for backcountry hunting.
One issue that we encountered with this watch is the glossy glass display that becomes highly reflective with surrounding lights. However, if there aren't lots of lights in the surroundings, you won't face this issue.
Pros
Fast Wrap feasibility
Affordable
Efficient timer
Cons
Unsuitable for deep diving
No ABC
6. Garmin Instinct Tactical – Best GPS hunting watch
The Garmin Instinct Tactical is a military-grade watch designed to provide hunters with maximum support while hunting. The high-end materials used to construct this watch ensure protection against damage to the timepiece from bumps and thermal shocks.
This rugged watch has an in-built 3-axis compass along with an altimeter and barometer. Not to forget, it employs accurate GPS technology. Since it is a smartwatch for hunting, we found it compatible with smartphones. We could easily connect it to our phones via Bluetooth for a phone-less experience during the hunt.
The GPS, Galileo, and Glonass technology came in handy for navigating even through the toughest of routes without any inconvenience. It is called one of the best Garmin hunting watches because of its 100m water-resistant capability.
Some additional functions include heart rate, stress, and activity monitoring. What impresses us is the wide range of different colors in which this watch is available. However, it is recommended to choose a darker color especially if you intend to use the watch solely for hunting.
We were delighted to know that this Garmin hunting watch is compatible with mobile applications too. However, there is one limitation i.e., the apps must be from Garmin only. Other than that, it is an excellent choice to opt for.
Since it is priced a bit high, you would have to check your budget before making the final decision. If you are a professional hunter, this watch surely offers excellent value for money.
Pros
High end durability
3 axis compass
Monitors heart rate
7. Garmin Fenix 3 – Best Garmin hunting watch
The increasingly popular watch among hunters is Garmin, thanks to its extended durability and superb functions. Our field testing concluded this watch is a unique one as compared to other choices.
We thought of this watch as a chunkier one but it is surprisingly light in weight yet highly durable. Sporting a decent 1.2 inches round screen, the resolution of the display is amazingly clear. The reinforced fiber polymer casing and metal bezels add to the durability of this gadget.
Fenix 3 comes with the most demanded water-resistant property for 100m. Hence, our hunters also used it on rainy days and for fishing along with other marine-related activities without any trouble.
Equipped with an altimeter, barometer, compass, satellite navigation, and more, the Fenix 3 is a highly dependable hunting watch. The reason for calling it the best Garmin watch for hunting is its scratch-resistant, water-resistant properties, and rustproof metal bracelets.
When hunting on hilly terrains, our heart rate increased and this intelligent watch monitored it all for us. Also, the stunning battery life can operate for up to 2 weeks on a single charge in smartwatch mode. Whereas, on GPS mode, it lasts up to 16 hours, and when in UltraTrac battery saver mode, it lasts for nearly 40 hours.
During the field testing, we realized that the Fenix 3 comes with the disappointment of no stopwatch or timer. If you are someone who doesn't require these two functions, the Garmin Fenix 3 is an ideal choice.
Pros
Exceptional battery life
Scratch resistant
Suitable for rainy/snowy weather
Cons
Lacks timer and stopwatch
8. Garmin tactix Delta Solar – Best hunting watch with compass
The Garmin tactix Delta Solar is a premium smartwatch for adventures and various sports. Highly expensive or we shall say it is the most expensive watch on today's list.
This one comes with a huge set of useful functions that not only help you during hunting but fishing, hiking, swimming, running, etc. Just like most Garmin watches, this one is also constructed according to U.S. military standards.
As referred to by the name, this watch uses solar power to charge up and extends the battery life. We went on a 14 days hunt and the watch didn't run out of battery even once. When solar charging is used, it can live up to 24 days.
The night vision that we tested on this watch is quite impressive. It saves the watch from losing its usefulness at night as compared to broad daylight. Also, its nylon tactical band makes it comfortable to wear for a longer time.
Some advanced features worth sharing include a dual-position format through which your location is easily synced with others. Moreover, the projected waypoint helps to locate the place you started your journey and saves you from getting lost.
We can't expect a Garmin watch without ABC and rightly so, this one comes with an altimeter, barometer, and a 3-axis electronic compass. Considering all the useful functions it offers, the Garmin tactix Delta Solar is undoubtedly the best GPS watch for hunting.
Its onliest con is its extremely hefty price tag. So, if you are a professional hunter and don't want to compromise on quality, you must invest in this exceptional timepiece. However, for a great performance at a lesser price, you can try the SUUNTO Traverse Alpha Stealth.
Pros
Solar charging lens
Preloaded Topo maps
Projected waypoints
9. Casio Men's SGW 1000 1ACR – Best Casio hunting timer watch
In our experience, we found the best mens hunting watches to be from Casio. This triple-sensor watch speaks for itself as it is made out of solid resin. It is extremely tough and can withstand shocks and harsh temperatures. We used it when temperatures were below 10°C and it showed no signs of trouble.
The large circular LED is incredibly easy to understand, thanks to the three segments that the digital display. Furthermore, this watch includes 31 different time zones of the world. That said, we used it in three different states having different time zones and it was a solid performer everywhere.
When hunting in the dark, the LED backlight with a super illuminator offered an illuminated view. Another thing to cherish is the protective mineral glass which covers the LCD and prevents any sort of damage.
The integration of ABC, short for altimeter, barometer, and compass is probably what makes this the best hunting watch. It also includes one snooze alarm and five daily alarms, a stopwatch, timer, 12/24 time format, and auto calendar.
Because of these features, we didn't carry individual gadgets for various purposes. The watch worked accurately for these crucial attributes. With the water resistant ability, our hunters took this watch out on rainy days and there were no issues.
Considering the price point and as compared to other best hunting watches, unexpectedly this one isn't solar. Despite that, it comes as a trade off for all the amazing features that the Casio SGW 1000 1ACR offers.
Pros
Illuminated LED
Withstands harsh weather
3 years of battery life
10. Casio Pathfinder PAG240 1CR – Best hunting world watch
Are you a Casio lover and looking for a premium grade Casio pathfinder hunting watch manual? The Pathfinder is the best watch for backcountry hunting. At first look, we were astonished to see its tough yet attractive appearance which gives some serious adventure vibes.
With the 100m water-resistant, our experts used this watch easily during rainy weather or even inside pools. The digital LCD dial shows directions and time. However, other features displayed on the screen include a countdown timer, stopwatch, five daily alarms, and more.
We tested its 31-time zone feature in various states and the results were great. One feature of Casio Pathfinder worth highlighting is its triple sensor feature. It includes some of the most important functions i.e., ABC or altimeter, barometer, compass, and even a thermometer.
The auto calender shows the accurate day, dates and months. It is loaded with the data for the years up to 2099. For some users, the face of this watch is super easy to read due to its chunky size. Whereas, the same thing comes with another perspective by some hunters.
For example, they believe that the big dial cause discomfort and is not as appealing as they thought. However, for the price tag it comes at, it would still be regarded as the best hunting watch with pathfinder.
Pros
ABC included
Auto calendar
Built-in thermometer
Cons
Could feel heavy on the wrist after prolonged use
Buying Guide for Best Hunting Watch
Watches are not an ordinary investment. For some hunters, it is the best treestand hunting accessory. When you are to buy one, make sure to get your hands on the best hunting watch.
1. Durability
The foremost thing to look for in the best hunting and fishing watches is their durability and how long can it accompany you during your adventure. Hunting grounds can be rough and you must always be prepared for unfavorable weather conditions and unfamiliar terrains.
That said, you should have a solid gadget along with you that can not only withstand harsh tough weather conditions but also resist some serious shocks and high impacts. You can find hunting watches with different constructions which most commonly include plastic, resin, metal, and quartz.
Out of these all, the best choice for hunting are the quartz watches as they are intended to resist shocks and currents easily. On the other hand, meta reinforcements are also preferred as they are much more resistant than resin and plastic ones.
2. ABC (Altimeter, Barometer, Compass)
While you are hunting outdoors, you never know when you can lose the track of your route. In such cases, the only savior for you would be a hunting compass watch. But, can you read the directions on a compass?
There is no need to worry even if you are poor at it. Many advanced hunting watches come with an easy to read compass so that even beginners can understand the directions.
Alongside a compass, you also need an altimeter and barometer when your watch lacks a GPS tracker. These two function as a helping hand for the user while the compass shows the directions. The altimeter and barometer are responsible for indicating the altitude that you are at and measuring the atmospheric pressure, respectively.
3. GPS Tracker
The best hunting watch is complete only if it features a GPS technology. The choices for the best GPS hunting watch in the market are vast. But do you ever wonder why it is an important factor to look for?
Just like you need a compass to locate yourself when lost, a GPS tracker is a more advanced version of it. It will simply show you your exact pin location on the map. There are several hunting watches in the market that show you the map while pointing out your exact current location.
The best thing about the best hunting watch 2023 is that you will be provided with major references. For example, nearby roads, highways, or famous places so that you can easily understand and reach a safe place.
Some of the new hunting watches also come with an in-built feature of storing your most recently visited places. In this way, you can track where you started your journey and head
back to that place. You can also access these watches through a smartphone or a laptop for a bigger and clearer view.
4. Weather Sensors
As any veteran hunter will guide you, mother nature is unpredictable. Hence, you cannot go out hunting without preparing yourself for ruthless weather. Doing so could lead to poor visibility and other serious consequences.
Thankfully, modern watches now come with weather sensors that detect temperature, humidity, altitude, and more. Some latest watches even send alerts for the incoming rain and are called the best watch for hunting and fishing.
These watches are connected to the official weather sources from where they gather information and send it to the user. Remember, a hunting watch with no weather sensor is a straightforward deal-breaker.
5. Legibility
Looking for good legibility is a must regardless of the type of display you are getting. This is because the display should be visible to you whether you are in the broad daylight or in complete darkness.
While hunting, you won't always find yourself in the most ideal conditions and pleasant areas. Therefore, your watch must be your savior during these challenging times.
The best hunting watches always come with a decent LED backlight that will do the job perfectly for you. Ensure that the watch's brightness level is adjustable and if it's not, it must be readable in the sunlight.
6. Decent Design
You wouldn't want something flashy with vibrant colors and reflections when it comes to buying a hunting watch, would you? Design is the least focused attribute while purchasing a timepiece.
However, it is important that you choose something sober that isn't prone to flashes or reflections. Anything fancy can distract the animals.
So, make sure to invest in a hunting watch that comes in a darker color or camouflaged appeal. It will help you stay away from unwanted and unpleasant attention.
7. Water Resistant
A lot of people are unaware of the fact that being water-resistant is among the most important factors to consider. Almost every hunting watch including the low priced ones also comes with a water resistant property.
However, the depth of water at which the watch is safe to operate varies from model to model. You will find introductory models proficient in submersion ranging between 20-50 meters underwater. Whereas, the advanced models can immerse into the water as deep as up to 200 meters.
That said, the watch would be safe to use during rainy/snowy weather, under the water, or for fishing purposes.
8. Battery Life
For every gadget, battery life plays an integral role and the case with hunting watches is no different. Most hunting watches come with GPS technology which consumes lots of battery in no time.
Therefore, make sure to look for the battery life of a watch. Some watches can run up to 18 months. Whereas, others can only run up to 18 hours, depending on your usage.
It would be a plus to invest in a watch that comes with solar charging capability. It extends overall the battery life to a great extent.
Conclusion
All in all, you can find a huge variety of the best mens hunting watches stacked with a bunch of highly useful features. All you need is good knowledge of these watches so that you don't end up purchasing the inappropriate timepiece for yourself.
Although all of the aforementioned products are superb, if we talk about the top three best watches for hunting and fishing, these include:
The best one according to our research is the Casio G Shock GD 120CM hunting watch which is not only priced right but comes with numerous premium features that you would love to have in the best GPS watch for hunting and hiking.
The second best comes the Garmin tactix Delta Solar which has solar charging capability as its most highlighted feature.
Finally, the third best hunting watch we chose is another one from Garmin i.e., the Instinct Tactical watch which is integrated with GPS technology, built-in following the US military standards, and is incredibly durable.
FAQ's for Best Hunting Watch
Why do I need a hunting watch?
To find your location while in remote hunting areas, a best hunting and fishing watch come in handy. It also provide directions, altitude, temperatures, and more. 
Are GPS watches worth it?
GPS watches provide high accuracy of location so that you can reach the target locations conveniently without needing smartphone GPS. 
Should a hunting watch be water resistant?
Because of the weather uncertainties, it is better to have a water resistant hunting watch.
Can I use my hunting watch as a timepiece?
Hunting watches have larger displays and could feel chonky. If you think your watch is lightweight it can be used used as a timepiece.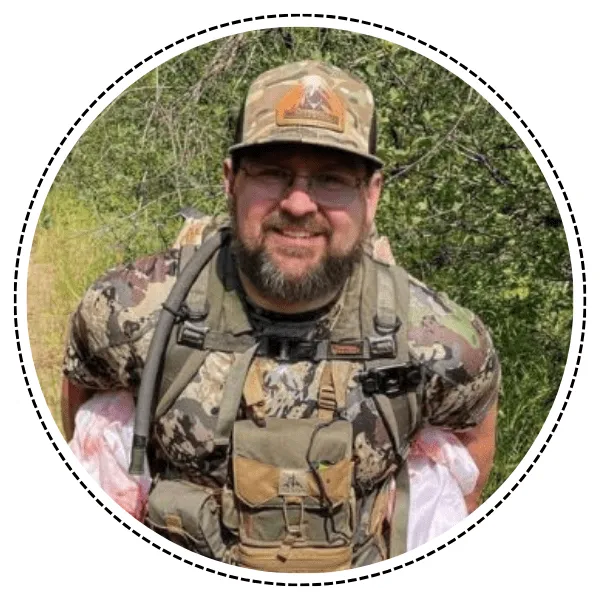 About Alex David
About Alex David
I am an avid bow hunter and author of Tree Stand Ranger. Hunting from tree stands has been a passion of mine for many years. I've had the privilege of owning several tree stands and hunting properties throughout my life, and I take great pride in having the opportunity to do so. Read more about me.