You must be wondering how to make a hunt that might extend for more than an hour much more comfortable in your tree stand. The best tree stand seat cushion is the answer, which is Summit Universal treestand seat cushion.
The summit created best hunting seat which meets all our exceptions. It is rated overall best based on comfort, performance, durability and cost effective choice.
Summit Climbing Stand Seat
Best summit stand climbing hunting seat cushion
Great for summit and some other climbers (seat: 18 x 12 inch)
2 to 3 inch double padded foam
Attach to seat's handles.
Millenium M300 Stand Alone Hunting Seat
Works as a stand alone seat and is attached to tree directly.
Aluminium made, durable and stand alone stand seat.
Great for treestands, ground blinds as well as dry and wet hunting lands.
17 inch deep and 20 inch width comfort seat fits all type of hunters.
Alps Outdoorz Multipurpose Inexpensive Seat Cushion
Simplest lightweight cheap cushion for all types of stands.
Works with ladder, hang on, climber, tripod as well as quadpod stands.
15.5 inch width with 12 inch length makes it sufficient for all hunters.
TreeStandRanger.com is reader supported website. We may earn affiliate commission if you shop using links on this page (without additional cost to you). Learn More
But this isn't the complete picture! Our team of 15 deer and fishing hunters explored the mainstream market to try different hunting seat cushions. From the perspective of tree stand hunters, a hunting seat should combine comfort, value, mobility, and quietness. While fish hunters think a hunting seat needs to be waterproof and comes with an antislip base.
16+ Tree Stand
Seats Studied
Top 8 Seat
Cushions Listed
1 Week Of
Testing
8 Best Treestand Seats 2023
Considering the preferences of these two group of hunters, we've shortlisted the best hunting seat options in 2023. All of the following picks are considered the best in their specific category. From universal hunting seats to seat cushion for double seat ladder stand, we've reviewed the top-rated options for making your hunts trouble free.
1. Summit Treestands Universal Seat – Best Tree Stand Seat for All Summit Stands
To have a realistic hunting experience, you need to feel comfortable throughout the game. To serve this purpose, you need to invest in a high quality tree stand seat cushion like this one from the Summit. We tested this option for its durability, easier installation, and comfort level and ranked it an all rounder among several other options.
Firstly, this seat is relatively bigger in size to fit almost various tree stand sizes. Not just bigger, but this unit also bears comparatively more padding than Summit's stock treestand seat cushion. The extra padding provides more cushion and support to hunters with pain in their tailbone or back.
The next impeccable feature of this seat is its adaptability. You won't have to shed your bucks to get some other seat cushion every time you plan tree stand hunting. Primarily, advertised as to work with all Summit's tree stand models, we've found this seat has dimensions that fit tree stands other than Summit's. Nonetheless, always measure the dimension of your hunting tree stand before getting this kind of seat cushion.
This seat consists of two pieces, letting us question its transportability. Yet, hauling this unit to multiple hunting locations came to us as a breeze. Our only gripe with this unit is that it isn't waterproof. But the build quality is high enough to stand the test of time.
Like all seasoned hunters, our second concern about this seat was to determine its quietness. Again, this unit impressed us as there are plastic hooks and rubber coated straps to buckle the seat to its right place. All in all, this seat offers a great hunting experience.
Pros
Fits all climber tree stands
Value for money with superior quality build
Thick padding to provide warmth and more comfort
2. Millennium M300 Ground Seat – Comfortable Hunting Seat
If shelling out money isn't your problem, then Millennium is a viable option for avid hunters. This is absolute essential for Millennium tree stand lovers. Over the years, it has been a popular choice of hunters for offering maximum comfort during long sits.
Touted to withstand a weight capacity of 400 lbs, this is rather a seat for hunters, big and heavier. Apparently, the seat looks like any other hunting seat, yet once you sit on it, you'll experience a different feel. A fellow hunter from our team said that the seat is so comfortable that you can't resist having a nap while hunting for long hours.
Not just this is the most comfortable seat so far in the market, but it is super light in weight. Being that, hauling this seat is quite effortless. Not merely this, there are backpack straps for making transportation as lightweight as a feather.
Even more, this thing is incredibly stronger than its contenders. Yet one gripe with this seat is: the stock strap never works with trees with a diameter more than 24". You can solve this problem by replacing its stock strap with an aftermarket ratchet strap. Other than this, we strongly recommend this seat to avid hunters.
The sling seats are usually prone to produce sounds with the fidgeting of hunters. Yet Millennium has outperformed its competitors by making this seat as quiet as possible. Our fellow hunters have recorded that this seat remains silent during transportation and usage.
For stability, strength, and comfort, Millennium M300 seat is second to none.
Pros
Provides maximum support to hunter's back
Durable and stable, light as a feather & great for mobility
A wider hunting seat
Cons
Short strap for backpacking
3. Alps Outdoorz TreeStand or Ground Blind Hunting Seat – Best Padded Hunting Seat
You can't experience a real hunting experience in sub zero temperatures unless you have a hunting seat to suit your specific needs. So, the Alps hunting seat turns out the coziest seat for hunters to level up the freezing temperatures.
Something to make it more remarkable than other options on our list is its thickness. Thanks to its higher density rubber foam filling provide hunters with a warm cushion to sit on. Even more, after testing the seat for sitting for long hours, we won't shy away to tell you that this unit holds pretty well, not just for use as a hunting chair but as the best cushion for your office chair, too.
Conversely, if you're looking to make a lifetime investment for your hunting pursuits, we suggest considering some other option. The seat is so warm to sit on that it might cause your butt to sweat.
Since there are several other factors that matter to make a tree stand seat phenomenal, we can't help praising this seat in totality. The outer cover of the seat is made with a fabric that resists moist and wet weather elements to an incredible extent. Not to mention, it still tends to catch some moist on its cover. Shouldn't be a thing to annoy you as the moisture dries off too fast.
As far as hauling this seat matters, you'll have a handle to carry the seat in and out of the woods. For attaching to the tree, this seat comes with a strap to install the unit. Harder to resist this tree stand seat as it never either clangs to alert the game.
Pros
Phenomenal tree stand seat
Perfect for hunting in cold weather and long sits
Multipurpose seat for all types of hunt
Cons
Comparatively, a bit pricey
4. Therm A Seat Two Man – Best Double Tree Stand Seat Cushion
Therm-A-Seat is the name you'll encounter the most when choosing the best seat cushion for your two man ladder tree stand. It is sensible on your part to have your eyes on this option if you're looking to replace the seat on your double tree stand.
Perfect sizing of the seat is the first attention grabbing feature to consider in a quality hunting seat. A double ladder tree stand or a lock on tree stand, having bigger seats for two hunters, require bigger seat cushion. This option comes with a wider size to match your two man stand.
One impressive feature of this seat is its thickness. It bears 3" thicker foam to retain your comfort level to the maximum. The thicker cushion under your bottom keeps you warmer than a seat cushion with a thin layer of foam. The thickness of the seat is a huge plus point if you have a preference for hunting in cold weather.
Another encouraging feature of this bigger seat is its quality. Bigger seat cushions are prone to sagging after a certain time, the good news about this seat is its foam is comparatively stiffer in nature. We've not observed the seat loses its form when used for more than a decade. Quality is a win win, in this case.
The next feature of this particular seat is the fabric material of its cover. The seat lauds as a water resistant tool. When we've used this seat in our early morning hunts, the seat cover gets wet. Whereas, the foam inside the cover remains super dry. We think it's a little catch that you shouldn't break the deal.
For camouflage, installation, and silence, it is a phenomenal tree stand seat. The price of the seat is on the expensive side, but its efficacy is worth it.
Pros
Remarkable and big tree stand seat
Comfortable padding and easy to use
Weatherproof and durable
Cons
Hinderance in mobility/transportation
5. Slumper Mesh Tree Stand Seat – Best Silent Waterproof Tree Stand Seat
If you're addicted to hunting in rain, then a foam padded seat won't going to work the best in keeping you dry. A mesh seat like this one from the Slumper would make the best rig as it never gets wet with moisture. Even if it does, you can get rid of the moisture by shaking the seat as the mesh seating dries off in seconds.
Keeping in mind that this seat bears no padding, this seat should also grab your attention if you hunt in hot weather since the seat is breathable.
On the other side, in some ways, the seat might not be as comfortable as any padded seat. This is a slight catch that you can ward off by getting up from the seat every couple of hours.
More to this, there are three straps to attach the seat to your existing tree stand, be it a ladder tree stand or a climber one. The interesting function of this kind of installation is you can loosen or tighten the straps to have a position in your stand to match your comfort level.
Another feature that makes this seat shine is it remains quiet when you stand up. This seat makes it possible to remain more hidden in your stand, leading towards your hunting success.
Not just that, but it bears a simple design that gets folded as minimum as possible. The super portable seat has space saving ability, allowing you to tuck it into your backpack easily.
The sizing of the is perfect for taking big hunters on board. Make sure you install the unit right to acquire stability.
Pros
Fits almost all tree stands
Great choice for hunters in hot weather
Adjustable to gain required height for sitting
Relatively more portable and silent than padded seats
Cons
It may tear apart too fast
6. Therm A Seat Water Proof Hunting Seat – Best Foldabe Cushioned Seat For Long Sits (Ground Use)
Long sit hunts are fruitful only when you know you're sitting on a seat that isn't going to cause strain on your shoulders or back. Don't go past this tree stand seat if you're looking to add some extra support on your back with its adjustable backrest. With this clever feature, you can lean on the seat before the game starts showing its signs.
What I consider the best feature of this seat is that it stays at its place after installing. Thanks to its adjustable straps for allowing hunters to have a customize fitting. The quick release buckles allow you to secure the seat in no time and unfastening the seat isn't a toll either.
To establish the superiority of this seat, you'll experience ideal comfort thanks to its three layers of padding. More padding means higher insulation, which means you'll get a warmer seat. So, for cold weather hunts, this seat should have your eyes on.
This isn't everything! The benefits of this seat go beyond and above. Apart from being a tree stand seat, some members from our team tested the efficacy of this unit for ground hunts as the seat boasts to have a self supporting system. They found this thing exceptional it has non slip base that sits securely on the ground.
The only problem we have found with this seat is that it isn't meant to use on warm days. For cold days, no other option can beat it so well. Our testers also found that the fabric of the cover needs to be made much more durable, because in some case, the fabric from the bottom side of the seat torn away.
Nevertheless, the seat has all features to provide you with quiet and comfortable hunting in reasonable budget. Along with this, if you love changing your hunting locations so often, it's portable.
Pros
Insulated seat
Value for money
Versatile hunting seat
Well built, wider, and comfortable
Cons
The leather cover is prone to tearing
7. Xop Xtreme Padded hunting Seat – Multi Purpose Lightweight Seat (Ground Use)
This lightweight and compact seat with a stable base would suit your gunning and running hunts pretty well. For budget minded hunters, it features all the must haves of a comfortable hunting seat.
Just by looking at it, one can tell that the seat bears a clever and well thought design. Sitting on a hunting seat without a backrest can be a real trial for hunters who suffer from some sort of backache. Yet not with this specific seat since its backrest can be adjusted for cushioning your back at the spot where it needs the most.
The comfort of this seat does not just end here! We've noticed that the seat is though just 1" thick but is impeccably comfortable. Added to this, the base is waterproof and allows you to place the seat directly on the ground.
In terms of installation, it is a no brainer. Once secured properly, the seat holds its place even when hunter is moving around the seat. Adding to this, we've witnessed the seat to be super silent when we shifted in it.
For a treestand seat, a must have factor to look for its portability. The goodness of this factor isn't ignored by XOP as the seat is super lightweight. For long hunts, this is the seat for you. Other than this, being the most compact seat, stowing away this unit in your backpack for your gun and run hunts comes as a piece of cake.
However, we think it's hard to recommend this seat for cold hunts. Despite having a nice padding, the seat might not feel as comfier for your butt as the one comes with some two or three layers of foam padding. Nevertheless, you can't go wrong with this rig as it fits nearly all tree stands.
Pros
Ultra lightweight and compact seat
Comfortable and durable
Water resistant base
Budget option
Cons
Not suitable for cold hunts
8. Muddy 360 Degree Swivel Seat – Best Swivel Cushioned Hunting Seat (Ground Use)
This is the seat to get beneath you if you want to remain on budget side. This swiveling seat might not be an ideal deal for your long hunts but it has a handful of nifty features to offer.
For comfort, we rated it good enough. Sitting on this seat which has a 1" thick padding can be comfortable for one or two hours. But for hunts that involve sitting for extended hours, this unit may cause soreness to the hunter's bottom. Even so, under a price tag that is as low as half a dozen of cupcakes, this feature needs to pass over.
To make this seat even better, the seat can resist water. Being so, for your rainy hunts, it should be your companion.
Some of our hunters discovered that the seat initially spins great. Yet after some time, the seat stops swiveling motion. This is a gripe for those who have bought the seat solely for its swiveling feature. However, for an inexpensive tree stand seat, this function shouldn't come to you as a surprise. A pro tip to maximize the spinning of the seat is using WD 40 spray between the seat and lid.
We've also discovered that the seat is great for withstanding young hunters. For big hunters, this might not be the perfect solution as its plastic lid may break under their weight.
All in all, this swiveling seat is a great buy if you want a budget deal.
Pros
Waterproof seat
Good option for basic hunts
Reasonable price tag
Nice camo pattern for keeping hunter's profile hidden
Cons
Not comfortable for long sit hunts
Not well built to last longer
Choosing The Right Tree Stand Seat – Buying Guide
Tree stand hunters suggest when hunting, maintain comfort. Keeping in mind that you're going to spend a lot of time in your tree stand, you ideally need the best tree stand seat cushion to yield the best results.
An ideal tree stand cushion makes your hunts comfortable, but what you choose to sit on should be portable, quiet, and adaptable during changing weather conditions.
Here are some key features you shouldn't miss when selecting the tree stand seat cushion.
Size
Identify the size of your tree stand seat before getting a seat cushion. Make sure that the dimensions of your seat cushion sit with the dimensions of your tree stand seat.
Generally, smaller cushions make a great choice to place over any tree stand size. Nonetheless, there are big seat cushions available, as well. The huge hunters with heavier body needs might need larger cushions to meet their needs. So, it's a matter of personal preference to select which cushion size fits your needs the most.
Material
A seat cushion comprises a seat cover and filling inside the cushion. When buying a tree stand seat cushion, look for a cushion that has a breathable cover. This is important if you're going to sit on a cushion for long hours during hot weather.
The other thing about a seat cushion is its filler material. Foam is the most popular filling material used by manufacturers as it offers optimal comfort. Besides this, offering good insulation a foam filling seat cushion never fails to provide hunters much needed warmth when hunting in areas of freezing temperatures.
The downside to foam-padded seat cushion is it tends to compress over time. Being so, you may need to look for a seat cushion that comes with higher density memory.
Squirrels may chew your tree stand seat cushion, so you might have to use a squirrel repellent spray to keep them away.
Packability
If you plan to use your tree stand seat cushion with your mobile hunting setup, you need one with more portability. Those models that have thin padding are lighter and easier to carry.
To save hunters some extra space, there are seat cushion variants with deflating ability. Pick the one that suits your requirements.
Installing a seat cushion to a hunter's backpack is a cinch as there are straps for attachment.
Other Features
To reap maximum benefits from your tree stand seat cushion, you must keep some other things in your mind. In the game, hunters can't choose a seat cushion with a strong odor or any rattling parts. Similarly, a perfect seat cushion should blend well with your hunting surrounding.
Conclusion
We consider comfortable padding and transportability are the key characteristics to make a tree stand seat worth the purchase. Among many models of hunting seats, we recommend Millennium M300 has outlasted all its competitors for offering exceptional comfort levels. The transportability of this seat is also matchless, making it a lifesaver accessory for hunters who quickly changes their locations when hunting.
Contrarily, for your double ladder treestand replacement seat, we'd suggest the Therm-A-Seat two man seat cushion as the perfect answer.
Note that the best tree stand seat cushion should fit precisely the size of your actual treestand seat. A too short or a too big cushion isn't going to let you sit firmly on your tree stand.
Frequently Asked Questions (FAQ's)
Which is better: a mesh tree stand seat and a foam padded seat?
As per my experience small padded seat is way more comfortable for long sits in rough hunting terrain. In hot weather, mesh tree stand seat might fit you the most.
Can I use a tree stand seat for my ground blind hunts?
You can use stand alone hunting seats for a ground blind hunting seat. Such hunting seats feature an anti-slip base for placing directly on the ground. Or you can install them around the base of a tree by fastening their straps.
How to make a homemade tree stand seat?
You can make a tree stand seat using plywood with 16" bottom side and 13"-14" backside. Make holes on both sides of the wood and add rope to hold the seat to the tree.
Is it a prerequisite to get a seat cushion for treestand hunting?
Treestand seat cushions are a luxury most hunters might ever ask for. However, sitting on the naked metal bars of a tree stand isn't a pleasant experience for long hours.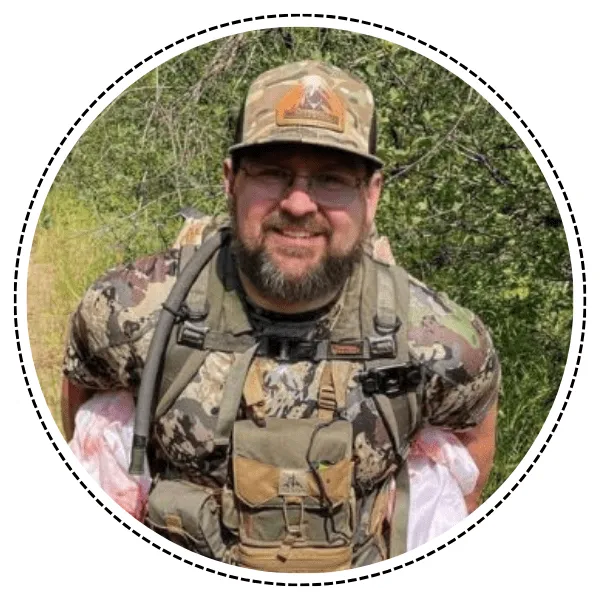 About Alex David
I am an avid bow hunter and author of Tree Stand Ranger. Hunting from tree stands has been a passion of mine for many years. I've had the privilege of owning several tree stands and hunting properties throughout my life, and I take great pride in having the opportunity to do so. Read more about me.