Hunting an elk is fun, but every hunter knows that the real struggle starts once you have notched down the tag. From skinning the elk to quartering it and taking it to the truck bed, there's a lot of hard work. Understanding how to pack out an elk can help you turn this strenuous procedure into an easier one. The best way is to use an elk hunting frame pack. 
Since you can't drag the entire dead animal miles away, you must first field dress it. Some smart tips and tricks will help you go a long way every time you take down an elk.
How To Pack Out An Elk – 5 Smart Ways
To move carcass or meat efficiently over long distances, hunters often use the following gear:
For a successful elk pack out of the woods, there is a series of steps to follow.
As a hunter, I have struggled with enjoying elk hunting due to the arduous packaging afterward. I started deer hunting way before and understood how to pack out a deer after a successful hunt. However, after coming across the following incredibly clever ways, packing out an elk became fun too.
Whether you are a solo hunter or venturing out with a group, these five ways will make sure that you don't get strained.
1. Elk Backpack
There is a great variety of game bags for elk, and they come in different sizes that you can choose from according to your preference. These are external pack frames for elk that have the ability to fit an entire elk easily. 
The  Alps Commander X + Pack is currently one of the best elk packs to purchase. With this pack, you will get a sturdy waist belt that shifts more than half the weight to the carrier's hips. 
Backpacks are the oldest and the most common method that you will come across when talking about how to pack out a deer. While using these meat frame packs, it is best advised to use trekking poles for support.
Using these poles could look foolish, but aids in maintaining balance while you have loads of meat on your back. It also provides support to your knees and hips and prevents sudden jerks and wear and tear. 
Elk backpacks are best used for steep terrains, blowdowns, and literally everywhere others can't make it. These bags are designed to hold up to 60 lbs. of load without any inconvenience. You can purchase a bag for 60 lbs. weight for approximately $150 to $180. As you go up with the size, prices will increase.
2. Fat Bike
Fat bikes ensure superb traction, making it ideal for the hunters to carry the mighty elk out. Make sure to attach a robust trailer to your bike. I bought an old child hauler from a thrift store and secured it with my fat bike. Trust me, it made loading and carrying the elk meat super easy. That said, a fat bike with a trailer can be used for solo elk hunting.
These bikes would be an excellent choice for long travel, especially on logging roads and trails. Furthermore, the low gearing system of these bikes makes them great for hilly areas. One of the best things about these bikes is that they offer an easy and fast transfer of load from the ground to the trailer.
Don't forget to carry a few extra tubes for your bike as well as trailer tires. When going downhill, go slow because the loaded trailer might try to run ahead of your bike. Whichever trailer you choose, ensure it can withstand at least 70 to 100 lbs. of load. 
A sturdy fat bike could cost you somewhere between $600 to $1200. A trailer could be anything strong enough to carry meat, and it could be between $0 to $500 maximum. 
3. Pack Wheel
Have you ever seen a wheelbarrow or a uni-cycle? Think of a pack wheel as their baby. These are highly famous among solo hunters because of their exceptional ease of use. You can load the meat yourself and carry it all the way to your vehicle with no trouble.
Pack wheels offer an impeccable weight-holding capacity, i.e., up to 180 lbs. That said, you can even carry a boned elk in it. The best terrains to use a pack wheel include logging roads, single-track trails, and downhill packs. 
Try not to use these uphill because it would not only be tough but dangerous, too. With all that load, you and the pack wheel will be at a higher chance of tripping. Whatever the weight of the load will be, distribute it in three equal parts, i.e., one bag on each side and one on top. Based on the model, a pack wheel can cost you $500 to $850. 
4. Sled
Sleds are an excellent choice while hunting on snowy grounds. One of my friends tried this trick and forced me to do so as well. While on a solo hunt, I took along my sled, and it was probably the safest means to transfer the meat.
From loading to carrying, I could do everything all by myself. Sleds can load between 180 to 240 lbs. of meat depending on their size and terrain. These would work best on flat surfaces and snow-covered areas.
The only downside is that these are inefficient on uneven terrains. Sleds are inexpensive as compared to other options. That said, you can get one for around $40 to $55. You might also find cheaper deals from thrift stores.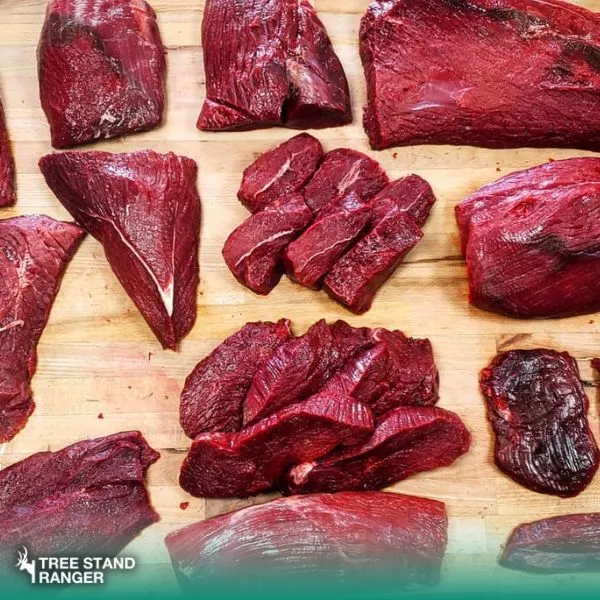 5. Game Cart
When it comes to how to pack out a deer, game carts come as a handy solution. This is the safest and most convenient option to carry an entire elk out of the woods without field dressing it.
Game carts are best for trails, rolling hills, and logging roads. Since these are relatively big and used to load a whole animal, it won't be safe to use these for solo hunting. While carrying it down, make sure to maintain a balance throughout. It is the key to smooth transport.
Despite being a two-person job, these are not suitable for uphill because of the excessive load on them. You can easily find the best game cart for elk or similar animals for under $500. 
Elk Meat Cutting – How To Process An Elk?
You can't learn how to pack out an elk successfully without knowing about the meat-cutting processes. For packing out an elk, you must field dress it, chop it into quarters, and carry it out of the woods. Following are the four steps involved in elk meat cutting:
Skinning
To skin an elk, you need a sharp knife and a sharpener, just in case. Start cutting from the back of the head towards the tail. Keep your knife closer to the skin than the meat so that most of the meat stays on the carcass. Make sure that the pelt doesn't get dirty from the inside as you remove it from the body.
Field Dressing/Gutting
Wondering how to pack out an elk with that much meat and entrails? Well, you don't have to. Elk field dressing is a smart way to pack an elk without extra weight. You don't need anything else than a sharp knife for gutting an elk. Ensure that the meat doesn't get damaged as you cut the organs and intestines out of the animal's carcass.
Deboning
Deboning elk in the field is possible but not a great idea since you need a large cutting board and freezer to store the meat. If you are on backcountry hunting, you can use large coolers to store the meat. However, doing so in your home or workstation is a lot more convenient. Grab a butcher's knife, and a large chopping board on a solid surface and start deboning the meat.
Processing
After you have butchered the meat to your desired size, wrap each piece in a plastic cling wrap tightly. Now take a freezer paper and cover the plastic-wrapped meat in it. Label the meat part along with the date of packing. Finally, store the butchered meat in the freezer and enjoy eating whenever you want.
How To Cape An Elk For Shoulder Mount?
Caping an elk is a famous process, especially among hunters. It includes stuffing the animal's real pelt and using it to mount on the walls as decorative items. Grab some sharp knives, and latex gloves and start caping the elk.
Conclusion
Elk is a huge animal, and how to pack an elk is a common question many hunters worry about, especially beginners. While it may sound strenuous, you can make it a fun process using clever ways. From packing to meat cutting and processing, there is so much work to get the meat on your plate.
Whether you are an expert or a newbie, the aforementioned tips will make hunting and how to pack an elk a convenient task. Make sure you carefully follow the instructions and get the most scrumptious meat out of your big trophy animal.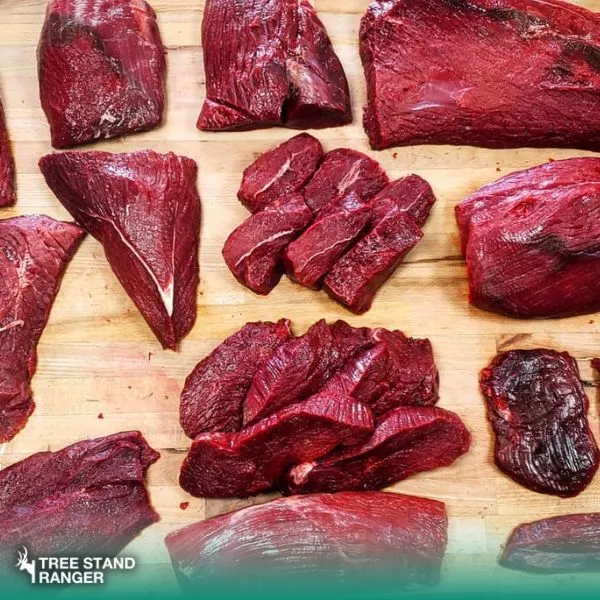 Frequently Asked Questions (FAQ's)
How much meat do you get from an elk?
According to a famous study conducted by Wyoming researchers, you can get at least 60% boneless meat out of your headless and skinned-out elk. During the research, the average lean meat yielded from a bull elk weighed 218 lbs. Whereas a cow elk gave an average of 169 lbs. of boned-out meat.
How much does an elk quarter weigh?
For an average bull elk weighing over 200 lbs., its hind quarter would weigh between 45-60 lbs. each. Whereas, for a cow elk with an average meat weight of more than 150 lbs., the hindquarters would be 35-50 lbs. 
The figures vary depending on the overall weight of the animals. Remember that the front quarters of an elk are always 10-15 lbs. less than the rear hind quarters.
What size cooler for elk should I get?
The ideal size for an elk cooler is more than 200 quartz. It can fit all four quarters of the animal while leaving a decent room for ice blocks as well. Elk coolers are also available in 120-150 quartz, which can store boned-out meat or two hind quarters. 
Where to get elk meat from?
You can easily purchase meat from online and various shops in the USA. Some famous ones are Steve's Meat Market, Inc. in Arvada, Colorado. Alwan & Sons Meat Company in Peoria Heights, Illinois. C & J Tender Meat Co in Anchorage, Alaska. Meat Lodge in Sioux Falls, South Dakota. Tillman's Meats & Country Store Jacksonville, Florida. Country Meat Market in Forth Worth, Texas. Critchfield Meats Family Market in Lexington, Kentucky.
How many game bags are needed for elk hunting?
You will need at least 4 large game bags to pack elk meat. If the elk is large, you might need up to 6. You will also need a large 60 feet cord to hang it before quartering.
How to pack out an elk solo?
Packing elk is a hurdle as it will take several trips to and from your camp. You will need a sharp knife, several game bags, and a sled/fat bike/pack wheel.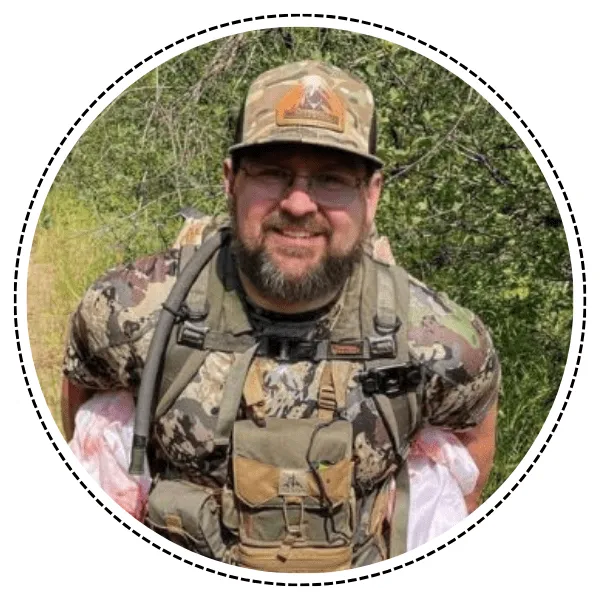 About Alex David
I am an avid bow hunter and author of Tree Stand Ranger. Hunting from tree stands has been a passion of mine for many years. I've had the privilege of owning several tree stands and hunting properties throughout my life, and I take great pride in having the opportunity to do so. Read more about me.
Related Hunting Guides
Tree Stand Hunting
Tree Stand Hunting Essentials