After taking down a trophy buck in the wilderness, many folks think of one common question i.e., how to drag a deer out of the woods. You could be miles away from your vehicle and dragging a mighty animal all the way would require excessive effort. To turn this impractical task into a practical job, you must know how to pack out a deer.
Some hunters pack the entire carcass of their kill whereas others prefer butchering a deer in the field and carrying meat packs along. However, none of this is as easy a process as it sounds. Meat cutting is quite a time and effort consuming process whereas, packing it is another strenuous task.
That said, it is important to know methods of butchering and how to pack out a deer efficiently.
Being an experienced hunter, I have quartered and packed numerous trophy bucks with simple tools. Understandably, you won't have all the luxuries out in the woods to chop an animal therefore, you must be skilled enough to use simple equipment for efficient butchering and packing.
Following our top tried and tested tips, beginner hunters will be able to
cut and butcher meat
understand how to pack out a deer
Use of different tools and gear to efficiently pack and move meat
Butchering Your Trophy Animal – How To Pack Out A Deer
Taking your trophy kill from the woods to your plate requires lots of hand work. Butchering or quartering a deer in the field is a long procedure that must be done in an orderly manner. While it may sound challenging and daunting, it can be made manageable if you follow the steps carefully. Interestingly, with exceptions of few parts, it is very similar to packing out an elk
Your work starts right after you take down a buck. The first step is the meat cutting process followed by storing them in deer meat bags. Lastly, appropriate processing of how to pack out a deer must be done to keep the venison as fresh and nutritious as possible.
Meat Cutting Process
You must carry out this process very carefully. Even though you can do it all by yourself, it would be better to have a hunting buddy along. The meat cutting process comprises three steps i.e., skinning, cutting, and deboning a deer or similar game animal. It is essential to install a well established and equipped hunting tent nearby where you are hunting. It will be great place to prepare and pack meat easily and accurately.
Skinning
The very first step of meat cutting is skinning. It is when you carefully remove the skin off the deer's body to get access to the meat. Start peeling the skin from the front legs and carefully reach the neck. You must be very cautious during the entire procedure of skinning so that you don't damage the meat parts.
Tools needed for skinning include knives and a sharpener, latex gloves, a gut hook, gambrel or metal rod, or wooden stick. For a better visual understanding of how skinning is done, watch and follow this video.
Gutting
Once you have uncovered the flesh of your deer, it's time for gutting. It is also known as field dressing, a process where you remove the organs and entrails of the animal. Doing so leaves you only with the edible and nutritious venison parts.
Gutting a deer can be done with two simple tool i.e., a sharp knife and latex gloves for protection. This video will tell you to field dress a deer all by yourself very conveniently.
Deboning
The final step involves boning out a deer. The majority of the hunters prefer deboning deer because of the rancid smell and flavor it gives to the meat. This process is not done on the field, instead at home or hunter's working stations. To debone, muscles and fat is cut off from the meat parts of the animal.
One common question that pops into the heads of many inexperienced hunters is how to debone a deer in the field. Well, it is not a highly complex task, it only needs the sharpest knives and lots of hand work.
To get a detailed understanding of this procedure, watch this video.
After treating the deer with all the aforementioned steps, pack it in the game bags for safe and convenient transfer. You can either choose quarter bags to put the four quarters into four different bags or use an extra large one to store the entire deboned animal in it.
How To Quarter A Deer In The Field?
Deer quartering is one of the best ways for conveniently packing out a deer. Simply put, quartering deer parts means splitting the animal's carcass into four parts. Every quarter is attached to one of the deer's legs known as deer hind quarter cuts.
Before cutting the quarters, you must know the meat parts that come under quarters. Doing so is a lot more simple than it sounds, watch the video and decide for yourself.
After you have successfully cut the quarters, put each piece in the quarter game bag and take it home for further processing.
Butchering A Deer Hind Quarter
Some hunters prefer butchering a deer hind quarter too in the field before they go home. If you also want the same, you should know how to butcher a deer in the field. The procedure includes deboning the hindquarters carefully and chopping different meat parts in small pieces.
How To Debone Deer Hind Quarter?
Do you want those beautiful, boneless steaks from deer front quarter cuts? It is not a hassle at all. Deboning a deer hind quarter involves the following steps:
Clean the venison.
Remove the fat.
Cut through the muscles.
Chop the pieces into your desired size.
Wrap every piece individually in a plastic cling wrap.
Cover the meat pieces with freezer paper.
Finally, label each piece and put it into the freezer.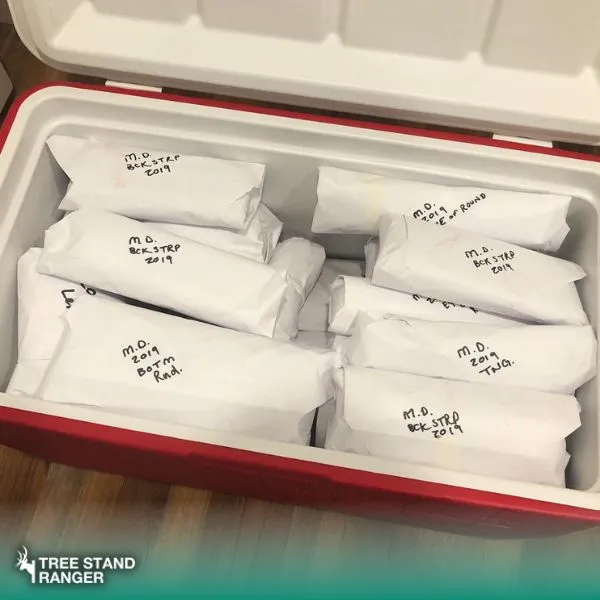 How To Cape Out A Deer
Caping is a method of skinning out a deer or any other game animal. In this procedure, you are only left with the hide of a deer starting from its nose to slightly behind its shoulders. A deer's cape is mostly used for taxidermy i.e., mounting of a stuffed animal with real skin. These could be for decorative purposes as well as for conducting a study or research.
If you are afraid of caping out a deer yourself, here is a detailed video guide for you.
How To Process A Deer Hind Quarter
The final step for packing out your trophy buck is processing deer hind quarters. It is best to process the deer as soon as you get the meat parts out. This procedure helps you to store the meat for as long as possible.
Get a sharp knife, cutting board, and latex gloves, and begin with the processing. Cut the pieces right and store them in the freezer carefully. Don't forget to label every piece after wrapping and also mention the date of packing. Doing so will help you determine how old the venison part is and if it is safe to consume it.
Watch and follow the guidelines shared in this video for processing.
Conclusion
After you were fortunate enough to harvest a trophy animal, begin the appropriate series of steps to take it home. Understanding how to pack out a deer is important if you wish to preserve every pound of meat for a long time.
From skinning the deer to cutting it into quarters and storing it in deer processing bags to freezing the labeled packs, the entire process involves several procedures. Before venturing out on a hunt, ensure that you have all the necessary tools for meat cutting as per the guidelines.
Frequently Asked Questions (FAQ's)
How much does a deer weigh after field dressing?
Field dress weight or dead weight of a deer varies depending on its live weight. Usually, when butchering is done carefully with minimum waste, your deer could weigh at least half of its live weight. For example, if the deer weighed 200 lbs. before field dressing, its weight would be a minimum of 100 lbs. afterward. 
What size cooler for deer do I need?
The cooler size for deer must not be less than 65-quartz. It is the standard size that has the capability to fit the majority of meat-on-bone deers along with some room for small ice blocks. It is suggested to quarter a deer to fit it perfectly into the cooler. The meat from a quartered deer can also fit into two 40-quartz coolers. 
How to carry a deer on your back after field dressing? 
Carrying deer on back could be strenuous therefore, you must use the game bags for transport. The best way to reduce weight is by removing the animal's gut. You can also quarter it to fit in four different bags and split the bags with your partners. Game bags are designed to hold the weight of deer while allowing you to carry them on your back.
How to hang a deer by yourself?
Hanging a deer by yourself shouldn't be a hassle if you have the right equipment. Following are the tools that you must have to hang the game animal straightforwardly: 
1. Sharp knives
2. A strong rope 
3. Gambrel or a sturdy wooden stick 
4. A pulley 
Once you have gathered all the necessary equipment, follow the method performed in the video.
Related Hunting Guides
Tree Stand Hunting
Tree Stand Hunting Essentials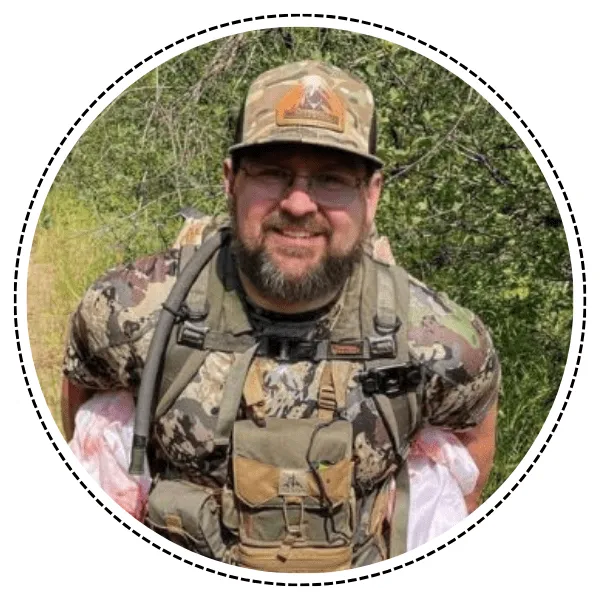 About Alex David
I am an avid bow hunter and author of Tree Stand Ranger. Hunting from tree stands has been a passion of mine for many years. I've had the privilege of owning several tree stands and hunting properties throughout my life, and I take great pride in having the opportunity to do so. Read more about me.