Bucks being extremely cautious are challenging to hunt. Therefore, hunters have come up with a variety of ways to take the situation in hand and go for deer's weaknesses. That said, best rattling antlers and different deer calls are used to attract bucks.
The top products for rattling that we swear by include fake antlers Illusion Systems Black Rack and the best rattling bag i.e. Primos Big Bucks Bag.
Top Pick
Illusion Systems Black Rack
realistic and loud antler like sound
Designed as per antlers of full grown bucks
Made in USA
Easy to carry and use
Editor's Pick
Flextone Battle Bones
Create realistic fighting sounds
Can be carried out of backpack or stored inside
Ergonomic build avoid hand vibration and finger hurt
Proper grip to hold and use for longer time
Editor's Pick
Primos Fighting Horns Call
Real antler like shape to mimick its characteristics
Extended handles and easy to use
Create loud varying sound with efficient design
Use of high tech polymer to extend its usability
TreeStandRanger.com is reader supported website. We may earn affiliate commission if you shop using links on this page (without additional cost to you). Learn More
In the month of November, the rut season is at its peak when deer pursue female deers for breeding. Bucks also indulge in fights with fellow bucks known as deer sparring.
That said, the most effective calls during this time are the sounds of bucks fighting i.e., rattling. For that, hunters should use the best rattling antlers.
14+ Rattling Antlers
& Calls Reviewed
9 Top Calls
Listed
100+ Hours
Of Research
There are multiple ways to emit this sound i.e., by using real antlers, fake antlers, rattle bags, or rattling tools. Real and fake antlers are bigger in size hence, require more space for storage. These produce sounds quite similar to the real ones.
Rattling bags and tools on the other hand are extremely light in weight and compact. The bags might not sound as realistic as the tools and antlers but work fine for most deer.
10 Best Deer Antler Calls & Rattling Antlers
Following are some of the best products to mimic the antler rattle call in the most authentic way.
1. Illusion Systems Black Rack – Best Rattling Antlers Of All Time
Level up your hunting game with the most productive antler rattles for calling out deer. What makes these stand out from other choices is the bone core technology. It lets you enjoy authentic buck sparring as you trick the animals.
Featuring a two full rack design and priced right, these are our champion fake rattling antlers. During snowy and rainy conditions, the sound didn't change and bucks came out to the rattling call.
The team also tried it for whitetails too and the results were impressive. For a clearer idea of how to use these antlers, you can watch the instructional video on Deer Society mobile app for free.
It might be a little challenging to store these racks when on a climbing tree stand or hang on tree stand. You can tie a string on both antlers and extend it on a branch above the treestand. The other side of the string will hang down across the branch within your reach. Tie the other end with your stand so these don't fall. Whenever you want to rattle, just pull the string a couple of times.
To carry them silently when climbing the tree stand or hiking, we tied the antlers together tightly. While these have a similar sound to natural racks, making them the best rattling antlers for all, these cover almost half of the hunter's backpack.
Pros
Close to real sound quality
Highly durable
Black paint for concealment
Cons
Bangs together during transport
2. Flextone Battle Bones – Best Rattling Antlers For Great Volume
Similar to the Black Rack, this one also comes with bone-core technology but is priced slightly higher. Due to the presence of Antler Mass Technology, the racks resemble the bone marrow present in natural antlers.
We loved how these racks stimulate a high frequency sound when banged together. The realistic shot of authenticity brought us a couple of healthy bucks. Because of the knuckle protection feature, our hunters could easily use these for a prolonged time with comfort.
Though extremely light in weight, these are not very compact to store in the bag and would cover 1/3rd of it. For convenience, it has the same issue as the Black Rack i.e., where to hang on a treestand. You can opt the same method for all fake antlers. Tie them with a string, bring it around the tree branch and secure it with your treestand.
For added comfort, it is best to wear gloves while using since the texture of these antlers could be rough on your hand. That said, don't miss out on this must-have hunting arsenal and enjoy its tremendous performance.
Pros
Realistic texture and sound
Stacks together for silent transport
Easy to use
Cons
Could be rough on the hands
Needs a string to be hung on treestand
3. Primos Fighting Horns Call – Best Rattling Antlers For Durability
These racks stand out from our winning product because of the extended handles. On one hand, these handles count as a great convenience while on the other hand, these are too large to fit in a hunter's bag. In our experience, it took almost 2/3rd of our bag's space.
There are 14 contact points on these antlers to mimic the rattling sounds of bucks. As we tested, these do produce light and extra aggressive sounds but aren't authentic. These sometimes sound plasticky but switching the sites of hitting changes the sound a bit. With this tactic, we managed to bring out a few deer.
When it comes to varying weather conditions, these surprisingly work pretty well. It not only consumed a significant space in the bag, but also felt heavy to hold for a long time. When hunting from a treestand, you might want to tie these somewhere since these require a large space for storage.
Pros
Suitable for different weather
Produces slow and loud sound
Extended handles save from injury
Cons
A bit bulky
Sounds a bit plasticky sometimes
4. Primos Big Bucks Bag Call – Best All Around Rattling Bag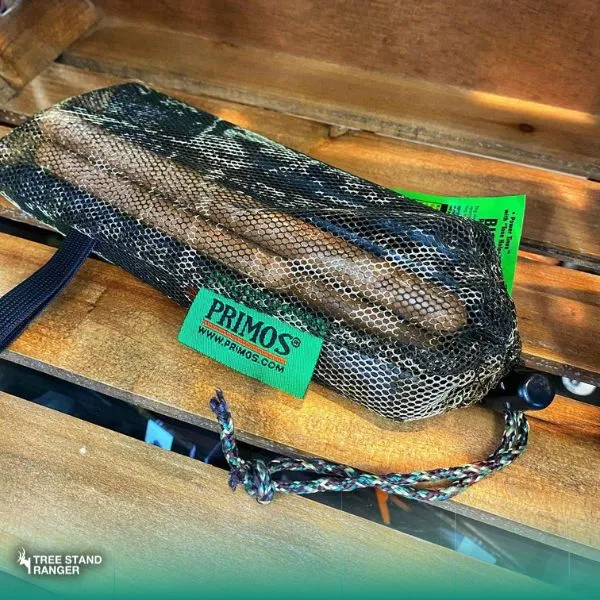 Designed to meet the needs of a hunter even in the toughest situations, this one works as one of the best rattling antlers bags. This product leads as a top recommendation due to the presence of two power tines sets.
Rattle bags are a lot easier to carry than rattle antlers. These take less than a quarter of your bag's storage. However, one must learn how to use rattling bag properly in order to mimic fighting sound.
Unfortunately, this big does not produce sound as authentic as the rattle antlers. These are designed to mimic a sound as if two bucks of different sizes are in combat. To examine the performance, we tested it out. The low and loud sounds of this bag enabled us to call out bucks from as far as 200 yds. and as close as 74 yds.
Tone holes in the power tines are responsible for extra loud noise. The mesh bag however is prone to tearing with rigorous use which one can easily stitch or replace. Overall, the Primos Big Bucks Bag works like a charm.
Pros
Extra loud and realistic sound
Waterproof
Ensures longevity
Cons
Mesh bag can tear with frequent use
Not as realistic as antlers but does the job
5. Nationwide Scents Deer Call – Best Rattling Antlers Bag For All Seasons
Be it a rainy or snowy day, this product is made to withstand extreme weather conditions. With great craftsmanship, this rattle bag secures a sweet spot for all expert hunters that require durability and reliable sound quality. Weighing super light in weight, these fit even in the smallest corner of the bag easily.
The rattle sound is so loud that we could call out 3 large bucks with only 8 to 10 minutes of rattling. We often use best hunting watch to rattle at appropriate time intervals. The weather conditions were slightly rainy and there was no difference in the sound. Speaking of the authenticity, these fail to sound like natural antlers but are decent enough to attract some deer.
For the bag, you won't have to worry about its durability, rub it season after season and it will remain in the same shape. The sound is less realistic than the Primos Big Bucks back but is unidentifiable by the bucks.
Pros
Amplified sound
Withstands rough weather
Extremely durable bag
Cons
Average sound authenticity
6. Bone Collector Bag-O-Bone Deer Bag – Best Rattling Bag For The Money
Nothing draws out a buck better than a good rattle sound. For that, this bag comes with a great performance. Though it is not as realistic as the Primos Big Buck Bag but does the job with efficiency.
For a lighter sparring sound, we took out a couple of tines from the bag. Similarly, for a dominant buck-fighting sound, we added some additional tines. Needless to say, this approach was quite effective for the sound transition.
All in all, this bag from Bone Collector is a great choice for hunters. However, these lack weatherproofing abilities which could impact the performance on snowy or rainy days. For a rattle bag that resists every sort of weather, check out the Nationwide Scents Deer Call.
Pros
Produces great sound
Non slip rubber case
Top notch quality
Cons
Might not operate well in harsh weather
7. Hunters Specialties Ruttin' Buck Bag – Best Budget Rattling Bag
For hunters that prefer convenience over everything, this rattling bag is for them. It was a pleasure using this bag full of great features that resulted in a great performance. The wooden sticks inside the bag are responsible for reproducing sharp sounds, imitating buck sparring.
The lanyard provided to secure the bag can help with the sound change. For example, if you want a more realistic and louder sound, loosen up the lanyard a bit and then rub. Overall, it offers an unmatchable performance for the price.
Since it is not bulky at all, you can store it in your hunting storage bag without any inconvenience. The lanyard also provides ease while hunting from treestands. You can hang it anywhere for easy access.
Its high end durability and ease of use impressed our team members the most. Just rub it between your hand and it will stimulate the rattle with a high pitch. We used this bag from almost an 18 ft. tall treestand.
The winds were gentle and with this amazing bag, we could easily stimulate faint and loud noises. All in all, it is surely a great product but wood sticks occasionally squeak with each other. However, it happened very rarely and we loved the quality and performance of this bag.
Pros
Durable and compact
High pitch sound
Decent performance
Cons
Unrealistic sound when lanyard is secured tightly
8. Knight and Hale Pack Rack – Best Rattling Tool For Experts
The knight and hale pack rack deer call is the best rattling antlers tool that hunters rely upon. Loud, realistic, and sounds great in the woods, this tool pleased us in every way possible. These take even less space than the rattle bags. The smaller version of this pack rack call can fit in your pocket for quick access.
As our expert hunter tried it from his treestand, there was a very slight difference between real antlers banging together and this tool. With just a very few rattling frequencies, there were 3 bucks out to investigate. Watch how well this thing works in this video:
Just bring the two components close and twist them together in opposite directions. The harder you twist, the louder it sounds. Though it does sound a bit plasticky when compared to the real antlers, that's one thing that deers can't differentiate between.
Pros
Fits in the pocket
No knuckle pain while banging together
Affordable
Cons
Slight difference between real antlers rattling
9. Primos Rack N Roll Deer Call – Best Comfortable Rattling Tool
Forget taking your tool in and out of the bag with the Primos Rack-N-Roll. You can either hold it in hand but it is best to mount it on the leg because that is what this tool is designed for.
The hunter from our crew could use this single-handedly yet achieve great results. Additionally, it doesn't make any noise during transport because of the silencing strap. Check how it works for different volumes here:
With its dominating buck fight sound, we noticed a couple of deer coming out of their hideouts. While these can easily be stored in the bag, hunters usually wear these all the time during the hunt.
Our team noticed a slight difference in performance when used in extremely cold conditions. For a weatherproof performance, you can try the Knight and Hale Pack Rack.
Pros
One hand operation
Stimulates soft and loud rattles
Lightweight yet durable
Cons
Harsh weather can impact the performance
Buying Guide
Let's discuss the factors which makes rattling antlers, rattling bags and rattling tools great for your use as per your needs.
Deer Rattle Antlers
When it comes to the best rattling antlers, you can choose between synthetic deer rattling horns and natural antlers. Surprisingly, synthetic antlers come as a better choice than natural ones. The main reason is the ease of storage and transport.
Do you know mineral licks play great role in growing antlers of bucks?
Even though none can beat the sound of real antlers, the synthetic ones mimic a very similar sound. Usually, the fully racked rattle horns deer have are two in number making a total of four involved in the fight. However, you can only hold two natural antlers which sometimes fail to sound aggressive.
On the other hand, many artificial antlers come with two fully racked antlers, making rattling antlers sound like real combat. The best fake deer antlers are Illusion Systems Black Rack.
Some hunters love using real or fake antlers for decorative purposes such as trophy mounting. They either do it via taxidermy for real antlers or purchase fake faux antlers from the market.
Deer Rattle Bags
A buck rattler bag has the same purpose i.e., fake the sound of deer sparring. To create that sound, these bags either have wooden or plastic sticks. While both produce an authentic rattling deer antlers sound, we found wood nearer to the real set-off.
The wooden sticks used in the Primos Big Bucks Bag stimulate the most lifelike sound. That said, our team as well as numerous other hunting experts rely on this rattle bag.
Deer Rattle Tools
These are probably the most innovative and convenient hunting arsenal in terms of performance and storage. These rattling systems are designed to be compact and a lot easier to use compared to rattling antlers and bags.
Moreover, using these tools, you can easily reproduce deer sparring in soft and aggressive sounds both. The most widely used deer rattle tool that ensures authentic rattling is the Knight and Hale Pack Rack.
Conclusion
You make lots of efforts to catch some trophy bucks and to save it from going in vain, it is recommended to use the best rattling antlers, especially during the rut.
Make sure to use the right deer rattlers products and at the most appropriate timings. It will save you from staying undercover and bring out the nearby bucks within your shooting range.
Frequently Asked Questions (FAQ's)
Rattling bag vs antlers: which are better?
It all comes down to personal preference and experience. Some people find rattling bags muffed whereas others experience a change in the sound of natural antlers after a season. However, a rattle bag and fake antlers have identical performances. The rattling bag is just a lot more convenient to store and carry than the antlers.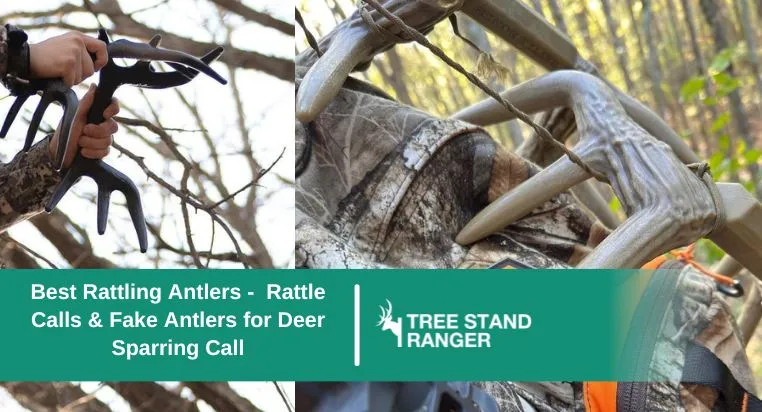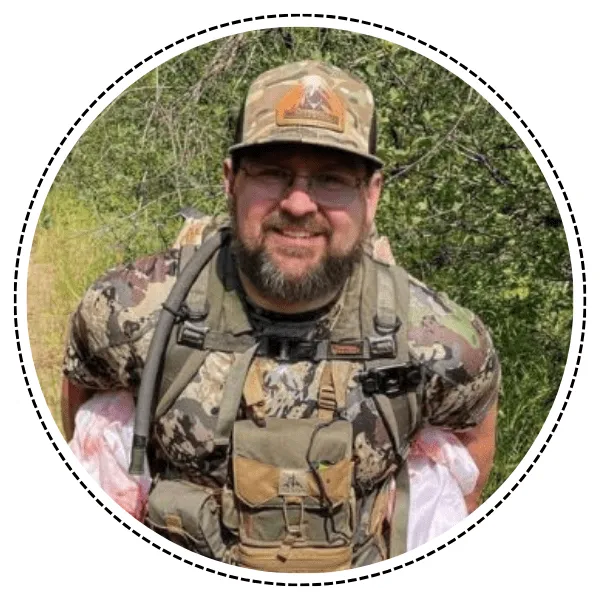 About Alex David
I am an avid bow hunter and author of Tree Stand Ranger. Hunting from tree stands has been a passion of mine for many years. I've had the privilege of owning several tree stands and hunting properties throughout my life, and I take great pride in having the opportunity to do so. Read more about me.