There were the 80s and 90s when deer hunters didn't have many options for climbing stands. That was a time when Warren and Sweat made its debut in the mainstream climbing tree stand industry.
The company didn't produce climbing tree stands but also ladder stands for convenience hunts.
However, Warren and Sweat climbing stands weren't as formulaic as several other models of the 90s. This resulted in the low sale of its products until one day Warren and Sweat had to shut down its business permanently in the 1990s.
While the Warren and Sweat hadn't achieved much acclaim among dedicated hunters, its climbing stands were liked by hunters for their ease of climbing.
To know what using these particular stands feel like, you can see this warren and Sweat tree stand review.
Warren And Sweat Tree Stand Review
In the mid 80s, Alvin E. Warren and George B. Sweat laid the foundation of their Warren and Sweat Manufacturing Company in Florida.
WS treestands were comfortable, sturdy, and secure with affordable price tags. They were O.K. if not high quality. Nevertheless, the company gave hunters some above-average tree stands of the era.
Around 1990, the founder company sold its name. The new owners couldn't meet the expectations of hunters as the newer Warren and Sweat tree stands were heavier and didn't come with instruction manuals.
The newer owners of Warren and Sweat Manufacturing Company also didn't own the responsibility of older WS treestands, eventually losing all of WS's potential customers.
Then, the U.S. Consumer Product Safety Commission got more than 25 reports for breaking the straps of Warren and Sweat treestands.
CPSP recalled the Mag Lock Plus treestand by Warren and Sweat in 1997 as the bark biter strap came off, causing a hunter to have a severe leg injury.
As the quality of its tree stands went on decreasing, the company name gradually disappeared from the market.
Today, if you'd see a WS treestand, it might be a heritage your grandfather or father had left with you.
Climbing Tree Stands – Warren And Sweat Tree Stand Review
Since Warren and Sweat tree stands belong to antiquity (LOL) as they faded around 2000 there is very less information about the company and its all products.
Some of its well known treestand names, we've come across are:
Warren And Sweat Climbing Tree Stands
The rifleman
The cottonwood
Elite Extreme
Muzzleloader
The Imperial
Hang on Stands
For detailed analysis of OG hang on stands of 2023 check out best hang on treestands
Warren and Sweat Ladder Treestand
WS Ocala 12foot aluminum ladder stand
Learn more about best Ladder stands
The Cottonwood – The Most Acclaimed Warren Sweat Climber
This was the best selling Warren and Sweat climbing stand of its era. The design was simple but well made with strong construction.
The Cottonwood climber stand was quite portable as it weighed just 21 lbs. The weight capacity of this WS climber stand wasn't less either as it could hold 250 lbs of weight including all hunting accessories. Added to this, the Cottonwood allowed hunters to hunt either way: facing the tree or away from the tree.
You'll notice that the most commendable feature of this tree stand is its free shooting rail. The hunters could take the shooting rail on and off at their convenience.
The stand came with hooks and ratchet straps to make it rock solid against the tree. Holding the stand wasn't easier though, but once set up it was a firm stand.
This stand was comfortable for standing. Yet, some physics was required to make it more comfortable for hunting if all day sits became crucial.
Imperial Tree Stand – The Best Seller Warren And Sweat Climbing Stand
This was another popular climbing stand by Warren and Sweat Manufacturing Company. The Imperial tree stand was known as a monarch as it gave hunters a comfortable hunting experience. For its weight and ease of climbing, this model hooked the hunters.
This climbing tree stand featured Bear hug blades for digging deeper into the bark of the tree. This way, it became remarkably securer and firmer.
With other ergonomics such as backpacking straps and padded seat rest, it was a great climber stand for hunters who hunt facing away from the tree.
if you are looking for something in budget category, that won't break your bank and gives ultimate elevated hunting experience. Do check best budget hunting stands.
The Rifleman and the Bowman
Often confused with each other, the Rifleman and the Bowman were two different climbing tree stand models of Warren and Sweat.
The rifleman was more comfortable as its seat was fold able. The Bowman featured a solo wooden seat that allowed hunters to sit with his back against the tree.
The Rifleman was more feature rich. It had a bigger seat with a marine plywood platform. Its both sections were connected with square aluminum tubing. The Rifleman was meant for hunting while facing to the tree.
What We Like About Warren Sweat Tree Stands
Fortunately, Warren Sweat climbing stands belonged to an age when the treestand safety standards weren't high. Neither the tree stand manufacturing technology was. So, a Warren Sweat treestand had fulfilled the basic standards of hunting.
With their two way hunting ability, padded seat, aluminum tubing frame, and wooden platform, Warren Sweat treestands didn't disappoint hobbyists.
What We Don't Like Like About Warren Sweat Treestands
You'll find that Warren and Sweat aren't appreciated by modern hunters for a couple of reasons. The main catch about these treestands is they lack proper instructions regarding its proper usage and assembly. A time consuming assembly was enough to make these treestands fall apart. The users applied their own trial and miss formulae to make these treestands work for them.
The buckle straps for securing the stand were prone to fray, putting hunter's security at stake. Several of users told that these stands go shimmy after reaching higher on a tree.
The seats on WS climbing stands were comfortable for short hunts. However, for long sits, the hunters had to make adjustments to avail of comfortable sitting.
Our Thoughts
You must have noticed that Warren and Sweat tree stands weren't considered the perfect hunting stands as they got mixed response from hunters. Some hunters found them life threatening units whereas for some WS treestands were the other name of success to hunt whitetails.
Most probably, you'll get a preloved W&S deer hunting stand with some signs of wear, so don't use it prior to maintaining your safety.
For added concealment, make sure to wear best hunting camo. Make yourself scent free and stay where wind can't carry your scent to deer.
Frequently Asked Questions (FAQ's)
From where to get Warren and Sweat tree stands?
Warren and Sweat tree stands have gone over aged and aren't available in the hunting gear market or online stores. You might get a used Warren and Climbing stand for sale from a millennial hunter who don't need it any longer.
How to maintain Warren and Sweat climbing treestands?
Warren and Sweat climbing stands are aged products, so they require proper maintenance whenever put in use. Look for the straps and buckles if they are intact. If needed, make changes in the design of your particular W&S climbing tree stand to enhance its features for having comfortable and secure hunting experience. Grease the nuts and bolts when required. Maintenance is the key to keep a WS climbing tree stand proper functioning.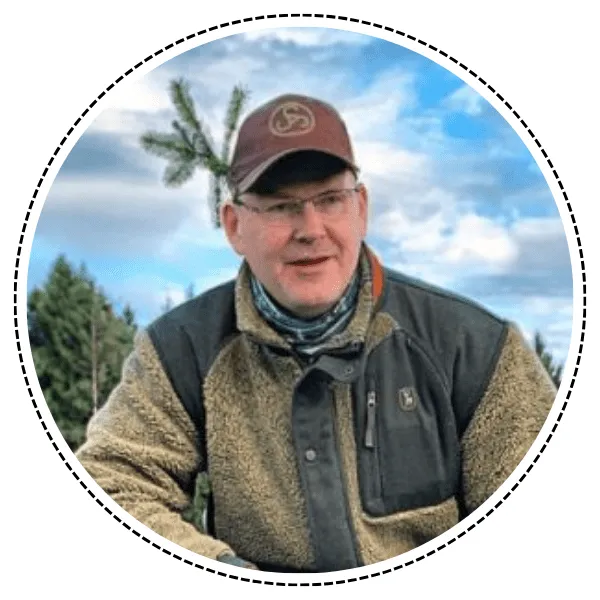 About Henry Liam
I am a father, veteran, database engineer and a hunter from Pacific Northwest. I am also the founder of Children Outdoor Adventure Network. I live with my wife and two children in Seattle. Since teenage I am doing run and gun style hunting on public lands and have visited all 50 states as well as Canada. Read More about me.