As kids, we have all climbed trees but rappelling is a lot different. It refers to descending from a tree with the help of a rope. Doing so requires a lot of practice and the right skillset since you wouldn't want to fall off the tree, would you?
All you need is a sturdy rope that can withstand at least 240 lbs. and a carabiner. There are a few steps to follow in order to rappel successfully. In simpler words, tie a robust rope on the tree as well as with your safety harness. Involving a number of other useful gadgets, it will help you move up and down from the tree.
Fancy devices might cost you a couple of bucks, but as a frequent hunter, you should learn how to rappel with just a rope. There are numerous do's and don'ts that you should understand when learning how to rappel with one rope.
What Is Rappelling? How To Rappel With Just A Rope?
Rappelling is a common practice among mountain climbers and hunters especially those who perform saddle hunting. Rappeling can be done with someone's help as well as all alone, you just have to be skilled enough.
Once you have practiced sufficiently, ascending and descending from the tree would no longer be a hassle. The best thing about rappelling is that it is completely safe with no complexities when done appropriately.
How To Single Rope Rappel?
Single rappelling is a lot easier than double rappelling. Take your desired rope, make sure it is sturdy, and set up a rappel anchor. The most widely used method for this type of rappelling is the munter hitch method.
Munter friction hitch is the favorite type of knot that almost every hunter uses to ascend and descend from a tree. Tying it the right way is extremely crucial for personal safety and smooth rappeling.
Begin with making an underhand loop to the left if you are right-handed and the opposite if you are left handed. Bring the free part towards yourself and pass the carabiner through it. That is how to tie a rappel knot in a basic munter hitch way.
For people with a weight over 200 lbs., this hitch might not provide the right amount of friction. Having a similar weight, if you try to use the basic munter hitch, the rope will spin excessively.
If you want increased friction, make some amendments to the knot. Again, underhand the loop opposite to your dominant hand. Now fold that over and rather than securing it with a carabiner, bring it up.
This will create a super munter knot. Now pass the carabiner clip through the loop and you will get two lines of the rope for enhanced friction.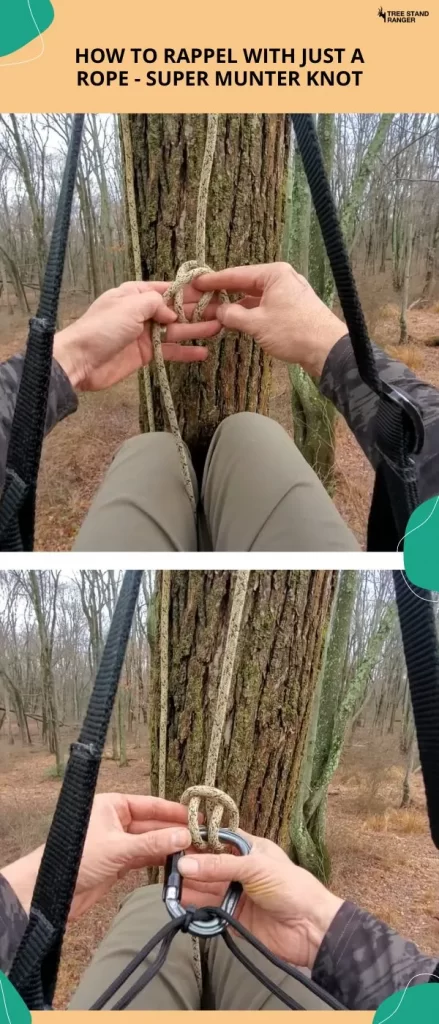 Try it out by getting the slack out and holding the rope firmly. Gently rappel down by loosening the rope from your hand, if it feels right then you can use it for proper rappelling.
In case you need even more friction, make a super munter hitch the same way as mentioned above. Pass the carabiner through the loop but, this time bring the rope from your left into the carabiner. Take that piece of rope up, hold it tightly and start breaking your friction.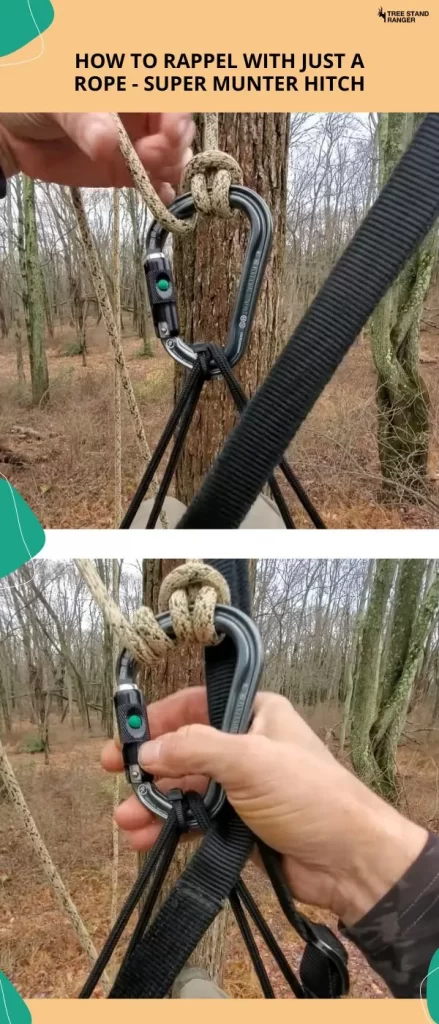 Remember, the heavier the body mass, the more friction you would want. That said, you can keep increasing the friction by feeding more rope inside the carabiner.
Super munter hitch is most common among hunters using climbing tree stands and hang on stands.
How To Double Rope Rappell?
First things first, don't start too high. Choose a height that you can manage, most hunters start either 10 ft. above the ground or slightly above their chest height. For added security, make a loop on the rope, tie a cinch knot and swing it around a thick tree branch. Clip it with the carabiner and secure it with your harness.


You can now rely on the rope since you are perfectly taut and can go hands free. The next step would be to tie the rope around the tree. Climb to your desired height by simply stepping one or two branches up and loop the rope.
Don't go flat instead, sling it around sizable branches so it doesn't slip down. Tie a rappel knot at the end so it stays put.
For added protection, tie a munter friction hitch to the carabiner and attach it to your harness. It is the best choice for single-rope rappelling. If you are doing double-rope rappelling, a grigri or an ATC would work best.
Another safety piece will be with a prusik knot above the ATC or whatever you use. After this, you will be all set to start with rappelling. Make sure to exert weight on the string and unhook the safety rope from the branch that you attached your harness with at the start.
It is important to get comfortable with leaning back because that is how your body will be when going up or down the tree. The rappleing harness will support you from the lower back. Use that for sitting with your back at 90 degrees from the tree.
Remember to tie the knots very carefully and taut so you can trust the robust string. Even if you leave both your hand and hang on the rope, the prusik knot will not let you fall. Since you choose the height yourself for a tree and there are numerous hand holds, rappelling down from it or even climbing using the same setup is pretty easy.
Once you're comfortable with the knots and clips, release the main rope slowly and start rappelling. Go with whatever flow you like and are most comfortable with. Make sure to only do what you can manage without hurting yourself.
How To Set Up A Rappel Anchor?
Following are the six efficient ways in which you can set up a retrievable rappel tether or anchor.
Running Loop
One of the most common types of rappel anchors, the running loop is simple to set up and durable. It only requires a sewn eye rope and an accessory cord. The two main knots you need to tie in this method are the scaffold and Highwayman's hitch knot.
While a scaffold knot is quite common here is how to tie a highwayman hitch knot following this video:
To take it off, simply pull the accessory cord and the setup will come down.
Running Carabiner
It is pretty identical to the running loop method with a slight difference i.e., carabiner as a replacement for the loop. Take a rope and secure the carabiner at one end with a scaffold knot. For this method, it is foremost to use the right carabiner. Choose the one made out of steel and don't opt for the aluminum one.
The issue of instability is the same here which is resolved just as you do with a running loop. For bringing it down, pull the longer part of the cord.
Saddle Hunter's Hitch
As suggested by the name, this method is ideal for saddle hunters. The best thing about the saddle hunter's hitch is that you can throw it up the tree in the easiest way as compared to the other options.
JRB Cinch
What makes this method different from other options is the use of a rappel ring and a carabiner together. It is super easy to set up and can be done within 5 minutes even if it's your first time.
Use a telescopic pole or any stick to advance the JRB cinch at a higher point on the tree. This rappel anchoring approach is an excellent choice for hunters that perform the Single Rope Technique (SRT).
JRB Hitch
If you want a secure and remotely releasable hitch then this should be your choice. This type of rappel anchoring offers an extra dash of stability. However, it requires a bit of handwork with the bights and snug. If you don't find it comfortable while tying, it is recommended to try other options.
Running JRB Hitch
The most versatile of them all, this one also requires some good skills to tie. The running JBR hitch uses a relatively lesser amount of rope. Not only is it remotely releasable but you can easily advance it with the pole as you do in the JBR Cinch method.
Conclusion
Hunting is one of the most adventurous activities and a majority of the hunters establish budget treestands as well as saddle platforms for it. That is when knowing how to rappel with just a rope becomes necessary. It helps you to come down from the tree safely regardless of the height you were at.
Make sure to invest in the high-quality materials required for the setup. Also, practice how to rappel with just a rope on trees near your residence. Try it on lower heights first before you do it in the woods.
Frequently Asked Questions (FAQ's)
How to use rappel rings?
These are one of the most important pieces of equipment used for anchoring the rappel. Having a large radius, these rings work best for easy anchoring and retrieval. You can use these by passing the rope or cord used in the anchoring through these rings. 
Single vs. double rope rappel technique: which is better?
Generally, the single rope technique is a lot more convenient as compared to the double rope rappel. Because of the use of one rope only, these are less pricey too. On the other hand, the double rope technique provides better friction with less effort. While you have to do some work to increase the friction in SRT. 
Related Hunting Guides
Tree Stand Hunting
Tree Stand Hunting Essentials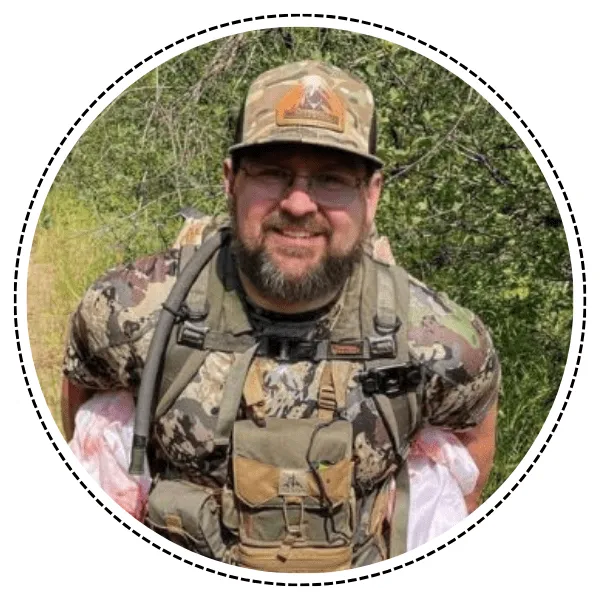 About Alex David
I am an avid bow hunter and author of Tree Stand Ranger. Hunting from tree stands has been a passion of mine for many years. I've had the privilege of owning several tree stands and hunting properties throughout my life, and I take great pride in having the opportunity to do so. Read more about me.