Make the most of the rut season and call out as many deer as you want to take down. The best practice to do so is to learn how to use a rattling bag. Typically, bucks come in a conflict with each other at the start of the rut season which create rattling noise. This noise is produced artificially using rattling bags or fake antlers to attract nearby deer.
Rattle bags include sticks made out of wood or other material to copy the sound of antlers clashing. Using these bags is extremely simple. Place them between both your hands and rub. You can also use these single handedly and press roughly to produce the sounds of two bucks fighting.
There are commercially available best rattling antlers that can mimic sound and wave frequency of fighting bucks.
Hunters are schooled to rattle for 1-2 minutes and search the area for 5 to 10 minutes. Continue doing this until you find bucks approaching. It is essential to choose the right spot that comes under one of the highly visited areas for deer preferably deer trail. Learn how to read deer trails. Whether you are on a treestand or ground, don't forget to stay under a good cover.
Learn how to use a rattling bag with clever strategies and bag yourself a trophy buck in every rut season.
Antler Rattling Tips – How To Use A Rattling Bag?
In order to win a fight and get a chance to mate with the female, bucks become aggressive. It happens during the rutting season that starts from mid to late October and peaks from early to mid-November. That said, these months are best to rattle the antlers.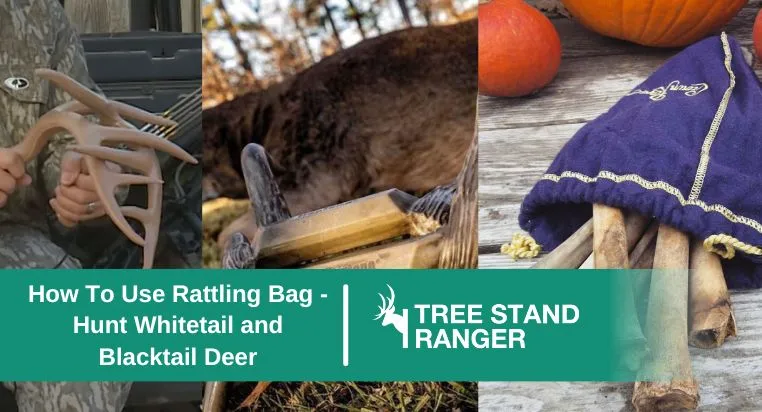 When used with the right strategies, you can make the most of rattling bags and attract a couple of bucks.
Though you can also use the antlers if you have harvested any from the deer. However, rattling bags are a lot more convenient. These mimic the exact sound of the original antlers and easily slide into a corner of your bag. Once you use it, there is no going back.
By the end of November or the start of December, the post rut season starts and ends in January. Forget the hassle of adjusting two antlers in your hunting bag and carrying them all the way to your spot.
The best success rate of rattling happens to be in the morning hours, especially an hour later in the full daylight. Make sure to keep all the essential factors in mind and take down the animal with ease.
What Is A Rattle Bag?
It is simply a bag filled with items that imitate the sound of natural deer antlers. These are readily available in the market for hunters.
The rattling sound proves to be exceptionally productive when you want to call out bucks during the rut season. Some hunters carry entire deer antlers to produce a rattling sound which consumes lots of storage. That is when a rattle bag comes as a great alternative.
Antlers are easily found commercially. Looking for person who have extra antlers? People who do maceration of deer skull have antlers that can be used to make rattle bags.
How To Make Rattling Antlers Bag?
Making your own rattling antler bag is no big deal. Grab a large sock and find a couple of sticks. Make sure to not use the sticks with the same structure. It is suggested to use some round and some flat sticks for a high-pitch sound.
Remember, the sound produced won't match the authenticity of antlers, it still works great for most deer. You can also purchase a few hardwood dowels from the market. These would offer a great sound and are a lot similar to the real antlers.
Now add your desired sticks and tie the sock from the open end. Now rub the sock in your palm and there will be a rattling sound just like the one that comes from a rattle bag.
For greater accuracy, you can harvest a mix of thin and thick bones from a deer, put them in a sock or any pouch. This will imitate an incredibly similar and amazing sound of antlers in a combat.
How To Rattle Antlers For Deer?
Since every hunter wants the most efficient results with rattling, the most crucial factor is timing. Calling out deer is not about rattling all day long instead, for a particular time period and for some parts of the day.
Secure a good spot in your desired hunting location and start rattling. It is important to always start slowly with rattling. Just do it for about a minute and be on the lookout. If there is any buck within the audio range, it would come out in no time.
Keep looking for at least 5 to 10 minutes and if there is no deer in sight, it could be due to two reasons. Either the rattling was not too aggressive or there was no trophy animal within the hearing range.
This does not at all mean that you cannot attract your target, so stay patient and keep trying. Typically, deers can hear an aggressive rattle call from a distance of 1/2 mile. Now come back with a lot more aggressive rattling and do it for approximately 4 to 5 minutes.
Keep a close eye on your surroundings. Rattle after an interval of 20 to 30 minutes so the deer have all the time to approach.
Also, make sure to choose the right area and not opt for a place with excessive hunting pressure. It could lower the possibility of drawing deer to those places.
Alternatively, you can also setup a portable style climbing stand for hunting that is easy to carry, install, remove and is perfect way to hide from line of sight of game animals. Fawns have a curious nature which makes them get fooled easily and come out. Whereas, older bucks are quite cautious.
Make a setup where the wind is not blowing hard because It creates a swirl and takes your scent down the treestand to the deer. Generally, topographic drop-offs are the best areas for a hunting setup. When the wind blows gently, it is likely to take away your scent and does not spook the buck.
If you wonder how to rattle a buck, there is no difference. Buck is simply a grown-up male deer and you should use the same approach.
How To Rattle In A Blacktail Buck?
Drawing blacktail bucks might not be as easy as you may think. You must learn how to use a rattling bag differently for blacktails. These are less likely to attract an aggressive rattling sound alone.
For better results, you should not only use rattle bags but mix them with buck grunts as well as doe bleats.
During the month of October and November, almost when the peak rut season starts, there is a significant change in the hormones of blacktails. This makes them incredibly moody and they like to stay lowkey. Hence, it becomes difficult to call them out using a rattle bag only and you have to adopt a different strategy.
Conclusion
Learning how to use a rattling bag not only saves you from overloading your backpack but mimics a high-pitch sound of bucks fighting. No matter which rattling bag you use, success always comes down to patience and persistence.
You should assess the situation near your hunting location before making a setup. As per my experience, if you own a hunting land, setup a ladder stand near deer trail, bedding, feeding or water source areas.
Similarly, if you are hunting with a partner, setup a two man ladder stand near advised locations to conceal yourself perfectly and sit for long hours.
Do not forget to neutralize your scent and always rattle the bags in a sequence. Doing so will help you achieve the best results.
Frequently Asked Questions (FAQ's)
What is the best time to use a hunting rattle bag?
A rattling bag will yield high results only when you use it on the right days. The best time is right after the pre-rut ends and reaches its peak. That is when the bucks come out in search of their mating partners and indulge in combat with other bucks. 
Make sure to not delay because if a buck finds its doe in heat, it would no longer be affected by the rattling sounds.
How long should you rattle a bag?
Never be harsh with the rattling at the start. Begin using the rattle bag for 30 to 60 secs and wait for around 5 minutes. Come back a bit more aggressively and it should be at least 4 to 5 minutes long.
Related Hunting Guides
Tree Stand Hunting
Tree Stand Hunting Essentials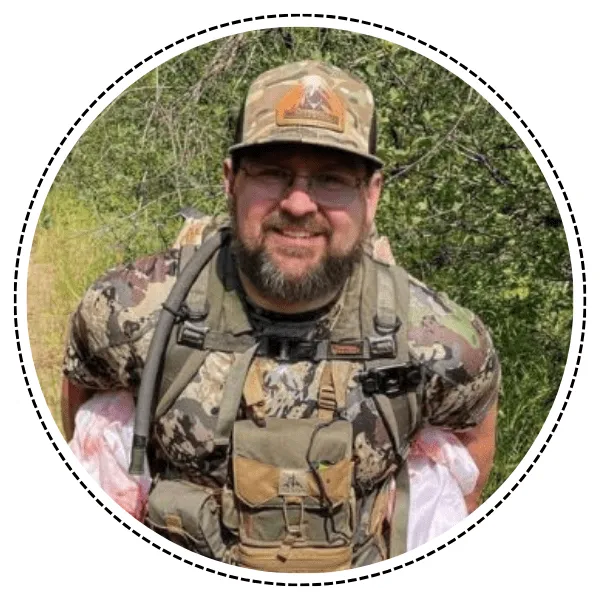 About Alex David
I am an avid bow hunter and author of Tree Stand Ranger. Hunting from tree stands has been a passion of mine for many years. I've had the privilege of owning several tree stands and hunting properties throughout my life, and I take great pride in having the opportunity to do so. Read more about me.